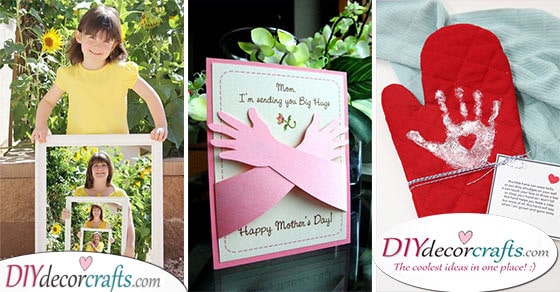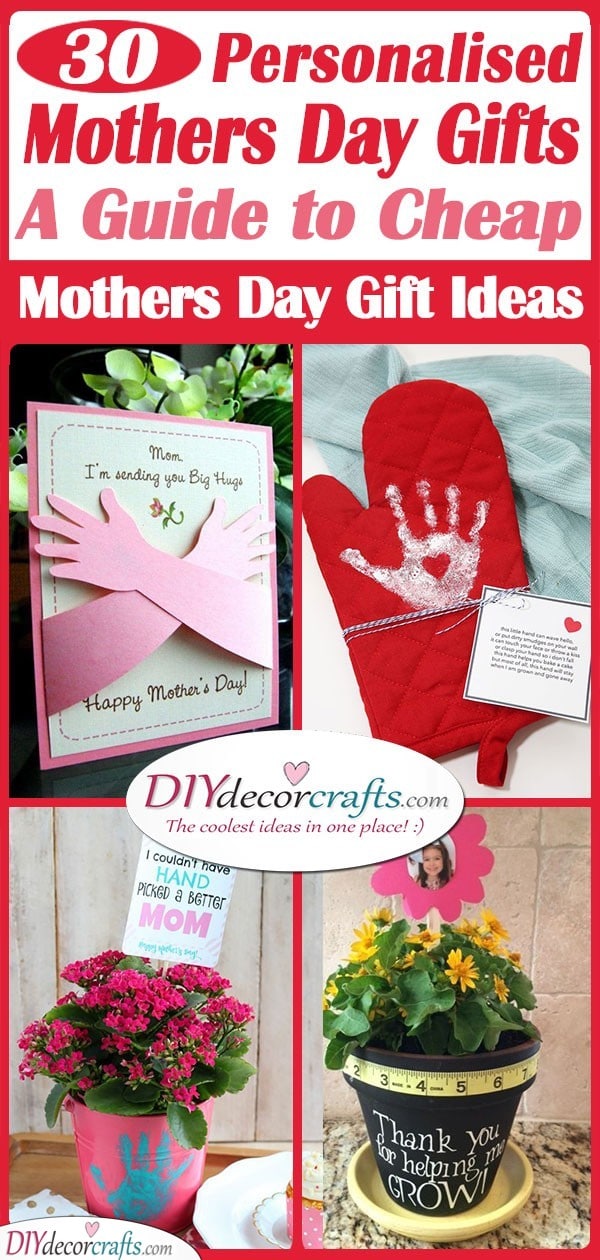 From the moment we are born our mothers are always by our side. They bring us into this life, raise us as they watch us grow. Whenever we have a problem, we know that we can always go to them for help. A connection between a mother and a child is unlike any other. It's no wonder that Mother's Day is such a huge celebration all over the world, everyone can express their gratitude and love towards their moms! Make sure you look through our 30 cheap mothers day gift ideas, to find your very own personalised mothers day gifts. Give your mom something special this year! She deserves it!
1. A Portrait of Generations – Special Gift Ideas for Your Mom
Create a heartwarming gift for your mother for this year's Mother's Day. Take pictures of each generation of women, putting their pictures in a frame. Then get the younger generation to hold that frame of the older generations. Then take a picture of this moment. Use each living generation for this spectacular idea, just like in the example above!
2. A Beautiful Message – In a Cute Card
Send your mom a big hug and kisses with this cute card! Sometimes writing a heartfelt and honest message is the only present your mom needs. Tell her how much you love her and how grateful you are that she's your mother!
3. A Pot Plant – Something to Take Care of
Super adorable last minute mothers day gift ideas can consist of getting a pot plant for her, with the message "thank you for helping me grow" written on the pot itself. This present is metaphorical, it's not the plant saying thank you, it's the child's thoughts, which express the gratitude for raising and caring for them.
4. Five Things – Cheap Mothers Day Gift Ideas
Handmade gifts draw a smile on peoples faces like nothing else in the world! It shows you put time and energy into making something special and unique for that person. Give your mother something adorable this year. Draw the shape of your hand on sheets of paper and cut them out. Tie them together with a string or a ribbon. Write down five reasons why you love your mother, one on each hand, then let her flip through the booklet. This would also make an amazing Christmas gift for your mother!
5. Handprint Keychains –

Personalised Mothers Day Gifts
Make sure that the children are always close to mom! Make a keychain using the handprints of her children. Have the kids dip their hands into paint and press them onto pieces of plastic. Then cut out the plastic to create the shape of the hands. These cute keychains will draw a smile on your mom's face whenever she's locking the front door!
6. Popsicle Stick Frames – Easy DIY Crafts
If you're thinking about giving your mother a collection of family pictures, then why don't you try making popsicle stick frames? It's not only a cheap option but also super easy to put together. Gather used popsicle sticks, cover them in vibrant wrapping paper and glue them together. Place pictures of the family on these popsicle frames. Your mom will be able to place these on a wall or on her bedside table.
7. DIY Floral Letters – Unique Mothers Day Gift Ideas
Create a floral centrepiece for Mother's day! All you need to do is create the letters of your mom's name, and place floral foam inside the letters. You can stick flowers into the foam to ensure they won't wilt after only a day. These gorgeous floral letters will make a perfect centrepiece for your dining table on Mother's day!
8. A Heart of Buttons – Personalised Mothers Day Gifts
A few honest words mean a lot more than an expensive gift, and this present idea is a perfect example of this! On a wooden board or a canvas arrange an assortment of buttons to form a heart shape. In the middle of the heart glue or paint a message that is addressed to your mom. She will be able to use this great gift as decor!
9. Flip the Flap – Cheap Mothers Day Gift Ideas
This card is perfect for Mother's day! Create a cute flip the flap card for your mom. Draw a flower on a sheet of paper, on each petal write down a word that describes your mom. Create the same shaped flower, cut that out, and stick it on the other picture. Make sure you only glue the centre of the flower on the other, leaving the petals free. In the centre write "my mom is", she will have to lift each petal to see what words you used to describe her.
10. String Art Sign – For Your Mother
If you have a bit of time on your hands and you also love arts and crafts, then make this special gift for your mom! Create string art with the help of a hammer, nails and a wooden board. Align the nails to spell out "mom" or her name and hammer them into the board. Twist a long piece of string around the nails to create letters. After you're done with your letters, you can attach a few family photos to the top of the wooden board. Your mom will love this beautiful idea!
11. Spell it Out – Wooden Sign
Create a piece of decor your mom will proudly place anywhere in your home! Gather a collection of words that all describe your mom and align them so they spell out "mother" vertically. Highlight the letters which spell "mother" in a different colour to make it more visible.
12. Floral Footprints –

 Personalised Mothers Day Gifts
There are so many creative ways to use a footprint or handprint in art. Just take the example above, using footprints as flowers! Paint some grass, some green stems and leaves sprouting out of the ground, then get the kids to dip their feet in paint and press it onto the page to create flowers. A mother's greatest joy is to receive something handmade from her children!
13. For a Baker –

Cheap Mothers Day Gift Ideas
If your mother loves to cook and bake, make sure she has everything she needs to do it! An oven mitt is a perfect gift for mom because you ensure that her hands won't get burnt. However, to make this gift personal, have one of the kid's dip their hands into fabric paint and press that on the mitt. This way, whenever mom is baking something, her kid will always be there with her!
14. A Beautiful Bookmark – For Bookworm Mothers
Does your mother constantly buy new books and loves relaxing on the couch reading them? Make sure she knows where she left off at, by getting her a personalised bookmark! Use a cut-out photo of one of her kids and laminate it, you can attach a string or some wires to their hands for a proper bookmark look. This way your mom will never lose the page where she stopped her read!
15. A Box Vase – Inspired by the Family
If your mother loves gardening, make sure she has awesome vases or pots to plant flowers in! For this special vase, you will need a wooden box, on which you can have pictures of the family engraved or painted on. And you're already done! You can place some soil inside and start planting!
16. A Mother's Day Frame – For Taking the Best Pictures
A great idea and way to celebrate Mother's day are to take photos of mom with the kids. To make this Mother's Day even more special, cut out a huge frame and have the family pose with it, like in the picture above. This photo will make a great memory to look back at later on in life.
17. Photo Cube – Personalised Mothers Day Gifts
Spruce up your house a bit with some decor that reminds you of the family! For this year's Mother's day make your mom a photo cube, each side of the block should have pictures of family members glued on it. While this isn't a standard album or family portrait, it's still an adorable way of expressing love from the family!
18. Cute Pot Plant Ideas – For Your Mother
We mentioned buying pots or vases to satisfy your mom's gardening cravings! To make a creative and cute planter, dip your hand in paint and press your hand on the planter. Then stick a small message between the flowers saying "I couldn't have handpicked a better mom." The wordplay and the handprint will make perfect sense and will draw a smile on your mom's face!
19. I Love You – Personalised Mothers Day Gifts
A few photos of your loved ones make the best present sometimes! Have one of the children hold up different signs in each photo, eventually spelling out "I love you." Put these photos together to create a mini photo series. Then present mom with this composition, it will immediately brighten up her day!
20. A Jar of Presents – Mothers Day Gift Sets
Sometimes the things mom needs the most make the best present. So, collect a variety of items that are useful or she loves, and place them all in the same jar! It's completely up to you on what you decide to buy her, from skincare products to chocolate, make sure she gets everything she needs!
21. Superhero Mom – Awesome Present Idea
Each and every mom is a superhero in her own special way! Whenever the family needs her, she's always there. Make sure she knows this about herself, by describing her with the help of other superheroes, like in the picture above. You can glue small figurines on a paper, and write down that she is as strong as Wonder Woman and as strong as Superwoman.
22. Yarn Letters – Cheap Mothers Day Gift Ideas
Express your love and gratitude to your mother with some DIY yarn letters! Cut letters out of cardboard and spin yarn around them, completely covering them. These vibrant letters should spell out "mom" or her name. She will be able to place these cute letters around anywhere in the house.
23. Egg Box Flowers – Last Minute Mothers Day Gift Ideas
Create a bouquet of flowers for your mother, which will never wilt! Use ice cream popsicles as stems, and create the flowers out of egg boxes. Paint everything in beautiful colours and present your mom with them this year! These flowers will last for a lifetime and will bring a bit of happiness into each day!
24. Lovely Trees – Handmade Gifts For Mom
Find some unique mothers day gift ideas! Make them draw the shape of their hand on a brown piece of paper and cut it out. Remember to cut out a small band underneath the tree itself as well, which will help it stand upright. Cut out small colourful hearts, stick them on the hand, symbolizing leaves. Naturally, this will make a lovely birthday present for your mom as well!
25. Message in a Picture – Fantastic Ideas for Mother's Day
Presents aren't always about buying or make things! Sometimes taking a creative photo and presenting the receiver with it is the best way of expressing your love for them! Give your mother a picture of you this year, but include a creative twist in it! Using coloured chalk, draw things on the pavement and incorporate yourself into the art as well! Check out the picture above for some ideas.
26. Blow a Kiss – Another Photo Idea
For anyone who's looking for a photo present idea, here's a great one! Get one of the kids to pose in front of a white wall which is decorated with a dozen red hearts flying above them. All they need to do now is blow a kiss as you take a picture of this!
27. Handy Butterfly – Cute Gifts for Mom
Have the kids create butterflies for Mother's day! Have them draw and cut out the shape of their hands from colourful paper, attach these hands as wings to a body. This is a simple but super cute and personal gift!
28. A Bouquet of Flowers – In Mother's Day Wrappers
A standard way to celebrate Mother's day is to give your mom a bouquet of flowers. If you'd like to present her with a bunch of beautiful and fragrant flowers, wrap it in some personal paper! You can download and print wrapping paper, which has "I love you mom" written all over it. This cool paper will uplift the whole bouquet!
29. Energy Stash – Chocolate Treats
Everyone has days when they feel a bit down or stressed. The perfect solution to a bad mood is some mothers day gift sets that include a load of chocolate! Make sure you make your mom's days easier by getting her a stash of energy. Fill up a box with her favourite kinds of chocolates, this way whenever she's having a bad day, she can just pop a chocolate in her mouth and start feeling better already!
30. Fluffy Heart – Cheap Mothers Day Gift Ideas
For a simple yet adorable piece of decor, create a fluffy heart for your mom for this year's Mother's day! All you need to do is cut out a cardboard heart, and find some fluffy red wool which you can wrap around it. Make sure you wrap the wool around it tight so the heart is completely covered!
Make sure you make this Mother's day special by presenting your mom with some personalised Mothers day gifts! We hope this collection of 30 cheap Mothers day gift ideas has provided you with some inspiration! Check out more gift ideas on our website, for example, Mothers Day Gifts for grandma or Gift ideas for mom. We have a lot of great ideas!
Advert