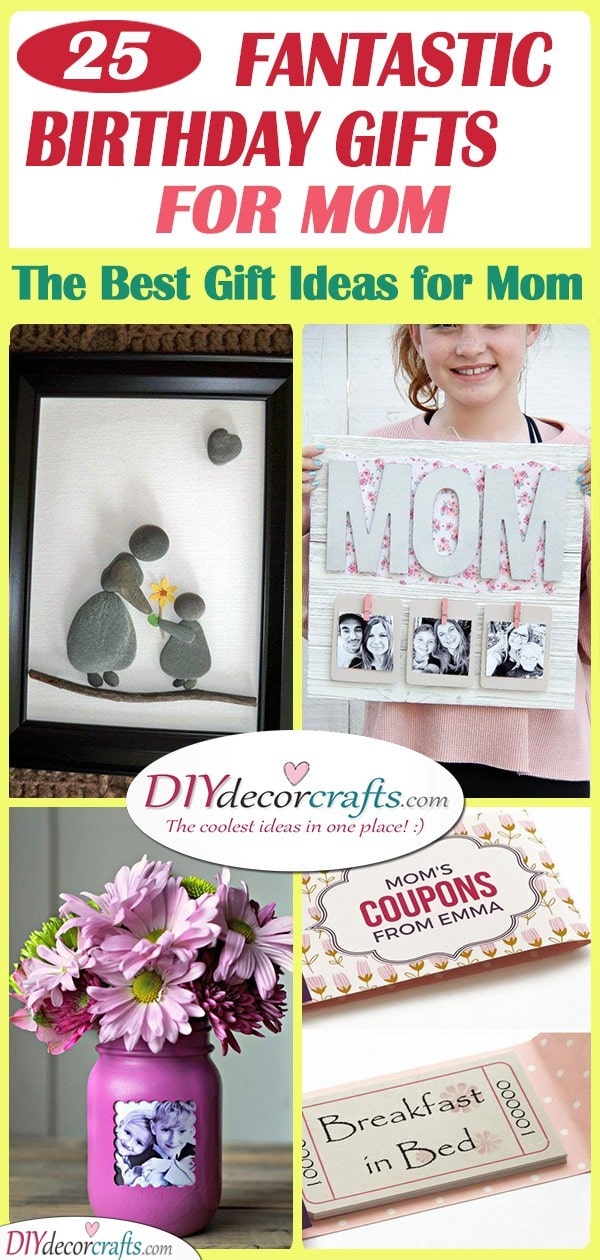 One of the most important figure's in everybody's life is their mother. Mothers care for and watch over us as we grow. They are always there for us when we need them and are always ready to lend a helping hand. So, when it's your mom's birthday, make sure you buy or get her something special! After all, she really does deserve the best! A handmade present is always a great idea for close family members or friends, it shows that you put energy and time into making something truly unique for them. So take a look through our collection of 25 birthday gifts for mom. We're sure that you'll find some fantastic birthday gift ideas for mom!
1. A Bit of Decor – Family Polaroids
A great handmade present, which your mother will be sure to love, is a few pictures of her and the family! Coat a wooden board or a piece of cardboard in some paint. Cut out the word "mom" out of paper, and stick it on the board. Now all you need to do is attach polaroids of her and other family members. She can use this as decor for her bedroom later on!
2. A Shield of Wood – Birthday Gifts for Mom
Make your mother a decor shield for her birthday! All you need to do is paint over some blocks of wood before glueing them together. Write a sentence or a thought on each block, expressing your love and gratitude towards your mother. She will be able to put this wooden shield on a wall in the house, and will always be reminded of you!
3. An Amazing Card – Gift Ideas for Mom
Are you in search of a unique and creative card, which you can surprise your mom with on her birthday? Or as a mother's day gift for her! Here's a great idea, introducing a play on the word "mom." After writing up "Mom" on the front page, mirror that word underneath it. The word will read "wow." Of course, you can interpret this in a few ways, maybe you are expressing your amazement towards your mother, that she's such a wonderful person!
4. Light Up Her Day – Candles as Presents
Here's one of many simple but great ideas for birthday gifts for mom which look gorgeous! All you need to do is cut out a heart from paper and glue it on a mason jar. After this, coat the mason jar in an array of vibrant colours of paint. After the paint dries, you can peel off the paper heart, this way you will leave a small "window" for the candle, you place inside the mason jar, to shine its light from. You can attach a note to the jar that reads "Mom, you light up my life!"
5. A Unique Frame – Birthday Presents for Mom
Create a unique and beautiful frame for your mom! All you need is a picture of her, which you stick in the middle of the frame. You can also decorate the gift with small wooden scrabble letters, the numbers of her birthday, stickers and a small message. This one is up to you, let your creativity run wild!
6. Hap-Bee Birthday – Adorable Card Ideas
Wish your mom a happy birthday with an adorable and unique card! Instead of wishing her a "happy" birthday, put a small twist around it and write "hap-bee" birthday. You can decorate the card with a drawing of a bee. This is a great idea if your mom loves these cute insects!
7. Spell it Out – Heartfelt Birthday Presents for Mom
What does motherhood mean to you? Gather a collection of words, all of which represent your mom perfectly. Then place them underneath each other, to eventually spell out "mother." You can create this on a wooden board, so your mom will be able to use it as wall decor!
8. A Survival Kit – For the Tough Days
Everyone has days, when they are feeling a bit more tired, have a headache or are just simply in a bad mood. This happens to moms as well! Make sure your mother gets through the tougher days of life, by getting her a survival kit! All this means is jamming a few things into a mason jar. Place some of her favourite treats inside, as well as painkillers or lip balm. These small items can mean a breath of relief during a hard day at work.
9. Mother and Daughter Necklaces – A Matching Set
Get you and your mother matching necklaces for her birthday! One is a necklace with a bar of gold with a heart missing from it, the other necklace being the small missing heart. These gifts will express that you two are family, not to mention you also complete each other!
10. Home Sweet Home – DIY Birthday Gift Ideas for Mom
It's usually true that home isn't home according to the place, it's the people who matter! Make sure your mom knows that being at home means having her around! On a piece of paper write up "home is where your mom is" and stick a picture of the two of you next to it. She can put this in a frame and hang it up on her wall! These will make perfect birthday gifts for mom!
11. An Emergency Stash – Her Favourite Candy
Does your mom adore all sorts of chocolate and candy? If she has a constant craving for these delicious treats, make sure you get her a stash of it for her birthday! She can take this emergency stash into work, meaning if she's having a difficult or tiring day, all she needs to do is pop a chocolate in her mouth, and she'll already feel better!
12. Paddle Pop Stick Crafts – Handmade Gift Ideas for Mom
There are so many cute gift ideas for mom you can create out of paddle pop sticks, not to mention it's an inexpensive and environmentally friendly way of making gifts, as you are recycling! Cover each paddle pop stick in different colours or wrapping paper, then stick them together to make a small board. Stick a picture of the family or your mom on it. This is a great homemade gift idea for your mom that is an alternative to using a frame!
13. Glitters and Sparkles – Unique Cards for Mothers
Create a unique birthday card for your mother! All you need is a sheet of paper, glue and glitter! Write a message to your mom with the glue, then pour glitter over it. The glue will allow the glitter to stick to it. After letting it dry, you can shake the rest of the glitter off. Your message will stand out sparkling!
14. A Handmade Mug – Best Gifts for Mom
Create a unique mug for your mum! First, place stickers on the mug of the word you want to be written on it. Then paint over it, you can do dots or stripes, the pattern is up to you! Let it dry and remove the stickers! Your mom will be able to drink her morning coffees from this unique mug and always be reminded of you!
15. A Photo Card – Awesome Gift Ideas for Mom
Instead of getting your mother a store-bought card, make her one by yourself at home! You can even create a pop-up card, with a camera popping up from the inside of the card. If you have decided on sticking with this camera idea, place a polaroid coming out of it of the family!
16. Birthday in a Jar – Unique Gifts for Mom
If you don't have any concrete idea on what to get your mother for her birthday, why not throw together a few things and place them in a jar? For example, get her some chocolate, lip balm, nail polish or stationary, and put this all in a jar. Wrap a birthday message around the jar before presenting her with it.
17. Beautiful Flower Arrangement – Better than a Bouquet
Create an interesting and beautiful arrangement for flowers for your mom's birthday! Cut the letters of her name out of cardboard, and stick them together so you can place floral foam inside of them. Now all you need to do is stick all sorts of flowers and succulents inside! The floral foam will prevent them from wilting so quickly! These letters will make effortless birthday gift ideas for moms!
18. Crafting a Card – Birthday Gifts for Mom
Here's yet another awesome card idea for your mother's birthday! It's a pop-up card, with the message "I love you" popping out in the middle when the card is opened. You can make two sets of cards, one which reads "I love you" and the other which says "Mom." Your mother will love these cards!
19. Flower Handprints – Cute Ideas for Your Mother
Here's a super easy, not to mention a cheap gift to make for your mother's birthday! If you were a naughty child, always leaving your handprints or fingerprints on walls, then this gift will definitely draw a smile on your mom's face! Create a bouquet of your handprints on a sheet of paper, as if they were flowers blooming! Your mum will be able to use this bouquet of handprints for decor, she can even place it in a frame!
20. A Box of Roses – Floral Gift Ideas for Mom
Make a box of roses for your mom's birthday! This is an awesome gift, especially if she adores these beautiful flowers! All you need to do is place floral foam in the inside of a smaller box, before putting the roses inside. Floral foam is really useful because it will ensure that your roses won't wilt as fast as they would. This box of flowers will make a beautiful for your mom!
21. An Adorable Pillow – With a Heartfelt Message
If you're still not sure what to get your mother for her birthday, you can't really go wrong with a pillow! You can have a special message written up for your mom on it, or you can make this yourself with some textile paint. You can also draw or paint something on the pillowcase to give it a truly unique look! Your mom will absolutely love this present, as they will be able to sleep with it or use it as decor around the house!
22. A Vase of the Kids – Best Gifts for Moms
Create a cute vase for flowers for your mom! Cover a mason jar in vibrant paint and paste a picture of you and your siblings on it. Your mother will love this vase, not only because she will be able to place her favourite flowers in it, but also because she will be able to see her children's smiling faces every time she looks at it.
23. A Picture of Pebbles – Unique Gifts for Mom Ideas
If you have a bit of creativity running in your veins, why not make an interesting picture for your mother's birthday? Instead of painting or drawing, use pebbles! Create the bodies of two people, a mother and her child. You can picture the figures giving something to the other. Using pebbles will give your picture a touch of simplicity and a modern vibe! This would also make an awesome Christmas present for your mom!
24. A Few Coupons – Funny Gift Ideas for Mom
Create some coupons for your mom, which she can use whenever she wants! So if she wants breakfast in bed, or she's lazy to do the dishes or needs help with gardening, she can use a coupon to get these jobs done! This is a creative way of helping your mum out around the house. She will definitely be thankful for this birthday gift!
25. A Photo Cube – DIY Birthday Gifts for Mom
Create an adorable photo cube for your mother! Grab a wooden cube, all you have to do is cut out pictures of you and your siblings and paste them on the cube. While this is a simple and easy gift to make, it's definitely very personal and will warm your mother's heart! She can use this as a source of decor around the house.
We trust that this short collection of 25 birthday gifts for mothers has helped you in finding your mom the perfect gift to create! After all, making her something will express just how special she is to you! You might also be looking for Homemade Gifts for Mom or Mother's Day Gift Ideas, so make sure to take a peek at our website!
Advert