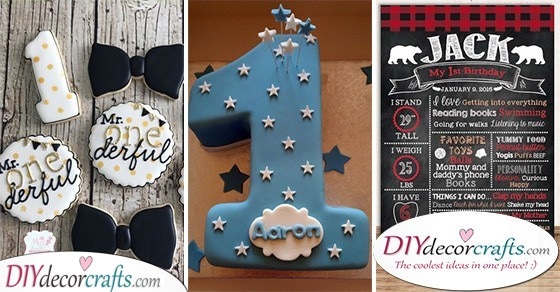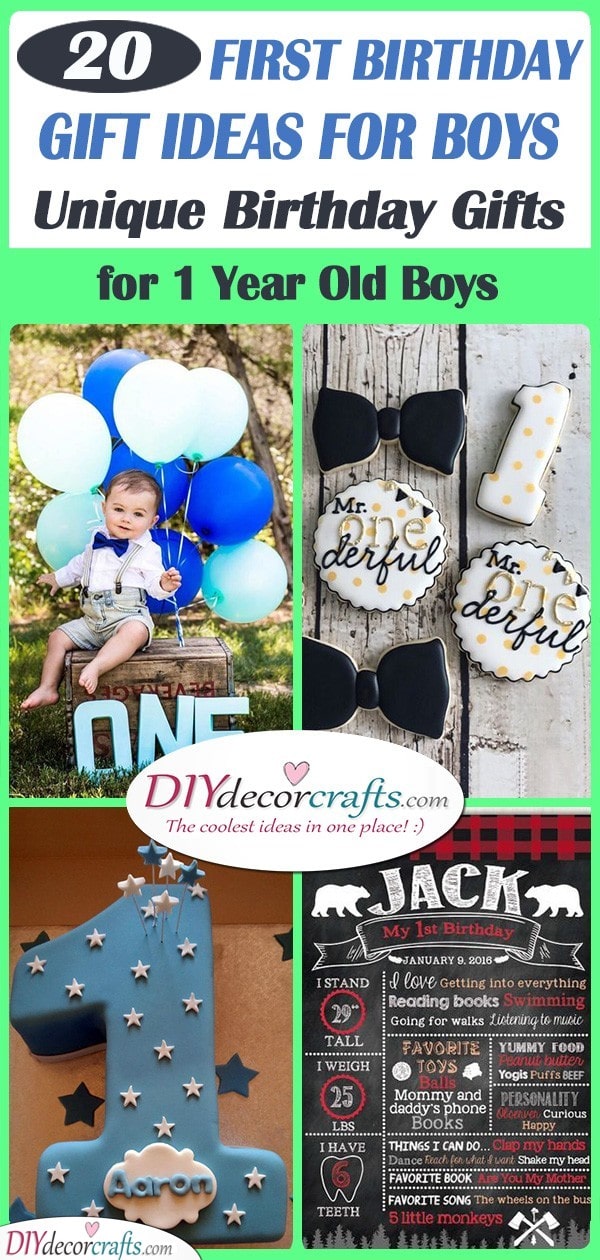 Becoming one year old is a huge milestone in everyone's life! So when a baby boy finally turns one, it's time for a big celebration! Getting together the closest family members and friends to send the little man their best wishes is a must! Naturally, since the little boy is still only one year old, it might be a bit difficult to find him a great present that he might actually enjoy. At times like this, it's more the thought that counts! You can get him something more on the personal side, which has sentimental value, that he will only understand in the years to come, but of course, there are so many great practical gifts you can get a baby! We've collected 20 awesome first birthday gift ideas for boys to make your job easier! So take a look through our unique birthday gifts for 1 year old boys and choose something special for them!
1. The List of Facts – A More Personal Present
What better 1st birthday gift ideas for boys can you find than a list of facts about their first year of life? Besides writing up the basic facts, about how much they weigh or how many teeth they have, write up when they first laughed or crawled, what their favourite food or song is or what games they like to play the best. This will then look perfect in his toddler boy bedroom throughout the years! The baby boy will be thankful for this present later on in life when they learn about the tiny tidbits of the first year of their life!
2. Wonderful or One-derful – Fabulous Ideas for Birthday Cakes
Here's another fantastic idea if you're not sure what to get the birthday child. You can always buy or bake a cake. Have the cake decorated in a way that resembles the personality of the one-year-old boy. Now all you need to get a sign for the cake. We all know that the child is wonderful, but since he just turned one, get a bit creative and play around with words. Write Mr One-derful, instead of wonderful, on a sign and stick that into the cake. This is truly a great idea for any birthday party!
3. A Cordial Invitation – First Birthday Ideas for Boys
If you are planning on hosting a first birthday party and get-together, make sure you send out the most wonderful looking invitations! These will make great baby's first birthday ideas! You can decorate them in any way you'd like, but instead of writing up "our baby boy is turning one," use the play on words again, saying "join us and our Mr One-derful on his birthday." A simple play on words can help elevate something small and turn it into something magical. Naturally, don't forget to mention where the birthday party is going to be taking place!
4. A Matching Suit and Tie – First Birthday Gift Ideas for Boys
Now here is another great idea what to buy a baby boy for his first birthday! Get them a matching set of clothes! Besides buying them the standard birthday hat, get him some pants or a diaper, and of course, you can buy a tie and a bow-tie as well. Make sure all the clothes have the same patterns decorating them, for example, checkered baby clothes look really cool!
5. Selection of Treats – Unique Birthday Gifts for 1 Year Old Boys
Do you love baking at home in your free time? Well, make sure you take some tasty treats to the birthday party then, as a gift! There are so many fantastic baked goods you can make from scratch, we recommend baking sugar cookies, as they are easy and inexpensive to make, and naturally, you can decorate them in any way you'd like! Since it's going to be a baby boy's first birthday, you can create bow-tie cookies as well as number one cookies. Leave a few in standard shapes, like hearts or stars, so you can decorate them with a Mr One-derful text, or just a birthday wish!
6. A Birthday Crown – For the Birthday Boy
If it's going to be a birthday party you will need a birthday crown! You can create this crown at home by using thicker paper. Cut zigzags on one side of the paper, before sticking it together to form the crown itself. Then cover it in glue and roll it around in sparkles or glitter. You can cut out the number one on a different piece of paper and stick it on the crown as well! You can add a bow-tie to the crown, just for that extra effect.
7. A Big Number One – Unique Birthday Gifts for 1 Year Old Boy
Instead of creating a birthday card for the baby boy, make him a big number one! This is a piece of decor that they will be able to look at in twenty or thirty years, and see what their life was like at the very beginning. All you need to do is get a huge number one sign, or you can put it together out of cardboard pieces. Stick an array of photos of the baby boy, his family and small moments of his life so far on the paper. This is a perfect present if you were looking for something more personal.
8. An Adorable Picture – Making a Memory
A birthday present for the one-year-old does not necessarily have to be something big. You can create something special for them, that they will be able to look at in the later years of their lives. For example, take a picture of them and put it in a frame! You can have them hold up a blackboard with a message written on it to make it even more adorable! This one is up to you and your creativity!
9. A Few Details – First Birthday Gift Ideas for Boys
We have mentioned this idea before, but it's such a great gift and there are so many ways you can create it! So again, it's about gathering information about the baby boy. How small he was when he was born, and how big he is now, what his favourite hobbies are, what he likes to eat, who his favourite people are, etc. It's up to you to arrange this information in an adorable way! You can use animal figures to decorate it, then you can put this table of information in a frame!
10. A Thematic Cake – Unique Birthday Gifts for 1 Year Old Boy
If you are a bit confused about what to get the birthday boy, you can always stick to buying or baking him a cake! This is especially great if you love to bake! You can try making a birthday cake which actually bears the form of a number one, symbolizing the age he has reached!
11. A Cute Onesie – The Best Present Ideas for Him
Another one of many awesome first birthday present ideas for the birthday boy is a onesie! These cute outfits are easy to put babies in, not to mention they are super comfortable as well for the kids! You can have something personal printed on the front of the onesie, or a number one with a crown on it, symbolizing that he is one year into his life!
12. A Time Capsule – Unique Birthday Gifts for 1 Year Old Boy
If you have been wanting to gift the one-year-old boy something truly special and interesting, go for a time capsule. Time capsules are great ways of sending messages to future selves. Write the one-year-old a birthday message, that they will only be able to open when they are eighteen. It's completely up to you what you write inside the letter, you can talk about wishing them all the best in their life or how much they mean to you, even though they are still so small! You can put the message in a box, as well as other items from their first year of life, perhaps a toy or his shoes, these will all mean so much when he has turned eighteen!
13. A Lego Birthday Cake – For Lego Lovers
Lego is a great toy for kids to play with, they develop a sense of creativity as well as different sorts of skills while building various things out of these plastic blocks. If the birthday boy is obsessed with lego, make sure his cake reflects his taste in toys! You can create a lego cake, or cupcakes, each bearing a building block on the top of the icing.
14. Dressed to Impress – First Birthday Gift Ideas for Boys
We've talked about this creative play on words, wonderful – one-derful, just a symbolization that the boy has turned one year old! Get this word printed on a shirt or a onesie for the baby to wear on his birthday! Make sure to take pictures of them in their adorable outfit, as they are dressed to impress! You can even get a bow-tie to complete the overall look. Try out this one of many cool baby's first birthday ideas!
15. Photo Series – Unique Birthday Gifts for 1 Year Old Boy
Get creative with first birthday ideas for boys! There's nothing better you can give a child than a memory. Of course, these memories will mean much more in the years to come than in the present. Take a photo series of the one-year-old boy, in each picture he should be holding up a letter of "one." Put the pictures together at the end, and it will be easy to guess for anyone how old they have turned this year!
16. Another Time Capsule – A Future Message
We have mentioned getting the one-year-old a time capsule. While it's something they won't be able to open on their birthday, they will receive it in the years that come. You can ask all the guests at the birthday to add a small note or message to the time capsule, on what their thoughts are, what will the baby be when he grows up, what is their favourite memory so far concerning him, etc. This will mean so much when the young man will be allowed to open it!
17. Their Birth Year – What Happened in the Past
It's always interesting to know what exactly happened the year you were born, what was the trendiest music playing on the radio and what was the most-watched television show. Print out a few facts for the birthday boy on a sheet of paper, and put it in a frame, allowing you to use it as a form of wall decor. It will always be an amazing feeling for him knowing about what was going on in the world the year he was born! So why not try out making one of these 1st birthday gift ideas for boys?
18. Comfortable T-Shirts – First Birthday Gift Ideas for Boys
A t-shirt or an item of clothing is always a great gift idea if you have run out of ideas on what to give the birthday boy! You can't really go wrong with a comfy shirt with a message written on it. It's up to you what you have printed on the front or backside of the shirt. You can print Mr One-derful on it or a cute message and drawing which only the close family understands.
19. A Beautiful Photoshoot – First Birthday Present Ideas
There's nothing better you can give a one-year-old boy, than a small memory for his future self. Why not organise a small birthday photoshoot for him? Get him all dressed up in cute clothes, holding vibrant balloons with the number or word one placed somewhere in the background. Get these photos printed and put in an album or a frame, this way the baby boy will be able to see later on, what his first birthday was like since he probably won't remember it!
20. A Tuxedo Bib – Don't Let Food on Drip on His Clothes
Babies and toddlers are known to eat with their hands, which means they eat messily. Make sure the one-year-old doesn't get stains on his birthday outfit, so get him a bib! A cute idea for bibs is getting a tuxedo-like one. This is one of many perfect first birthday gift ideas for boys!
We hope this short collection of 20 unique birthday gifts for 1 year old boys has been able to give you some inspiration for any upcoming baby boy's birthday!
For more gift ideas check out our website, but we don't just have first birthday gift ideas for boys, we have inspiration for presents concerning Baby's First Birthday Ideas or First Birthday Presents for Girls and much more!
Advert