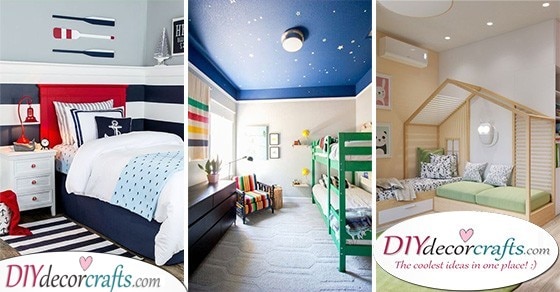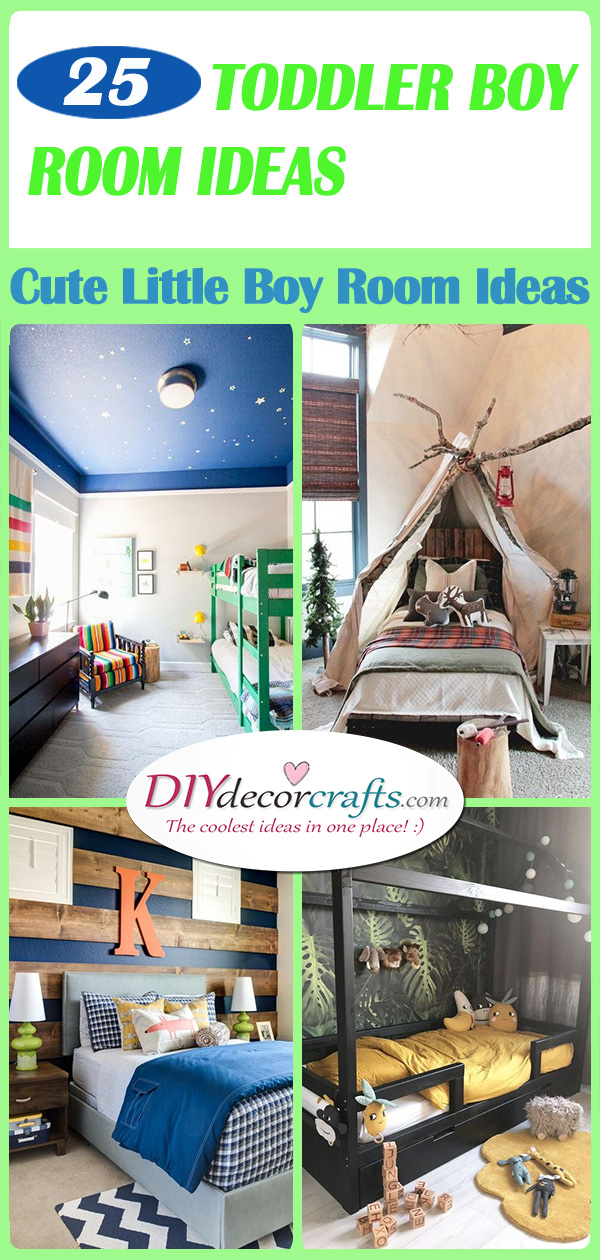 Has the time come for you to refurbish and renovate your home? If so, it is important to create a harmonious and joyful environment for everyone in the family! So when you start redecorating everyone's room, try channelling their personality and interests with the decor. As well as the placements of the furniture. If you have a young son, make sure to redesign his room with the best toddler boy room decor. These great toddler boy room ideas will turn his room into a fun and happy space to play in as well as sleep in. We have collected 25 toddler boy bedroom ideas for you to choose from! We trust that you will be able to find some inspiration below!
1. A Starry Night – Beautiful and Enchanting
Gazing at the night sky and looking at all the shining stars gives you a sense of beauty and endlessness. If your toddler boy loves the view of stars in the night sky, why not decorate his room with a whole galaxy? Paint stars all over his walls or even try hanging some star-themed bedroom lighting from the ceiling. You can use stick-on glow in the dark stars as well for an even more fabulous effect! This will lend his whole room an enchanting atmosphere.
2. Simple and Clean – Little Boy Room Ideas
If you have been thinking of sticking to a simple and clean style, make sure to do it! Instead of using a carnival of colours, maybe only use one or two shades as dominant colours. We recommend using a blend of white, one or two pastel shades and wooden furniture. This will definitely add a gorgeous simplicity to your toddler boy's room. Using a lot of white will also guarantee to make his room seem larger! So if he has a small room, then this will do the trick of enlarging it!
3. A Wintery Wonderland – Cubbyhouse or Bed
Create a winter wonderland as toddler boy bedroom ideas! Use white and grey for the design of his room. Place all sorts of white rugs on the floor, symbolizing the winter snow. You can also place a few small branches or trees around the room, on which you hang fairy lights. You might also create a cosy cubby house for your kid in his room. Place a bed in the cubbyhouse, to make it a safe sleeping space as well as a place to play inside!
4. All in One – Unique Furniture for His Room
Now here's a unique and creative piece of furniture. We could even call it an all in one package! It's a bed, a sofa and a shelf built together to resemble the shape of a house. It's definitely a useful and practical way of combining different furniture. Not to mention if you are short on space, you will need to try saving all the room you can! Which makes this the perfect piece of furniture for small rooms. Add your toddler boy's favourite colours to it, to give it a vibrant burst of energy!
5. Painting a Ceiling – Toddler Boy Room Ideas
As we have mentioned before, an awesome idea is to use the starry night sky as inspiration for the room design. Instead of decorating the whole of your toddler boy's room with stars, only redesign his ceiling! Paint his ceiling dark blue, leaving the rest of his walls white. Then draw white stars all over the ceiling. You can create the constellations of actual stars on the ceiling for a more unique look. And you might even paint over the stars with some glow in the dark paint! This will ensure that the stars light up each night.
6. To the Moon and Back – Star Wars Ideas
Perhaps your toddler boy loves watching the Star Wars movies and can't get enough of them! If so, make sure to use these amazing movies as inspiration for his room design! Paint his ceiling to resemble a sky full of stars. Then use all sorts of posters and paintings of Star Wars characters and hang them on the walls. You might also think about getting a few characters or spaceships as toys to act as final touches in his room!
7. An Arctic Ambience – Little Boy Room Ideas
Create the whole Arctic in your toddler boy's room! This is a fantastic idea if he loves animals and wildlife, especially the North or South Pole! Paint all sorts of mountains, waves and bubbles on his walls, consisting of blue, light blue and white shades. You might also add a few animals to the walls, like swimming whales. Place polar bear plushies around the room as well for a further arctic feel. Also, try getting furniture which is coloured in the same way. By the end, your toddler boy's bedroom will look truly fantastic! 
8. Deep in the Jungle – A Jungle Inspired Room
Give your toddler boy's room some serious jungle vibes! Everyone loves jungle-themed home decor and rooms! Use green and brown in all sorts of shades as the dominant colours. You might consider covering one of the walls in thick vines and placing various plants around the room. Of course, don't forget to place some fantastic animal plushies around the room. Each animal plushie should belong in the jungle, like a lion or a crocodile! You can also place your toddler boy's bed on the floor as if he were sleeping in a tent!
9. A Nautical Design – Toddler Boy Room Ideas
If your little boy loves being out on the ocean or the sea he will love this room design! It's all about using nautical themed designs in the room! For example, a typical nautical design is using red, white and blue as the main colours. You can create blue and white stripes, representing the typical sailor stripes. Use anchors as a prominent decoration or pattern in the whole room! You can also consider painting oars on one of the walls, anchors or small ships sailing on the sea. This will look stylish and great once you are finished with it!
10. The Sky and the Sea – A Creative Space
If your little boy is a creative young man, make sure to provide a unique environment for him! Paint a whole sky on the walls for him, with clouds floating on it and hot air balloons flying around. You can even include flying whales and rockets zooming in the sky. An extra addition to your toddler's room might be a swing. You can hang it from the ceiling and your kid will be able to climb on it whenever he wants and soar into the skies.
11. A Playground Inside – Brilliant Blue
Perhaps your little boy's favourite colour is blue. Then make sure to paint his room in shades of it! Also think about adding a small playground into his room, to make certain he won't ever get bored! You can create a slide that lands into a pool of plastic balls. Or you can even include a swing in his room! Giving your toddler a playground of his own will make his dreams come true!
12. Stylish and Modern – Toddler Boy Room Ideas
You might consider adding a stylish and modern design to your little boy's room. For example, using wooden panels is a great idea of giving your toddler's bedroom a unique look. You can place wooden panels on the walls, creating stripes with stripes of paint in between them for an amazing wall decor idea. These are great toddler boy room decor ideas!
13. Airships and Boats – Unique Little Boy Room Ideas
Create a combination of two sorts of human-made transport devices in your boy's bedroom. Add airships together with boats, to create a unique atmosphere. Hang paintings of airships on the wall, but also make sure to use nautical-inspired decor. For example, you can create a steering wheel for the head of the bed. You can use pillowcases that have boat, airship or car inspired designs!
14. A Den for a Superhero – A Marvellous Design
Does your kid love superhero movies? Does he have a superhero who he views as his role model? Then make sure to include superheroes as a part of the decoration in the room. You can get superhero-themed rugs, posters, blankets and all sorts of figurines! He is guaranteed to love this room!
15. Another Nautical Idea – For Your Toddler Boy
Here is one of many fabulous nautical-inspired little boy room ideas! Use paintings of anchors to decorate the walls. You can even find a bed shaped like a boat or a ship for your kid to sleep on! Use mainly blue and white with shades of red appearing in the bedroom design as well! Naturally, make sure to use small models of ships and boats as decor around the room!
16. His Favourite Sports Team – Cool Toddler Boy Room Ideas
Here is another fantastic way of channelling your little boy's love for sports and his favourite sports team into his bedroom decor! If he loves the Cowboy football team, why not try out this idea? Decorate his room with all sorts of Cowboy decor, this can mean photos of football or placing footballs on his walls and his curtain design! Of course, depending on what his favourite sports team is, make sure to use that in the bedroom design!
17. Trying Out Stickers – Great Wall Designs
Here is another great design that will be perfect for decorating your toddler boy's room. Why not try out wall stickers? If you are going for a more nautical effect then create blue and white stripes on one wall of the room. Then place wall stickers on another wall. You can use shapes of anchors, life rings, steering wheels and small sailing boats.
18. Bright and Vivid – Using a Combination of Colours
If your little boy is a positive and happy person, make sure to use bright colours in his room to express this! Use a combination of his favourite colours to create a bright and vivid space in his bedroom. If your toddler likes to paint, make sure to hang up some of his paintings on the walls. You can also use colourful furniture for his room!
19. A Woodland Nest – Peaceful Little Boy Room Ideas
Create an atmosphere in your little boy's room that resembles the ambience of a forest or the woods. You can use a lot of wooden furniture. Place wooden stumps around the room and also place small fir trees in the room as well. You can create a tent shape on the bed as if your toddler were camping out in the wild!
20. An Array of Animals – The Animal Parade
Is your kid an animal lover? Make sure to decorate his room with an array of animals then! You can use a wallpaper print of animal heads to cover your walls! Also, add animal-themed furniture to the room. For example, a mirror in the shape of an animal head. Toddler boy room decor like this will look amazing!
21. His Favourite Sport – Toddler Boy Room Ideas
If your toddler boy is obsessed with sports, make sure to give their room a sporty vibe! Allow them to hang up posters as well as paintings of their favourite sport. Also make sure to include sports balls on their shelves as decor, for an even more active and sporty look!
22. Unique Wall Shelves – Awesome Source of Decor
An awesome way of storing things if you don't have much space in the room is to use wall shelves! You can use these as bookshelf designs or just place some random pieces of decor! Whatever you decide on doing, we're sure it will look fabulous!
23. Unique Pieces of Decor – Little Boy Room Ideas
When decorating your little boy's room, make sure to use all his favourite things to decorate his room! His favourite animals, hot air balloons a rug with an interesting pattern will all give his room a unique look! A peaceful harmony of colours includes using wooden furniture, copper, white and grey.
24. A Tropical Jungle – Some Cute Fruit
We have mentioned creating an atmosphere similar to a jungle's in your toddler boy's room. Use a wallpaper creating the image of leaves and palms. Then place all sorts of paintings of tropical fruit on the walls. You can also include some cute fruit plushies and pillows in the decor!
25. Checkered Airplanes – Toddler Boy Room Ideas
If your little boy loves watching aeroplanes flying in the sky, make sure to use them as inspiration for his room! Try finding aeroplane wall stickers for the walls of his bedroom. Then use all sorts of checkered items, like boxes, pillows and blankets to decorate the rest of the toddler boy bedroom with!
We hope that we were able to inspire you and your son with this pick of 25 toddler boy room ideas. For more room design ideas, like apartment living room ideas or children room ideas, visit our website!
Advert