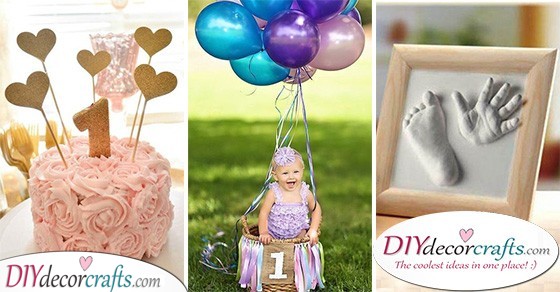 A baby turning one is an amazing experience! They reach the first milestone in their life. It's incredible to witness the first year of their life. They are constantly growing and learning new things, not to mention becoming more familiar with the world itself day by day. When a baby girl turns one year old, they probably won't have any memories of this big day, but you still might find it important to get her something special, that she will treasure in the years to come. It might be a bit hard to decide on what to get or make her since she's still a baby, but don't worry that's why we are here! We have gathered 20 1st birthday gift ideas for girls, to help you find her an awesome birthday present! So look through our array of first birthday presents for girls for a bit of inspiration!
1. A Beautiful Birthday Cake – First Birthday Presents for Girls
Are you thinking about throwing the one-year-old a super fun birthday party? Well, a birthday cake at a birthday party is a necessity! Since you are celebrating the birthday of a girl, you might consider decorating the cake with pink fondant or buttercream. You can also stick a message or a number into the cake itself, expressing how old she has turned. Whatever the cake looks like, we're sure the baby girl will be happy to taste a slice of cake!
2. The First Memories – Of the First Year
If you've been thinking about creating something more personal with some sentimental value, why not make a collage for the baby girl? On a sheet of paper draw a big number one, and cover it with photos of the one-year-old's first year of life. This should form a number one, which you can place in a frame, making it a first birthday present which the child will be able to look at and admire in later years. You can write messages to her around the collage itself.
3. A Cute Photo Series – First Birthday Presents for Girls
There's nothing better you can give a child than a memory. Of course, these memories will mean much more in the years to come than in the present. Take a photo series of the one-year-old, in each picture he or she should be holding up a letter of "one." Put the pictures together at the end, and it will be easy to guess for anyone at how old they have turned!
4. A Hot Air Balloon – A Flying First Year
Give the one-year-old girl an amazing experience on their first birthday! Make her a hot air balloon. Naturally, we aren't talking about the actual contraptions. All you need to do is decorate a basket, in which the child will be able to fit in. You can place a piece of burlap on the basket that has the number one written on it. Then attach some helium-filled balloons to the basket, giving it a hot air balloon vibe! While this basket won't actually lift up into the sky, it will still be an awesome experience! You can take a small photoshoot of her, while she sits in the basket!
5. Decorating the Party – 1st Birthday Gift Ideas for Girls
Are you going to be hosting a birthday party for the one-year-old girl? Make sure to decorate the party venue with all the right ornaments! There are a wide variety of decoration ideas to choose from, but something you should definitely stick to is banners! You can write up the name of the baby girl as well as the age she turned. Depending on what colours you are using for the rest of the decorations, make sure to make the banners match them!
6. A Timeline Photo Series – Cute Ideas for Her
Another great way of storing memories for later on in life is by creating a timeline for the baby girl. Hang down photos from strings, marking them with numbers at how many months old they were on each picture. This timeline of pictures will show how much fun they had in their first year of life and how much they changed during a short while! This is just one of many great 1st birthday gift ideas for girls!
7. A Birthday Outfit – Dressed to Impress
If you're not sure what to get a one-year-old girl for her birthday, you might consider buying her a cute outfit for her birthday party! According to what sort of things she likes, you might get her an animal jumpsuit, a princess dress, fairy clothes or this super cute outfit with a tutu! If you like the tutu idea, get her a t-shirt as well, which has the word "one" printed on it at the front. You can also make her a small crown, representing her as the celebrant of the party. These will amazing first birthday present ideas!
8. A Hand and Foot Plaster Cast –

1st Birthday Gift Ideas for Girls
Here's another one, of many, great first birthday presents for girls. If you would like to give the child a memory instead of something material, use her as inspiration! You can create a plaster cast of her foot and hand and place it in a frame. Plaster casts are quite simple to create, so if you're in doubt, just go online to find a DIY tutorial as there are hundreds! It's also a great idea because this small craft creates a memory and moment in time, which the one-year-old will be able to look back at and see how small they were in the very beginning!
9. Sweet as a Peach – First Birthday Presents for Girls
There's an awesome style, in which to decorate the one-year-old girl's birthday party. It's known as the "sweet as a peach" theme. Use shades of pink and peach for the overall colours at the party venue and make sure to use rustic themed decor. You can give your guests some thank-you gifts for being there to celebrate the baby girl's first birthday, for example, peach jam in small jars.
10. Blackboard Photo Ideas – First Birthday Gifts for Girls
Maybe you'd like to organise a small photoshoot for the one-year-old girl's birthday, just to put away some of the pictures as memories for her to look at later on in life. You can try using a blackboard as a prop in some of the pictures. Have the baby girl hold the blackboard with the message "it's my birthday" or the number one written on it. You can put this in a frame or album making it an everlasting memory.
11. A Few Fun Facts About Her – Birthday Gift Ideas for Girls
What better gift is there to get a one-year-old girl, than a list of facts about her first year of life? Besides writing up the basic facts, about what time she was born and how big she was, write up when she first laughed or crawled, what her favourite food is or what games she likes to play the best. Decorate this list of facts with small drawings and patterns, later placing it in a frame. The baby girl will be thankful for this present after she grows somewhat older and has the chance to learn tiny tidbits about her first stage of life.
12. Tutu Highchair – Super Cute and Simple
Becoming one means you are going to be able to do a lot more things than before! More crawling and slowly learning how to walk and talk are just a few of the things you will be able to master after one year of life. Being one also means getting closer to eat as the adults do! Buy the baby girl a highchair for her birthday, decorating it with a tutu and some artificial flowers. This way she will be able to join the rest of the family for meals.
13. A Glimmering Crown – 1st Birthday Gift Ideas for Girls
If it's a birthday party then you will need a birthday crown! You can make this crown at home out of a thicker paper or felt. Cut zigzags on one side of the paper, before sticking it together to form the crown itself. Then cover it in glue and roll it around in sparkles or glitter. You can cut out the number one on a different piece of paper and stick it on the crown as well!
14. Her First Year – Timeline Idea as a Birthday Present
Here's another great idea for a timeline if you'd like to give the baby girl something personal for her very first birthday! On a big sheet of paper paste pictures of the one-year-old, from the moment she was just a few days old up to the age she is now. You can put this in a frame and place it above her bed. This will be awesome for her to look at later on in life.
15. A Family Print of Hands – Creative and Unique Birthday Ideas
Create something truly special for the one-year-old girl! If you have been thinking about making something personal with a sense of nostalgia, then you've found the right option! Have mom, dad and the baby girl dip their hands in different colours of paint. Have dad press his hand on a sheet of paper first, then after allowing the paint to dry have mom do the same. Finally, have the one-year-old girl leave the last handprint on top of everyone else's. Place this in a frame, it will be an amazing piece of art to look back at in the years to come! This could also make a great birthday gift for mom or dad!
16. Frame it – Personalised Gifts for the Birthday Girl
Here's another great and unique idea to get a one-year-old girl, especially since this one will become an everlasting memory of their first birthday! Get a frame beforehand, and write up "my first birthday." You can also decorate the other parts of the frames with a number one, paper balloons or some vibrant paper. Leave the middle empty though. Take a polaroid camera with yourself to the birthday party, and shoot a picture of the birthday girl. Place a polaroid in the frame and you'll have a truly special birthday gift for the baby! 
17. Foot and Handprints in Clay – First Birthday Presents for Girls
Here are other 1st birthday gift ideas for girls to get you inspired! Create a foot and handprint clay keepsake! If she has siblings, you can include their foot and handprints as well! Making clay or even salt dough prints are not only easy to make, but it's fun for the kids as well! You can paint over the prints with some beautifully coloured paint, representing who's foot and hand is who's. This will be awesome for the baby girl to look back at when she's already in her twenties or even later on in life when she is over sixty! She'll be able to use this as a form of wall decoration and show her own kids her foot and handprints!
18. Fun to be One – Blackboard Photo Idea
Here's one of many fantastic 1st birthday gifts ideas for girls if you want to take a few photos of the one-year-old on her birthday! Dress her up in a lovely outfit and sit her on a stool. On a blackboard write up "one is fun." Put it in her hands and have her hold it when taking a picture of her. Photos will definitely make the best first birthday gifts!
19. A Timeline of Shoes – Taking Baby Steps
As we've mentioned before, timelines are fun and easy to make! Especially when you're giving a young child a gift, it's important to give them a memory, a fragment of their life, which they might not remember having or using when they were just a young baby. Shoes are a great way of showing exactly how much a baby grows in a whole year! Put shoes together, writing next to each one how many months old they were when they wore the shoe. Then place these shoes in a box-like frame creating one of many awesome baby's first birthday ideas!
20. Thank-You Cards – First Birthday Gifts for Girls
If you are planning on hosting a big birthday party for your one-year-old girl, make sure you thank the guests for popping in and saying happy birthday! Make thank you cards for each and every one of your guests. These will be great first birthday present ideas! Decorate them in a way appropriate for the event itself. Have your one-year-old dip their hand in paint and put it on the envelopes. Write "thank you" above the handprint. While this is a simple and easy way of decorating the thank you cards, it's also cute and perfect for the occasion, making these the best first birthday gifts!
We hope that these baby's first birthday ideas have assisted you in finding a great present or a party idea for the special one-year-old girl's birthday! For other ideas, besides the first birthday presents for girls, visit our website and discover our Baby's First Birthday Ideas or Birthday Gifts for 1 Year Old Boys.
Advert