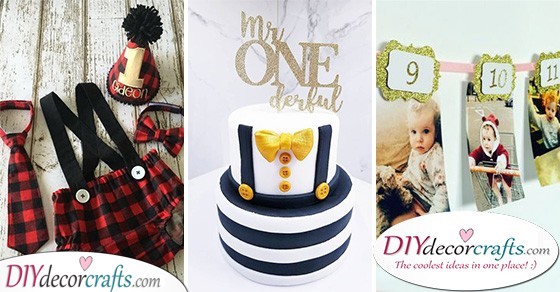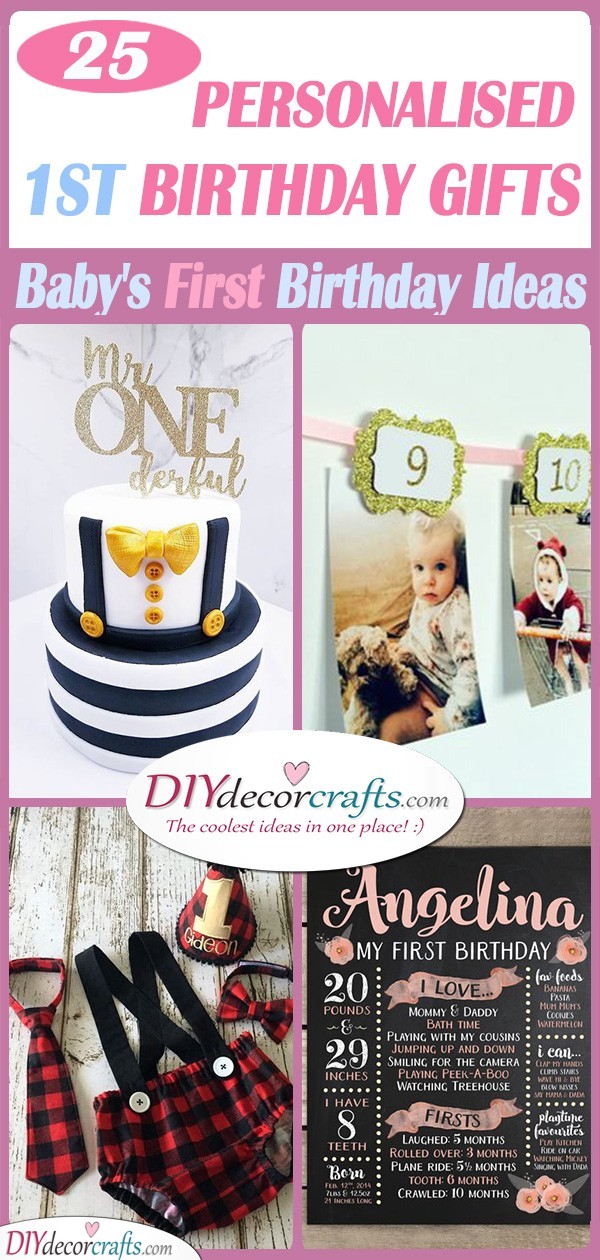 It's a huge experience to see a child turn one. The first year of their life is always interesting to witness. Seeing them grow day by day and learning new things is a rewarding feeling in itself. Naturally, when a child turns one, he or she will probably not remember it in the later years to come, but you will still feel it important to get the child a present. It might be a bit hard to decide on what to get them, as they are still so young, but it's the thought that counts! We've collected 25 gift ideas for personalised 1st birthday gifts for you to choose from! So look through our collection of birthday presents and a baby's first birthday ideas!
1. Hours, Days and Months – Baby's First Birthday Ideas
You might be looking for an invitation or card idea for someone's first birthday. Well here's a fabulous idea for you! Write up the amount of the hours, days and months they have lived, each one being equivalent to the one year. You can also find some cute pictures of the toddler and place them in the card as well.
2. Wonderful or One-derful – Fantastic Ideas for Birthday Cakes
Here's another fantastic idea if you're not sure what to get the birthday child, buy or bake a cake. Have the cake decorated in a way that resembles the personality of the one-year-old kid. Now all you need to get a sign for the cake. We all know that the child is wonderful, but since he or she just turned one, get a bit creative and play around with words. Write Mr or Miss One-derful on a sign and stick that into the cake.
3. A Hot Air Balloon – Baby's First Birthday Ideas
Give the one-year-old a special experience on their first birthday! Make them a hot air balloon. Naturally, we aren't talking about the actual contraptions. All you need to do is decorate a basket, in which the child will be able to fit in. You can place a piece of burlap on the basket that has the number one written on it. Then attach some helium-filled balloons to the basket, giving it a hot air balloon vibe! While this basket won't actually lift up into the sky, it will still be an awesome experience!
4. A Matching Suit and Tie – Baby Style
Now here is another great idea what to buy a baby for their first birthday! Get them a matching set of clothes! Besides buying them the standard birthday hat, get them a dress or some pants, for boys you can buy a tie and a bow-tie as well, for girls you can buy a bow for their hair. Make sure all the items have the same patterns decorating them!
5. A List of Facts –
Personalised 1st Birthday Gifts
What better gift is there to get a one-year-old, than a list of facts about their first year of life? Besides writing up the basic facts, about what time they were born and how big they were, write up when they first laughed or crawled, what their favourite food is or what games they like to play the best. The baby will be thankful for this present later on in life when they learn tiny tidbits about their early life.
6. First Day and First Year – Time Flies
Another great way of celebrating the first year of a little person's life is by placing two pictures in a frame. One picture should have been taken on the first day of their life, while the second when he or she is already one year old. Time really does fly by, in just one year the child will have grown and changed a lot!
7. A Big One – Personalised 1st Birthday Gifts
You can even try making a bit of decor for the birthday party. Make sure everyone knows that it's the kid's first birthday, by creating an enormous and sparkly number one. You can make this by cutting and sticking pieces of cardboard, then coating it in glue before rolling it around in glitter.
8. Magical Moments –
Baby's First Birthday Ideas
Create a birthday card for the one-year-old, that they will be able to look at in twenty or thirty years, and see what their life was like at the very beginning. All you need to do is form the number one on a piece of paper. Stick an array of photos of the child, their family and small moments of their life so far on the paper. Make sure the photos all form the shape of a one. This is a truly lovely present to give!
9. Small Facts – First Birthday Gift Ideas
We have mentioned this idea before, but it's so great and there are so many ways you can create this! So again, it's about gathering information about the kid. How small they were when they were born, and how big they are now, what their favourite hobbies are, what they like to eat, who their favourite people are, etc. It's up to you to arrange this information in an adorable way! You can use animal figures to decorate it, then you can put this table of information in a frame!
10. A Box of Everything –
Baby's First Birthday Ideas
Still not sure about what to get the one-year-old for their birthday? Why not buy them a whole lot of things, then place them all in a beautifully decorated box? You can buy a candle, stickers, pens or crayons for them to draw with, toys and even a bottle of non-alcoholic children's champagne. They will be guaranteed to like at least one thing from your box of goods!
11. Put it in a Frame – Personalised 1st Birthday Gifts
Here's another great and unique idea to get a one-year-old, especially since this one will become an everlasting memory of their first birthday! Get a frame beforehand, and using scrabble letters write up "the first birthday." Leave the middle empty though. Take a polaroid camera with yourself to the birthday party, and shoot a picture of the birthday boy or girl. Place this polaroid in the frame and you'll have truly special birthday gift!
12. Time Capsule – Interesting First Birthday Gifts
If you have been wanting to get the one-year-old something truly special and interesting, go for a time capsule. Time capsules are great ways of sending messages to your future self or someone else in the future. Write the one-year-old a birthday message, that they will only be able to open when they are eighteen. It's completely up to you what you write inside the letter, you can talk about wishing them all the best in their life or how much they mean to you, even though they are still so small!