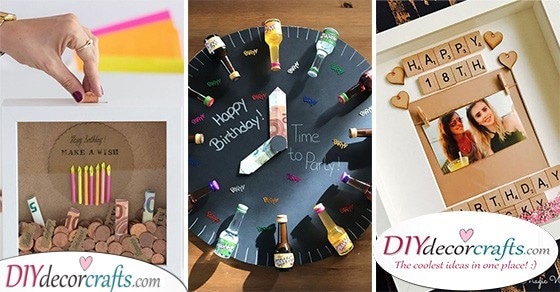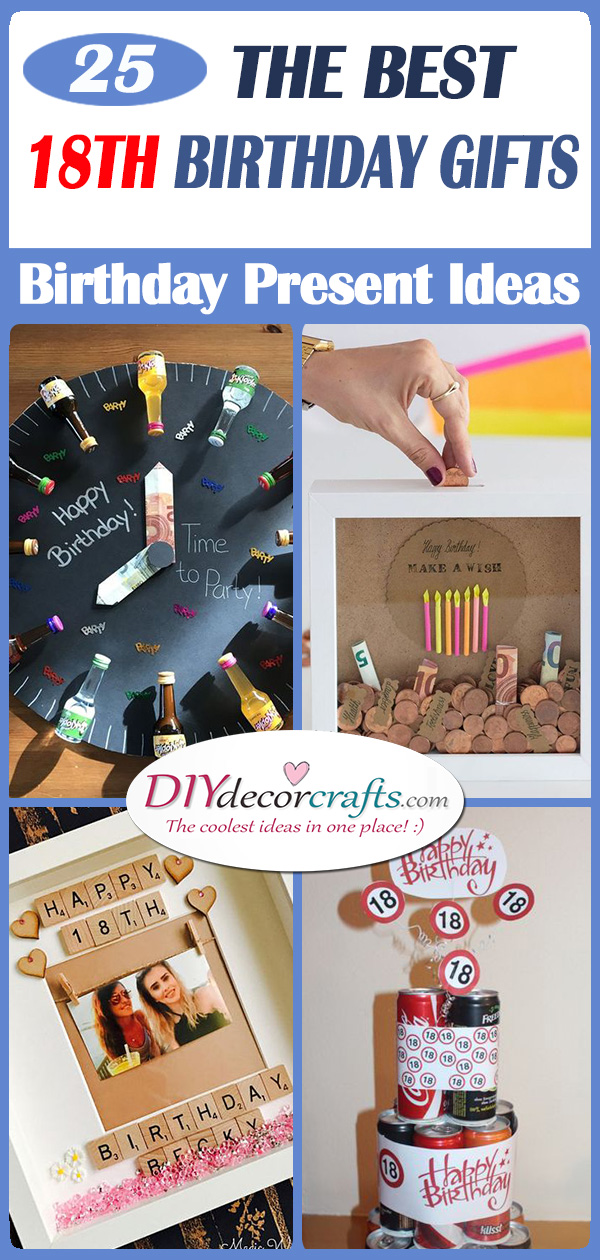 When someone turns eighteen it's a huge step towards adulthood in their life. In many countries, eighteen is the legal age for being an adult. If you know someone who is turning this age soon, they are probably going to have a huge party to celebrate this milestone! Make sure you arrive prepared, by getting the best gift you can possibly think of. Naturally, you could buy something big or expensive for the 18-year-old, but making handmade 18th birthday presents will show that you actually put the time and effort into making something special for them. We have collected 25 18th birthday gifts, so take a look through our collection of birthday gift ideas and get inspired!
1. A Very Alcoholic Cake – Time to Legally Drink
Every birthday demands a great birthday cake. Since we're talking about an eighteenth you will need an awesome cake, which symbolises the coming-of-age. We recommend getting cans of beer and creating the tiers of the cake out of these. You can string a few banners around the beercans wishing the 18-year-old a happy birthday! If these birthday cakes aren't great 18th birthday gifts, we don't know what are!
2. All the Necessities – Handmade 18th Birthday Gifts
You might not be exactly sure what to get the special 18-year-old for their birthday. So, instead of getting them one thing, get them an array of gifts which may all be useful in their new year. From tissues to a facemask it's up to you on what you'd like to present them with on their birthday!
3. A Birthday Clock – Time to Party
An eighteenth birthday is all about partying! Make sure the young adult has all the resources for them to party, by making them a party clock! Cut out a circle out of cardboard, draw in the lines of the minutes, but instead of writing the numbers of the various hours, put small bottles of schnapps to each hour. They will have to drink all twelve of the bottles before the day is over!
4. Money or Candles – 18th Birthday Ideas
While you might not have the time to bake a cake, you might like to get the 18-year-old a few candles to blow out. Here's a great twist on candles! Wrap up notes of money in cylindrical forms and attach them to a card. You can cut out "flames" out of coloured paper, sticking them above the money. While these aren't actual candles that can be blown out, we're sure that the birthday boy or girl will be just as happy to receive them as real ones!
5. A Bottle of Liquor – 18th Birthday Presents
There's no better gift to give an 18-year-old, than a bottle of alcohol or liquor. You can attach a card to the bottle itself, wishing them the happiest of birthdays and you might also attach a few banknotes to the card as well, as a bit of extra pocket money.
6. Birthday Wishes – Send Them All the Best
Here's another fantastic idea as one of many 18th birthday present ideas for girls and boys! Create a piggy bank full of good wishes and pocket money for the 18-year-old. Instead of using an actual piggy bank, create a box with one side made out of glass or plastic, so you can see what is thrown inside the box as well. Don't only throw in money, also remember to add a few notes wishing them happiness or good health. 
7. A Birthday Box – 18th Birthday Presents for Boys and Girls
If you are thinking of getting the birthday boy or girl a number of special gifts, put them all in a beautifully decorated box! Decorate the box yourself with a string of "happy birthday." You can place artificial flowers inside, which you made yourself, as well as the other gifts you got them.
8. In Case of Emergency – Break Glass
If the person who is turning 18 this year absolutely loves candy and chocolate, make sure you prepare a stash of it for them! Then put this in a frame and write a funny message on the glass part which reads "in case of emergency break glass!" The birthday boy or girl will have to break the glass to get their chocolate!
9. Frame of Memories – 18th Birthday Presents
If you'd like to present the 18-year-old with a more personal present, why not create a unique frame for them? Besides putting a picture of the two of you in the frame itself, you can stick various moments of your shared memories on the frame. This present will make an awesome piece of decor, something the birthday celebrant will be able to put on their wall or shelf.
10. A Special Message – With a Photo
Find some awesome 18th birthday presents for girls! Framed pictures are fabulous gifts to give anyone on their birthday, they are personal and also a great way to spruce your home or room up with. If it's your friend's 18th birthday, place a picture of the two of you in a frame creating a bit of wall decor. Using scrabble letters, write up a birthday message for them inside the frame. This will look exquisite!
11. A Message in a Bottle – Cute 18th Birthday Gifts
Sometimes you don't have much time to go shopping for presents. If you still want to send the 18-year-old a small birthday wish, how about getting a small jar, decorating it with glitter and placing a small note inside saying "happy birthday" or a message of your choice.
12. A Jar of Smiles – 18th Birthday Ideas
Here's a super personal gift for anyone who wants to brighten the celebrated person's days for a whole year!  Get slips of paper, each coloured vibrantly, and write a small message on each one. These can be jokes, motivational messages or beautiful thoughts. Make 365 of these so the birthday celebrant will be able to read a message every day of the year!
13. A Birthday Board – Look Who's Turning Eighteen
Making a bit of home decor as a birthday gift will always be appreciated! Stick things on a small wooden board, including messages like "happy birthday" and "look who's turning eighteen." According to what the 18-year-old's personality and interests are like, design and decorate the wooden board to give it a sense of their style.
14. A Sweet Card – Birthday Card Ideas
If you are trying to find the perfect birthday card, why not make one yourself? You can create a pop-up card, which looks like a box at first, but when you open it, there'll be a birthday card inside along with a paper cake.
15. Light Up Their Day – Beautiful Birthday Cards
Create a beautiful birthday card for the eighteen-year-old! You can create a layered birthday card, each layer containing a few paper candles. Write a message in the back of the card, so after opening each layer of candles the message will be revealed.
16. A Jar of Treats – Birthday Goodies
A simple and easy way to wish someone a happy birthday is by using this idea! Fill a jar with the 18-year-old's favourite candy or chocolate, also placing two candles inside, the number eighteen. You can also attach a small message to the side of the jar, wishing them a happy birthday. While this is a small gift, it's also a jar of thoughtfulness, reminding the birthday celebrant that you thought of them. One of these would make great 18th birthday presents for boys!
17. A Box of Photos – Creative and Unique
Create a unique photo album for the birthday boy or girl! While this box looks like an ordinary box, it's actually a pull-apart album. The photos are glue inside on each side of the box. Use a lot of photos to achieve to best possible effect. Use stickers to decorate it further and write messages on the sides. This is the sort of present that the birthday celebrant will be able to look back at and remember the day they turned 18.
18. Hot Air Balloon Idea – DIY 18th birthday present ideas
You've found the perfect birthday present and you have wrapped it all up in a beautiful box! Now you'd just like to take it up a notch and make it look stunning! Have you thought about forming it to look like a hot air balloon? You can use an actual helium-filled balloon for this, all you need to do is attach the box to it with some ribbons or strings. This idea will make your present look fantastic and special, something an eighteen-year-old will love!
19. Paper Fortune Cookies – With Best Wishes Inside
Everyone loves eating out at Chinese restaurants, but the best part is when you open the fortune cookies to discover what's in store for you! Make the birthday boy or girl some fortune cookies out of paper and hide small messages inside to make their day more beautiful! You can write motivational quotes or just send them your best wishes, it's up to you!
20. Chocolate Candy Cake – The Best Sort of Cake
If you're not a good baker, that's totally fine! You can still create a unique and scrumptious cake with this idea. Create the tiers of the cake out of bars of candy and chocolate, placing one on top of the other. Tie them together with decorative strings and banners to make them stay in place. You can attach a happy birthday sign to the top of the cake. Put together this cake for anyone, making it a birthday gift idea for children or adults!
21. Breaking the Glass – In Case of Emergency
Here's another take on breaking the glass if there's an emergency, but a bit more adult-like. In a frame, place a few things an eighteen-year-old can use now, that they have an adult legally, for example, cigars or a bottle of alcohol. On the glass part of the frame, write up "in case of emergency, break the glass." This gift is guaranteed to be thought of as awesome!
22. Paper Birthday Cake – Cute Crafts as Presents
The main problem with birthday cakes is that they disappear entirely after a few days because everyone eats it! Why not make the birthday girl or boy a birthday cake out of paper, so it will last forever? You can use it as a box and put the actual gifts inside of it. Use some sort of frilly paper to represent the icing on top of the cake. Naturally, you can make some candles out of paper and attach them to the top of this cute birthday cake.
23. Birthday Muffin in a Jar – Gift Ideas for Eighteen-Year-Olds
If you love to bake then here's a perfect idea for you to make! Instead of baking a huge birthday cake, make a small birthday muffin. Place the muffin in a jar which is is decorated with confetti and other birthday ornaments. Then put a few candles in the jar as well. This way when your special eighteen-year-old receives the cute birthday muffin, they will be able to light a few candles as well! You can also attach a small slip of paper to the jar, your best wishes or just a simple happy birthday!
24. An Adorable Candle Idea – A Cute Addition to the Present
Candles are a necessity when it comes to birthdays. Everyone makes a wish when they blow the candles out. Make sure the birthday girl or boy gets to make a wish as well on their 18th birthday! Place a candle in a small bottle, and attach it to the actual present itself. This is just a cute addition to the bigger gift itself.
25. A Box of Treasures – Best 18th Birthday Gifts
We hope that this pick of 25 18th birthday gifts have been able to help you find the perfect present for the special eighteen-year-old's birthday! After all, we only turn 18 once and we'd better make the most of it!
For more inspiration concerning birthday gift ideas, like gift ideas for 50th birthday or gift ideas for 30th birthday, just check out our website!
Advert