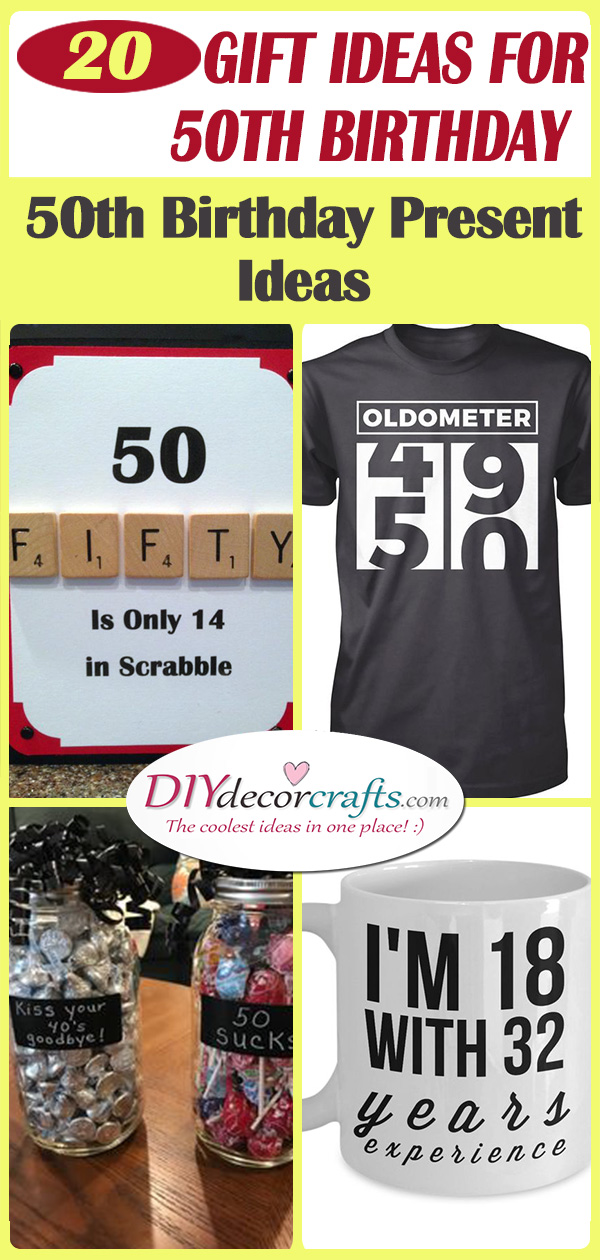 When you turn fifty it means that it's time for a huge celebration! Living for half a century means that you have witnessed and experienced a lot of things! Exactly because of this, turning fifty is a truly special occasion. If you know someone who is going to reach this ripe age soon, you might be in search of a present. A beautiful sort of present to give anyone for any occasion is a DIY present. Creating a handmade birthday present is always a great idea, as it shows that you put energy, thought and time into making it! Take a look amongst our handmade gift ideas for 50th birthdays. Hopefully, you will be able to find some unique 50th birthday present ideas amongst them!
1. Funny Scrabble Idea – Fifty is Only Fourteen
If you play a lot of scrabble with the person who is turning fifty soon, why not use it as inspiration in their 50th birthday gift ideas? Create a small poster or card for them, using scrabble letters to spell out "fifty." If you look at the points above the letters, the word "fifty" will give you fourteen points! Then you can write underneath the scrabble letters that fifty is only fourteen in scrabble. This gift will definitely draw a smile on the birthday celebrant's face, as well as make them feel a tad bit younger!
2. An Exquisite Age – Lovely 50th Birthday Present Ideas
Create a personal and personalised gift for the soon to be fifty-year-old! Put together a collage which spells out "50 years." You can use personal symbols or photos from which you place together this collage. For example, if the fifty-year-old lives in the 5th house on the street, then use the sign of the five, on their door or gate, in the collage. Surround this with the family's, or close group of friends', best wishes! Have everyone write a small sentence on it wishing the birthday celebrant love and happiness. The birthday boy or girl will be able to use this as wall decor in their home!
3. Fifty Reasons – Why Everyone Loves Them
Is the soon to be fifty-year-old someone that everyone loves? Create something personal and heartfelt for them with the help of everyone who is going to be at their 50th birthday party! Create a poster, that has fifty hearts decorating it. Have each person write a reason on a heart, why they love the birthday celebrant. By the end of it, you should have fifty reasons why everyone loves the birthday woman or man! They will be able to use this poster as a source of decor in their home!
4. A Funny Sentence – Gift Ideas for 50th Birthdays
Some people feel old and a bit drained when they reach the age of fifty. After all, they have lived for half a century, so who can blame them? Make sure the birthday celebrant doesn't feel like an old man or woman. Send them some positive and funny thoughts concerning their age! Coat a small canvas in any coloured paint you'd like. Then with different coloured paint, write on the canvas that "it took fifty years to look this good!" 50th birthday presents for men or women like this one will be appreciated!
5. Fifty Years Ago – What Was Popular Then
Remind the birthday celebrant what was happening around the world in the year they were born in! Write up fun facts, such as, what sort of music or movies were popular or which famous people were born. Also, write down big events that happened during their birth year or how many people lived on the planet. Naturally, you can put things into perspective as well, for example, how much something used to cost fifty years ago. They will be able to compare what the world was like when they were born, to what it is like in the modern-day.
6. A Beautiful Collage – Personal Gift Ideas for 50th Birthday
The best way to celebrate half a century of living is to look back at all the things that happened to you and all the things you have done! Create a collage for the fifty-year-old, creating the number 50 out of old photos and moments from their life. Finding photos from their childhood, teenage years or big moments of their life, for example, their graduation or their wedding, will definitely put them in a nostalgic mood! This is a perfect homemade birthday gift idea! They will be able to use this large collage number as a source of decor in their house later on!
7. A Bunch of Reasons – Turning Fifty
We have discussed using reasons why you love the birthday celebrant to create a unique birthday gift for them! Here is another fantastic idea concerning this! In the middle of the frame place "fifty reasons why I love you." Write up fifty reasons, each next to each other surrounding the title of this composition. Anyone who receives a special and extremely personal gift such as this one will be overjoyed!
8. Adding it Together – 50th Birthday Present Ideas
Create a funny gift for the fifty-year-old! All you will need is a plain white mug and a sharpie. Write up  three words underneath each other "looks", "feels" and "acts." Write a number next to each one, as if describing what age they look or how old they act. Adding all the numbers together should give you a total of fifty. Write next to this number 50 that all the numbers add up to that and that this is the reason why they are actually fifty years old. This hilarious present will definitely make the birthday celebrant laugh!
9. An Oldometer – Gift Ideas for 50th Birthday
Since your friend or family member is getting close to turning fifty, get them a t-shirt which expresses this fact! On the top half of the t-shirt have the word "oldometer" written, showing that they are getting older. Then have two numbers popping up underneath it, the number four turning into a five and a nine going into a zero. This will give the t-shirt a resemblance to an actual meter that measures other things. While the birthday celebrant might not be fully pleased, that you called them old, they will still have a good crack at your joke!
10. A Winning Lottery Ticket – An Amazing Present
Here is another great gift for a fifty-year-old! Has the birthday celebrant always dreamed about winning the lottery? Buy them a dozen lottery tickets and scratchcards and arrange them all in a box. They will have to scratch to find out whether they won anything or not. Hopefully, the fifty-year-old will get lucky on their fiftieth birthday and finally win something! If you decide on creating this awesome present make sure to actually buy enough lottery tickets or scratchcards to be completely sure that the birthday gentleman or lady will win something!
11. Back in the Day – Best Birthday Presents
Another fabulous fiftieth birthday gift is to recreate a newspaper from the year the person was born in! Gather a whole collection of fun facts which happened during their birth year. For example, which movies were screened at the cinema or which songs everyone was dancing to. Naturally, do not forget to add some information about what interesting events took place in that very same year. Then arrange all this to look like an actual newspaper! Write up the fifty-year-old's name at the very top of the page, adding that their birthday was a huge event as well!
12. How Much Are Fifty Years – An Interesting Perspective
While we know that the birthday celebrant turned fifty years old, what does that number mean exactly? Write up on a poster what fifty years are equivalent to. For example, fifty years is five decades, six hundred months, approximately two thousand and six hundred weeks, etc. Write up all this information underneath each other, ending it with seconds. This will be great for the birthday boy or girl to look at, realising how much they have lived! You can also use this idea for 40th or 60th birthday gifts!
13. Beams of Light – Fantastic

50th Birthday Present Ideas
Are you still looking for 50th birthday present ideas? Create a bit of home decor for the soon to be fifty-year-old! All you need is a wine bottle and a string of fairy lights. By brushing the bottle's exterior with sandpaper, you can create a foggy texture and appearance on it. Use glass paint to write up "happy 50th birthday" on the bottle. Now all you will need to do is place the fairy lights inside the wine bottle and turn them on. This bottle of brightness will create beautiful lighting for any room, making this a great present!
14. A Survival Kit – Funny Gift Ideas for 50th Birthday
Draw a smile on the soon to be fifty-year-old's face. Write up a list of things they will need in their upcoming years of life, creating an exciting survival kit for them. For example, you can write a notepad for them to write down the things before they forget them. Or add pudding for them to eat, in order for them to get used to softer foods. You can even buy some of these items and put them all together in a box. Hopefully, the birthday lady or gentleman will not take offence at this hilarious survival kit, which was carefully prepared for their next half-century!
15. Age and Experience – The Perfect Mug
You can't go wrong with getting the birthday man or woman a mug. While a mug is a simple present, it's also something you can easily design and decorate to create something funny out of it! Write the sentence "I'm eighteen, with thirty-two years of experience" on the mug. The addition of these two numbers will equal fifty. This mug will hopefully make them feel a bit younger as well as letting them have a good laugh!
16. Get Creative With Candy – From the Forties to Fifty
Obviously, no one likes to be reminded of the passing of time. When you hit your forties, you were still feeling young. Now that you suddenly become fifty, you wonder about where all the time has flown off to? Here's a creative candy gift to present to anyone who has just turned fifty! Fill two jars with an abundance of candy. Fill one with Hershey's kisses, fill the other will lollipops. Attach labels to both jars, on which you write funny messages. On the jar filled with Hershey's kisses, write "kiss your 40's goodbye!" On the other jar write "being 50 sucks!" The intelligent play on words in these funny 50th birthday gift ideas will be amusing!
17. A Walking Stick – Hilarious 50th Birthday Present Ideas
Fifty years is quite a long time! Play a small joke on your fifty-year-old friend or family member, by buying them a walking stick for their birthday! String a few items from the walking stick, each one connected to their age. For example, anti-ageing face cream or anti-ageing facemasks will be a funny addition to the walking stick! Hopefully, the birthday celebrant won't take any offence at this present and will just have a good laugh instead! This one would make hilarious 50th birthday presents for men or women!
18. A True Definition – A New Age
Arriving at the age of fifty is a huge experience! For the birthday man or woman, create a definition of this age on a piece of paper, which you can place in a frame. Create this description of fifty to look like a dictionary definition! For example, you can write a point saying "fifty is the age when you are one step closer to having a senior citizen discount" and another point reminding them that "fifty is still quite young, for a tree."
19. Not That Old – 50th Birthdays Present Ideas
Great 50th birthday gift ideas can also include wishing the celebrant all the best with a birthday card! Since they are turning fifty, you can write a funny message on the card. Try something along the lines of "Fifty! You're not old, you're mid-century modern…" Decorate the card any way you'd like!
20. Half Way to One Hundred – 50th Birthday Present Ideas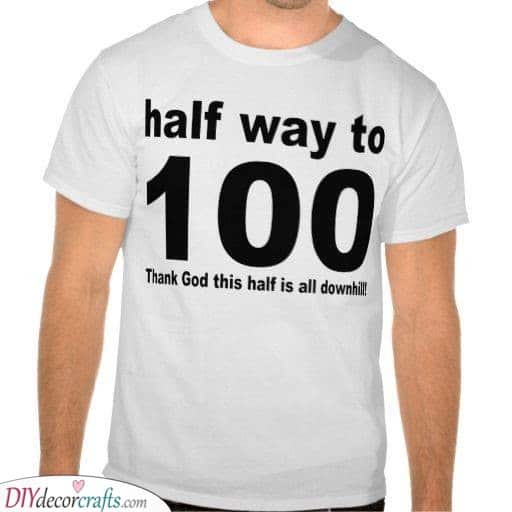 Find some awesome and funny 50th birthday gift ideas! Turning fifty means you are half the way to one hundred! Get this funny sentence printed on a t-shirt for the birthday celebrant. You can also have the sentence printed underneath it that "Thank God this half is all downhill!" The soon to be fifty-year-old is guaranteed to have a good laugh at this t-shirt!
We hope that this collection of 20 gift ideas for 50th birthdays has given you a few ideas of what to give the birthday celebrant as 50th birthday present ideas! For more ideas concerning birthday gifts, like birthday presents for grandma or 60th birthday present ideas, just visit our website!
Advert