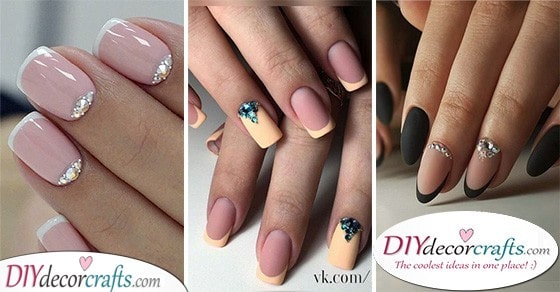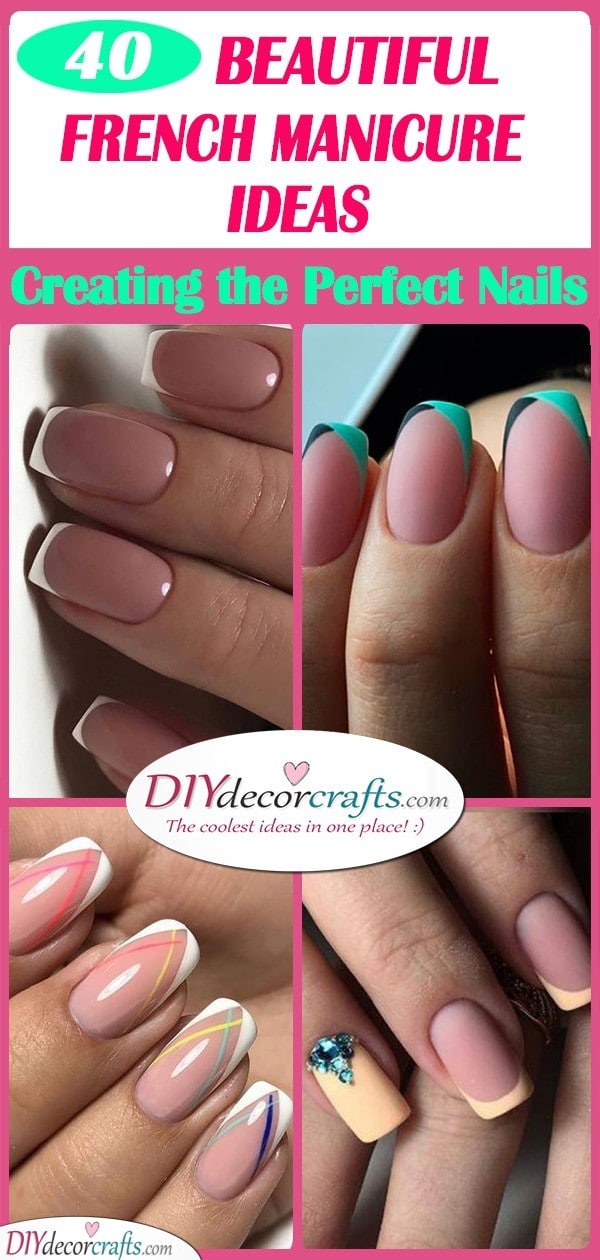 Perhaps you have an event coming up, it might be a casual work event with your co-workers or it might be dinner at a fancy restaurant. Whatever the event is, you will want to look your best! That means wearing your favourite clothes, doing your hair up perfectly and choosing the right accessories. A small detail that many people seem to forget about nails. Nails are an important way to express yourself. You can choose the shape and colour yourself, in the form that best suits your personality. Beautifully shaped french manicure designs are perfect to any sort of occasion, not to mention you can style them any way you'd like! If you adore these nails just as much as we do, take a look through our pick of 35 french manicure ideas. We hope you will be able to find a bit of inspiration amongst a collection of nail ideas!
1. A Simple Look – With Sparkling Stones
Coat your nails in a simple pink, painting the tips in white. This will give your nails a natural look! Then fill your cuticles with sparkling stones for a spectacular result! These nails will be perfect for whatever sort of event you are going to!
2. Matte Pink and Black – French Manicure Ideas
Matte nail polish is super stylish and trendy! It gives your whole look an edge. Paint your nails in matte black and pink. You can even try painting the nail itself pink, with black tips. Naturally, it's up to you if you decide on placing some stones on the cuticles to make your nails stand out even more! This would be an amazing New Years Eve nail art!
3. Simple Sophistication – Finding the Perfect Nails
Here is a simple and sophisticated french nail idea! Using a cream colour, paint the tips of your nails with it, all except your ring finger. Coat your ring finger's nail completely in the cream colour. Then place a few coloured stones, for example, blue coloured gems, on them.
4. A Beautiful Ombre – Simple French Manicure Designs
If you are going to a fancy event, like a wedding, then these nails will definitely do you justice! An ombre on each french nail, going from a natural colour turning into white. While this is a simple way of using nail gel to create something fabulous!
5. A Simple Manicure
If you aren't going for anything funky or wild, just stick with a simple french manicure! All this means is while your nails are coated in a simple pink, the tips have a white part painted on them. This is a simple and clean look, perfect for work!
6. Red Tips – Seductive and Passionate
If you have long acrylic nails, you might like to paint them in a unique way! Instead of using white for your tips, why not try a more unique and seductive colour? For example, red. Red is a seductive and passionate colour, so if you would like to express this side of yourself, why not try it out?
7. Glittery Tips – The Best French Manicure with Glitter
There are so many different ways to paint your nails, even if you have decided you would like a french manicure! Instead of painting the tips of your nails with white, line them with a sparkling golden polish! Coat the rest of your nails in a pale pink lacquer.
8. Intricate Details – Silver and White
While you have decided on getting a french manicure, you shouldn't forget about decorating your nails further! You can try out a simple french manicure, with the natural pale pink and white combination on most nails. Then create a pattern on your ring finger, using white and silver to create something pretty. Adding a nail with a different pattern to the rest will help enhance their overall look!
9. Minimalist Drippings – Beautiful French Manicure Ideas
There are hundreds of unique ways to spruce up your french nails! This is just another one! Instead of creating simple lines at the tips of your fingernails, only cover parts of them. Then create drops of nail polish pouring down your nail. This will look like a minimalist painting by the end of it!
10. A Simple Design – Pink French Manicure Nails
Here is another fantastic example of a simple french manicure! The nails coated with transparent or a light pink colour, resembling the actual colour of your nails. The tips covered with a bit of white polish!
11. Modernize the Classic – A Manicure With a Twist
While we all love a classic french manicure, you can always take it up another level! While coating the tips of your nails white, you can add an extra swirl to the rest of your nails, as further decoration!
12. Amazing Nail Art – All Those Sparkles
Adding some sparkles or glitter to your nails will only boost their look! While creating a simple french manicure on four of your nails, coat your ring fingers' nails in glitter or sparkle. An addition of a french manicure with glitter is always a great idea!
13. Mini Dots – Stunning and Funky
Here is an alternative to a standard french manicure! Instead of simple white coverage, fill your nail tips with dots. You can use different bright colours to create these dotted tips. Also, consider creating a different pattern with dots on your ring fingers' nails!
14. An Abstract Look – Green and Black
Don't stick to the classic french nail manicure, if you like funky colours! Instead of coating your tips with white, coat them with other colours, for example, black and green. Your nails will look like modern abstract art!
15. Pale Pink – Gorgeous French Manicure Ideas
Give your nails a sweet and simple look with a plain french manicure! Leave your nails shorter, this way they will be more practical in your everyday usage of them.
16. Trendy in Pink and Black – A Perfect Combination
Black and pink is a perfect combination of colours, especially on nails! If you like these colours mixed together, why don't you give it a try? Paint your nails pink, with the tips black. Leave one finger coated fully in black with pink speckles decorating it.
17. A Delicate Gem – French Nail Designs
It's always a stunning idea to stick to a simple french manicure because they will look great for any event or occasion! Elevate it a bit further by placing gems on one of your nail's cuticle. This will give it a completely new and unique look!
18. A Rainbow of Colours – Pale Neon Tips
Give your nails a unique and creative design! Instead of paint the tips of your french manicure a simple white, paint them in various colours. You can use pale shades of neon colours, including pink, blue, green, yellow and orange! This nail design is perfect for any sort of party or will make a cute spring nail design!
19. Beautiful and Simplistic – Oval French Nails
If you don't like the shape of squared nails, why not try out a longer almond-shaped nail french manicure? They look just as fabulous! Use a simple french manicure technique, leaving the tips white and the insides of the nails a pink french manicure.
20. Girly and Glittery – Get the Best Nails
Here's a french manicure that will be perfect for any Christmas party! Paint three of your nails in a french manicure, while coating the other two in sparkles. The sparkles will look like snow falling from the sky creating a glowing ambience!
21. Square and Stunning – Simple and Majestic
Are you a fan of acrylic nails which are square-shaped? Then try a french manicure on square-shaped nails! The simple pink-white combination will look perfect on them. This is perfect for any casual or even fancier get-togethers!
22. Delicate Swirls – Beautiful Nail Art
Make your nails look like a painting at an art gallery with this awesome design! Instead of leaving the insides of your nails blank, paint large swirls on them. They will bear resemblance to blossoming flowers and leaves but also have a modern and natural essence to them.
23. Black Tips – For an Edgy Look
Black fingernail tips aren't something to be afraid of! They will give you a certain edginess and give you an amazing glow! So try out black tips for your french manicure instead of white!
24. Delicate Lines – French Manicure Nails
Create something truly unique on your nails! Instead of a standard french manicure, add additional diagonal lines to the tips joining together in the middle of each of your nails. Adding a simple pattern such as this one will take your nails to a whole new level!
25. A Standard Manicure – Simple French Nail Designs
Here is another beautiful example of a simple french manicure! Even though it's simple without any fancier decorations, it's perfect for any sort of event. Not to mention it will give you a more feminine look!
26. Black and Matte – With Funky Colours
Are you in search of a more glamorous nail design, which will be perfect for a party or a summer festival? Then look no further! Matte black nails, with blue and pink polish decorating the tips, is the perfect solution for you!
27. A Lace Effect – Painting Your Nails
Here's a beautiful nail design, perfect for a wedding! Create a lacey effect on one of your nails, while leaving your other nails painted in a simple french manicure. A beautiful lace effect will give your hands a stunning glow!
28. Cute and Bubbly – Perfect for Summer
If you are getting ready for a summer party or just going down to the beach, make sure your nails are on point! If it's summer, make sure to use a lot of vibrant and lively colours to decorate your nails with. Decorate each of your french manicured nails with different colours. Just a few diagonal strokes on each of your nails, with a different colour, will boost your whole look!
29. Hologram Nail Polish
Give your nails a refined yet hip glow! You have probably heard by now that hologram nail polish is becoming more and more popular. Why not try it out on your french manicure? Paint your tips over with a simple white first, then coat each one with a hologram pink polish. They are guaranteed to look fabulous!
30. Monochrome Beauty – Elegant and Divine
Here's an elegant french nail design for squared nails which will take your breath away! Use diagonal monochrome shapes for the tips, a black and a white triangle. You can place small white and black gems across the tips for a more beautiful effect. Just take the picture above as a great example of this!
31. Trendy and Simplistic – A Modern Take on Nails
Here's a stylish and modern french nail design. This one is great for people who prefer simpler nails, as well as low-maintenance nails. Create your standard french manicure, except draw a black line underneath the white tip. These two monochrome lines create a modern elegance to anything!
32. A Busy Bee – Cute French Manicure Ideas
Bees are super cute insects, always buzzing around, from flower to flower. If you love these tiny animals, why not use them as inspiration for your nails? Paint your tips in a yellow, using small black dots to creating the trail of a bee. Paint a small bee on one of your nails as well!
33. A Floral Pattern – Blossoming Flowers
Another adorable nail design is this one! Paint small flowers on each of your fingers. Naturally, since we are talking about a french manicure, paint the tips of your nail in the same colour that the flowers are! This is a perfect nail look for spring!
34. An American Flag – Inspiration from a Country
If it's going to be the fourth of July soon or you just love America, why not use the American flag as an idea for your nails? Using the colours of the flag and the stars and stripes, paint your nail tips with these.
35. Lovely in Lavender – French Manicure Nails
If you love lavenders, make sure to paint a sprig or two on your nails! Create a simple french manicure on your nails. Coat one nail on each hand in simple white. Then paint a few lavenders on each white fingernail. Your hands will have an elegant glow to them thanks to these floral details.
We hope that these french manicure ideas have been able to help find some great inspiration! For more ideas about nails, for example, Nail Designs for Almond Nails or Nails Designs for Short Nails, visit our website!
Advert