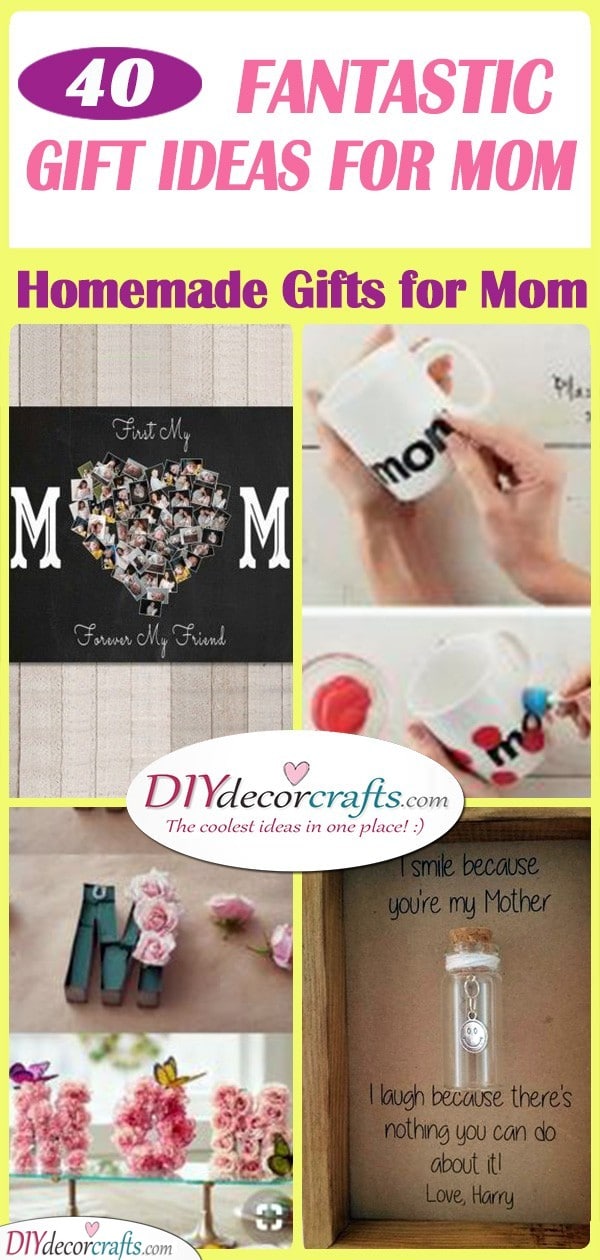 Mothers are such important figures in our lives. From the moment they give birth, they take care of us and shower us with love. Whether it's going to be your mom's birthday, Mother's Day or Christmas, make sure to show her some love by giving her something! Instead of buying her a present from a shop, why not create something yourself? Handmade gifts are the best because they reflect that you decided to spend time and energy on making something special and unique! Take a look through our collection of gift ideas for moms! Hopefully, you will be able to find a bit of inspiration amongst these homemade gifts for moms!
1. Generations of Women – A Unique Present
If you'd like to present your mother with a truly unique gift, then take a look at the one above! Give your mom a frame of 3 or 4 generations of women in your family. This can include your great-grandmother, grandmother, your mom and you. It's up to your creativity how you'd like to arrange these in a frame.
2. A Gorgeous Candle – Creative Homemade Gifts for Mom
If your mother loves to relax next to a few candles, why not gift her exactly that? Create a candle, on which you press or paint a shared memory. She will be able to place this wherever she would like to and light it whenever she needs a moment of stress relief.
3. Pencil Holders – Mason Jar Ideas
Does your mom have a messy desk with pens and pencils scattered everywhere on it? Make sure you help her tidy up and organize it. Create mason jar pencil holders for her! All you need to do is coat a few mason jars with vibrant colours of paint. It's up to you if you'd like to further decorate these. Then all she has to do is place her pens and pencils in these jars! These will make great homemade gifts for mom!
4. Folding a Book – Lovely Gift Ideas for Mom
Book folding is not as difficult and complicated as it looks! Not to mention, the final look of it will be amazing! Fold the pages of a book for your mom, creating two hearts with the words "you" and "me" inside of them. She will be able to use this as decor around the house!
5. Paper Butterflies – Flying Away
Here is an unbelievably beautiful decoration to make with an old book no one reads anymore! Cut out the shapes of butterflies from the book, then attach these paper butterflies to wires. The wires should be attached to the book as if the butterflies were flying out of it! Your mom will love this present!
6. A Big Heart – Sending Mom Love
Here's a simple present to make mom for any special occasion! All you need is the kids and a camera! Take pictures of the children, raising their arms in different ways. When you place the photos together they should give the shape of a heart.
7. A Family Portrait – Photos of Everyone
Here is another fantastic photo idea! Take photos of the whole family. Everyone should be holding a picture of a member of the family who is smaller than them. For example, the smallest kid can hold a picture of the family pet, while their older sibling is holding a picture of them holding the pet. Place this in a frame before presenting your mother with it!
8. A Small Ray of Sunshine – Presents for Mom
If you consider your mother to be a ray of sunshine and happiness in your life, then tell her! Hang a small, yellow pompom from the lid of a tiny bottle representing the sun. Then attach a label to the bottle which reads "you are my sunshine!" While this gift is tiny, it's still heartfelt and adorable!
9. Candle Holder – Personal and Special
If your mom loves to light candles and set a beautiful atmosphere, why not gift her a candle holder? You can create a personalised candle holder for her, with pictures of family members on each side of it. This will make a perfect dining table centrepiece, that she!ll be able to use as decor!
10. Christmas Ornaments – Little Reindeers
If it's going to be Christmas soon, why not gift your mother a few Christmas ornaments? Print out pictures of the kids and decorate them to look like reindeer! This is just one Christmas gift idea for your mom! You can attach a red pompom to their noses to make them look like Rudolf the red-nosed reindeer. This will make one of the best gifts for mom!
11. The Jar of Happiness – Support and Love
Everyone has days when they feel a bit down. If your mom has a bad day, make sure you bring a little support and love into these days! On small slips of paper write loving messages, they can be memories or just notes of positivity. Then place them all in a jar. Whenever your mother is feeling under the weather all she will need to do is take out a note from this jar!
12. A Calendar – Fantastic Homemade Gifts for Mom
A fabulous gift to give your mom is a calendar! This way she can keep track of all the events she has to go to as well as the daily chores she needs to complete. You can use photos of the family for the pictures!
13. Mother and Friend – Beautiful Gift Ideas for Moms
Do you consider your mom to be one of your best friends as well? Create a collage for her! On a blackboard write up, "first my mom, forever my friend." Replace the "o" of mom with a big heart, which you put together out of pictures and shared memories.
14. Spell it Out – With Scrabble
Spell out "mother" vertically with letters from scrabble. Find a word that describes your mother, which you can place next to each letter horizontally. By the end, you should have a description of your mom as well!
15. A Real Hero – Perfect Gifts for Mom
Each and every mom is a superhero in her own special way! Whenever the family needs her, she's always there. Make sure she knows this about herself, by describing her with the help of other superheroes, like in the picture above. You can glue small figurines on a paper, and write she is as strong as Wonder Woman and as strong as Superwoman.
16. A Cute Calendar – All the Birthdays
If your mom is a bit forgetful when it comes to birthdays or important dates, create a cute calendar for your mother! Point out on which days you are celebrating someone's birthday from the family. This way your mom will know when she has to get ready for a party!
17. A Whole Message – Made Out of Photos
Is your mom a grandma as well? Send her a set of photos. In each photo hold up a small board or paper, that has a single word written on it. Then put together the words to make a message for her!
18. Faces of the Family – Photos as Presents
If you would love to give your mom a photo as a present, here is a fabulous idea! Line up all the members of the family showing their side profiles. Line them from the smallest member of the family to the largest. Then print out the picture and put it in a frame for mom!
19. Photo in a Bottle – DIY Presents for Mom
Here is another adorable and tiny gift involving a small bottle. Cut out a tiny picture of you and your mother, and place it in the bottle. While this is a small gesture it will still mean a lot to your mother!
20. A Waterfall of Crayons – Vibrant Colours
Melting crayons to create art is a beautiful idea! Use a rainbow array of crayons and melt them into cascades of colour on a canvas or a piece of paper! Then stick letters on the canvas which spell out "mom."
21. A Puzzle of Gold – Perfect Gifts for Moms
Express your love and gratitude towards your mom with this beautiful wall decor idea! Place together gold coloured pieces of a puzzle at the bottom of a page, with some pieces flying up to form a big heart. Then write down the quote that "love is like a puzzle, hard to piece together, but beautiful when all the right pieces are put together."
22. Creative Grocery List – Using Toilet Paper
Do you keep losing your slips of paper on which you write the groceries? Use toilet paper for a new list of groceries. Attach a roll of toilet paper to a small board. All you will have to do is pull down the paper to write down your new set of groceries.
23. A Small Box – Homemade Gifts for Mom
Gift your mother a small storage space for wherever she needs it! Create a small box, on which you can place her monogram as decoration. She can use this as a jewellery box or even as a box for recipes in the kitchen!
24. A DIY iPad Holder – Perfect for the Kitchen
Does your mom love to watch tv series while cooking and baking in the kitchen, or perhaps she likes to read the steps of the recipe while making it? Create an iPad holder for her out of a wooden chopping board! This will look great in the kitchen while she is at work, and it will keep her iPad from getting messy!
25. A Poster of Memories – A Collection of Polaroids
When in doubt about what to give as a present, memories will always brighten someone else's day and draw a smile on their face! Create a poster of dozens of shared memories, sticking polaroids of you and your mom all over it. She will love this and will probably use it as decor around the house!
26. A Unique Mug – Homemade Gifts for Mom
Make a truly unique mug for your mother! All you need to do is find a plain white mug. Then pour water into a container, adding drops of nail polish to it as well. You can use any colour you'd like! Then place the mug into the water which is filled with nail polish. It should come out with beautiful swirls stuck to the sides of it!
27. Etched Glass Terrarium – Grow Some Plants
Does your mother love to grow flowers and herbs in the garden? Make sure she can grow some inside the house as well! Buy a terrarium for her, in which you can etch or engrave "best mom." All she will need to do is fill it up with soil and plant anything she would like to grow in it!
28. A Box of Photos – Simple and Awesome
If you are in search of a more simple, but heartwarming gift, then this will be perfect for you! In a small box place a few dozen tiny pictures of you and your mom. Make sure to include happy memories, when the two of you were having a blast! These sort of gift ideas for mom will definitely brighten up her day, whatever the occasion is!
29. A Pillow of Love – The Best Gifts for Mom
If you love arts and crafts then you can easily create a unique pillowcase for your mom! With a fabric pen or fabric paint, you can write a whole message for her on a pillowcase, or even draw something special on it for her!
30. A Camera Album – Homemade Gifts for Mom
If you have no clue what to give your mom for a special occasion, why not create an album for her? But not a standard one! Create the shape of an actual photo camera out of a box, which you can pull apart to reveal a whole collection of photos!
31. Cute Bookmarks – Inspired by the Kids
Is your mom a bookworm? Then here's the perfect present for her! Take photos of the children, hanging from a tree or a rope, then cut the children out. Attach a ribbon or some lace to the figure of the children, as if they were hanging from that. These cute bookmarks of the children will help mom in finding the page where she left off.
32. A Jewellery Holder – Great Present Ideas for Moms
Does your mother leave her jewellery in tangles or lying around different parts of the house? Get her a jewellery holder to help her organise her accessories! You can make this out of an old box, or out of a wooden board, by hammering in some nails and a bit of fencing. Jewellery holders can make perfect gifts for moms!
33. 365 Reasons – A Treat for Each Day
Brighten each one of your mom's days for a whole year with fabulous gifts ideas for mom! Create a jar of 365 reasons why you love her. Write reasons on slips of paper, then place them inside. However, she can only take out one slip of paper each day!
34. A Smile in a Bottle – Adorable Ideas
Give your mom a smile in a bottle! Place a smiling emoji trinket inside the bottle. You can attach a message to it which reads "I smile because you're my mother. I laugh because there's nothing you can do about it!"
35. Floral Letters – Beautiful Gift Ideas for Mom
Create a floral centrepiece for your mom! All you need to do is create the letter-shaped boxes of your mom's name or "mom", and place floral foam inside the letters. You can stick flowers into the foam to ensure they won't wilt after only a day.
36. A Handmade Mug – Bubbly and Vibrant
Create a unique mug for your mum! First, place stickers on the mug of the word you want to be written on it. Then paint over it, you can do dots or stripes, the pattern is up to you! Let it dry and remove the stickers! Your mom will be able to drink her morning coffees from this special mug and always be reminded of you! Try making unique gifts for mom instead of buying something premade at a shop!
37. A True Definition – Homemade Gifts for Mom
Write a definition of your mom, as if were a definition in a dictionary. While this is simple it will make a great birthday gift for your mom! After writing up "mom" and that it's a noun underneath it, write down she is "someone who sees the best in her kids even when they drive her crazy." You can place this in a frame.
38. Necklaces for Each Generation – Lovely Present Ideas
Give your mom something truly special and symbolic. We can't think of a better gift, than this one! Hearts that fit into each other, one for your grandma, a smaller one for your mum and a tiny one for you. This is a set of necklaces for three generations!
39. Coupons for Mom – Helping Her Out
Create some coupons for your mom, which she can use whenever she wants! So if she wants breakfast in bed, or she's lazy to do the dishes or needs help with gardening, she can use a coupon to get these jobs done! This is a creative way of helping your mum out around the house. She will definitely be thankful for these unique gifts for mom!
40. A Heart Mug – Easy Gift Ideas for Moms
Are you in search of some easy gift ideas for mom? Well go no further, here is a fantastic gift! All you need is a plain white mug and a sharpie. Create the shape of a heart, using the handle of the mug as one half, while mirroring it on the mug itself. Using the sharpie, add small dots to the mug and the handle, which create the heart.
Hopefully, you were able to find some awesome homemade gifts for mom! After all, your mother deserves the best presents! So, thanks to our gift ideas for mom, you may feel inspired! For other gift ideas, like birthday gift ideas for mom or mother's day gift ideas or present ideas for grandma, just take a look at our website!
Advert