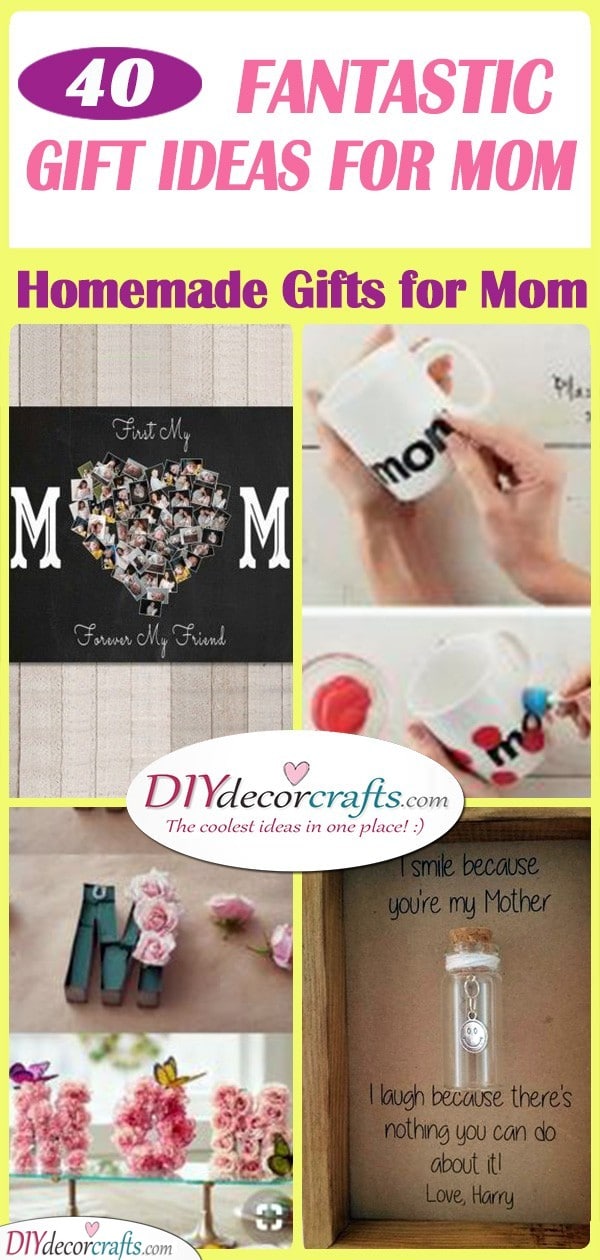 Mothers are such important figures in our lives. From the moment they give birth, they take care of us and shower us with love. Whether it's going to be your mom's birthday, Mother's Day or Christmas, make sure to show her some love by giving her something! Instead of buying her a present from a shop, why not create something yourself? Handmade gifts are the best because they reflect that you decided to spend time and energy in making something special and unique! Take a look through our collection of gift ideas for moms! Hopefully, you will be able to find a bit of inspiration amongst these homemade gifts for moms!
1. Generations of Women – A Unique Present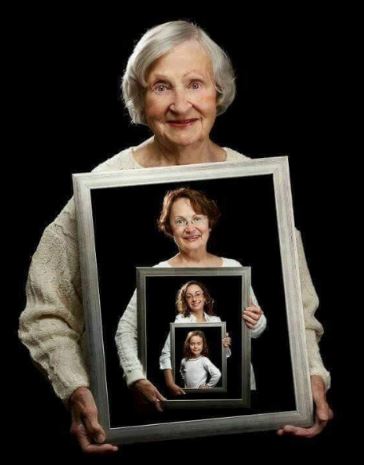 source
If you'd like to present your mother with a truly unique gift, then take a look at the one above! Give your mom a frame of 3 or 4 generations of women in your family. This can include your great-grandmother, grandmother, your mom and you. It's up to your creativity how you'd like to arrange these in a frame.
2. A Gorgeous Candle – Creative Homemade Gifts for Mom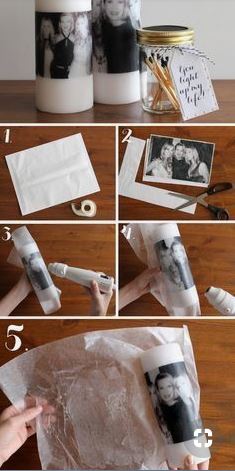 source
If your mother loves to relax next to a few candles, why not gift her exactly that? Create a candle, on which you press or paint a shared memory. She will be able to place this wherever she would like to and light it whenever she needs a moment of stress relief.
3. Pencil Holders – Mason Jar Ideas
Does your mom have a messy desk with pens and pencils scattered everywhere on it? Make sure you help her tidy up and organize it. Create mason jar pencil holders for her! All you need to do is coat a few mason jars with vibrant colours of paint. It's up to you if you'd like to further decorate these. Then all she has to do is place her pens and pencils in these jars! These will make great homemade gifts for mom!
4. Folding a Book – Lovely Gift Ideas for Mom
Book folding is not as difficult and complicated as it looks! Not to mention, the final look of it will be amazing! Fold the pages of a book for your mom, creating two hearts with the words "you" and "me" inside of them. She will be able to use this as decor around the house!
5. Paper Butterflies – Flying Away
Here is an unbelievably beautiful decoration to make with an old book no one reads anymore! Cut out the shapes of butterflies from the book, then attach these paper butterflies to wires. The wires should be attached to the book as if the butterflies were flying out of it! Your mom will love this present!
6. A Big Heart – Sending Mom Love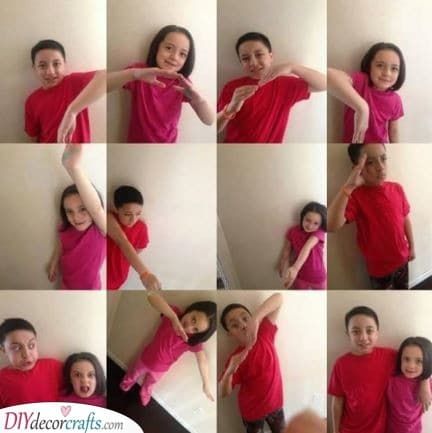 source
Here's a simple present to make mom for any special occasion! All you need is the kids and a camera! Take pictures of the children, raising their arms in different ways. When you place the photos together they should give the shape of a heart.
7. A Family Portrait – Photos of Everyone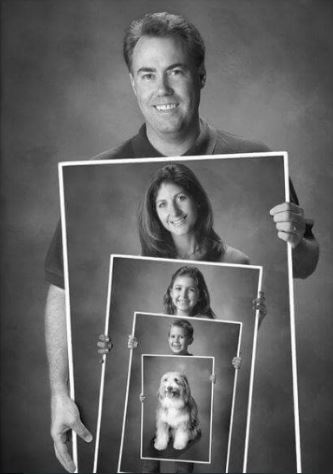 source
Here is another fantastic photo idea! Take photos of the whole family. Everyone should be holding a picture of the member of the family who is smaller than them. For example, the smallest kid can hold a picture of the family pet, while their older sibling is holding a picture of them holding the pet. Place this in a frame before presenting your mother with it!
8. A Small Ray of Sunshine – Gifts for Mothers
If you consider your mother to be a ray of sunshine and happiness in your life, then tell her! Hang a small, yellow pompom from the lid of a tiny bottle representing the sun. Then attach a label to the bottle which reads "you are my sunshine!" While this gift is tiny, it's still heartfelt and adorable!
9. Candle Holder – Personal and Special
If your mom loves to light candles and set a beautiful atmosphere, why not gift her a candle holder? You can create a personalised candle holder for her, with pictures of family members on each side of it.
10. Christmas Ornaments – Little Reindeers
If it's going to be Christmas soon, why not gift your mother a few Christmas ornaments? Print out pictures of the kids and decorate them to look like reindeers! You can attach a red pompom to their noses to make them look like Rudolf the red-nosed reindeer.
11. The Jar of Happiness – Support and Love
Everyone has days when they feel a bit down. If your mom has a bad day, make sure you bring a little support and love into these days! On small slips of paper write loving messages, they can be memories or just notes of positivity. Then place them all in a jar. Whenever your mother is feeling under the weather all she will need to do is take out a note from this jar!
12. A Calendar – Fantastic Homemade Gifts for Mom
A fabulous gift to give your mom is a calendar! This way she can keep track of all the events she has to go to as well as the daily chores she needs to complete. You can use photos of the family for the pictures!