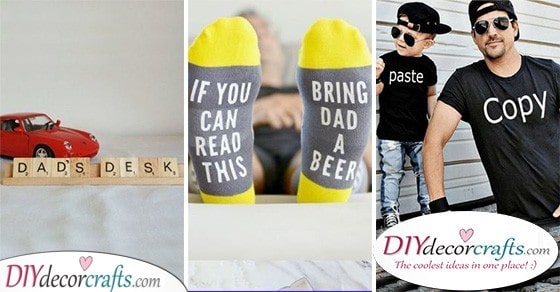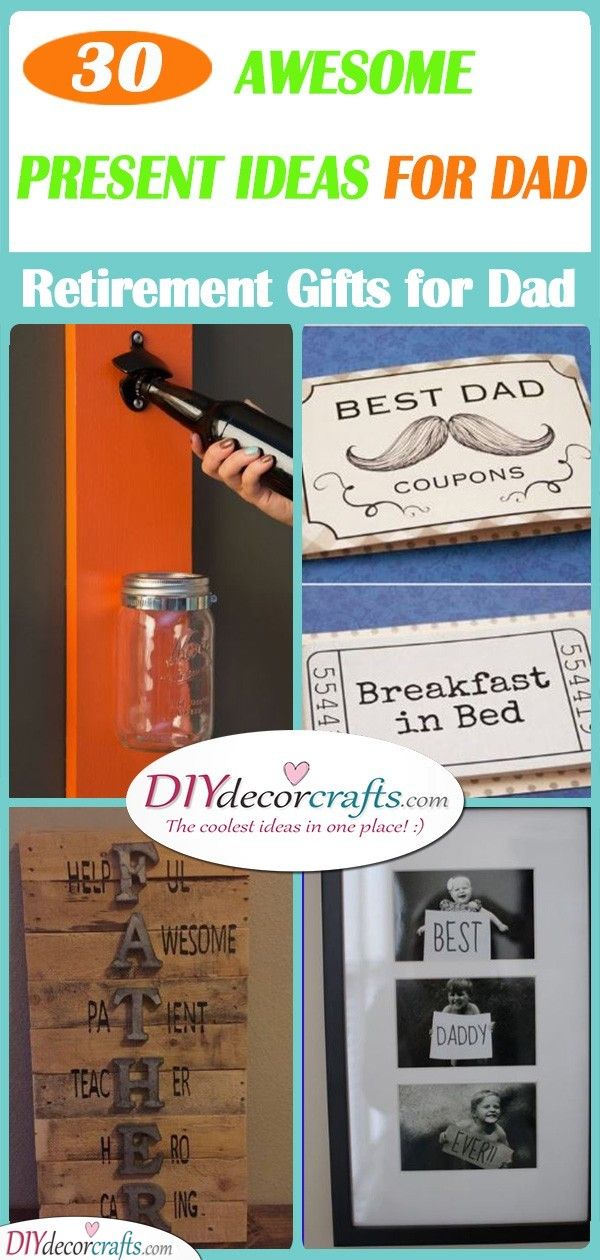 Fathers are one of the most important figures in our lives. They help raise us, take care of us and support us through our lives. Whether it's Christmas, their birthday or just a random occasion, you might be in search of a present for him. Finding the perfect retirement gifts for dads can be a bit difficult, as they already seem to have everything they need. At times like this, it's a great idea to make something handmade, showing you put the time and energy into making something for them! Take a look through our pick of present ideas for dads, to find something special for him!
1. Dad's Desk – Scrabble Retirement Gifts for Dad
Get your dad something which will remind him of you and draw a smile on his face! Create a small desk sign for him out of wood and scrabble letters. Write "dad's desk" on it, making it obvious for anyone who sees, that this is your dad's place. He can take this small sign to his workplace!
2. No Place Like Home – Beautiful Present Ideas for Dads
Sometimes home can't be defined by a house or a place, it's the people who are important. Knowing you have a loving family waiting for you, is the perfect sort of home. Your home is also your home because your dad is there! Create a piece of decor for him, which has a picture of the two of you on it, with the text written above it "home is where daddy is."
3. The Happy Jar – Brighten His Days
Everyone has days when they feel a bit down. If your dad is having a bad day, make sure you bring a little support and love into his day! On small slips of paper write loving messages, they can be memories or just notes of positivity. Then place them all in a jar. Whenever your father is feeling under the weather all he will need to do is take out a note from this jar and read it!
4. A Calendar – A Year of Family Love
A great gift to give your dad is a calendar! Especially if you decide on using family memories for the pictures for each month. This way he can keep track of all the events he has to go to as well as the daily chores he needs to complete.
5. Spell it Out – Retirement Gifts for Dad
Spell out "father" vertically on a wooden board or a piece of paper. Then find words, which all define him and place a word next to each letter. This will look not only great but will also be a truthful description of your dad! He will be able to use this as decor in the house.
6. A True Superhero – All About Dad
Have you ever found yourself thinking of your dad like he is a real-life hero? Using other superheroes as references, write down what he is like on a sheet of paper, for example, "as clever as Iron Man" and "as strong as Thor." You can attach small figurines or pictures of these superheroes to it. Remember to mention, that he is your superhero and that you love him at the bottom of the page! This is just one of many awesome present ideas for dad!
7. Best Daddy Ever – Photo Idea
Here's a fantastic gift to make with a few pictures of the kids! Take some photos of the children holding up signs, each showing a different word. The photos when placed next to each other should spell out a short sentence like "best daddy ever." Place this compilation of photos in a frame before presenting your dad with it.
8. Generations of Men – A Beautiful Concept
If you'd like to present your father with a truly personal gift, then this might be a great choice for you! Take portraits of each generation of men in your family, holding the same frame. Each frame should contain a photo of their son, the generation after them. Your dad will love this idea!
9. Matching T-Shirts – Cute Gift Ideas
Create matching t-shirts for you and your dad! This is the perfect sort of gift to give because both of you will be able to wear them at the same time, showing off that you are in the same family! On your dad's t-shirt have the words "the original," while on yours have the word "the remix" written on.
10. A Cool Keychain – The Big Milestones
Here's another fantastic gift your dad is guaranteed to love, a personalised keychain! Put together a keychain made up of a few metal discs. On each metal disc, write down an important year of your dad's life and the event linked to that certain year. For example, the year he was born can be on the smallest metal disc, then the year he got married, then the year he became a dad!
11. A Jar of Jokes – Awesome Retirement Gifts for Dad
Get your dad a jar of jokes, so he can entertain anyone at any time! Write up some dad jokes on paddle pop sticks before putting them in a jar. This will be an amusing way to spend an evening because your dad will be able to pull out a paddle pop at any random time and say something hilarious! If your dad has a great sense of humour or loves jokes in general, he will be sure to love this easy birthday gift!
12. Father and Daughter – DIY Present Ideas for Dad
Scrabble letters can create a beautiful design to express something! Use scrabble letters to write "daughter" horizontally with "daddy" vertically going through it. Glue these letters on a wooden board, then also attach a photo of you and your dad underneath it. This is a perfect present for a daughter to give her dad!