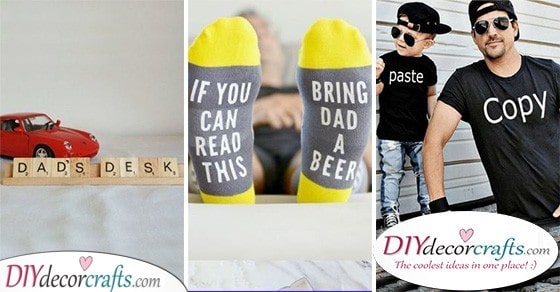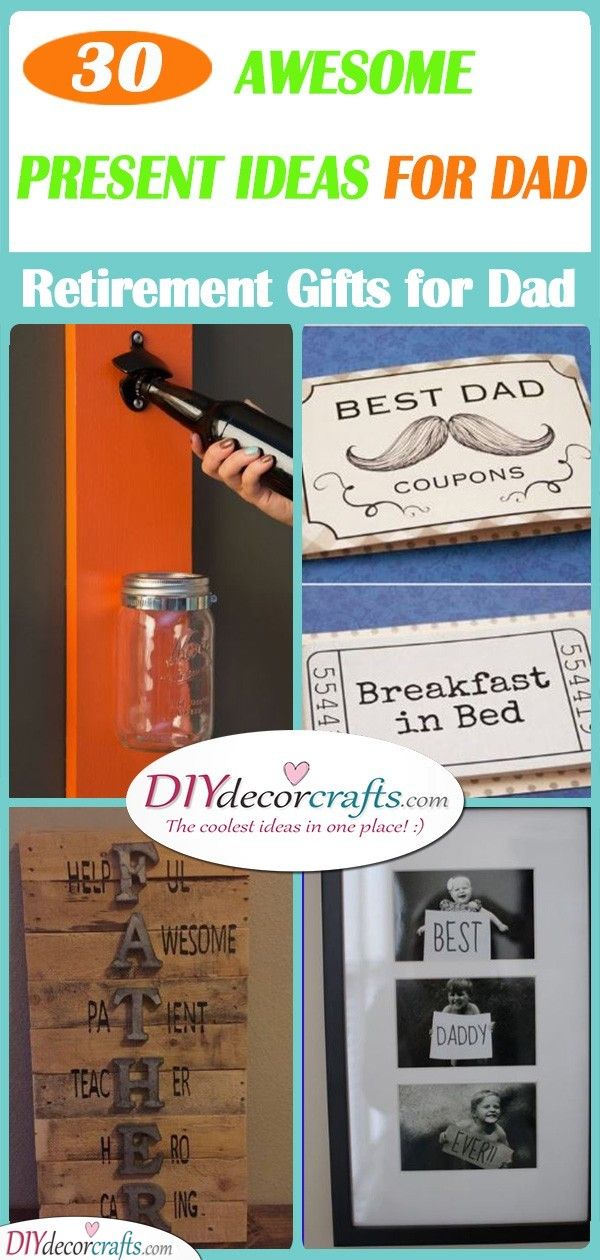 Fathers are one of the most important figures in our lives. They help raise us, take care of us and support us through our lives. Whether it's Christmas, their birthday or just a random occasion, you might be in search of a present for him. Finding the perfect retirement gifts for dads can be a bit difficult, as they already seem to have everything they need. At times like this, it's a great idea to make something handmade, showing you put the time and energy into making something for them! Take a look through our pick of present ideas for dad, to find something special for him!
1. Dad's Desk – Scrabble Retirement Gifts for Dad
Get some unique gifts for dad! Perhaps something that will remind him of you and draw a smile on his face! Create a small desk sign for him out of wood and scrabble letters. Write "dad's desk" on it, making it obvious for anyone who sees, that this is your dad's place. He can take this small sign to his workplace!
2. No Place Like Home – Beautiful Present Ideas for Dads
Sometimes home can't be defined by a house or a place, it's the people who are important. Knowing you have a loving family waiting for you, is the perfect sort of home. Your home is also your home because your dad is there! Create a piece of decor for him, which has a picture of the two of you on it, with the text written above it "home is where daddy is."
3. The Happy Jar – Brighten His Days
Everyone has days when they feel a bit down. If your dad is having a bad day, make sure you bring a little support and love into his day! On small slips of paper write loving messages, they can be memories or just notes of positivity. Then place them all in a jar. Whenever your father is feeling under the weather all he will need to do is take out a note from this jar and read it!
4. A Calendar – A Year of Family Love
A great gift to give your dad is a calendar! Especially if you decide on using family memories for the pictures for each month. This way he can keep track of all the events he has to go to as well as the daily chores he needs to complete. Not to mention, it will also look fabulous as a wall decoration idea!
5. Spell it Out – Retirement Gifts for Dad
Spell out "father" vertically on a wooden board or a piece of paper. Then find words, which all define him and place a word next to each letter. This will look not only great but will also be a truthful description of your dad! He will be able to use this as decor in the house.
6. A True Superhero – All About Dad
Have you ever found yourself thinking of your dad like he is a real-life hero? Using other superheroes as references, write down what he is like on a sheet of paper, for example, "as clever as Iron Man" and "as strong as Thor." You can attach small figurines or pictures of these superheroes to it. Remember to mention, that he is your superhero and that you love him at the bottom of the page! This is just one of many awesome Christmas or birthday present ideas for dad!
7. Best Daddy Ever – Photo Idea
Here's a fantastic gift to make with a few pictures of the kids! Take some photos of the children holding up signs, each showing a different word. The photos when placed next to each other should spell out a short sentence like "best daddy ever." Place this compilation of photos in a frame before presenting your dad with it.
8. Generations of Men – A Beautiful Concept
If you'd like to present your father with a truly personal gift, then this might be a great choice for you! Take portraits of each generation of men in your family, holding the same frame. Each frame should contain a photo of their son, the generation after them. Your dad will love this idea!
9. Matching T-Shirts – Retirement Gifts for Dad
Create matching t-shirts for you and your dad! This is the perfect sort of gift to give because both of you will be able to wear them at the same time, showing off that you are in the same family! On your dad's t-shirt have the words "the original," while on yours have the word "the remix" written on.
10. A Cool Keychain – The Big Milestones
Here's another fantastic gift your dad is guaranteed to love, a personalised keychain! Put together a keychain made up of a few metal discs. On each metal disc, write down an important year of your dad's life and the event linked to that certain year. For example, the year he was born can be on the smallest metal disc, then the year he got married, then the year he became a dad!
11. A Jar of Jokes – Awesome Retirement Gifts for Dad
Get your dad a jar of jokes, so he can entertain anyone at any time! Write up some dad jokes on paddle pop sticks before putting them in a jar. This will be an amusing way to spend an evening because your dad will be able to pull out a paddle pop at any random time and say something hilarious! If your dad has a great sense of humour or loves jokes in general, he will be sure to love one of these unique gifts for dad!
12. Father and Daughter – DIY Present Ideas for Dad
Scrabble letters can create a beautiful design to express something! Use scrabble letters to write "daughter" horizontally with "daddy" vertically going through it. Glue these letters on a wooden board, then also attach a photo of you and your dad underneath it. This is a perfect present for a daughter to give her dad!
13. A Hero and a First Love – Gifts for Dad from Daughter
A lovely present for any dad is something made with love from his children! Create a bit of decor for him. A wooden board with the message in the middle of it, "a dad is a son's hero and a daughter's first love." Then place pictures of him with the children next to this quote.
14. A Bit of Love – A Photo Series
Create a beautiful photo series for dad. Have his child hold a cut-out letter in each picture. It's up to you on what the message will be, it can be something simple like "I love you dad." Then place all the pictures together before giving it to him! He will love this personal and creative gift!
15. Time for Creativity – Retirement Gifts for Dad
Sometimes the best presents are simple but creative! Play around with shadows to create something special for dad's birthday. Cut out the sentence "we love dad" from a piece of paper. Have the kids hold this sign up at sunset and take a picture of their shadows. The sign should be well readable. Print out this photo and place it in a frame for dad!
16. Opening Beers Easily – With a Cap Catcher
If your dad is a beer lover, create a beer opener for him with a beer cap catcher attached. This will make it super easy for him to just open a beer! Place this beer opener on a wall for him, using a mason jar as the cap catcher. This is one of many easy homemade gifts for dad to try out!
17. A Hundred Polaroids – Great Retirement Gifts for Dad
When in doubt about what to give as a present, memories will always brighten someone else's day and draw a smile on their face! Create a poster of dozens of shared memories, sticking polaroids of you and your dad all over it. He will love looking back at all the beautiful times you have had together! This poster of memories will make a great source of decor!
18. A Creative Card – Suit and Tie
Are you planning to write a card for your dad? Instead of buying a card in a shop, put one together at home by yourself! Create one which looks like a suit and tie. Using folding techniques and cutting out pieces of paper, you will be able to make a beautiful card! You can also stick buttons on the card for a more authentic image.
19. A Big Heart – Gifts for Dad from Daughter
Create one big photo out of many photos put together! Using your arms and body, create the form of a heart when placing all the photos together. You can put this in a frame for dad before giving it to him. It's a super personal way of expressing your love!
20. A Box of Photos – Cute Present Ideas for Dad
Are in search of a more simple, but personal gift? Then this idea will be perfect for you! In a small box place a few dozen tiny pictures of you and your dad. Make sure to include happy memories, when the two of you were having a blast! These sort of retirement gifts for dad will definitely brighten up his day, whatever the occasion is!
21. A Gorgeous Pillowcase – With a Message
If you love arts and crafts then you can easily create a unique pillowcase, which has a message written on it for your dad! With a fabric pen or fabric paint, write a whole message for him on a pillowcase. You can even consider drawing him a small picture as well! This would make a great Christmas gift for dad!
22. Alternative Album – Retirement Gifts for Dad
If you have no clue what to give your dad for a special occasion, why not create an album for her? But not a standard one! Create the shape of an actual photo camera out of a box, which you can pull apart to reveal a whole collection of photos!
23. Funny Socks – Bring Him a Beer
Does your dad love drinking a cold beer at any time of the year? Get him a pair of socks that read "If you can read this, bring dad a beer." Hopefully, someone will pay attention to his needs and will bring him a beer, while he is watching television or just relaxing on the sofa. These will make funny and personalized gifts for dad.
24. Adorable T-Shirts – Copy and Paste
Create matching t-shirts for dad and the kids! Matching t-shirts are all about creating a unique or funny message, which is incorporated in both t-shirts. For example, try out printing the word "copy" on dad's t-shirt, and "paste" on the kid's. This will just be a funny message, reflecting that the kid is a paste of his copy.
25. A Tie Holder – Perfect and Efficient
If your father wears a lot of ties, make sure you create a space for him to store his ties! All you need to do is hammer some nails into a wooden board. He will be able to hang his ties on these nails. Attach this wooden board to a wall and it's ready to be used!
26. A Definition – Personal Present Ideas for Dad
Write a definition of your dad, as if were a definition in a dictionary. After writing up "dad" and that it's a noun underneath it, write down your dad is "someone who gives great advice and is always encouraging and protective." You can place this in a frame before giving it to him.
27. A Lovely T-Shirt – Description of Dad
Express how much your dad means to you with the help of a t-shirt! While he is not only a husband and a dad, he is also the protector of your family and a real-life hero!
28. A Coupon Booklet – Treat Your Dad
Create some coupons for your dad, which she can use whenever she wants! So if he wants breakfast in bed or needs some help in the garden, he can use a coupon to achieve these things! This is a creative way of helping your dad out around the house. This is something he will definitely be thankful for!
29. Cute Keychain – Personalized Gifts for Dad
If you have run out of idea on what to give your father, why not present him with a keychain? It can be a simple small plate of metal with a message engraved in it from you!
30. Message to Dad – Retirement Gifts for Dad
If your dad needs a watch, why not buy him one? But make sure it's personal! Have a message engraved on the back of the watch, with which you express your love and gratitude towards him! This way he will always have you with him when he is wearing the watch.
It's true that it might be a bit difficult to find the perfect homemade gifts for dad, as you'd like to give this important person in your life something truly special! We sincerely hope that you have been able to find a great gift amongst these 30 present ideas for dads. For other presents, like birthday present ideas for dad or Father's Day Gift Ideas, just check out our website!
Advert