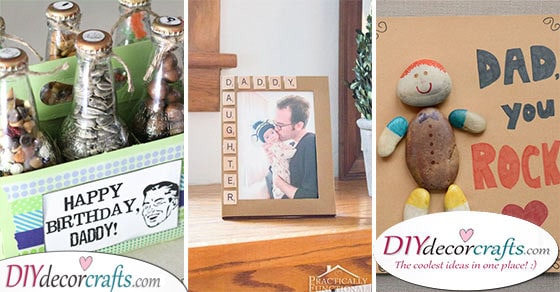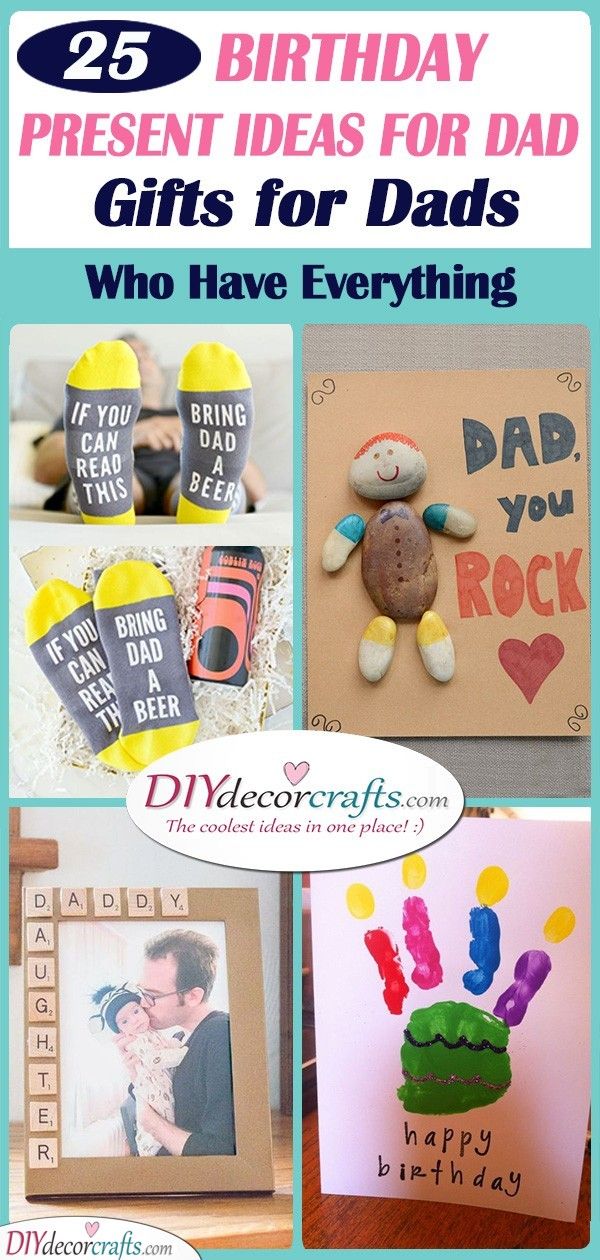 Fathers are one of the most important figures in our lives. They are there for us from the day of our birth, watching us grow and aiding us in our journey. When his birthday arrives each year, it shouldn't be a reminder for him or the family, that he has aged another year, it should be a celebration of love and gratitude. Thank your father on his birthday, for helping you throughout the years with a special gift. DIY presents are sometimes a great option for presents, as they reflect that you spent time and energy on making something truly unique for him. Furthermore, it is sometimes hard to find gifts for dads who have everything, making handmade gifts a great option. So take a look through our collection of 25 awesome birthday present ideas for dads to find him something perfect!
1. Some Snacks – In Beer Bottles
Does your dad love to sit in front of the tv after a hard day of work and just relax a bit? Make sure he has snacks as an accompaniment to his favourite show! Pour his favourite snacks into empty beer bottles, then place them into a box. You can have a message like "happy birthday daddy!" written onto the box. These will make great and simple birthday gifts for dads who have everything!
2. Photo Series – Gifts for Dads Who Have Everything
Find awesome birthday present ideas for dad! Which father doesn't love to see a few pictures of his child or children? Have one of the kids or all of them hold up the letters of "happy birthday", taking a photo with each letter. After getting the photos printed, put them together on a board or canvas. This is a great way of wishing him a happy birthday since it's from family! And these pictures will also create sentimental gifts for dad that he'll be able to treasure forever!
3. A Heartfelt Card – Birthday Gifts for Dad
If you have been searching for a gift for your dad on the inexpensive side, but would still like it to be personal, why not write your dad a card? Obviously, it's completely up to you what you write to him! Tell him how thankful you are that he is your father and that he is always supporting you, and how much you love him! If this heartfelt letter does not bring tears to his eyes, we don't know what will!
4. A Jar of Golf Balls – Birthday Present Ideas for Dad
Does your dad have a favourite hobby or sport that he loves to do whenever he has a bit of free time? Maybe he loves to play golf, which is a great sport! If so, he has probably found himself annoyed that all his golf balls disappear after a while. Make sure he has a new stash of golf balls, so if he wants to go out and play, he'll have plenty of options. Put the golf balls in a jar before presenting him with them on his birthday.
5. Spell it Out – Creative Presents for Dad
Now here's another creative and lovely birthday present idea for your dad! Gather words that describe him and place them underneath each other, so that the word "father" is spelt out vertically. You can put this description of him in a frame, so he will always be reminded of how people close to him see him. Just take a quick glance at the picture above for a great example!
6. A Superhero Dad – Birthday Present Ideas for Dad
Have you ever found yourself thinking of your dad like he is a real-life hero? Using other superheroes as references, write down what he is like on a sheet of paper, for example, "as clever as Iron Man" and "as strong as Thor." You can attach small figurines or pictures of other superheroes to it. Remember to mention, that he is your superhero and that you love him at the bottom of the page!
7. A Sweet Message – Unique Chocolate Idea
Give your dad a sweet message for his birthday, but literally sweet! Write him a message, but replace some words with chocolate or candy bars. The key here is for the message to make sense as well as being tasty! Use any sort of candy, chewing gum, breath mints and chocolate which you can find!
8. A True Superhero – Gifts for Dads Who Have Everything
Another fantastic way of expressing how you feel about your dad is getting him some wall art! Draw or paint him a poster, describing that he is a superhero in your life! Again, you can write that he is "as brave as Batman" and "as incredible as Hulk." Tell him that he is your favourite superhero! He will be able to hang this up in his room as decor!
9. Dad, You Rock – Cute Pebble Present
Get creative and make this adorable birthday gift for fathers! Use rocks and pebbles to create a figurine of him, you can paint them and draw a face for him. Stick them to cardboard or paper, then write up "Dad you rock!" next to it. This is a cheap and easy gift to make him, but is fabulous at the same time!
10. A Fun Toolbox – For Television Time
Does your dad love to relax and rest in front of the TV while watching a great movie or series? Make sure he has some tasty snacks and a few bottles of beer to make his night even more enjoyable. Even though this present might seem a bit simple, it will brighten up your dad's day!
11. A Meaningful Hammer – Show Gratitude and Thanks
Is your dad a handyman, who loves to tinker things around the house? Maybe a hammer or a tool would be the right sort of present for him. But since it's his birthday, make sure the present is personal. Have a message engraved in the handle of the hammer. For example, you can thank him for helping you build your life, which is symbolic and heartfelt. He is guaranteed to love this! this would also be a fantastic gift idea for grandad!
12. A Cute Handprint – Birthday Card Ideas
Create a cute birthday card for dad's birthday! Something easy, which even a small toddler can make! First, dip the palm of your hand in paint and push it down on a piece of paper. After allowing it to dry, dip your fingers in paint as well and above the palm push your fingers down on the paper. The palm will represent the birthday cake while the fingers will be the candles. Decorate the cake part further with some glitter, and with yellow paint, you can create the lights of the candles.
13. A Gift Stache – A Jar of Presents
Still not sure what to get dad as a present for his birthday? Get him a variety of his favourite things, from his favourite chocolate to the perfume he uses every day. Place them in a jar for a cool look! To add a bit of fun and quirkiness to the presents, add a picture of the kids to the jar who are wearing printable moustaches and holding up a sign saying "dad's stache."
14. A Beautiful Keychain – Perfect Presents for Him
Get your dad a keychain so he is reminded of you whenever he looks at his keys! You can have a message engraved in circles of metal. It's completely your choice on what sort of quote or message you'd like to have written in the keychain. It can be something more personal and sentimental, or just a funny memory.
15. Another Photo Series – Cuteness Overload
Make sure the kids are part of dad's birthday! Make a beautiful photo series for dad. Have the child hold a letter in each picture. It's up to you on what the message will be, it can be something simple like "I love you dad." Then place all the pictures together before giving the gift to him! He will love this creative gift!
16. Blackboard Photos – Birthday Present Ideas for Dad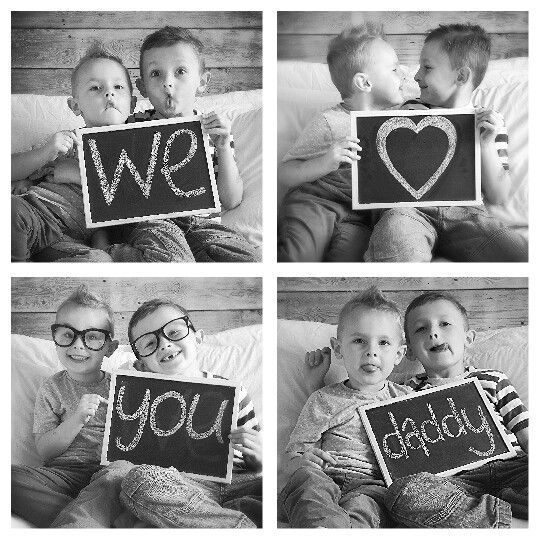 If you love the idea of a photo series, you can create a longer message by using a blackboard in the pictures. Have the kids hold a blackboard, in each picture a different word of the message popping up. After you're done put the pictures together, this way forming the message and making it understandable. Dad will love this adorable photo series of his kids!
17. A Huge Heart – Another Great Photo Series Idea
Make sure dad knows how much the family loves him! Create an amazing photo series for his birthday, showing him all the love! This requires a lot of pictures put together and any members of the family can help out! Use your hands and body to form the lines of a heart. Then place the pictures all together to end up with a huge heart! 
18. A Family Portrait –

Gifts for Dads Who Have Everything
There's no better piece of home decor than a family portrait! Seeing a picture of yourself being surrounded by the people you are closest to and love the most is a wonderful feeling! Get dad a picture of him and the family or him and one of the kids and place it in a frame. Using letters from scrabble you can leave a message on the frame. He will be able to place this on his bedside table or use it as wall decor and always be reminded of his family!
19. A Creative Tie – Symbolic Meaning
If your dad loves to wear ties, get him one for his birthday! But we aren't talking about ordinary ties, we're talking about making one, which is filled with chocolate or candy! Sew a piece of paper together with a plastic and seethrough sheet before filling it with bits of chocolate. You can also place a note in it telling your father that he ties the family together. So while the present itself is easy and simple to create, it has a deep meaning behind it!
20. Dad's Desk Sign – An Accessory for His Study
Are you still trying to find some personalized gifts for dad? Make sure your dad has an accessory for his desk in his office! Use letters from a set of Scrabble to write up "dad's desk." Stick these letters together on a smaller wooden board, which he can take into his study or his workplace. He will always be reminded of you when he looks at it!
21. Funny Socks – Great Gifts for Dads who Have Everything
Does your dad love a cold beer on those hot summer days? Get him some socks which read "If you can read this, Bring dad a beer." Hopefully, someone will pay attention to his needs and will bring him a beer, while he is watching television or relaxing on the sofa. This is a funny and great idea for any beer-loving dad!
22. Personalised Sign for Dad – Awesome Birthday Gifts for Dad
Sentimental gifts for dad can include signs with pictures of his children! Write a message in the middle of it, for example, "a dad is a son's hero and a daughter's first love." Of course, it's up to you what sort of message you'd like to present your dad with on his birthday! As long as it's a heartfelt and homemade birthday gift, he will love and treasure it!
23. A Pile of Dad Jokes – Birthday Present Ideas for Dad
Get your dad a jar of laughs, so he can pop his favourite funny jokes at any time! Write up some dad jokes on paddle pop sticks before putting them in a jar. This will be an amusing way to spend an evening, or your dad will be able to pull out a paddle pop at any random time and say something hilarious! If your dad has a great sense of humour he will be sure to love this easy birthday gift for fathers!
24. Stash or Stache – Dad's Favourite Treats
Give your dad a bundle of his favourite treats for his birthday! It will be his stash of chocolate and candy for any rougher days! You can also add a play on words to it, don't call it "stash", name it a "stache" instead! This is great if your dad actually has a moustache!
25. Handprint Ornament – A Real Treasure
Here's one of many personalized gifts for dad to try and make for your father's birthday! Have each child create a handprint for him out of salt dough. They can cut out a heart or a star in the middle, where they can place their own picture inside. They can paint the keepsake in any vibrant colour they'd like! Dad will be sure to love these adorable gifts! This is just one of many gifts for dads who have everything already!
We hope you have found some great birthday present ideas for dad! After all, make sure he knows how special and important he is in your life with a great handmade gift! If you are in search of other gift ideas, for example, Gifts for Dad or Father's Day Gift Ideas, just go to our website!
Advert