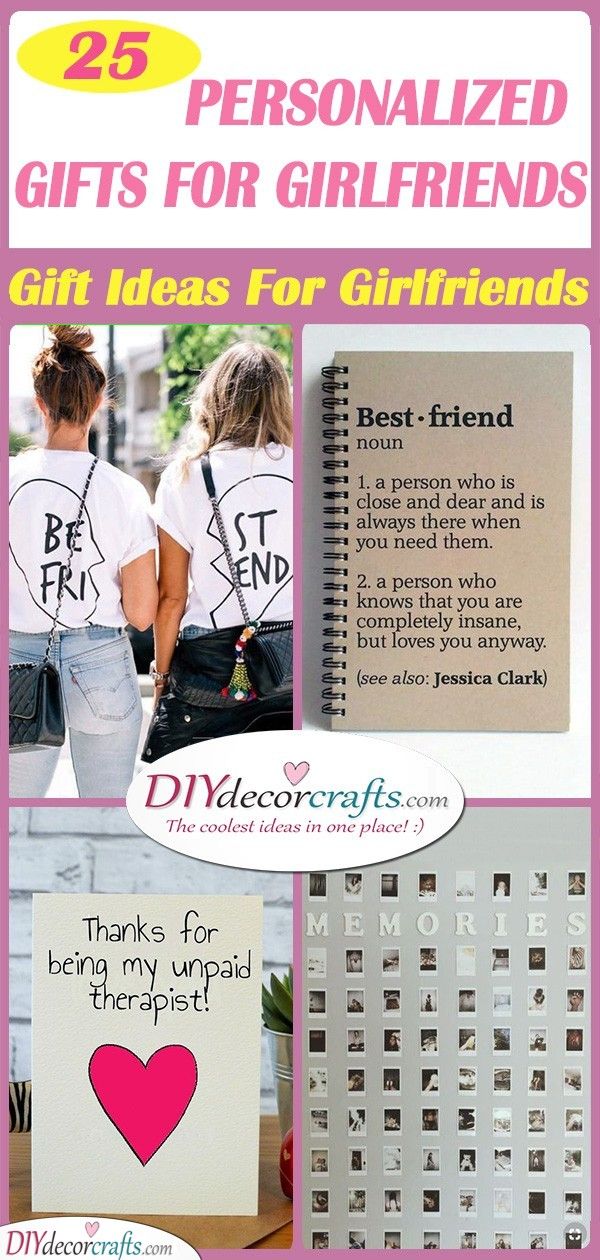 There's a saying that people come and they go, but only true friends leave footprints in your heart. Everyone has a best friend in their life who has stuck by their side through thick and thin. It's because of friends like these that we enjoy some of the happiest moments of our lives, but they are also always there to help us get through our most terrible days. So if you have the best girlfriend, who has always been there for you whenever you needed them, make sure you know how much you love them and that you are extremely grateful for having them in your life. If it's their birthday, Easter, Christmas or any other sort of special occasion brighten their day with some special and unique gift ideas for girlfriends. After all, your best friend deserves the very best! We have collected 25 personalized gifts for girlfriends to help you find a bit of inspiration for whatever special event you want to celebrate or if you just want to show them a little love!
1. A Definition of Friendship – A Heartwarming Gift Idea
Best friends are not only the people in our lives who are always there for us if we need them but they are also the people who know exactly how crazy or insane we are and still accept and love us. As we all know this is a special connection, which you'll only receive from a few people you meet during your life, so make sure your best friend knows how important she is to you! Decorate the front of a blank notebook with a few definitions of friendship, then underneath write "see also" and your best friend's name. This gift idea for a best friend might be simple but will definitely touch your friend's heart.
2. A Jar of Notes – Colour Coordinated
Making DIY gifts for girlfriends shows that you put the time and energy into creating something special for someone. A DIY present does not have to be extravagant or push the boundaries of creativity, it can be something on the simpler side, but with a lot of meaning. This jar of notes is a great example of this! If you have an old jar lying around the house, stick a tag around it that has a list of colours. Each colour should mean something, for example, yellow can be quotes and lyrics while pink can be various memories. In the jar itself place small folded pieces of paper, each one should be coloured according to what is written on it. If some of them are pink and you've decided that the pink slips of paper are memories, you can write down one of your summer festival experiences, or just that one time when you missed the last bus and had to wait for five hours to get on the first-morning ride.
3. Matching T-Shirts – Two Halves Make a Whole
Getting matching items of any kind is always an adorable gift idea. Whether it's necklaces, bracelets or bags everyone will know that you are birds of a feather. Matching T-Shirts are just one of many ideas with which you can show off to the world that the two of you make one whole. This is just one of many cute things to get for girlfriends!
4. DIY Unique Mug – Personalized Gifts for Girlfriends
Create a unique mug for your best friend, using this easy tutorial! Splash a bit of nail polish in a tub of water and with a wooden pick mix the nail polish around in the water so it forms a swirly pattern. It's up to you what colour or how many colours of nail polish you use, you can get creative with this! Now all you have to do is dip a plain mug inside of the tub, making sure the nail polish sticks to each side of it. Make sure you don't wipe the mug afterwards, instead pat it dry! This will ensure you don't smudge the beautiful swirls of lacquer. So, if you are in search of cheap gifts for girlfriends, this may be something to try out!
5. A Small Box of Photos – Beautiful Memories
Sometimes the best way you can express your friendship is with a collection of photos. Gather your favourite photos from shared experiences of the two of you, and put them in a small box. When your friend opens the box, she will be surprised to experience a rush of nostalgia. It's thanks to all those shared memories as well that the two of you have become best friends.
6. The Happy Jar – Brighten Her Day
Here is one of many personalized gifts for girlfriends involving a jar! Write small messages of pieces of paper, they can be notes, quotes, memories or just a few loving words. Whenever your friend is having a bad day, all she'll need to do is take out a piece of paper and read the message inside. With the support of each message, you will be able to brighten up her days for a long time!
7. Friends Inspired – A Board of Pictures
If you watched Friends with your best friend and it was your favourite TV series, why not make her something special which is inspired by this classic show? Write up the logo of Friends on a wooden board, and underneath stick together a collage of pictures, from your happiest and best memories. She will be able to put this up in her room as wall decor and look at it every day!
8. A Framed Photo and Message – Gift Ideas for Girlfriends
Make your best friend's day truly special with this idea! Stick a photo in the middle of a sheet of paper. Write a long and heartfelt message around the photo, you can write down your favourite messages or the reasons you love your best friend so much, this one's up to you! Then place this sheet of paper and photo in a frame. While this is a simple and easy gift to put together, it has a lot of sentimental and personal value.
9. A Variety of Snacks – For a Movie Night
If you're planning on having a movie night with your best friend, make sure you arrive prepared with a small surprise! Design and decorate a box to look like it's something you can get at the cinema. Then place drinks inside, popcorn and some other tasty treats you can snack on while watching your favourite movie together! This box of food will make a perfect present for any night in!
10. Heartfelt Note – Expressing Yourself with Words
It's completely natural that when we go through something rough, we share this experience with our closest friends and family. Stressful and infuriating things happen to us daily, so it's no surprise that we find ourselves going to our best friends for everlasting consoling. While of course, it's our job as friends to be there for another, it's might also get tough for the other person to help you concerning your serious problems. Make sure your best friend knows how thankful you are that they are always there for you, whenever you need to talk to someone. Write them a note, it can say something funny but lovely like "thank you for being my unpaid therapist."
11. A Real Princess – Creative Gifts for Girlfriends
Does your best friend adore Disney princess movies like Snow White and Frozen? Make her a small board listing all the Disney princesses and in what ways she is similar to them. Let them know that they are as beautiful as Ariel and as independent as Elsa.
12. A Series of Polaroids – A Trip Down Nostalgia Lane
Polaroids are a fun way of taking photos, and if you've been shooting them for the years you've known your best friend, this will make a perfect gift for her! Collect all the polaroids you have of the two of you. Stick them on either a big sheet of cardboard or on a wooden board. You can cut out and stick the word "Memories" onto the board as well. This would also make a fabulous gift idea for couples!
13. Beautiful Mug – 

Gift Ideas for Girlfriends
As we said before, creating a mug for a friend is a very special way of expressing your fondness towards them! Use the nail polish technique we mentioned already to cover a plain white mug in vibrant bursts of colours. To make the nail polish stick on the mug for a longer time, coat the mug with a layer of seethrough lacquer after the first coating of nail polish has dried.
14. Star Necklace – Paired with a Beautiful Quote
"Good friends are like stars, you don't always see them but you know they are always there!" This quote pretty much sums up good friendships, and if you feel like your best friend is your lucky star, why not use this quote as inspiration for their present? Get your best friend a star necklace, but don't forget to put the quote underneath it, so it makes complete sense to them why they received this one of many personalized gifts for girlfriends.
15. Awesome Pillowcase –

Gift Ideas for Girlfriends
Are you in search of cute things to get your girlfriend? Do you also like doing arts and crafts at home in your spare time? Grab your fabric paints and markers to create this awesome pillowcase! Place letters on the pillow which are cut out in the middle. With your marker run through the cut-out holes to create words and sentences. By the end of this procedure, you should have a pillow that has a special message written on it for your friend. This message is up to you, on what you'd like to give to your friend. This pillow will definitely have a special place in her heart!
16. The Jar of Nothing – A Funny Gift Idea
How many times have you asked your friend what she wants for her birthday and you've only received the reply that she wants "nothing." Well, maybe it's time to play a joke on her and actually get her nothing! Get an empty mason jar, and stick a label onto it that states the reason why it's empty. You and your friend should have a good laugh at this one of many personalized gifts for girlfriends!
17. For a Master Chef – Supporting Your Friend's Hobbies
If your friend loves to cook and bake food in the kitchen, why don't you get her an assortment of kitchen utensils or basic ingredients? This present idea is up to you, you can get her a jar which you can fill with good wine and fruit and tie a wooden spoon around it. Naturally, if you know your friend needs new for her kitchen then make sure to get her that! This gift idea is awesome because you are supporting her hobby and also buying her something practical which she will be able to use in her day to day life!
18. Artistic Presents – For an Artist
Does your friend love painting and creating art? Make sure she has everything at home so she can continue this creative habit of hers! Get her any artsy utensils she needs. If she likes to paint, get her watercolours and paintbrushes. If she likes pottery, buy her some clay. Your friend will be super thankful for helping her on her art journey!
19. Photos in a Photo Camera –

Gift Ideas for Girlfriends
If your friend is into taking pictures and you have a lot of pictures of the two of you, make sure you get her a photo album that is suited to her taste! Take a look at the camera album above, created to look like an actual camera, but it's actually a pull-apart album full of shared memories. This is an incredibly unique way of presenting your friend with photos, not to mention, it will show spectacularly on her shelf in her room. An idea like this is definitely a unique gift for girlfriends!
20. Beauty Products – Personalized Gifts for Girlfriends
Every girl needs a bit of pampering sometimes! Spoil your best friend with her favourite skincare or makeup products! Arrange these in a basket, box or jar. Making sure she has everything she needs, from nail polish to lip balm!
21. True Friendship – Creative Photo Present
To create this cute and unique gift for girlfriends, you might need a bit of co-operation from your friend! Take two photos of the two of you. Both of you should be standing apart alone. Then with each new frame, you get closer and closer to each other, until finally, the last photo is a joined picture of the two of you! You can stick this on a card and write a message underneath it.
22. Gorgeous Candle Holders – Gift Ideas for Girlfriends
Get ready to make some DIY gifts for girlfriends! Candleholders and candles are essential gifts, and at least at one point during your friendship, you will give and also receive these gifts. Naturally, you can go into a home and decor store and buy a few candle holders, but wouldn't it be much better if you made them yourself? Depending on what kind of pattern you'd like to create, stick pieces of paper or foil onto glass candleholders. Then choose a colour of spray paint and spray the candleholders. After they have dried, you can remove the pieces of paper or foil, which will reveal a see-through and untouched glass, forming a unique pattern.
23. Glittery Candle Holders – For a Sparkling Atmosphere
Does your friend love glittery decor? Then these DIY sparkly candle holders will be the perfect gift for her. Use old, empty jars for the candleholder's base. Paint a thin layer of glue over the outside layer. Sprinkle glitter over the glue and leave it to dry, and voila! You're already done. The layer of glitter will look fantastic when a candle is lit inside.
24. A Calendar Full of Memories – A Special Photo for Each Month
If you have a lot of time on your hands, why not create a one of a kind calendar for your friend? This is just one of many great personalized gifts for girlfriends. Use photos of the two of you for each separate month. You can use winter photos for the winter months, and pictures taken in the sunny warmth for the summer months. This calendar will look great as decor, but will also play a useful part in organizing and remembering weekly duties.
25. Polaroids in a Frame – Gift Ideas for Girlfriends
We've got the perfect solution for you if you'd like to give your friend a personal but easy-to-make gift. String some yarn across the middle of a frame and attach a few polaroids of the two of you to it. You can also glue your favourite quote about friendship under the polaroids. Then it's up to you to decorate the rest of the frame in any way you'd like, paint things on it or glue small details around it to create a special atmosphere. These types of gifts are also cheap gifts for girlfriends if you don't have a large budget!
We trust that this small collection of 25 personalized gifts for girlfriends has succeeded in finding the best possible gift for her! After all, it's important to find her the best possible gift ideas for girlfriends, so she knows just how special and important she is in your life! If you are in search of other present ideas, for example, Birthday Gift for Girlfriends or gifts for sisters, just go to our website!
Advert