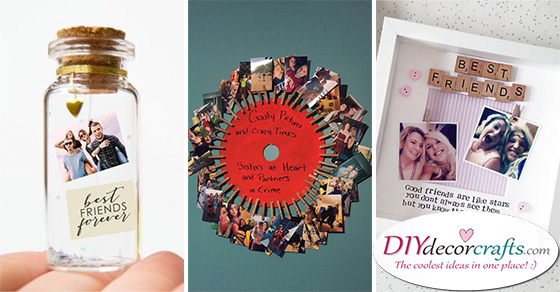 Best friends are special people in our lives, bringing light with themselves even on our saddest or worst days. It's important to express our gratitude and love towards our best friends, just so they are reminded of how much they mean to us! A great way to express this feeling of love is by presenting them with a special gift! When we say special, we mean something you don't just take off a shelf in a shop. Handmade gifts show others that we actually put time and energy into creating something for them. This is why DIY presents are great ideas! So make something for your best friend as well! We have collected 25 amazing gift ideas for your best friend including some sentimental gifts for best friends as well! 
1. Chocolates with Messages – Cute and Delicious
Chocolates always make great best friend gifts, especially if your best friend has a bit of a sweet tooth! Grab your best friend's favourite chocolate and replace their labels or wrappers, with ones you make yourself. Write lovely and adorable messages on each wrapper, sending your friend some love for each day! An even more fantastic idea is to make the chocolates yourself! You can stir together the ingredients at home to make your own chocolates or bonbons for your best friend. Place the melted mass in forms for them to harden and become chocolate, before presenting your best friend with them. This is just one of the many awesome gift ideas for your best friend!
2. Heartfelt Teabags – For a Chilly Day
Does your best friend love drinking tea? Tea is a great present to give, especially when the weather gets a bit more chilly. This is when it's perfect to snuggle up on a couch with a warm mug of tea. Make your best friend some personalised tea bags. Cut out tea filters in the shape of hearts. After filling them with her favourite mix of tea leaves sew them together. While this is something simple to create, it shows your thoughtfulness and care.
3. Scented Candles – Gifts for Relaxation
Candles will make fantastic best friend gifts. Especially if you know what their favourite smell of flowers or spices is. You can try making some candles at home out of old ones. Drip some essential oil into the candle wax to give your candles a beautiful aroma. If your best friend has had some stressful days, placing candles around her room or around the bathtub will help her relax a bit. After all, lit candles create a gorgeous atmosphere.
4. A Jar of Butterflies – Beautiful

Gift Ideas for Your Best Friend
If your best friend loves butterflies, why not gift her a butterfly-inspired present? Create butterflies out of decorative paper, and attach them to strings, hanging from the lid of a jar. Now all you need to do is place the lid on the jar, and you will have a jar filled with butterflies! You can place a letter or a note at the bottom of the jar for her. This jar will serve as a beautiful source of decor in any room.
5. Marble Ring Dish – Creative Gift Ideas for Your Best Friend
Is your best friend the sort of girl who keeps losing her rings or other accessories around the house? Create a ring dish for her. This is a simple way of storing rings or any other sort of jewellery. Take the ring dish to the next level for her! You can decorate a clay plate or a ceramic plate with a marbled effect. This is guaranteed to look beautiful! You can use clay or even nail polish to create this marble look!
6. Painted and Frosted Glasses – Unique and Gorgeous
Find some awesome gifts to give your best friend! If your best friend loves home decor, create a bit for her! Easy and simple objects to make at home are painted and frosted glasses. You can use them as candle holders, vases or just as table decor. Use stickers or tape for creating patterns on the glasses, before coating them in spray paint or craft paint. Your friend will love these uniquely decorated glasses!
7. A Heart of String – Sentimental Gifts for Best Friends
Here are other thoughtful gifts for friends you can make at home! On a wooden board hammer in some nails, a whole line of nails framing the sides and a heart hammer into the middle. Use vibrant coloured threads trailing from the outer frame to the heart to create some string art. A rainbow heart will make a great piece of decor for her room!
8. Bath Bombs – Great

Gift Ideas for Your Best Friend
Does your best friend love to take long and hot baths after a long day? Create a small treat for her, which she can use anytime she would like to! You can easily make bath bombs at home, using essential oils to give them a lovely aroma. Then create a small tag which you can attach to the bath bomb. It should say something like, "you're the bomb!" This will be the perfect gift for her!
9. A Booklet of Love – Creative With Cards
Here's a great idea for how to write up reasons why your best friend is your best friend! Use a deck of cards, writing short messages or things you'd like to say thanks for on each card. Then arrange these in a small booklet, so your friend will be able to flip through it easily! This is a creative way to use a deck of cards!
10. An Alternative to an Album – Sentimental Gifts for Best Friends
Everyone loves looking back at old pictures and taking a trip down nostalgia lane. It can be a great feeling, looking back at all the times you've spent together with your best friend. Instead of placing photos in a standard album, create a disc of photos. Attach photos to an oval or circular shaped wooden board or cardboard with the help of wooden pegs. Write a message for her in the middle of the cardboard or wooden board. This will make a great source of wall decor for your best friend's room or home!
11. A Few Polaroids – Box it Up
Here's yet another fantastic idea for a DIY present to make for your best friend! Not only does it look great, but it's also inexpensive to create! Use an old shoebox and coat it with a layer of paint. Cut small holes in both sides of the shoebox and string a wire across it. Then hang up a few polaroids of you and your bestie. They can use this as decor in their home and always be reminded of you!
12. A Small Bottle – Best Friends Forever
If you want to surprise your best friend with something small but adorable, why not create a small bottle with a message in it? Find a mini bottle and place a message in it. You can also print a small picture of you and your best friend, and place it in the bottle as well.
13. Take a Look Inside the Camera – Creative Presents
If you have a bundle of photos or messages, maybe even a bundle of cards you'd like to give to your best friend, remember to wrap it in a unique manner! Design, cut out and stick together a cardboard photo camera, then slide the messages inside!
14. Letters for Each Occasion – Sentimental Gifts for Best Friends
Everyone has bad days when they're feeling under the weather or when they are a bit more stressed than usual. Write your best friend letters for each of these days so they can get through them easier! For example, write one for when they have had a terrible day, one for when they are bored and one for when they can't sleep. This is an awesome gift for a best friend because it's so personal and heart-warming!
15. Brighten Up Her Day – A Jar of Goodness
Has your best friend had a horrible day when everything seemed to go wrong? Make sure you bring a little bit of sunshine to her! Arrange sweets and snacks, wrapped in gold or yellow paper, in a mason jar. You can attach a note to it, which reads "a little something to brighten your day." Then all you need to do is give it to your friend! This will definitely put her in a better mood!
16. Your Secret Recipe –

Gift Ideas for Your Best Friend
Do you have a secret dessert recipe, which everyone loves to eat, especially your best friend? Give her a jar of the dry ingredients you use in this recipe. All she will need to do at home is add the milk and eggs to these dry ingredients, stir them together well and pop it in the oven!
17. Open When – An Abundance of Letters
Here is another idea for giving letters to your best friend! Cut hearts out of coloured paper, writing a note on each one, then place them in envelopes. Each envelope should be addressed to what occasion she can open them at. For example, one for when she having a bad day, then place a heart of encouragement and positivity inside the envelope!
18. Abstract Flowers –

Gift Ideas for Your Best Friend
If you love getting creative, why not create a piece of artwork for your best friend? Use melted crayons to create splashes of colour on a canvas, almost resembling stems of flowers. Then take plastic flowers, cutting their heads off and glueing them on the canvas as well. Stick the remaining crayons onto the canvas as well, creating a resemblance to a vase. With this simple idea, you will create an abstract vase of flowers as well as one of many meaningful friendship gifts.
19. Polaroids with a Quote –

Sentimental Gifts for Best Friends
If you have run out of ideas on what to get for your best friend, placing a few polaroids in a frame is a simple, but great idea! A few memories can always brighten anyone's mood and take them back to a happy place. You can think about writing up a quote next to the pictures describing true friendship.
20. Cute Birds in Jars – Presents for Best Friends
Have you been searching for cool gifts to give your best friend, which can serve as home decor? Find a few bird figurines, and hang them from the top of a lid from a jar. You can also place a string of fairy lights in the jar next to the floating bird. Your best friend will be able to use this not only as a simple piece of decor but as a source of light as well!
21. Happy Pills – A Bit of Candy
Is your best friend a sugar addict? Does she always need a bar of chocolate or candy to help her through her days? Find an empty mason jar, in which you can pour an abundance of candy or lollies of her favourite kind. Then place a label on the jar which reads "happy pills" as a small joke. If your best friend really does love candy, then one of these thoughtful gifts for friends will most certainly make her happy!
22. A Jar of Happiness – Sentimental Gifts for Best Friends
Create something personal for your best friend, something that will bring a bit of happiness into her days! Write supportive and positive messages on small slips of paper, then fold them and place these in a jar. When your friend is feeling a bit down, all she will need to do is take out a message, and her day will immediately be a little better!
23. Woolly Letters – Creative Gift Ideas for Your Best Friend
Spell out your best friend's name with some woolly letters! Cut out the letters of her name of cardboard, then wrap vibrant yarn or wool around each letter, making them look unique. Use glue to make the yarn stick to the cardboard. She will be able to put her name on a shelf or on one of the walls of her room. These can make meaningful friendship gifts!
24. String Wrapped Balloons – DIY Gifts for Your Best Friend
If you love arts and crafts, here's a gift you can try making for your best friend! Blow up a balloon to the size you'd like, then wrap thread all around it. Make sure you use plenty of glue to make the thread stick to the balloon. You can roll it around in glitter for an enchanting look. When the glue has dried, you can pop the balloon to reveal a ball of thread. Your best friend will be able to use this as decor!
25. A Lace Candle Holder – Balloon Crafts
Make a candle holder out of lace doilies for your best friend! Blow up a balloon and stick lace doilies on one half of it. When the glue has hardened, you can pop the balloon to reveal a candle holder created out of the doilies stuck together. If you place a candle inside the shadows of the lace will paint a beautiful atmosphere.
This collection of 25 gift ideas for your best friend has hopefully been able to inspire you and help in finding you sentimental gifts for best friends! If you are in search of other gift ideas, for example, birthday gifts for your best friend or birthday gifts for men or gifts for women, just visit our website!
Advert