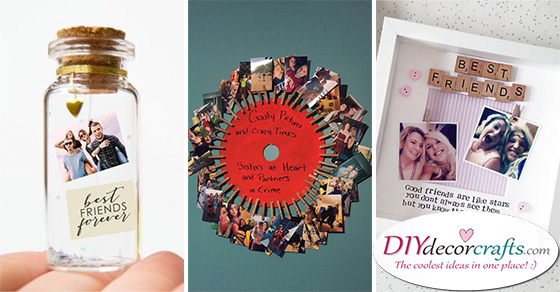 Best friends are special people in our lives, bringing light with themselves even on our saddest or worst days. It's important to express our gratitude and love towards our best friends, just so they are reminded of how much they mean to us! A great way to express this feeling of love is by presenting them with a special gift! When we say special, we mean something you don't just take off a shelf in a shop. Handmade gifts show others that we actually put time and energy into creating something for them. This is why DIY presents are great ideas! So make something for your best friend as well! We have collected 25 amazing gift ideas for your best friend including some sentimental gifts for best friends as well! 
1. Chocolates with Messages – Cute and Delicious
Chocolates always make great gifts, especially if your best friend has a bit of a sweet tooth! Grab your best friend's favourite chocolate and replace their labels or wrappers, with ones you make yourself. Write lovely and adorable messages on each wrapper, sending your friend some love for each day! An even more fantastic idea is to make the chocolates yourself! You can stir together the ingredients at home to make your own chocolates or bonbons for your best friend. Place the melted mass in forms for them to harden and become chocolate, before presenting your best friend with them. This is just one of the many awesome gift ideas for your best friend!
2. Heartfelt Teabags – For a Chilly Day
Does your best friend love drinking tea? Tea is a great present to give, especially when the weather gets a bit more chilly. This is when it's perfect to snuggle up on a couch with a warm mug of tea. Make your best friend some personalised tea bags. Cut out tea filters in the shape of hearts. After filling them with her favourite mix of tea leaves sew them together. While this is something simple to create, it shows your thoughtfulness and care.
3. Scented Candles – Gifts for Relaxation
Candles are a great gift to give anyone. Especially if you know what their favourite smell of flowers or spices is. You can try making some candles at home out of old ones. Drip some essential oil into the candle wax to give your candles a beautiful aroma. If your best friend has had some stressful days, placing candles around her room or around the bathtub will help her relax a bit. After all, lit candles create a gorgeous atmosphere.
4. A Jar of Butterflies – Beautiful
Gift Ideas for Your Best Friend
If your best friend loves butterflies, why not gift her a butterfly-inspired present? Create butterflies out of decorative paper, and attach them to strings, hanging from the lid of a jar. Now all you need to do is place the lid on the jar, and you will have a jar filled with butterflies! You can place a letter or a note at the bottom of the jar for her. This jar will serve as a beautiful source of decor in any room.
5. Marble Ring Dish – Creative Gift Ideas for Your Best Friend
Is your best friend the sort of girl who keeps losing her rings or other accessories around the house? Create a ring dish for her. This is a simple way of storing rings or any other sort of jewellery. Take the ring dish to the next level for her! You can decorate a clay plate or a ceramic plate with a marbled effect. This is guaranteed to look beautiful! You can use clay or even nail polish to create this marble look!
6. Painted and Frosted Glasses – Unique and Gorgeous
If your best friend loves home decor, create a bit for her! Easy and simple objects to make at home are painted and frosted glasses. You can use them as candle holders, vases or just as table decor. Use stickers or tape for creating patterns on the glasses, before coating them in spray paint or craft paint. Your friend will love these uniquely decorated glasses!
7. A Heart of String – Sentimental Gifts for Best Friends
Here is another fantastic gift you can make at home for your best friend! On a wooden board hammer in some nails, a whole line of nails framing the sides and a heart hammer into the middle. Use vibrant coloured threads trailing from the outer frame to the heart to create some string art. A rainbow heart will make a great piece of decor for her room!
8. Bath Bombs – Great
Gift Ideas for Your Best Friend
Does your best friend love to take long and hot baths after a long day? Create a small treat for her, which she can use anytime she would like to! You can easily make bath bombs at home, using essential oils to give them a lovely aroma. Then create a small tag which you can attach to the bath bomb. It should say something like, "you're the bomb!" This will be the perfect gift for her!
9. A Booklet of Love – Creative With Cards
Here's a great idea for how to write up reasons why your best friend is your best friend! Use a deck of cards, writing short messages or things you'd like to say thanks for on each card. Then arrange these in a small booklet, so your friend will be able to flip through it easily! This is a creative way to use a deck of cards!
10. An Alternative to an Album – Sentimental Gifts for Best Friends
Everyone loves looking back at old pictures and taking a trip down nostalgia lane. It can be a great feeling, looking back at all the times you've spent together with your best friend. Instead of placing photos in a standard album, create a disc of photos. Attach photos to an oval or circular shaped wooden board or cardboard with the help of wooden pegs. Write a message for her in the middle of the cardboard or wooden board. This will make a great source of decor for your best friend's room or home!
11. A Few Polaroids – Box it Up
Here's yet another fantastic idea for a DIY present to make for your best friend! Not only does it look great, but it's also inexpensive to create! Use an old shoebox and coat it with a layer of paint. Cut small holes in both sides of the shoebox and string a wire across it. Then hang up a few polaroids of you and your bestie. They can use this as decor in their home and always be reminded of you!
12. A Small Bottle – Best Friends Forever
If you want to surprise your best friend with something small but adorable, why not create a small bottle with a message in it? Find a mini bottle and place a message in it. You can also print a small picture of you and your best friend, and place it in the bottle as well.