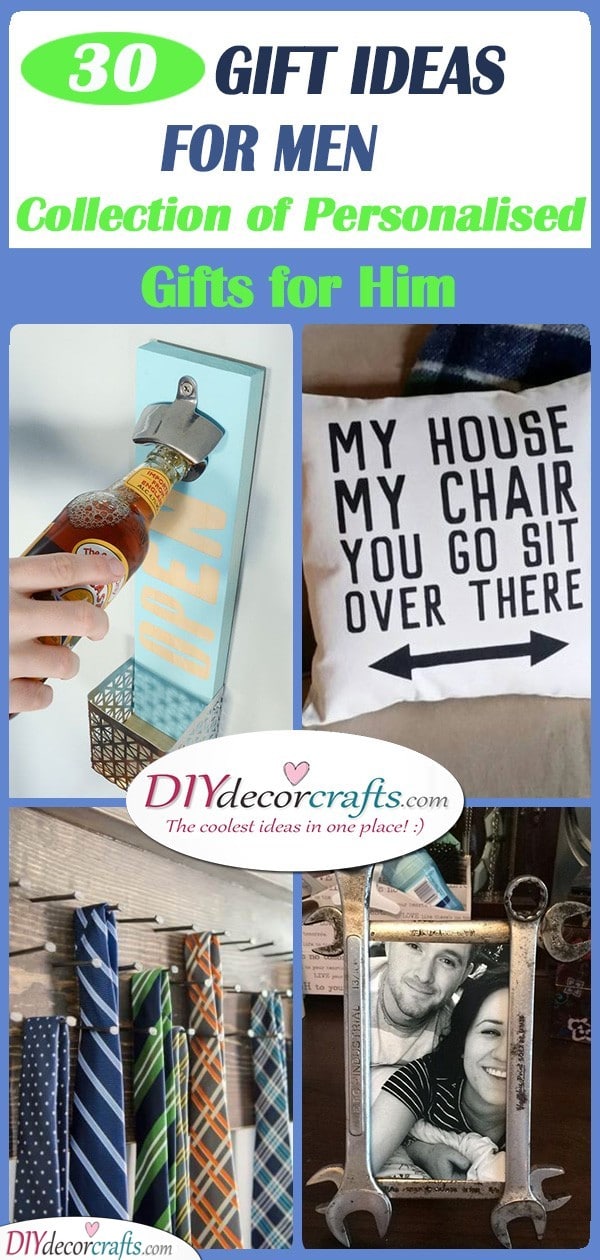 Finding a present for a special man in your life might be a bit more difficult than you'd think! Whether it's a gift for your dad, grandad, brother, husband, son or just a good friend! Instead of buying something from the store, why not make something at home for him instead? There are so many personalised gifts for him that you can choose from, and actually creating something will show that you put the time and energy into a present, not only money. Take a browse through our collection of gift ideas for men, we trust that we will be able to assist you in finding something great for whatever the occasion is!
1. Beer Opener – With a Cap Catcher
If the man in question loves beer get him something which will suit his interests. Make sure he has a place in his house where he can always open his beers! Make him a beer opener which he can place on one of his walls. We suggest you put a small basket underneath it creating a cap catcher. This will prevent the caps from falling on the floor.
2. Tie Holder – For a Man of Class
Does the man you are trying to find a gift for, have to wear ties to work each day? Make his job a little bit easier. Instead of having to rummage through his closet, he can simply take off his ties off a tie holder. Tie holders are easy to make at home, all you need is a wooden board, some nails and a hammer. Naturally, you can use a pegboard to get even spacing between the ties, this way the holder will have a much neater appearance.
3. Beer Cubes – Personalised Gifts for Him
Create keychains for men out of bottle caps! Pierce holes through each cap, to attach them to each other. If you use six beer caps, you will be able to get a cube made out of beer caps! This will make the perfect keychain for any man!
4. Bottle Cap Keychains – Great Gift Ideas for Men
Does the celebrated man enjoy a good bottle or can of beer or is he always going on about trying out unique craft beers? Make him a keychain using his favourite beer brand's bottle cap! This is a great idea if you want to give him a handmade present! You need to pierce a hole in the beer cap to place the keychain through it.
5. Wine for Each Occasion – Present Ideas for Men
If your friend is a true connoisseur when it comes to wines, make sure you buy him a selection of them! Buy a white, red and dessert wine for him. Place these wines on a blackboard, on which you can write up any additional information about them. A true wine lover will definitely appreciate this gift!
6. A Mechanic Frame – For a Handyman
If the man you are trying to find a present for loves tinkering objects around the house and fixing things, he is a true handyman! Get him a frame, for a picture or a photo, which suits his personality. You can create a frame out of tools which he normally uses. For example, spanners or hammers are great to use for the frame! Then place a photo inside and you are already done!
7. Keychain for a Hero – Superman Inspired
Is the man you are making a gift for a real-life superhero? If you ever need help, is he someone you can always count on? Make him a keychain which expresses exactly that he is a superhero in your life! All you need to do is engrave a superhero symbol in a simple keychain then give it to him!
8. Time for Tacos – Funny Personalised Gifts for Him
Do you know whether the special man you are creating a present for loves Mexican food? If he does why not gift him funny socks? Print a message on the socks, which says, "if you can read this, bring me tacos." Hopefully, someone will read the message and listen to his prayers and will make him some tacos!
9. A Key Hanger – Fantastic Gifts for Men
Create something useful and practical for a man! For example, make him a key hanger. This will make a great present because he won't lose his keys around the house! You can create this out of a wooden board or a spanner, all you need to do is hammer some hook nails into it for him to place his keys on!
10. A Welcome Message – Funny Doormat
Make sure your friend has an awesome doormat, so he can put a smile on anyone's face who will visit him in the near future! You can have a funny text written on the doormat or have a picture drawn on it. Check out the one above. This funny doormat tells his guests to "come back later with tacos." This doormat will make an especially great gift for foodies!
11. A Pillow With a Rhyme – The Best Gift Ideas for Men
Does your male friend or your male family member have a favourite couch or chair in his house? Create a pillowcase for him, using fabric paint or fabric pens to write "my house, my chair, you go sit there!" It will definitely be appreciated if people keep stealing his favourite spot.
12. Magnetic Wristband – Awesome Presents
If the man you are trying to find a present for fixes a lot of things around the house, why not make his job easier? It can be hard moving all your equipment from one place to another. Make him a magnetic wristband, sewing two pieces of fabric together with magnets placed inside. This way he will be able to carry nails or screws with him, so whenever he needs them, he just has to detach it off his wristband. This is a really great present for a handyman!