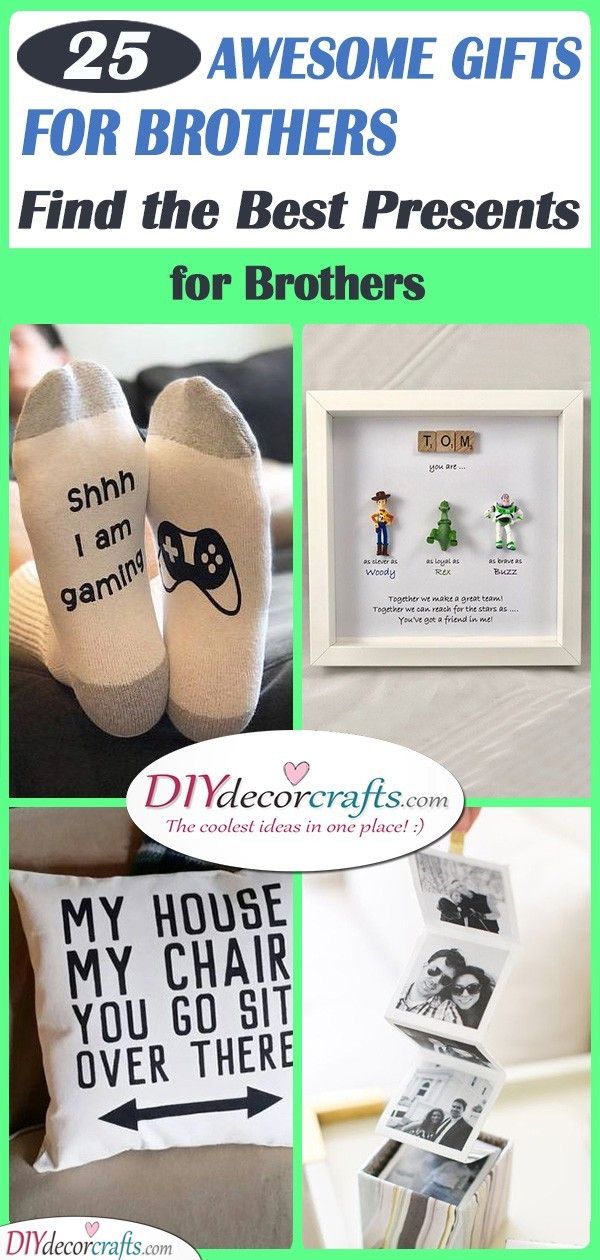 Your brother may be a bit infuriating at times, he might annoy you, but whenever you need him, he will always be there for you. That's the lovely thing about being siblings with someone, you can always count on them and they can always count on you. So remember to express your love and gratitude towards your brother. What better way is there to do this than with a present? We have gathered 25 awesome gifts for brothers so you can browse amongst them and find the perfect one for him! Whether it's his birthday, Christmas or you're simply in the mood for giving him something small, make sure you find the best ideas for him by scrolling through our selection of best presents for brothers!
1. A Tasty Message – Creative Gifts for Brothers
Does your brother really love a good set of chocolate? Make sure you get him some then, but naturally, do this in a creative way! Write up a message for him, but take out some of the words and replace them with the names of candy or chocolate bars. This will not only be a treat to eat, but also a treat to read!
2. A Box of Happiness – DIY Present Ideas for Your Brother
It might be a bit hard to pick just one thing as a present, so why not gather all of your ideas and place them in a box for your brother! This can include his favourite snacks, a picture of the two of you in a frame, a bottle of perfume, some shower gel and a letter. It's really up to you on what you'd like to present him with. Depending on what the occasion is you can string it across the lid of the box.
3. In Case of Emergency – Break the Glass
Now here's a funny and unique present! In a frame, place a few things your brother uses during special occasions, this can mean a cigar or two or a bottle of his favourite alcohol. On the glass part of the frame, write up "in case of emergency, break the glass." So if he'll need a drink really bad, he'll have to find a way to open it!
4. A Cake of Beer – The Best Presents for Brothers
Is your brother's favourite drink beer? Make sure he gets plenty of it, whatever the occasion is! If it's his birthday, you can even make a cake out of beer cans and bottles, placing them on top of each other, like in the picture above. You can further decorate the cake with some ornaments, to make it resemble an actual cake!
5. A Heartfelt Letter – Gift Ideas for Your Brother
It's the 21st century and writing letters may seem a bit old-fashioned. After all, you can just write someone a text or a message on social media. But that's the great thing about letters, they bring a level of intimacy and personal feelings with it, making this a great present idea for a family member, including your brother! You can write a funny message on the envelope itself, which reads "to my dearest brother, you're hardly annoying at all anymore."
6. Candy in Bottles – Present Ideas for Brothers
Reuse some empty beer bottles with this idea! Pour a selection of his favourite snacks or candy into each one. Whenever your brother has a night in, he can just open one of the bottles and feast on the delicious treats you got him!
7. A Funny Pair of Socks – Creative Present Ideas for Him
Socks are the sort of gift you can't really go wrong with, especially if they are a reflection of your brother's personality! Get him a pair of socks with a funny message written on them. For example, if he loves to watch sports channels all day, then have a remote control printed on one of the socks, while on the other have a message, such as "shh the game is on" written. This way everyone will know not to disturb him while he's watching the telly.
8. Time to Party – Fantastic Gifts for Brothers
Here's a great gift idea for your brother if he likes to drink! Cut a circle shape out of cardboard or wood, coat it in paint and draw small notches around the edges, making it resemble a clock. Instead of writing up the numbers though, stick small bottles of schnapps to each hour of the day. You can make the hands of the clock out of folded paper money. This way whatever the occasion, your brother will have to drink a small bottle of schnapps each hour of the day!
9. The Perfect Cake – Awesome Presents for Brothers
If you love to bake, why not make a cake for your brother, especially if it's his birthday? You can incorporate his favourite type of drink into the cake, for example, whiskey. You can also decorate the cake to make it look like a bottle of alcohol or at least bear a resemblance to the alcohol you use in the cake.
10. Movie Night – Snacks and Treats
Maybe you agree with the fact that sometimes giving someone an experience is a better gift than giving them an object. If so, why not plan a movie night with your brother? Let him choose a movie, and all you need to do is buy his favourite treats and snacks for watching the movie. Arrange these in a box, as if you were actually at the cinema, giving you a night out vibe.
11. No Place Like Home – Gifts for Brothers
You might have heard of the saying "there's no place like home." But let's ask ourselves a question, what actually defines "home"? Is it the array of furniture placed between four walls? Or is it actually the people? Sometimes you feel like you're in a safe place with a few people from your life, close family members or best friends all belong to this. If you feel this way when your brother is around, make sure he knows he is your home with a cool mug which has the text brother=home written on it!
12. Brother and Sister – Matching Bracelets
There's a saying that you wear your heart around your sleeve. So if your brother means the world to you, it would only make sense to get matching bracelets for the both of you! Have letters strung up on the bracelets, like in the picture above. You can have two hearts in the middle representing your love for each other.