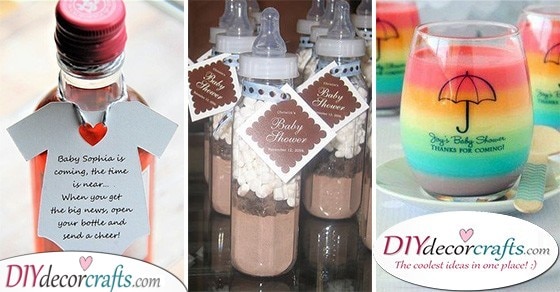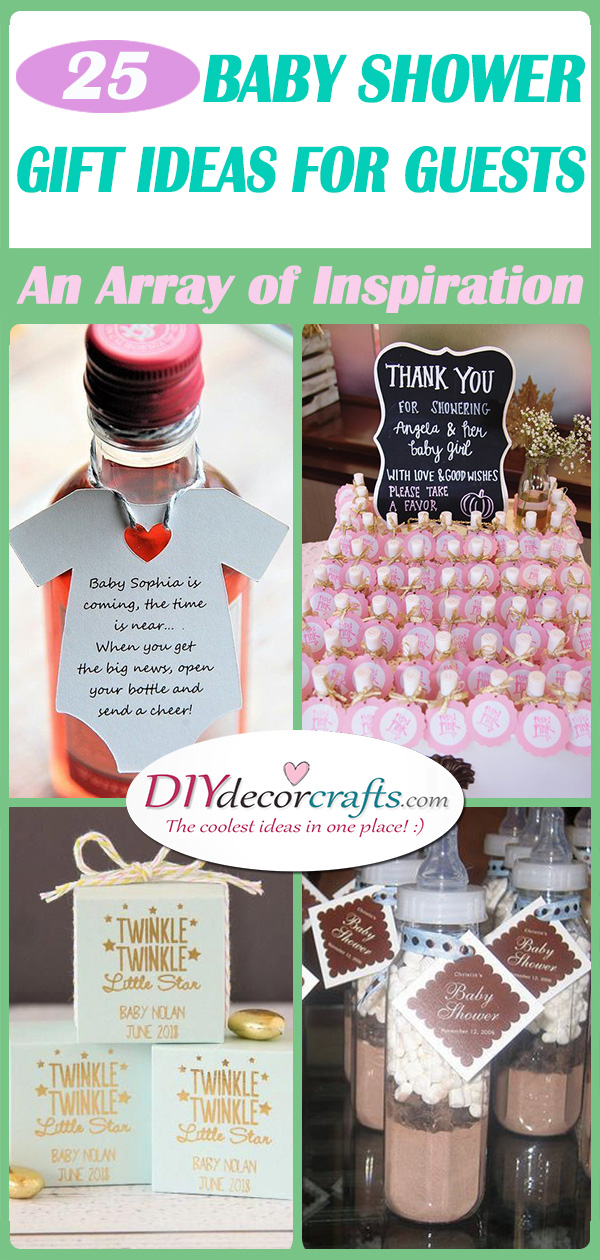 Baby showers are great parties! They are all about waiting for new life to be born. If you are hosting a baby shower you have to watch out for a lot of things. The cake, the decor, the party games and the overall theme of the baby shower, are just a few of the things you will need to pay careful attention to. Another important element of a baby shower is the thank-you gifts. Thank-you gifts are the small items you express gratitude towards your guests for coming to your baby shower. We have collected 25 awesome baby shower gift ideas for guests to make your job easier! We trust that you will be able to find some amazing baby shower gifts for guests amongst them!
1. Filled With Candy – Big Baby Bottles
Here is a fantastic thank-you gift idea, which fits perfectly with the theme of a baby shower. Create larger versions of baby bottles, using simple plastic bottles or sealable cups. Fill each one with a bunch of candy and chocolate. According to what gender your baby is going to be, you can decorate this cup or bottle in either blue or pink. Tie a few ribbons around them before presenting your guests with them.
2. Ready to Pop – Baby Shower Gift Ideas for Guests
Popcorn is a delightful treat, which brightens anyone's day. Not to mention, if you make this baby shower food yourself out of organic kernels, it will also be healthy! You can flavour them with whatever flavour you'd like, whether it's just a simple salt and butter or oozing caramel, it will definitely be tasty! To spruce up your idea of popcorn, place them in small bags. Decorate the boxes beforehand, writing on each one that the baby is "ready to pop." This play on words will raise popcorn to a whole new level! Your guests will love these thank-you treats!
3. A Bottle of Happiness – Sending Cheers
Here is another fantastic baby shower thank-you gift! Buy all your guests a bottle of alcohol and attach a tag to each one. The tag should read "The baby is coming, the time is near… When you get the big news, open your bottle and send a cheer!" This thank-you gift is especially special because it invites your guests to celebrate with you on the day when the baby is born. You can cut out the tag you attach to the bottle in the shape of a onesie which will give the present a baby shower vibe!
4. Animal Crackers – Baby Shower Thank You Gifts
Perhaps you are going to be hosting a jungle or safari themed baby shower. If so, make sure that the thank you gifts match the theme of the party! So, if the baby shower truly is going to be safari-themed, you can consider giving your guests small boxes of animal crackers or animal cookies. If you like to bake, you can try out baking these from scratch at home! These are cute thank-you gifts that your guests will be sure to love!
5. A Secret Recipe – A Bottle of Ingredients
Do you have a secret recipe which all your family members and friends love? Why don't you put the recipe together for your guests so they will be able to make it at home by themselves? Buy a set of baby bottles, fill each one up with the dry ingredients of the recipe in layers. Attach a small tag to the bottle, which instructs your guests on what other sorts of ingredients they need to add to the mix, to create the batch of brownies or cookies. Your guests will absolutely love these thank you gifts!
6. Cups of Rainbows – For Rainbow Themed Baby Showers
Are you hosting a rainbow-themed baby shower? If so, make sure that your thank you gifts for your guests, match the theme of the party! There are numerous rainbow-coloured items you can create, but here's one great thank you gift example. Buy as many glass cups as many guests you are inviting. Engrave or paint a small umbrella on the front of each glass cup, as well as the message "thanks for coming." Then create layers of jelly, each layer a different colour of the rainbow. These jelly-filled cups will be a delightful treat for your guests.
7. Thanks for Popping By – Cute Baby Shower Thank You Gifts
We have mentioned using popcorn as a thank-you gift at baby showers! Fill small jars with popcorn kernels. All your guests will need to do is heat them up in a pan for them to pop, then sprinkle salt and pour melted butter over them. Then attach small tags to each jar. The tags should read something along the lines like "thanks for popping by to our baby shower!" This clever play on words will bring a smile to everyone's face!
8. Bee-ing a Guest – Baby Shower Gift Ideas for Guests
Baby shower themes incorporating bees and honey are a big hit right now! They are all about getting creative with wordplay ("mama to bee"), as well as making sure the decor of the party is also on point. What better gift can you give at a bee-themed baby shower, than a small pot or jar of honey? You can attach labels to each pot, with small messages that read "thanks for bee-ing our guest." Your guests will adore these small jars of honey, not to mention, they will happily sweeten their cups of tea with a bit of honey.
9. Tasty Macarons – A Sweet Treat for Your Guests
Macarons are delightful sweet treats that everyone loves! While you wouldn't think it, they are actually not that difficult to make. All they require is precision. If you like to bake, why not create a whole batch of macarons, making sure each one of your guests receives one. You might also consider baking them in either blue or pink shades, according to what the gender of your baby is going to be. Place the macarons is small boxes, before presenting your guests with them. You can also tie a ribbon around each box, in either pink or blue.
10. A Baby Rattle – Amazing Baby Shower Thank You Gifts
If it's a baby shower, then your thank you gifts should be centred around the topic or theme of babies as well! For example, you can create baby rattles, using a bit of paper and lip balm. Cut the shapes of rattles out of the paper, and attach them to the sphere-shaped lip balms. You can attach small ribbons to the paper parts, to make them truly resemble a rattle! These are awesome thank you gifts, perfect for baby showers!
11. Some Sugar Cookies – Sweet Presents
Express your gratitude and love towards your guests and thank them for being there! Bake a batch of sugar cookies, decorating the cookies yourself! Depending on what gender the baby is going to be, you can colour the icing in either blue or pink. Wrap the cookies up in small bags, attaching tags cut out like onesies to each bag of cookies. Write a message on each tag which reads "thank you for making today so sweet."
12. Growing With Love – Cute Succulents and Plants
Are you hosting a rustic-themed baby shower? If so, make sure the thank you presents give off the same vibe. A fantastic idea is to give all your guests small plants or succulents! They will have to take a succulent home and take care of it, allowing it to grow. You can write a small tag on which you write down the species of the plant and attach it to the pot. This way your guests will be able to look it up and know how to take proper care of the plant.
13. A Bar of Soap – Clever Baby Shower Gifts
Maybe you are someone who loves handmade arts and crafts. If so, why not create all the thank you presents for your guests by yourself? For example, something quite easy to create is soap. You can colour and flavour soap in any way you'd like, for example, lavender or rosemary are just a few beautiful aromas you can give to soap. Place a small label or tag on each bar of soap which reads "from my shower to yours." You can also draw an umbrella on these labels.
14. Nail Polish –

Baby Shower Gift Ideas for Guests
If you are expecting a baby girl, a perfect gift to give your lady friends is a small bottle of nail polish! If you love painting your nails, then maybe you'd like your baby girl to carry on this tradition later on in life. It's up to you on what colour of nail polish you'd like to present everyone with.
15. Baby Making Potion – A Bit of Alcohol
Here's a baby shower favour that every guest is guaranteed to love! Buy mini bottles of liquor, and attach tags to each one, calling them "baby-making potions." Naturally, this is a more adult appropriate gift, which will definitely draw a few smiles on faces.
16. Loofahs as Gifts – Baby Shower Favours
Something closely related to showers is a loofah. You use them to scrub yourself clean! These gifts are more on the practical side. While you can bake someone a batch of cookies, they will be gone in a few minutes. Place the loofahs in a box and your guests will be able to pick which one they like best.
17. Sweet Pea – Baby Bottle Ideas
Here is another fabulous idea concerning baby bottles! Draw or write a sign on each bottle made for each guest, which reads "sweet pea." Then cut out the shapes of onesies out of paper, and attach them to the bottles. You can write messages on these onesies, which say "thank you for celebrating the mother-to-be and her little sweet pea!"
18. Candles as Gifts – The Best Baby Shower Favours
Candles are awesome gifts to give, no matter what the occasion is. They are also perfect as baby shower favors!  You can decorate your candles by drawing baby strollers on them and also writing up the date of the baby shower. You can place these candles in separate small bags, making it easier to give to your guests.
19. Watch It Grow –

Baby Shower Gift Ideas for Guests
Succulents are known to be awesome thank you gifts, they are relatively cheap and also easy to take care of. Plant succulents in small pots, cut out tags and make them look like onesies. Attach tags to each pot. Write messages on them, something along the lines of "watch me grow."
20. Shower Essentials – Baby Shower Gifts
Do you like using a bit of wordplay and getting creative with an idea or thought? Since the word "shower" is in the word baby shower, you can use it as inspiration for your thank you gifts! Place shower gel, soap, loofahs inside small boxes. Your guests will love these shower favours!
21. Twinkle Twinkle Little Star – Baby Shower Gift Ideas for Guests
When it comes to baby shower favours, the design and presentation of the gift are also important! We've talked about using the same theme in gifts as the baby shower itself. If you are hosting a starry night themed baby shower, create small gift boxes. Write "twinkle twinkle little star" on each box. You can place candy inside, or anything you'd like!
22. Inspiration From Honey – Thanks for Bee-ing Here
Here is another gift idea for bee or honey inspired baby showers. Get everyone lip balm, which contains actual honey in it! You can stick these on small notes and write "thank you for bee-ing here" on them!
23. A Definition of Baby – Hand Sanitiser
Get creative with your baby shower favours! Place small bottles of hand sanitiser in a glass jar. Why hand sanitiser? Because they are soft, sweet, clean and pure, just like newborn babies! Write a definition on the jar, explaining why you decided to gift hand sanitiser to everyone!
24. Pop the Champagne – When the Baby Pops
Give everyone small bottles of champagne at your baby shower! Place instructions on each bottle, telling your guests to open the champagne when the baby is born. So when the baby pops out, the champagne will pop as well! These are great baby shower gifts for guests!
25. Grateful Succulents – Cute

Baby Shower Gift Ideas for Guests
If you are already using a lot of plants or florals at your baby shower, why not give your guests succulents as shower favours? You can attach small messages to each plant which read "thankful" or "grateful", just expressing your own thanks and gratitude that your guests were able to make it! These would also make a great thank-you gift for guests at weddings.
We trust that you were able to find some inspiration amongst the baby shower gift ideas for guests above. For more ideas concerning baby showers, like baby shower table decorations or baby shower cakes for girls, make sure to visit our website.
Advert