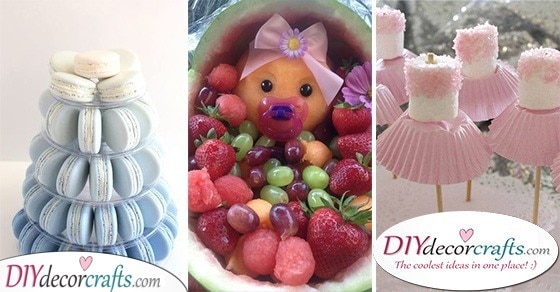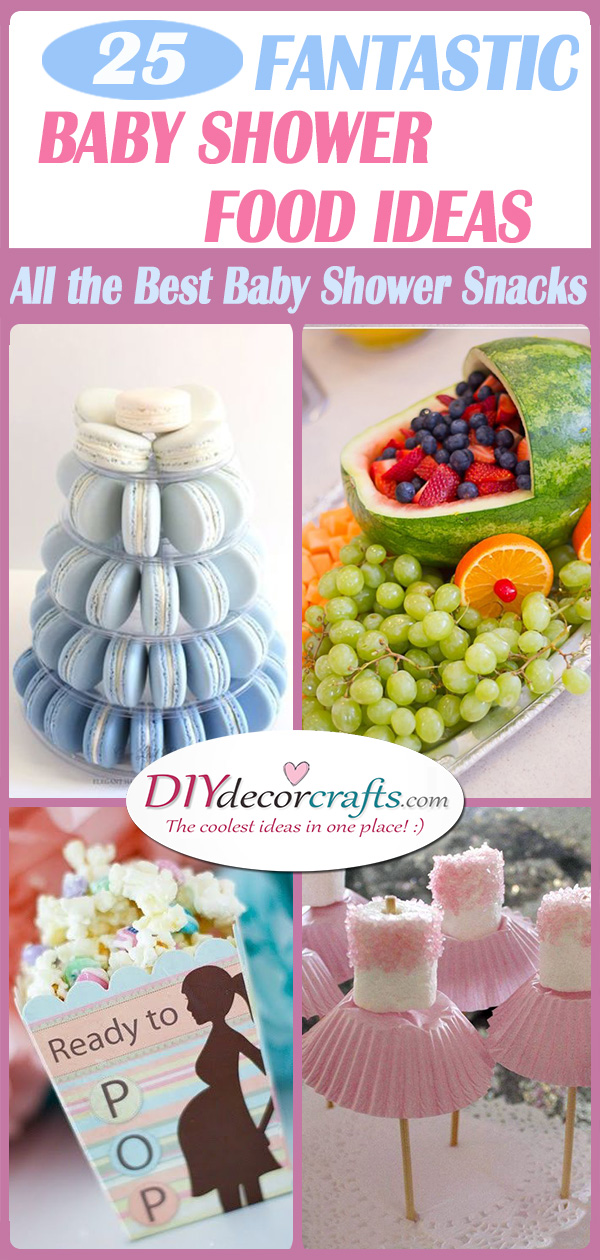 A great baby shower means, not only having gorgeous decor and fun activities to play with your guests, but it also means having delicious food! Food is an aspect of life, which brings people together. Whether it's a few snacks or a scrumptious slice of cake, it will definitely make people happy. So serving tasty food at any party, including your baby shower, is a necessity. Of course, since it's a party, you can serve the food in interesting and unique ways, just to give it a special effect. We have gathered 25 fantastic food ideas for your baby shower, to make sure everyone enjoys themselves and also eats a plate of good food!
1. Ready to Pop – Popcorn Ideas
Popcorn is a delightful treat, which brightens anyone's day. Not to mention, if you make it yourself out of organic kernels, it will also be healthy! You can flavour them with whatever flavour you'd like, whether it's just a simple salt and butter or oozing caramel, it will definitely be tasty! To spruce up your idea of popcorn, place them in small boxes. Decorate the boxes beforehand, writing on each one that the baby is "ready to pop." This adorable play on words will take popcorn to a whole new level!
2. Munch on Macarons – Tasty Treats for Your Guests
Here's a tasty treat you can serve at your baby shower, macarons! Light and fluffy meringue-based cookies, which melt in your mouth! Macarons come in a lot of flavours, so you will be able to find a few types of macaron to satisfy all your guests' tastes! If you are planning to reveal the gender of your soon-to-arrive baby as well, why not use macarons to reveal this with? You can colour them in either pink or blue, representing the gender of the baby.
3. An Abundance of Fruits – Healthy Snacks
A baby shower is a party where you can eat healthy foods! Something tasty and healthy you will be able to serve is an abundance of fruit. Create a fruit tray, containing all the seasonal ripe fruits you can find! Arrange them beautifully on your tray. For example, you can cut off a quarter of a watermelon, carve out the inside of it, and place smaller pieces of fruit inside, like berries or grapes.
4. Cute Lollipops – Food for Baby Showers
Create tasty lollipops for your baby shower! If you are a fan of sparkles and glitter, why not coat your lollipops in edible glitter? This is not only a tasty treat but beautiful and breathtaking as well! The small spots of glitter shimmering in the light will take your baby shower food to a whole new level. Naturally, it's completely up to you on what sort of flavour you give your lollipops!
5. An Array of Biscuits – Perfect for a Gender Reveal Party
If you are planning to make your baby shower party, a gender reveal party as well, here's a perfect food idea for you to try out! Bake some cookies, cut them in shapes which are all connected to babies and baby showers. For example, a cookie shaped like a onesie, a bib or a baby bottle is all a perfect idea! Then decorate the cookies with a sugar glaze, which you can colour in either blue or pink, according to what the gender of the baby is going to be. This will make it obvious to your guests whether the baby will be a girl or boy.
6. Chocolate Strawberries – Gender Reveal Ideas
Who doesn't love a good strawberry dipped in chocolate? Use this idea of chocolate strawberries as inspiration for a moment of the baby's gender reveal at the shower! You can colour white chocolate with food colouring, using either pink or blue shades to create a beautiful looking strawberry! While these treats will reveal the gender of the soon-to-be-born baby, it will also serve as a crowd-pleaser!
7. Girl or Boy – Gender Revealing Cupcakes
If you love to bake, make sure to bake a bunch of cupcakes! Decorate them with either pink or blue buttercream and a white question mark of buttercream. The question mark symbolizes that the gender of the baby will be revealed at the baby shower. For a special effect, you can create liquid centres for the cupcakes. You can place either pink or blue cream inside of them, which will essentially reveal if the baby will be a boy or a girl.
8. A Refreshing Punch – Baby Shower Drinks
You will have to serve refreshing drinks at your baby shower! We recommend serving a punch, as they are easy to put together. Naturally, you don't need to pour alcohol into it, since it's a baby shower, and the mother wouldn't be able to drink anyhow! You can also pour some cordial into the punch, according to the gender of the baby. A blueberry cordial or a pink lemonade are also great ideas to serve to your guests!
9. Scrumptious Doughnuts – Light and Fluffy
Create a wall of doughnuts, enabling your guests to just slide a doughnut off whenever they feel like it. This is a perfect idea for those, who don't want to serve a traditional cake at their baby shower. There are a lot of types of doughnuts you can serve, from chocolate to strawberry, it's up to you on what sort you'd like to present your guests with. Make sure the colour of the glaze of the doughnuts goes with the overall decor of the baby shower.
10. Spell it Out – Delightful Letter Doughnuts
Doughnuts can be used in a variety of ways, you don't have to stick to the round ones with no centre. Doughnuts can also be made in the shapes of letters. This way you can use them to spell out a word or a sentence. Since we're talking about a baby shower, a great thing you can spell out with them is "oh baby!" Naturally, you can have the glaze of your doughnuts coloured in pink or blue, to represent the gender of the baby.
11. Deviled Egg Babies – Baby Shower Food Ideas
Create some unique deviled eggs for your baby shower! Cut the eggs in half, creating baby cots out of them. Place small slices of Vienna sausage in the cots, representing the head of a baby. Then place two small dots of pepper or some sort of herb on the sausage, as the eyes of the babies. Your guests will love these tasty and cute treats!
12. Baby Cake Pops – Cute Ideas for Party Food
Here's another fantastic treat to serve your guests at your baby shower! Cake pops formed to look like faces of newborn babies, with baby rattles in their mouths! Create the baby rattles out of small sweets which you can stick together with some sort of glaze. Paint eyes on each one of the cake pop with some chocolate.