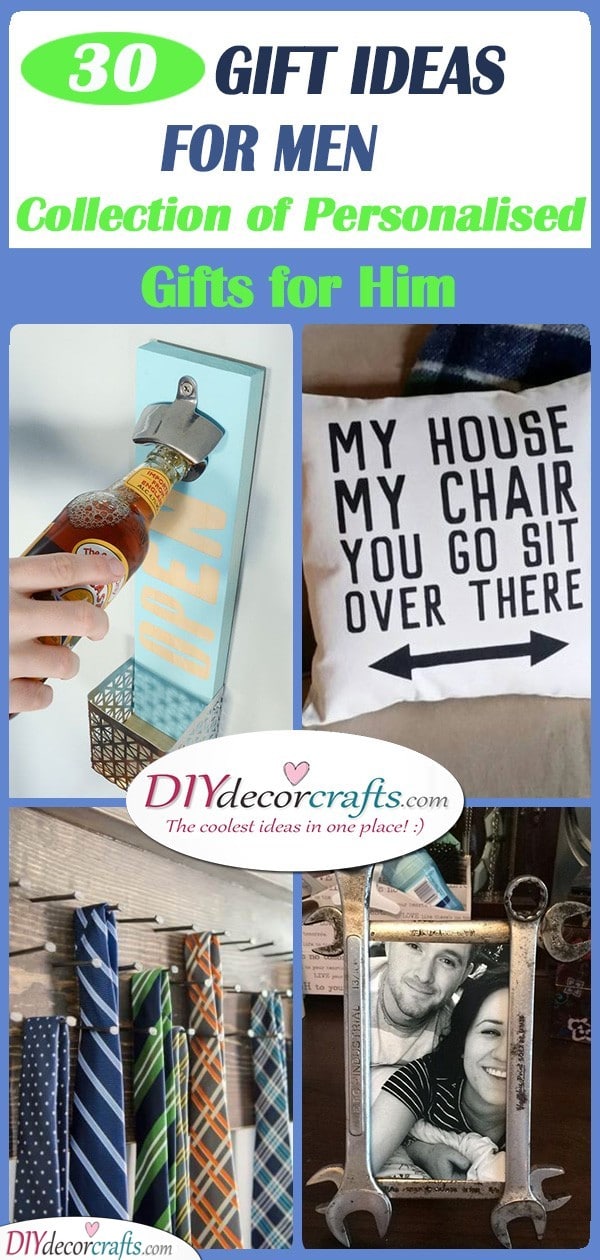 Finding a present for a special man in your life might be a bit more difficult than you'd think! Whether it's a gift for your dad, grandad, brother, husband, son or just a good friend! Instead of buying something from the store, why not make something at home for him instead? There are so many personalised gifts for him that you can choose from, and actually creating something will show that you put the time and energy into a present, not only money. Take a browse through our collection of gift ideas for men, we trust that we will be able to assist you in finding great gifts for men for whatever the occasion is!
1. Beer Opener – With a Cap Catcher
If the man in question loves beer get him something that will suit his interests. Make sure he has a place in his house where he can always open his beers! Make him a beer opener which he can place on one of his walls. We suggest you put a small basket underneath it creating a cap catcher. This will prevent the caps from falling on the floor.
2. Tie Holder – For a Man of Class
Does the man you are trying to find a gift for, have to wear ties to work each day? Perhaps you are in search of a gift idea for your dad! Make his job a little bit easier. Instead of having to rummage through his closet, he can simply take his ties off a tie holder. Tie holders are easy to make at home, all you need is a wooden board, some nails and a hammer. Naturally, you can use a pegboard to get even spacing between the ties, this way the holder will have a much neater appearance.
3. Beer Cubes – Personalised Gifts for Him
Create keychains for men out of bottle caps! Pierce holes through each cap, to attach them to each other. If you use six beer caps, you will be able to get a cube made out of beer caps! This will make the perfect keychain for any man, meaning these are great gifts for men!
4. Bottle Cap Keychains – Great Gift Ideas for Men
Does the celebrated man enjoy a good bottle or can of beer or is he always going on about trying out unique craft beers? Make him a keychain using his favourite beer brand's bottle cap! This is a great idea if you want to give him a handmade present! You need to pierce a hole in the beer cap to place the keychain through it.
5. Wine for Each Occasion – Present Ideas for Men
If the man in question is a true connoisseur when it comes to wines, make sure you buy him a few bottles of wine! Buy a white, red and dessert wine for him. Place these wines on a blackboard, on which you can write up any additional information about them. A true wine lover will definitely appreciate this gift! These will make the best gifts for men who love wine!
6. A Mechanic Frame – For a Handyman
If the man you are trying to find a present for loves tinkering objects around the house and fixing things, he is a true handyman! Get him a frame, for a picture or a photo, which suits his personality. You can create a frame out of tools which he normally uses. For example, spanners or hammers are great to use for the frame! Then place a photo inside and you are already done!
7. Keychain for a Hero – Superman Inspired
Is the man you are making a gift for a real-life superhero? If you ever need help, is he someone you can always count on? Maybe this is your grandpa for example and you need to find a gift idea for grandad! Make him a keychain which expresses exactly that he is a superhero in your life! All you need to do is engrave a superhero symbol in a simple keychain then give it to him!
8. Time for Tacos – Funny Personalised Gifts for Him
Do you know whether the special man you are creating a present for loves Mexican food? If he does why not gift him funny socks? Print a message on the socks, which says, "if you can read this, bring me tacos." Hopefully, someone will read the message and listen to his prayers and will make him some tacos!
9. A Key Hanger – Fantastic Gifts for Men
Create something useful and practical for a man! For example, make him a key hanger. This will make a great present because he won't lose his keys around the house! You can create this out of a wooden board or a spanner, all you need to do is hammer some hook nails into it for him to place his keys on!
10. A Welcome Message – Funny Doormat
Make sure your friend has an awesome doormat, so he can put a smile on anyone's face who will visit him in the near future! You can have funny text written on the doormat or have a picture drawn on it. Check out the one above. This funny doormat tells his guests to "come back later with tacos." This doormat will make an especially great gift for foodies!
11. A Pillow With a Rhyme – The Best Gift Ideas for Men
Does your male friend or your male family member have a favourite couch or chair in his house? Create a pillowcase for him, using fabric paint or fabric pens to write "my house, my chair, you go sit there!" It will definitely be appreciated if people keep stealing his favourite spot.
12. Magnetic Wristband – Awesome Presents
If the man you are trying to find a present for fixes a lot of things around the house, why not make his job easier? It can be hard moving all your equipment from one place to another. Make him a magnetic wristband, sewing two pieces of fabric together with magnets placed inside. This way he will be able to carry nails or screws with him, so whenever he needs them, he just has to detach them off his wristband. This is a really great present for a handyman!
13. A Wooden Liquor Decanter – Creative With Booze
Get the special man an alcohol decanter! While these serve as elegant decor, perfect for a man's home, they are also a stylish way of serving alcohol. All he will need to do is turn the knob, to let the liquor pour into a glass!
14. Dress Up the Drink – Unique Gifts for Men
If you know that your friend or your family member has a favourite type of alcohol, why not buy him a bottle of it? If you want a special twist on the booze, decorate the bottle with some wrapping paper. There are hundreds of creative way to wrap up a simple bottle of alcohol to make it look unique! This is just one of many personalised gifts for him.
15. Crazy About Sports – A Gift Bucket
If your friend is into all kinds of sports and does he constantly ramble on about his favourite sports teams? Then make certain you get him something sports-themed! Make him a gift bucket, filled with all his favourite snacks, which will be perfect for watching a sports match! Place a cricket ball inside as well the bucket as well, or some merchandise from his favourite team!
16. Adorable Bookmarks – For a Bookworm
Perhaps the man in question is a bookworm! If so, create unique bookmarks for him. You can print out pictures of the two of you, cut them out and laminate them. Attach strings or thread to each one, and you already have a few bookmarks! This will ensure that your friend or family member won't lose the page where he left off his reading at!
17. A Beercap Motorbike – Personalised Gifts for Him
If your male friend or family member loves a good beer, as well as motorbikes, make sure to use them as inspiration when it comes to his present! Attach beer caps together to create the shape of a motorbike. You will need to pierce holes through the beer caps and attach them to each other with some metal wire.
18. A Game of Poker – Substituting Money
Poker is a fun game to play, but you sometimes find yourself worrying about the money which you might end up losing. If the man you are making a present for loves this game, create a set of poker for him. Instead of using tokens or money, substitute it with beer caps. This will make the game a lot friendlier to play!
19. Tiny Guitars – Simple Presents for Men
We have mentioned giving keychains as presents, but here's another fantastic idea for them! Create small guitars, using cut-out parts of aluminium cans for the body of the guitars. Use additional aluminium for the neck of the guitar. Attach wires from the neck down to the body, forming the strings of the instrument. This is the perfect gift to give to a music lover or a musician!
20. Bottle Coasters – Using Bottle Caps
Create unique gifts for men, none other than some awesome looking bottle coasters. Gather bottle caps and place them upside-down in small containers before covering them with cement. After they have dried and taken form, you will have some stylish bottle coasters that any man is guaranteed to love! So, if you are in search of a gift for your brother, why not give this idea a try?
21. Movie Night – Snacks for Any Occasion
Maybe you agree with the fact that sometimes giving someone an experience is a better gift than giving them an object. Why not plan a movie night with your male friend or family member? Let him choose a movie, and all you need to do is buy his favourite treats and snacks for watching the movie. Arrange these in a box, as if you were actually at the cinemas.
22. Frame Full of Soldiers – Great Gift Ideas for Men
Does the man you are trying to find a present for love war movies or would have loved to be a part of the army? Grab a frame on which you stick small soldier figurines with a glue gun. All you need to do is spray paint it afterwards, to give it a simple colour, to ensure that different tones don't clash in disarray.
23. A Cute Apron – For a Chef
Does the special man love to cook all sorts of things? If he loves to host barbeque parties get him an apron especially for these occasions! You can have the title "the grillmaster" written on the apron. Also, consider decorating the apron with handprints to make it look unique!
24. A Bit of Booze – Gift Ideas for Men
If you have been looking for a more simple but fun gift, here is a great idea for you! Buy the special man's favourite bottle of alcohol, but in smaller sizes. Then place these all in a mason jar before giving it to him.
25. A Box of Everything – Personalised Gifts for Him
A gift you can't go wrong with is a gift box! You can place a wide variety of objects in a gift box, anything according to the man in question's taste! For example, you can get him a bottle of his favourite alcohol, a whiskey flask and a cigar.
26. A Tablet and Phone Holder – Best Gifts for Men
Does your friend constantly watch videos on his tablet or his phone? Create a tablet and phone holder for him out of a frame. He can place this wherever he wants, so he won't have to hold his tablet or his phone all the time!
27. A Thoughtful Mug – Creative Gift Box
Put together a small and creative gift box for your friend or family member! Assemble a few presents for men in a mug! It's up to you what you decide on getting them, from deodorant to perfume to alcohol, we're sure he will be happy with anything! You can attach a message to the front of the mug for him.
28. Box of Photos – Lovely and Personal
Create an alternative to an album for the special man! Create a long string of photos, folded up in a manner for them to pop up. Place the folded up photos in a small box. This is a super personal gift to give, filled with beautiful memories!
29. A Personalised Rubik's Cube – Gorgeous Gift Ideas for Men
Create a personalised gift for the man in question. If he loves puzzles and games of logic, get him a Rubik's cube! Instead of buying him the standard six-coloured cube, make him one which has pictures of the two of you on each side.
30. A Superhero Bookend – Fantastic Decor
Does your friend love to read but can't manage to keep his bookshelf neat and orderly? Get him a bookend! If he is a person you can always count on, you might even view him as a superhero. So make him a superhero bookend, just like the one above! Cut out the figure of a superhero from black foam, and stick it on the bookend itself.
We hope you were able to gather some inspiration from these 30 gift ideas for men. After all, these personalised gifts for him are the best sort! If you are after other gift ideas as well, for example, birthday present ideas for men or birthday present ideas for dads, just visit our website!
Advert