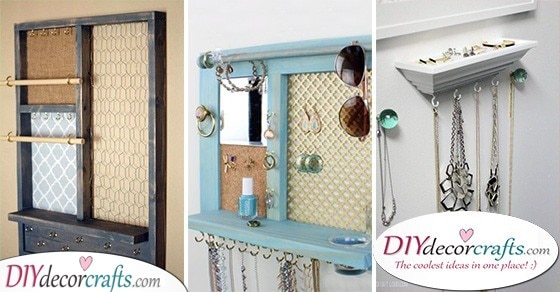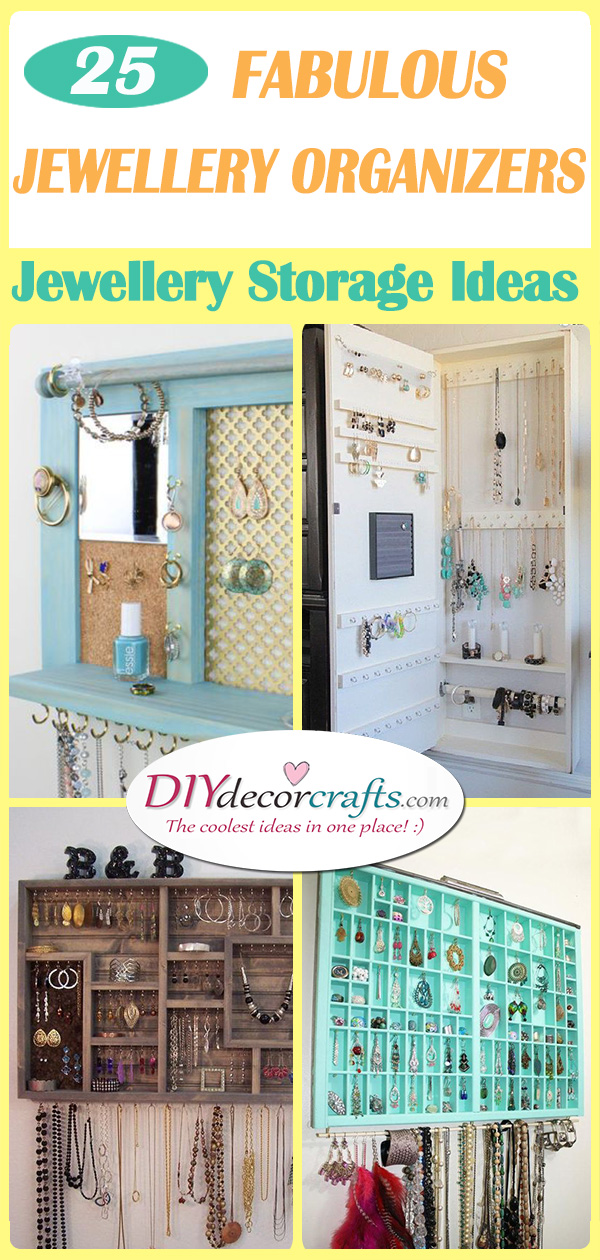 It's always a great feeling to own a lot of jewellery. Wherever you're going, whether it's a fancy dinner or a casual event, you need sets of jewellery for every occasion! Of course, having a plentitude of jewellery means they might get tangled up in each other, meaning it takes up your time in the morning as you try to untangle them. To make sure this doesn't happen, make sure you have an awesome DIY jewellery organizer. So we have collected 25 great examples to assist you in finding some awesome jewellery storage ideas. Find your favourite one and make it at home by yourself!
1. Metal Mesh and Wood – Jewellery Storage Ideas
Creating a DIY jewellery organizer that you can place on your wall, so it won't take up much space in your room. You can make it out of simple materials, which you might be able to find in the shed. A frame of wood and some metal mesh, on which you will be able to hang up your earrings on. You might also like to create a small table for the front part of this jewellery holder, on which you can place your bracelets or hang your necklaces. This would be a great bathroom storage idea for storing your jewellery in a creative way!
2. A Mini Table – Hanging Jewellery Organizer
Here's a simple yet elegant jewellery holder, to keep your necklaces and earrings from getting too tangled! Create a small table-like holder for the earrings, while attaching hook nails to the bottom of it, from which you will be able to dangle your necklaces or bracelets. Coat the whole jewellery organizer in a simple colour of paint, we recommend white, to give it an elegant glow. Attach this jewellery holder to a wall of your room, ensuring that it won't take up much space in your room.
3. A Round Box – Gorgeous Way of Storing Jewellery
Now here's a truly fantastic idea, perfect for anyone who wants to create a beautiful piece of decor, as well as a useful DIY jewellery organizer. You will need a circle of wood, in which you create small box-like compartments, with thin slices of wood. Place hook nails in most of the compartments, from where you will be able to hang your jewellery. Naturally, you can leave some of the boxes bare. Instead of placing jewellery inside, place small plants, crystals or special objects in them. You can even place a mirror inside one of the boxes, for a special effect.
4. A Vintage Look – Simple Wall Jewellery Organizer
Are you looking for a great way to organize your jewellery? Then look no further! Made out of wood and metal wire, this jewellery holder is perfect to place on one of your walls. Again, screwing hook nails into the wooden parts will be useful for hanging necklaces and bracelets. You might consider placing wooden poles between some of the boxes, which are great for holding and organizing earrings.
5. A Brilliant Turquoise – Boxes and Boxes
If you have a lot of accessories, make sure you have plenty of space to store them in! Here's a fabulous idea for anyone who needs an easy solution for storing and organizing their jewellery! Out of an old drawer, create a frame with small boxes lining the insides of it. If you love the colour blue and all its shades, why not coat it in turquoise paint? You might be planning to hang this jewellery storage box in your room. So if you are looking for a bit of colour and fun, turquoise will definitely add a vibrant glow to it!
6. A Gorgeous Triangle – Bohemian and Modern Atmosphere
Organize and store your accessories on this awesome wall-mounted jewellery holder which may even serve as a piece of wall decoration! This wooden triangle, which has drawer knobs attached to it, will lend any room a combination of bohemian and modern vibes. You can create a small board for the top part of the triangle, which you will be able to use as a platform for holding perfumes, broaches or bracelets, which you can't hang from the drawer knobs or the wooden backing. To give your room an even more hip atmosphere, place a few of these triangle jewellery holders next to each other on your wall!
7. Inside the Mirror – Amazing Jewellery Storage Ideas
Is there anything more accessible and practical than storing your accessories inside of a mirror? A standing cheval mirror is great because you can use it as a small space for storage, but it's also great because it functions as a mirror as well! When you open the mirror you should have a few boxes, stands and hook nails waiting inside for your jewellery. Then to check out whether your accessories match your outfit, all you will need to do is close the door of the mirror and take a look.
8. A Wooden Cabinet – Jewellery Organizer Box
A tiny cabinet, which you hang on your wall will be a great way of storing your jewellery. You can create it out of a wooden box, placing wooden backing and hook nails inside of it. Consider placing a mirror on the other side of the cabinet, to make it easier for you to check out what the accessories look like on you. You might also like to customise the front door of the wooden cabinet with some sort of special drawing or a message.
9. Reimagine and Reuse – Ideas Concerning a Frame
Do you have an old frame lying around in your house, which used to contain a painting or a photo, but you don't use it anymore? Well, it might just be time to reimagine it and recycle it as something completely new! Place metal fencing inside the fence, a metal pole across it and some hook nails to the bottom of the frame. These small details on your frame will ensure that it's a great and accessible mode of storing jewellery!
10. Spruce Up Your Room – DIY Jewellery Organizer
Make sure your jewellery organizer is also a great piece of home decor! Give it a vibrant colour, such as pastel or sky blue. You can create a small platform for accessories such as rings, which you can't hang from the metal backing or drawer knobs attached to the jewellery organizer itself. You can also place nail polish or bottles of perfume on this platform. Hang this on one of your walls to spruce up your whole room!
11. A Whole Cabinet – Jewellery Storage Ideas
If you have tonnes of accessories, which don't seem to fit in anywhere, make sure you have enough space for them all! Why not get yourself a large white cabinet, which if you open, will have small shelves and boxes filling it inside. You can attach hook nails to the shelves, so you will be able to hang earrings and necklaces from. Also, consider placing a mirror into the cabinet as well. You might also attach a metal rod to the bottom of the cabinet, on which you can place bracelets on.
12. A Wired Tree – Beautiful Jewellery Holder Idea
Here's yet another beautiful way of storing your jewellery! Use wires to create the roots of the tree, the trunk and the branches. It's best to create spirals for the tips of the branches, to make it easier to hang your accessories from. You can place this tree of jewellery on your bedside table or your shelf.
13. Wooden and Natural – Jewellery Organizer Box
Create a beautiful and natural wooden box, in which you can organize all your accessories easily! First of all, get a wooden box. Create even smaller boxes inside the big one, these ones out of wood as well. Attach hook nails inside the boxes, to hang your jewellery from. These hook nails will ensure that your accessories don't get tangled and knotted together, not to mention they will create an interesting look to your jewellery box.
14. Mirror Mirror on the Wall – Saving Some Space
An incredibly practical and great way to organize your jewellery is by using a wall-mounted mirror. Whether you place it in the bathroom or your bedroom, it will be a great way to save space in the house. This mirror will also function as a cabinet. When opened, shelves packed with jewellery will appear. Don't forget to add some metal or wooden poles inside the cabinet, as well as some hook nails. These will just help create storage space in your bedroom, which is easily accessible and organizable.
15. A Rustic Vibe – Pallet Accessory Holder
Creating a DIY jewellery organizer out of pallet boards is an awesome idea! While you are creating something new, you are also reusing and recycling something old. Pallet boards are really easy to work with, you can create a small ladder for your accessories, attaching hook nails to each step to hang jewellery from. To take it up another notch, you can coat it in a colour of paint which goes well with the atmosphere and style of your room.
16. Wooden Peg Idea – Simple Jewellery Storage Ideas
Are you in search of a simple jewellery holder idea, which is easy to put together as well as inexpensive? Well, go no further then, we have just the idea for you! Wash a wooden board with a coat of paint. Then with the help of a glue gun stick wooden pegs across the board. You will be able to attach jewellery to each peg, hanging necklaces or bracelets from them.
17. Kitchen Utensil or Jewellery Holder – Creative and Quirky Ideas
So you might use a cheese grater in the kitchen, but we bet you haven't thought of using it as a jewellery holder! It's a creative and quirky idea, which is sure to add a bit of fun to the room you store it in. Firstly, cover it in a coat of paint, attach an accessory, such as a bow, to its handle. This cheese grater is especially great for storing earrings, as you just have to pin them through the small holes.
18. Hidden Cabinet for Accessories – Mirror Jewellery Box
Hide your plentitude of jewellery, accessories and beauty products behind your mirror. Create a cabinet, behind your mirror. By simply pulling your mirror, it will slide to the side, revealing your secret den of jewellery and makeup. This mirror jewellery box is an amazing idea to try out!
19. A Pegboard – Excellent Jewellery Storage Ideas
If you've been looking for a super simple jewellery holder, you might have just found it! Use a plastic pegboard, placing nails and hook nails through the small holes. These nails will allow you to hang your accessories on the pegboard. You can hang this anywhere in your room or bathroom. Not only will this jewellery holder help you keep your things neat and in order, but it is also a super cheap option for anyone looking for something inexpensive!
20. Rustic and Vintage Feels – Wooden Jewellery Storage
If you like home decor which has an old-fashioned or rustic vibe to it, you'll love this wooden accessory holder! Created to look like an antique shelf or cabinet, this jewellery storage brings an elegant atmosphere with itself. Remember to include a wooden pole and some hook nails, to make your job easier in finding your jewellery! These hanging jewellery organizers are fantastic!
21. A Multitude of Wine Corks – Storing Your Jewellery
If you're a wine lover, make sure you express your interests in your DIY jewellery organizer as well! Stick corks on a wooden board, pinning some hook nails into some corks. This will create a unique look, as well as making it easy to place jewellery on the corks and take them off!
22. String Idea – Frame It
If you have a wooden frame and are in search of a simple but unique jewellery holder, then you will love this idea! Hammer nails into the frame, then pull a string of yarn around them, going in all sorts of directions. You should have a web of yarn by the end of it! You will be able to place your earrings on the string! Make this as a gift for your best friend, we're sure they will adore it!
23. A Wooden Fence – Full of Jewellery
Create a DIY jewellery organizer, which looks like a wooden fence! Hammer nails and hook nails into each wooden board, to hang your jewellery from! This will give your accessories an organized and neat look, as well as making them easy to access!
24. Bohemian Dreamcatcher – Unique Wall Jewellery Organizer
Are you a fan of bohemian style decor? Then this dreamcatcher will be right up your lane! Attach your jewellery to the inside of a dreamcatcher. You can hang this in any part of your room, it will look hip and stylish!
25. Stay Shady – Great Jewellery Storage Ideas
Naturally, let's not forget to create a storage space for sunglasses, especially if you have more than half a dozen. String thick yarn across a wooden board, fixating it. You can place your sunglasses next to each other on this piece of yarn. Decorate the board with a message or something funny, for example, "stay shady."
We trust that this collection of 25 DIY jewellery organizers has assisted you in finding a great idea for your own one! For more handmade home decor ideas, for example, Wall Decoration Ideas or spring door wreaths, just visit our website!
Advert