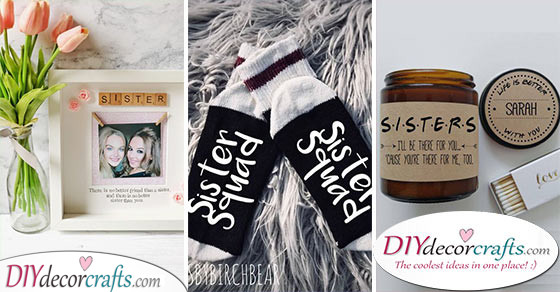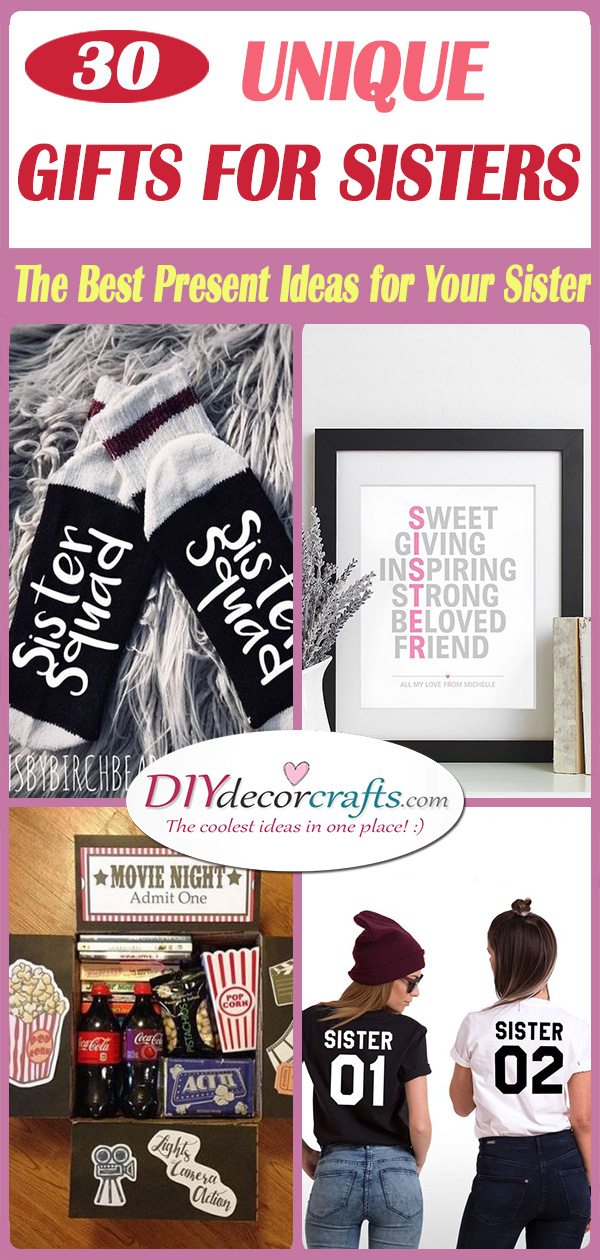 Having a sister means not only having a sibling who you can rely on but also having a best friend. Naturally, all siblings have gone through a period of bickering and annoying each other, when they were younger, but that doesn't mean you don't love one another. It's time to express your love and gratitude towards her. Whatever the event, whether it's Christmas or her birthday, make sure you buy or make her the perfect present! So look through our collection of 30 unique gifts for sisters. We're completely sure that you will be able to find inspiration amongst this collection of present ideas!
1. Light Up Her Day – With a Candle
Everyone loves a beautiful, scented candle. They are especially great to relax next to, whether you're just lying in your bed or getting ready for a hot bath at the end of the day. Make sure that your sister gets a bit of relax-time as well by getting her a candle! You can write up your own label on the candle holder with a little message on it for her. This is just one of many present ideas for sisters! 
2. Sister Squad – A Pair of Socks
If you're not sure about what to get your sister, then a pair of socks is always a great idea! Instead of getting her a pair of standard socks, that you can buy anywhere, get her socks that have a special message on them! For example, having "sister squad" printed on them is an awesome idea!
3. A Picture of the Two of You – Unique Gifts for Sisters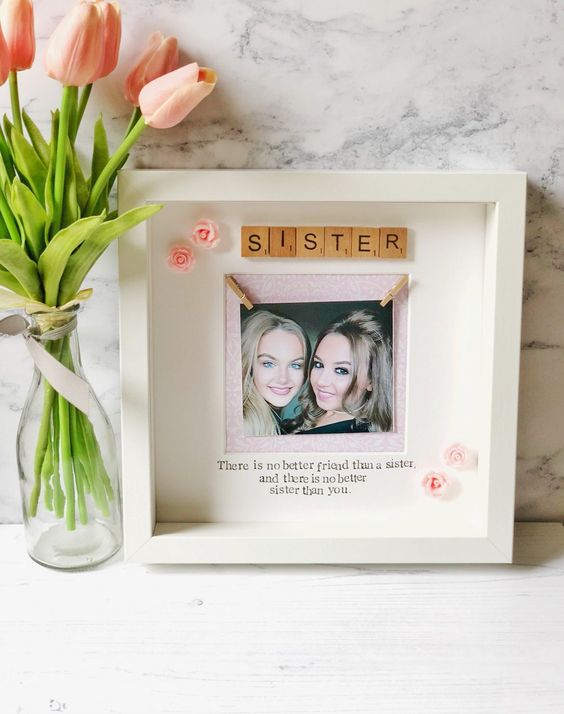 Advert
Would you like your sister to know how much she means to you? Get her a picture of the two of you framed, and write a message for her underneath the picture. You can decorate the frame any way you'd like to make it more unique!
4. A Loving Message – Gifts for Your Sister
Unlike chocolate or a bouquet of flowers, some things last for a lifetime, including a ceramic tile! Get a ceramic tile made for your sister, on which you write your own heartfelt message. She will be able to use this as decor later on in life, even incorporate it in her kitchen tiles if she'd like to!
5. Matching Keychains – Unique Gifts for Sisters
Is your sister always losing her keys around the house? Make sure they are easier to find by getting her a cool keychain! Consider getting matching keychains for the both of you, which are only whole when they are together. You can have two halves of a heart cut into the middle, so when you put the two keychains together, they make a heart. Also, have the words "big" and "little" engraved into the keychains, so you'll know whose is whose, according to who is the older or younger sibling!
6. Chill Pills – Candy as a Present
Is your sister someone who gets annoyed or frustrated easily? Sometimes a bite of chocolate can be a small taste of relief! Pour candy or chocolate into a mason jar and attach a label to the front which reads "chill pills." This is a funny gift idea!
7. Matching Mugs – Unique Gifts for Sisters
While mugs might seem like a boring and standard present you buy for casual acquaintances or friends, you can create an awesome and unique mug for your sister! If you are good at drawing or painting, you can draw a picture of the two of you on two mugs, and also write a message for her on it. While you gift one of the mugs to your sister, you can keep the other. This way you will have matching mugs!
8. Scrapbook Page – Gifts for Sisters
How about making a handmade present for your sister? It's a personal and creative way to express your love for her! Make a scrapbook page! Paste pictures of the two of you on it and funny memories. Decorate it with buttons, cut out hearts and ribbons. She can put this out in her room and use it as decor!
9. A Fantastic Pillow – With a Message
Pillows make great presents, they are not only great sources of decor, but they make any couch or bed super comfortable! Consider buying your sister a pillow as a present so she will be able to cuddle up with it at night. You can write a loving message on the pillow, talking about your sisterly connection!
10. Morse Codes – Secret Message for Your Sister
Here's a creative and unique idea! Get your sister a necklace or bracelet with small coloured beads strung on it. The number and colour beads will represent "sister" in Morse code. This is just one of many unique gifts for sisters that any sibling will love!
11. In Case of Emergency – Break Glass
Everyone has emergencies! If your sister adores chocolate, make sure she has some for the tough times. But don't make her job easy! Pour chocolate into a frame, and write up the words "in case of emergency break the glass" on the glass part of the frame. This is a funny gift that will draw a smile on her face.
12. Cute Succulents – Growing Plants
Does your sister love gardening and taking care of plants? Then make sure to get her a present that is a reflection of her hobbies! Getting her a pot plant is a great idea! We recommend succulents, as they are super easy to take care of and don't require that much attention.
13. Fairy Lights – Cute Present Ideas for Sister
When in doubt, home decor is always a great choice as a special gift for sisters! If your sister needs a bit of ambient lighting in her room, consider getting her fairy lights stuffed in a small jar or glass box. You can have a message written on the glass itself, expressing your love for your sister. This will light up any room beautifully!
14. Wish Bracelets – One for Each of You
Make your sister's wishes and dreams come true with a wish bracelet! When the bracelet breaks in two, that is when your dreams turn real! Get one for yourself as well as one for your sister, this way you can both wear matching bracelets! This is not only a gift for your sister but a gift idea for your best friend as well!
15. A True Description – Creative Gifts for Your Sister
Give your sister something truly special that comes from your heart! If you have a favourite movie, use characters from it to describe her. You can stick pictures of the characters or small figurines onto the paper and put them in a frame. Just take the idea above as a great example!
16. Lovely Letters – For Different Occasions
Everyone has days when things don't go their way or they are feeling under the weather. At times like this, it's always nice to get a bit of support or positive assurance. Make sure your sister gets through rough patches like this easier, by writing her a letter for every sort of bad occasion. Write down on the envelope when she can open the letters. For example, one can be for when she is feeling a bit down, another can be when the two of you have had an argument. 
17. A Jar of Notes – Lovely and Personal Gift Ideas
A great homemade gift idea for birthdays or Christmas is to write your sister a message for each day of the year. Colour code the notes, for example, messages on orange slips of paper can be shared memories, pink paper notes can be reasons why you love her, etc. Your sister can only take out one each day, so no cheating! 
18. Spell Her Out – Unique Gifts for Sisters
Find a special gift for sisters! A cool item of decor that you can make at home easily is this! Spell out "sister" or your sister's name vertically. Then add words to each letter which all describe her perfectly. Take a quick glance at the example above at how well it's done!
19. Brighten Up Her Day – An Array of Snacks
If your sister is having a bad day, make sure to bring a bit of sunshine into it! Arrange sweets and snacks, wrapped in gold or yellow paper, in a mason jar. You can attach a note to it, which reads "a little something to brighten your day." Then all you need to do is give it to your sister! This will definitely put her in a better mood!
20. Matching T-Shirts – Sister One and Sister Two
Matching t-shirts are a great idea as presents! You can proudly show yourselves off together that in fact the two of you are birds of a feather! Have the words "sister one" and "sister two" written on the backs, depending on who is older and who is younger.
21. A Cute Mouse Pad – Present Ideas for Sisters
You and your sister might be all grown up, living in different parts of the country, or even the world! Make sure she knows how much you miss her throughout your weeks. Get her a cute mousepad, that reads "I miss my sis." This way she can take it to her workplace or use at home and it will serve as a constant reminder of you!
22. A Small Booklet – With Lots of Love
Here's another present idea which is on the more personal side! Cut out small slips of paper, decorate each with a message or stick of a photo of you and your sister on some cards. Then clip them all together, creating a small, flip-through booklet. This is guaranteed to make your sister feel happy and loved!
23. Movie Night – For Any Occasion
If your sister has had a bad day, make sure you cheer her up with one of many amazing gifts for sisters! This can be with a simple gesture, taking some snacks over to her room and watching a movie together! Get all her favourite snacks, maybe include a few of your baked goods in there as well. By the end of the movie, your sister is guaranteed to be feeling a lot better!
24. A Shining Idea – Gifts for Your Sister
Candles are the sort of presents that your sister will love! You can try out this DIY tutorial, to make a candle that has a picture of the two of you on it! She will be able to use it as an ornament in her room, or for relaxing candle-lit nights. This would make an amazing Christmas gift for your sister.
25. A DIY Album – Awesome and Unique Gifts for Sisters
You and your sister are bound to have hundreds and thousands of shared memories! If you're thinking about gifting her an album, why not make one by yourself? You can try out this cool idea of folding a long piece of cardboard into small pages and sticking photos in the folds. Then use a leather strap to hold it all together and you're already done!
26. Jenga with a Twist – Games as Presents
Who doesn't love a great game of Jenga? Especially when you can play it with your family and have a few good laughs! If your sister loves games, then design your own Jenga set for her and you will be able to play this fun game with the family on any occasion! It's up to you what sort of tasks you write on the blocks!
27. Handmade Soap – Gift Ideas for Your Sister
Making something handmade for your sister! You can't go wrong with beauty, skincare or bath products. There are dozens of tutorials online which show you how to make soap or bath bombs. You can add your sister's favourite fragrance to the soap, for example, lavender or jasmine.
28. A Spice Set – Unique Present Ideas
Does your sister love to cook? Make sure she has all the right combination of spices for the foods she bakes! Assemble seasoning salts at home, making sure the flavours work well together. For example, you can combine salt with ginger and chilli for an interesting spice mix!
29. DIY Felt Handwarmers – Cute Presents for Sisters
Do your sister's hands get cold during autumn and winter? Make sure they stay nice and warm this year! Make her some felt handwarmers which she can carry in her pockets. Cut out hearts from felt, stuff them with cotton wool before you sew them together. So now if her hands are freezing, she'll just have to pop them in her pockets and hold onto her hearts.
30. Photo Blocks – Adorable Decor
Instead of getting your sister a standard frame with the picture of you two in it, why not get her photo blocks. She can put the blocks together and it will show photos of you from your childhood! You can assemble all together six different photos by using blocks!
We hope that these unique gifts for sisters have helped you in finding a bit of inspiration on what to get your sibling! After all, your sister deserves the best! If you're still in search of ideas concerning other presents, for example, gifts for brothers or Birthday Gifts for Sisters, just go ahead and check out our website! We have a wide variety of all sorts of ideas.
Advert