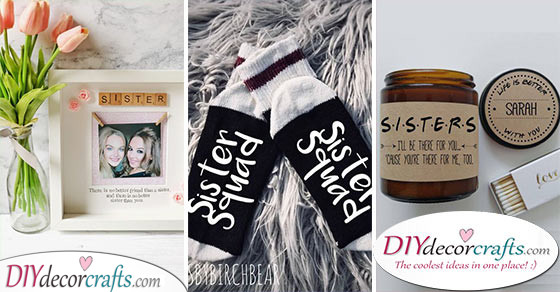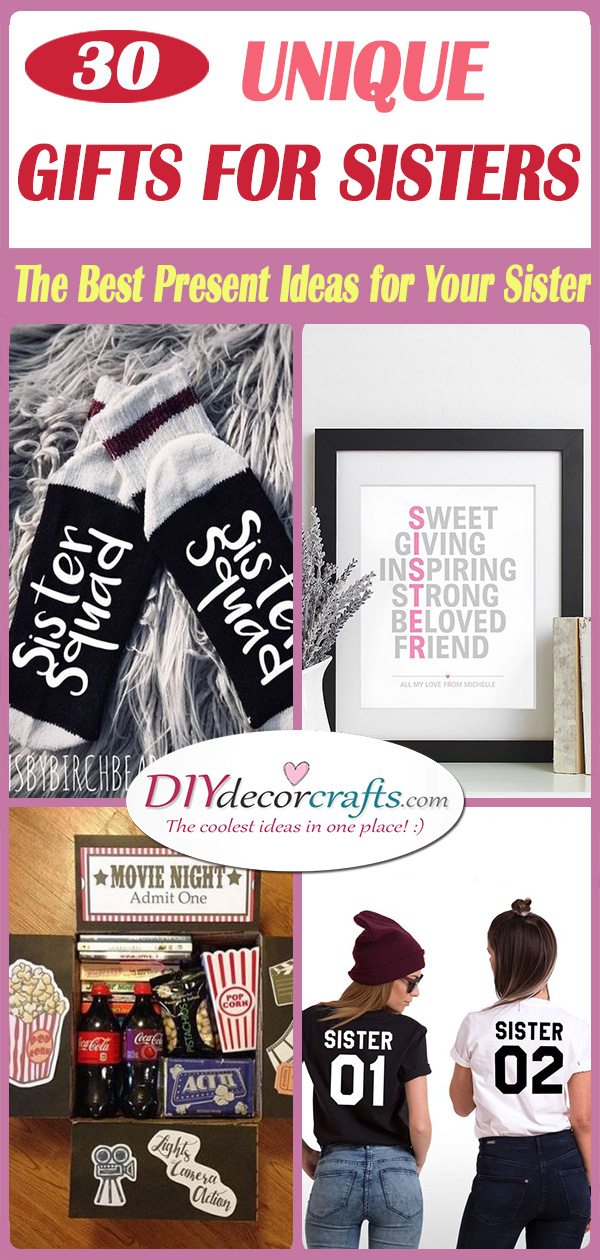 Having a sister means not only having a sibling who you can rely on but also having a best friend. Naturally, all siblings have gone through a period of bickering and annoying each other, when they were younger, but that doesn't mean you don't love one another. It's time to express your love and gratitude towards her. Whatever the event, whether it's Christmas or her birthday, make sure you buy or make her the perfect present! So look through our collection of 30 unique gift ideas for sisters. We're completely sure that you will be able to find inspiration amongst this collection of present ideas!
1. Light Up Her Day – With a Candle
Everyone loves a beautiful, scented candle. They are especially great to relax next to, whether you're just lying in your bed or getting ready for a hot bath at the end of the day. Make sure that your sister gets a bit of relax-time as well by getting her a candle! You can write up your own label on the candleholder with a little message on it for her.
2. Sister Squad – A Pair of Socks
If you're not sure about what to get your sister, then a pair of socks is always a great idea! Instead of getting her a pair of standard socks, that you can buy anywhere, get her socks that have a special message on it! For example, having "sister squad" printed on them is an awesome message!
3. A Picture of the Two of You – Unique Gifts for Sisters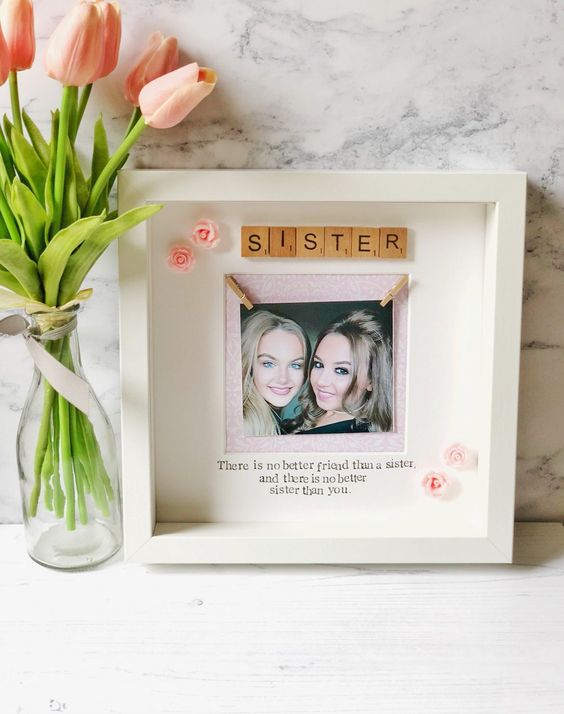 Would you like your sister to know how much she means to you? Get her a picture of the two of you framed, and write a message for her underneath the picture. You can decorate the frame any way you'd like to make it more unique!
4. A Loving Message – For Your Dear Sister
Unlike chocolate or a bouquet of flowers, some things last for a lifetime, including a ceramic tile! Get a ceramic tile made for your sister, on which you write your own heartfelt message. She will be able to use this as decor later on in life, even incorporate it in her kitchen tiles if she'd like to!
5. Matching Keychains – Unique Gifts for Sisters
Is your sister always losing her keys around the house? Make sure they are easier to find by getting her a cool keychain! Consider getting matching keychains for the both of you, which are only whole when they are together. You can have two halves of a heart cut into the middle, so when you put the two keychains together, they make a heart. Also, have the words "big" and "little" engraved into the keychains, so you'll know whose is whose, according to who is the older or younger sibling!
6. Chill Pills – Candy as a Present
Is your sister someone who gets annoyed or frustrated easily? Sometimes a bite of chocolate can be a small taste of relief! Pour candy or chocolate into a mason jar and attach a label to the front which reads "chill pills." This is a funny gift idea!
7. Matching Mugs – Unique Gifts for Sisters
While mugs might seem like a boring and standard present you buy for casual acquaintances or friends, you can create an awesome and unique mug for your sister! If you are good at drawing or painting, you can draw a picture of the two of you on two mugs, and also write a message for her on it. While you gift one of the mugs to your sister, you can keep the other. This way you will have matching mugs!
8. Scrapbook Page – Gifts for Sisters
How about making a handmade present for your sister? It's a personal and creative way to express your love for her! Make a scrapbook page! Paste pictures of the two of you on it and funny memories. Decorate it with buttons, cut out hearts and ribbons. She can put this out in her room and use it as decor!
9. A Fantastic Pillow – With a Message
Pillows make great presents, they are not only great sources of decor, but they make any couch or bed super comfortable! Consider buying your sister a pillow as a present so she will be able to cuddle up with it at night. You can write a loving message on the pillow, talking about your sisterly connection!
10. Morse Codes – Secret Message for Your Sister
Here's a creative and unique idea! Get your sister a necklace or bracelet with small coloured beads strung up on it. The number and colour beads will represent "sister" in Morse code. This is just one of many unique gifts for sisters that any sibling will love!
11. In Case of Emergency – Break Glass
Everyone has emergencies! If your sister adores chocolate, make sure she has some for the tough times. But don't make her job easy! Pour chocolate into a frame, and write up the words "in case of emergency break the glass" on the glass part of the frame. This is a funny gift that will draw a smile on her face.
12. Cute Succulents – Growing Plants
Does your sister love gardening and taking care of plants? Then make sure to get her a present that is a reflection of her hobbies! Getting her a pot plant is a great idea! We recommend succulents, as they are super easy to take care of and don't require that much attention.