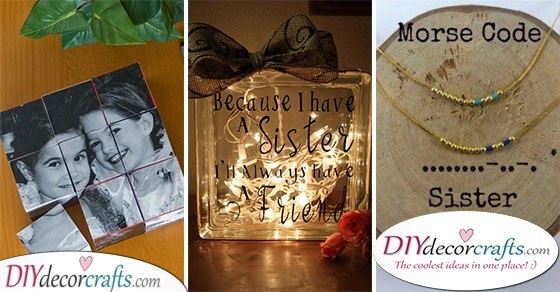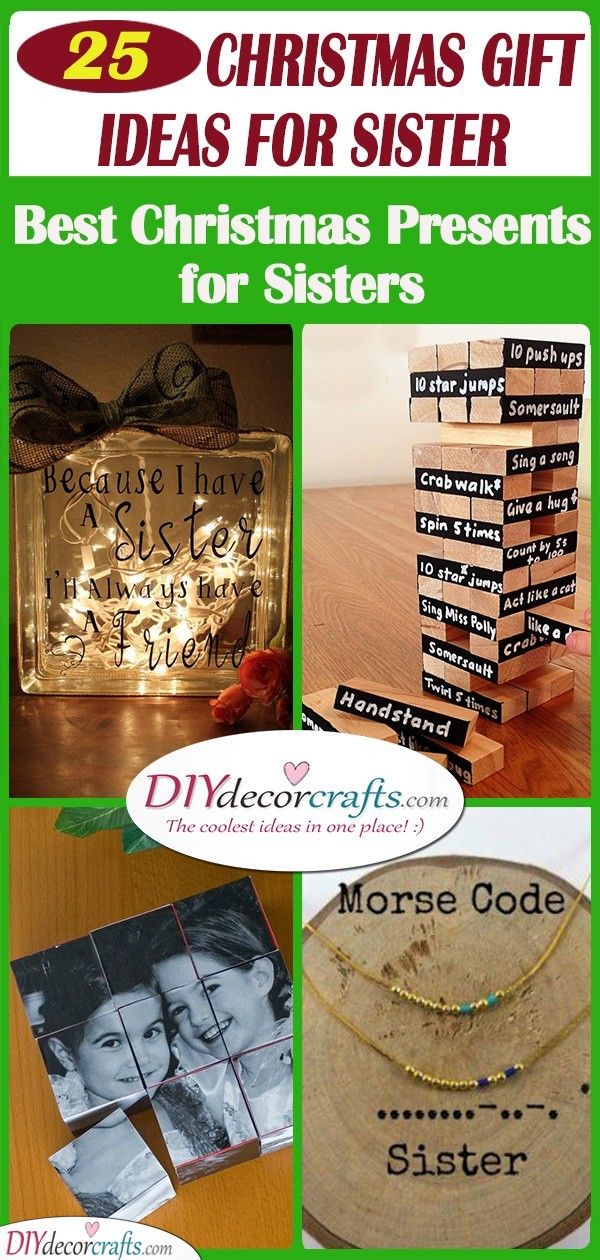 There isn't long until winter arrives bringing Christmas with itself. And it's never too early to prepare for this family-favourite holiday! Christmas is one of the best times to spend time with your loved ones, with your family and friends. It's also a great time to express how much you treasure your loved ones, by giving them the best sort of Christmas present ideas! Maybe you are in search of Christmas gift ideas for sister? If you have run out of time, or have no ideas what to get for your sister, take a look through our ideas. We have collected 25 best Christmas presents for sisters, so you will be sure to find some inspiration!
1. Photo Blocks – Christmas Gift Ideas for Sister
A fantastic gift idea for your sister for Christmas is no other than giving her a memory. So, instead of getting your sister a standard frame with a photo of the two of you in it, create a fabulous and interesting way of presenting her with a memory. If the two of you ever played with building blocks or photo blocks, then use this idea as inspiration. Print a picture of the two of you on a set of blocks, which will serve as a photo and memory. She will be able to use this as decor in her room.
2. A Fun Game – Jenga With a Twist
Jenga is definitely a family favourite game! Who doesn't love it? Especially when you can play it with the family and have a few good laughs. Perhaps your sister is a member of the family who adores games. If so, why not design a set of Jenga for her? All you need to do is buy a plain set of Jenga and write activities and tasks on the selected blocks. During any family get-together, your sister will be able to take out the Jenga and get everyone to play!
3. Adorable Avocados – Best Christmas Presents for Sisters
Do you feel like sometimes your sister is your other half? The person who you can talk about everything with and who is always there for you? If so, make sure your Christmas present you give her expresses these thoughts and feelings. You don't have to go completely overboard with your Christmas present, you can keep it simple yet personal. The best example of this is to make her a homemade Christmas card! You can draw two avocados next to each other with a message underneath that says "to my other half." Make sure to draw Santa hats on both the avocados!
4. A Ring for Each Sister – Christmas Gifts for Sisters
Jewellery, in any form, is the sort of gift which will make any girl or woman happy! So, if you have decided on getting your sister or sisters some sort of jewellery, they will be guaranteed to love it! If you have two sisters why not get all three of you rings? You can have your names engraved in each one, or the words "big sis", "mid sis" and "lil sis."
5. A Personalised Candle – Heartfelt and Beautiful
Who doesn't love scented candles? You light them up and an instant feeling of relaxation comes over you. Whether you are just reading in your room or taking a long bath, candles are a great way of creating a peaceful atmosphere. If your sister loves candles as much as we do, why not get her one for Christmas? But instead of getting her a plain candle, get her something personalised! Write your own label on the candleholder which is personal. This is a great way of ensuring your sister will be able to get a bit of relaxation time each day!
6. Heart Hand Warmers – Best Christmas Presents for Sisters
Do your sister hands get cold easily and is she always complaining about them? Well, since it's the winter season, why not make her handwarmers? She will just have to stick these into the pockets of her coat and hold onto them to warm up her hands. Make them yourself by cutting out heart-shaped pieces of felt. Stuff these with cotton wool or even rice, then sew them together. This is a lovely gift because handmade presents always show that you put time and effort into creating something special for them!
7. Light Up Her Day – And Her Room
Another great idea is to get your sister a source of light for her room. This can come in the form of a beautiful lamp or a light which you put together for her yourself. If you are thinking of making her something handmade then check out this simple idea! Find an empty jar or bottle and write a message on it with a sharpie. Then all you will need to do is place a string of fairy lights inside of it. When she turns it on, the lights will shine beautifully, like hundreds of small stars.
8. A Pack of Bath Salts – Creative and Homemade
Are you the sort of person who loves making all sorts of crafts? Nowadays a lot of people create their beauty or hygiene products for themselves at home. Ranging from soap to bath bombs there are so many things you can make! Bath salts are another option. You can scent them in any smell you'd like, rose, lavender or vanilla are just a few options! So why not give bath salts a try and make them at home for your sister for Christmas?
9. A Jar of Thoughts – Best Christmas Presents for Sisters
You and your sister will have a whole tonne of inside jokes and shared memories! After all, the two of you grew up together. Put something personal together for her for Christmas. After all, personal presents make the best Christmas gifts for sisters! This can consist of a whole collection of memories and funny moments which are jotted down on pieces of paper. Fold up the pieces of paper and place them all in an empty jar. Whenever your sister is feeling a bit down or under the weather, she will have to pull out a slip of paper and read it. We're sure it will immediately draw a smile on her face!
10. Spices in Test Tubes – Great for Cooking at Home
Perhaps your sister loves to cook and bake at home. If so, why not put together a selection of spices together for her? You can combine multiple spices, mix them together and pour them into test tubes, thus creating your own spice mixes! Remember to use her favourite spices as well! This is a truly great present for any home cook, who loves to spend their free time in the kitchen.
11. A Cute Bracelet – Christmas Gifts for Sister
Here is a creative idea for your sister for Christmas! Make her a necklace or a bracelet, using small beads. Use only two coloured beads for this gift. It's up to you completely which colours you decide on choosing and using for this craft! By using morse codes, create the word "sister" with the beads running across the necklace. This will be a unique way of expressing your sisterhood through beads on necklaces!
12. An Album

– Handmade Christmas Gift Ideas for Sister
Another fabulous gift you can create for your sister is either a handmade album or a scrapbook! These are especially great Christmas gift ideas for sisters if she likes arts and crafts! You can create pages by using a long piece of paper, folded several times into the same sizes. Your sister will be able to stick whichever photos she would like into it, and even decorate it to make it look like a scrapbook! This will be a perfect way for her to release her creativity and energy into creating something artsy!
13. A Cute Eye Chart – A Lovely Idea
Tell your sister how thankful you are for her being in your life! You can do this in a more creative way! For example, by creating an eye chart for her. Write a message on the eye chart which says "thank you for being a wonderful sister." Naturally, make sure to give it an eye chart look. The first few letters big and bold, with each letter getting smaller and smaller as you head downwards.
14. A Candle With a Memory – Gorgeous and Heartfelt
Here is one of many awesome DIY Christmas gift ideas for sisters you can surprise her with! This is no other than a candle that has a photo of the two of you printed on it. It's personal and cute! As we have mentioned before, candles are great gifts to give. Everyone loves them and they create a beautiful ambience in any room where they are lit! She'll be able to use it as a Christmas table centrepiece even!
15. Amazing Necklaces – The Best Christmas Presents for Sisters
There are so many beautiful things you can get for your sister! Necklaces are just one of many great ideas. If you end up deciding to get your sister a necklace, make sure it has some sort of special meaning to it. For example, why not get two necklaces, a circle which has a heart missing in the middle, and a necklace which is the heart! This will mean that you are each other's missing pieces!
16. Matching T-Shirts – Perfect for Siblings
Matching t-shirts will make the best Christmas gifts for sisters! You can proudly show yourselves off together that in fact the two of you are birds of a feather! Have the words "sister one" and "sister two" written on the backs, depending on who is older and who is younger. This will make a great present for Christmas or any other time of the year!
17. A Beautiful Definition – Christmas Gift Ideas for Sisters
Create a definition of your sister on a wooden board! Write up sister on the wooden board vertically. Then write words to each letter, creating a whole set of words that are all connected to her! This will definitely put a smile on her face, as this present is personal and heartfelt! Depending on your style, you can decorate the wooden board in any way you'd like, making it a great source of decor!
18. Just Two Peas – In a Pod
Have you ever heard the saying "two peas in a pod"? If so, you might feel the same way about your sister. Create two necklaces, one for you and one for her. Both should have two green beads or pearls inside of them, resembling peas.
19. A Box of Favourites – Best Christmas Presents for Sister
If you have run out of time and ideas about what to get your sister for Christmas, why not just get her a bunch of her favourite things? This might include snacks, treats, beauty products or clothes. All you need to do is place them in a box and wrap it up for Christmas! You can't really go wrong with a box of her favourite things for Christmas.
20. Being Sisters – Always There for Each Other
If you and your sister ever watched the hit TV series Friends, then use it as inspiration for Christmas present ideas for sisters! Recreate the logo and write "sisters" on a wooden board. Then underneath it write the message "I'll be there for you… Cause you're there for me, too." This simple wooden board with a message will make a great source of decor for her room!
21. Christmas Stockings – With Treats Inside
Since it's Christmas, you might like to give your sister's gift a Christmas twist! Place an assortment of her favourite things in winter stockings or in a pair of slippers. This will definitely bring a Christmas vibe with itself!
22. Mittens for Baking – Best Christmas Presents for Sisters
If your sister loves to bake and cook all sorts of delicious treats, desserts and Christmas punch why not get her oven mitts? Make sure to add a Christmassy vibe to them! You can also stuff the mittens with a few other presents for her!
23. A Pair of Socks – Christmas Present Ideas for Sister
Perhaps you aren't sure about what to get your sister. If so, why not buy her a pair of socks? Instead of getting her a pair of standard socks, that you can buy anywhere, get her socks that have a special message on them! For example, having "sister squad" printed on them is an awesome idea!
24. A Gorgeous Tile – With a Message
It is completely true that sisters make the best of friends! If you agree, why not get your sister a tile or even a coaster with this message on it? It will make a great source of home decor, as well as reminding your sister every day that she is loved!
25. Christmas Ornament – Cute Christmas Gift Ideas for Sisters
Since it's Christmas, why not give your sister something which matches the event? A great idea is a Christmas ornament! Give it a special twist by decorating it yourself! You can draw two figures on the ornament, one of you and one of your sister. This will be a super cute Christmas present!
We trust that this pick of Christmas gift ideas for sisters has helped you out! For other Christmassy ideas, besides the best Christmas presents for sisters, like Christmas card ideas or Christmas Gift ideas for boyfriends, visit our website
Advert