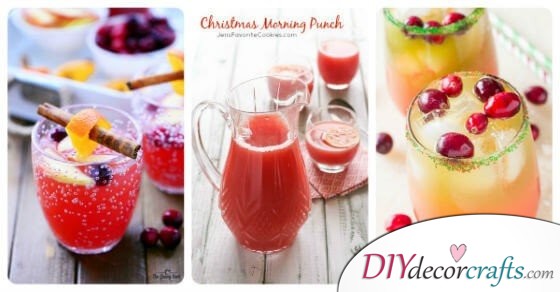 Would you like to add something extra to the way you celebrate Christmas? Why don't you surprise your loved ones with serving delicious Christmas punch? They will definitely adore your awesome idea and want to get your recipes immediately! So what are you waiting for? Check out the following 20 easy punch recipes and don't hesitate to make your favorite ones! Merry Christmas!

1. Creamy White Christmas Punch
1/2 cup sugar
1/4 cup hot water
3 oz evaporated milk (6 Tbsp)
1/2- 1 tsp almond extract
1/2 gallon vanilla ice cream
1 2-liter bottle of 7UP®
Whipped cream and sprinkles (optional)
First of all, combine water and sugar in a small bowl. Your next step is to heat in the microwave until the sugar is dissolved (it is about 30 seconds). After that cool and stir in evaporated milk and almond extract. Before adding vanilla ice cream to it, pour your mixture into a large punch bowl. It is always a good idea to use a potato masher to break ice cream into small chunks. Then you should slowly stir in the 7UP®. Finally, spoon into serving glasses. You can garnish it with whipped cream and sprinkles if you want. It's important that you should serve your yummy Christmas punch immediately.
6. Rainbow Sherbet Punch
Ingredients
Sprite/Sierra Mist
Hawaiian Punch
Rainbow Sherbet
If you are looking for a punch recipe which requires only a few ingredients and easy, you have found a very good idea! Jus mix equal parts Sprite and/or Sierra Mist with Hawaiian Punch. Finally, top it with the rainbow sherbet ice cream and it is ready, you can serve it. 
8. Peppermint Eggnog Punch
Ingredients
1

quart peppermint ice cream

1

quart dairy eggnog or canned eggnog

1

cup rum (optional)

1 – 210-ounce

bottles (1-1/4 to 2-1/2 cups)ginger ale, chilled

Additional peppermint ice cream (optional)

Peppermint sticks (optional)

First of all, place ice cream in a large chilled bowl and keep stirring until it is softened. Gradually stir in eggnog and if you want, stir in rum. After that, transfer to a punch bowl and add as many ginger ale as you want to have. If desired, just top each serving with additional peppermint ice cream and peppermint sticks. The way I see it, it is always a good idea to decorate these drinks. It will make 18 (4-ounce) servings.
Plus here you can learn more about the nutrition facts:
Per serving:
148 kcal cal.,
7 g fat
(5 g sat. fat,
0 g polyunsaturated fat,
1 g monounsaturated fat),
47 mg chol.,
63 mg sodium,
17 g carb.,
0 g fiber,
3 g pro.
Percent Daily Values are based on a 2,000 calorie diet
 You Shouldn't Miss These 20 Easy Punch Recipes For Christmas
11. Lime Sherbet Punch
Ingredients
2 quarts lime sherbet
2 liters ginger ale
1 (46-ounce) can pineapple juice
Lemon slices
Lime slices
Maraschino cherries
First of all, add 2 quarts of lime sherbet in a punch bowl. After that add pineapple juice and ginger ale. Mix your drink well before decorating it with lemon, some maraschino cherries, and lime slices. Don't worry, if you have only 10 minutes free time before your guests arrive, you can make this drink within 5 minutes! You will have about 18-20 servings.
12. Pinterest Project Sherbet Punch
Ingredients
2-2 Liters of Diet Sierra Mist (You can use regular)
1 Tub of Rainbow Sherbet
Slices of Lemons, Grapefruits, and Oranges
Ice
Firstly, pour in both of the liters of Sierra Mist before adding several ice cubes to it. To cover the top, add enough ice cream to it and stir just to get it slightly mixed in. Decorate your drink with slices of the fruits all on top. If you use a serving jar (you can see it below), pour the punch into the cup then add an additional scoop of sherbet.
Your first step is to pour 2 quarts of water in a 1-gallon pitcher and add the Kool-aid mix and sugar. Then stir it until the sugar is dissolved. When the sugar is okay, add the lemonade and the pineapple juice. Stir well! As I have earlier mentioned, to top the rim of a glass, dip the top in water then dip into the sanding sugar. Don't forget to add te ice and Sprite before serving!
15. Christmas Sherbet Punch
Ingredients
2 liter Hawaiian Punch
2 liter Sprite (lemon-lime soda)
1 – 46 fl oz can Pineapple Juice
1 carton Raspberry Sherbet
First of all, pour Hawaiian Punch into 2 ice cube trays the night before. (This step is only recommended, so it's not a big problem if you don't have enough time for this recipe.) The pour in Hawaiian Punch, Sprite, and pineapple juice in a large bowl. After that, you can add the raspberry sherbet and your Hawaiian Punch ice cubes. Always let the ice cubes and sherbet melt slightly for more flavor.




Ingredients – Sparkling Ginger Lemonade
2 L Canada Dry Ginger Ale®
2 L Lemonade of choice
Mix together the ingredients, garnish with lemon and serve cold.
You Shouldn't Miss These 20 Easy Punch Recipes For Christmas
Advert