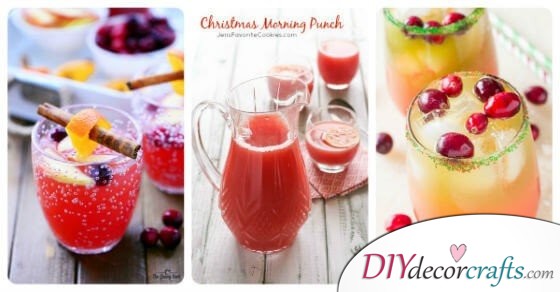 Would you like to add something extra to the way you celebrate Christmas? Why don't you surprise your loved ones with serving delicious Christmas punch? They will definitely adore your awesome idea and want to get your recipes immediately! So what are you waiting for? Check out the following 20 easy punch recipes and don't hesitate to make your favorite ones! Merry Christmas!

1. Creamy White Christmas Punch
1/2 cup sugar
1/4 cup hot water
3 oz evaporated milk (6 Tbsp)
1/2- 1 tsp almond extract
1/2 gallon vanilla ice cream
1 2-liter bottle of 7UP®
Whipped cream and sprinkles (optional)
First of all, combine water and sugar in a small bowl. Your next step is to heat in the microwave until the sugar is dissolved (it is about 30 seconds). After that cool and stir in evaporated milk and almond extract. Before adding vanilla ice cream to it, pour your mixture into a large punch bowl. It is always a good idea to use a potato masher to break ice cream into small chunks. Then you should slowly stir in the 7UP®. Finally, spoon into serving glasses. You can garnish it with whipped cream and sprinkles if you want. It's important that you should serve your yummy Christmas punch immediately.
2. Holiday Punch
Ingredients
1 (12 oz.) frozen orange juice concentrate
1 (12 oz.) frozen limeade concentrate
4 cups cranberry juice cocktail
12 ounces vodka
1 (2 Liters) 7UP®
ice cubes
cranberries, optional
If you have a look at the photo below, you can't say no to this special drink. Let's make it on your own, don't worry because the steps are super easy!
Firstly, in a large bowl over ice combine all of the liquid ingredients. After that, garnish it with cranberries and serve!
I have some extra tips for you as well!
– try to use frozen orange juice concentrate because it helps keep the punch colder
– rim your glass: first of all, start with a  bowl of water then dip in the rim of your glass
3. Sparkling Cranberry Pineapple Punch
Ingredients
3 cups (24 oz) 100% DOLE® Canned Pineapple Juice, Chilled
3 cups (24 oz) Cranberry Juice Cocktail, Chilled
4 cups Ginger Ale
1/2 cup fresh or frozen cranberries (*see note below)
1/2 lime, thinly sliced ice
This lovely recipe has just the right amount of sweetness and is loved by grown-ups and children as well. So no wonder that this refreshing and enjoyable drink is perfect for any party!
Firstly, stir together 3 cups pineapple juice, 3 cups cranberry juice, and 4 cups ginger ale in a large punch bowl or pitcher. After that add sliced lime, cranberries, and ice. Stir gently to combine and serve. It's good to know that you will get about 10 cups.

4. Seriously Delicious Holiday Champagne Punch
This Champagne Punch is festive, delicious and so pretty, too!
Ingredients
3 cinnamon sticks
4 whole cloves
1 cup water
1/2 cup sugar
2 cups cranberry juice
3/4 cup pineapple juice
1 bottle champagne, chilled
1 lemon, cut in quarters
Red rimming sugar
First of all, bring sugar, water, cinnamon sticks and cloves to boil in a small pot. After that just reduce heat and simmer 5 minutes. Rim your champagne glasses with sugar while your mixture simmers. Just rim the glass with lemon and dip the rim in the red sugar.
Once the sugar water simmering is complete, discard cloves and cinnamon. Your next step is to cool to room temperature and pour into large pitcher. Don't forget to add pineapple juice and cranberry juice and pineapple juice. Just chill until you are ready to serve.
5. Christmas Morning Punch
Ingredients you need 
2

cups

orange juice

2

cups

cranberry juice

1

cup

pineapple juice

1

cup

ginger ale
Here is another easy punch recipes idea you should try out at this winter! All you have to do is mixing all ingredients in a pitcher and serve cold. Your family with adore if they can start Christmas day with this delicious drink. You will get 6 cups.
6. Rainbow Sherbet Punch
Ingredients
Sprite/Sierra Mist
Hawaiian Punch
Rainbow Sherbet
If you are looking for a punch recipe which requires only a few ingredients and easy, you have found a very good idea! Jus mix equal parts Sprite and/or Sierra Mist with Hawaiian Punch. Finally, top it with the rainbow sherbet ice cream and it is ready, you can serve it. 
7. Candy Cane Punch
Ingredients
2 jars (12 ounces each) strawberry jelly

2 liters lemon-lime soda, divided

2 quarts peppermint stick ice cream

Miniature candy canes, optional
Firstly, melt jelly with 2 cups soda in a large saucepan. Chill the jelly mixture and remaining soda. You should place 6 cups ice cream in a punch bowl just before serving. Your next step is to gently stir in a jelly mixture and add remaining soda. Finally, add the ice cream to it and garnish with candy canes if you want to. Yield: 3-1/2 quarts.
You will get about 14 servings.

8. Peppermint Eggnog Punch
Ingredients
1

quart peppermint ice cream

1

quart dairy eggnog or canned eggnog

1

cup rum (optional)

1 – 210-ounce

bottles (1-1/4 to 2-1/2 cups)ginger ale, chilled

Additional peppermint ice cream (optional)

Peppermint sticks (optional)

First of all, place ice cream in a large chilled bowl and keep stirring until it is softened. Gradually stir in eggnog and if you want, stir in rum. After that, transfer to a punch bowl and add as many ginger ale as you want to have. If desired, just top each serving with additional peppermint ice cream and peppermint sticks. The way I see it, it is always a good idea to decorate these drinks. It will make 18 (4-ounce) servings.
Plus here you can learn more about the nutrition facts:
Per serving:
148 kcal cal.,
7 g fat
(5 g sat. fat,
0 g polyunsaturated fat,
1 g monounsaturated fat),
47 mg chol.,
63 mg sodium,
17 g carb.,
0 g fiber,
3 g pro.
Percent Daily Values are based on a 2,000 calorie diet
9. Holiday Punch
Ingredients

1 pint fresh strawberries
1/2 bunch fresh mint
2 cups orange juice (from about 12 juice oranges)
1/4 cup fresh lemon juice
2 liters ginger ale, chilled
Firstly, place small mint sprigs and strawberries in a 5-cup ring mold. Be careful to add enough water to cover fruits and then freeze until firm, at least 4 hours. In a 5-quart punch bowl large enough to hold ice ring, combine lemon juice and orange juice about 10 minutes before serving.
You will have about 8 servings and the cost per servings is about $1.22.
10. Sparkling Holiday Punch
Ingredients
6 cups (48 ounces) cranberry juice, chilled
1 1/2 cups (12 ounces) orange juice, chilled
3 cups (24 ounces) ginger ale, chilled
1 cup (8 ounces) pineapple juice, chilled
Orange slices (optional)
Ice cubesFirst of all, combine orange, cranberry and pineapple juices in a large pitcher or serving bowl. Add ginger ale before serving. Serve over ice and you can even add some orange slices as a lovely decoration.
 You Shouldn't Miss These 20 Easy Punch Recipes For Christmas