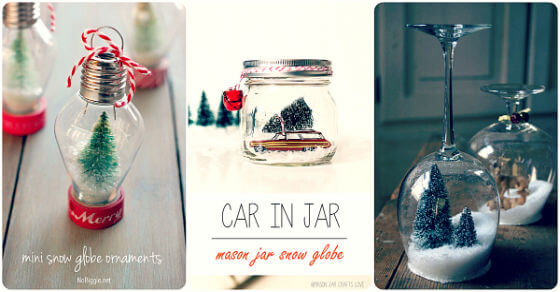 When you were a little child, snow globes probably fascinated you as well. Can you recall your memories? If yes, you know that these objects are full of excitement, beauty, and that special winter-Christmas feeling. Why don't you bring back this unique feeling and create a snow globe on your own? Check out the following beautiful and stunningly gorgeous snow globe ideas and find your favorite one! 
I was a child when I first received a snow globe from my mother. I found it a wonderful thing because it was a lot of fun when I shaked it. I grew up, put it into a box and never used again. Last year my lovely colleague surprised me with a handmade snow globe. We immediately became friends. All of my memories came back from my childhood. I believe, that it's incredibly important to stop for a while and recall our memories, those beautiful moments from our childhood. It's time to create that winter wonderland atmosphere at home and share it with our loved ones! Moreover, these crafts are perfect gifts as well.
Snow globes are magical, whimsical, and fun.  And they're super easy to make at home.
You will be absolutely amazed by discovering the endless possibilities of crafting a handmade snow globe. What's more, you can also try out some advanced techniques. Don't hesitate to involve your kid/kids in your latest DIY project! You will adore this special crafting time, that's for sure.
3. Family Portrait Project
Now you have found one of the most beautiful Christmas present ideas! Let's prepare these little-personalized family portrait snow globes on your own. Click here for the steps.
Extra tip: If you have just come together with your boyfriend/girlfriend and don't know how to surprise him/her at Christmas time, a lovely snow globe with your photo can be an amazing gift! It's not expensive, but personal and your loved-one will immediately know that he/she is important for you.
7. DIY Mini Snow Globe Ornament Again
I think this is the cutest Christmas ornament I've ever seen! You can hang it on the Christmas tree or use as a simple decoration, but it's a lovely gift as well. It requires only 4-5 inexpensive household items as well. Let's discover the steps and make it on your own!
17. Snow Globe Magnets
Here is another idea which costs almost nothing. Whether you want to keep your kids busy or you want to dress up your tiny apartment for winter, you should not miss the following DIY project! You will need magnetic tins with clear lids, fake snow, personal photos or pictures from magazines, a pencil, scissors, a kitchen sponge (a new one) and a tape. Just click here for the detailed project tutorial!
21.Happy Snowman Craft
Does your son or daughter adore snowmen? If your answer is yes, you should show this cute craft idea to them and make it come true together! It will be a lot of fun, that's for sure. Click here for more information.
23. DIY Gift Card Project
All you have to is just buy a Starbucks card, wrap it within a snow globe and give it to your special guests. Sounds cool, right? Follow the steps and start crafting time!
Advert