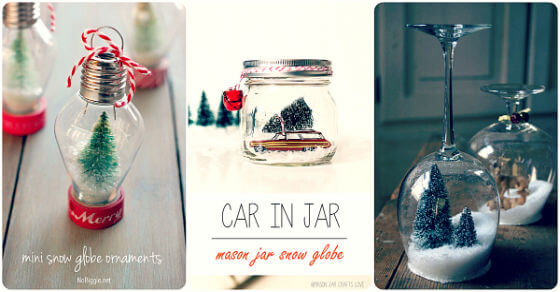 When you were a little child, snow globes probably fascinated you as well. Can you recall your memories? If yes, you know that these objects are full of excitement,

beauty, and that special winter-Christmas feeling. Why don't you bring back this unique feeling and create a snow globe on your own? Check out the following beautiful and stunningly gorgeous snow globe ideas and find your favorite one! 
I was a child when I first received a snow globe from my mother. I found it a wonderful thing because it was a lot of fun when I shaked it. I grew up, put it into a box and never used again. Last year my lovely colleague surprised me with a handmade snow globe. We immediately became friends. All of my memories came back from my childhood. I believe, that it's incredibly important to stop for a while and recall our memories, those beautiful moments from our childhood. It's time to create that winter wonderland atmosphere at home and share it with our loved ones! Moreover, these crafts are perfect gifts as well.
Snow globes are magical, whimsical, and fun.  And they're super easy to make at home.
You will be absolutely amazed by discovering the endless possibilities of crafting a handmade snow globe. What's more, you can also try out some advanced techniques. Don't hesitate to involve your kid/kids in your latest DIY project! You will adore this special crafting time, that's for sure.
1. DIY Winter Snow Globe
First of all, let's start with a traditional snow globe project. It requires a few ingredients and has only 4 simple steps. You will need a glue, a figurine, a snow globe, distilled water, glycerine, glitter and a measuring spoon. The following short video will guide you how to create it on your own within minutes. Let's get started!
2. A Lovely Baby Food Jar Idea
If you have a baby and you can't deal with the plenty of baby food jars, turn them into awesome snow globes! This upcycle idea is also easy to create. You will need empty baby food jars, mini fake trees (or anything you like/have at home), glue, glycerin (you can buy it at pharmacies), glitter, gold spray paint and distilled water.
First of all, remove the labels of the jars and spray paint the lids gold. After that just put a little glue on both the inside of the lid and the bottom of the fake tree (or the figure you have). It is really important to allow to dry for about 1-2 minutes and press the tree onto the lid. If your glue needs more time to dry, be patient and don't hesitate to wait. Your next step is to add 1 teaspoon of glitter into each jar. Then fill with distilled water and add 5 drops of glycerin. Finally, screw the lid onto the top and your project is done!
3. Family Portrait Project
Now you have found one of the most beautiful Christmas present ideas! Let's prepare these little-personalized family portrait snow globes on your own. Click here for the steps.
Extra tip: If you have just come together with your boyfriend/girlfriend and don't know how to surprise him/her at Christmas time, a lovely snow globe with your photo can be an amazing gift! It's not expensive, but personal and your loved-one will immediately know that he/she is important for you.
4. A Different DIY Necklace
I often bump into small glass bottles in craft stores and always wonder how to use them or what to create from them. Now here is the answer! This snow globe necklace is absolutely unique and the best thing is that it's really easy to make. You can find more information about this project here.
5. DIY Mason Jar Snow Globe
Here is a fascinating but a little bit different craft idea again. You will need a mason jar, fake snow, figurines that will fit inside the jar, fishing line, a needle and a tape.
Firstly, spray the lid of this jar with gold spray paint, while it is drying, thread the needle with the fishing line and going through the center of each white ball we start to thread the balls onto a line. After that, to attach the "snow fall" use packaging tape. In order to keep everything in place, use a lid that is from a mailing tube and hot glue the cute figured on to it.
6. DIY Ornaments
Don't ignore this lovely Christmas ornament. I can highly recommend the tutorial for you if you would like to experience how the sparkly glitter inside looks beautiful with the shine of the tree lights.
7. DIY Mini Snow Globe Ornament Again
I think this is the cutest Christmas ornament I've ever seen! You can hang it on the Christmas tree or use as a simple decoration, but it's a lovely gift as well. It requires only 4-5 inexpensive household items as well. Let's discover the steps and make it on your own!
8. Easy Christmas Snow Globe Idea
Let me introduce the quickest and easiest snow globe idea to you! It requires about 5-10 minutes and it is ready to shake! This project  is especially good for nursery schools. Little children will definitely adore and enjoy creating these cute crafts. Don't miss the short tutorial!