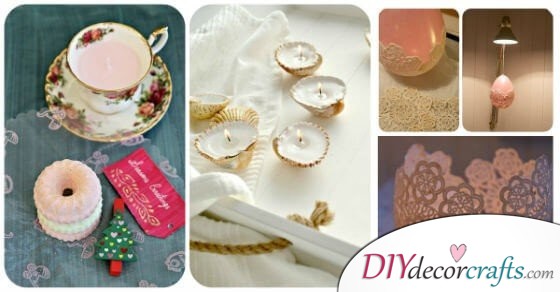 Candles can always create harmony, a wonderful atmosphere and bring peace into your home. Can you imagine your household without candles? Of course, you can't! These lovely objects are especially indispensable at Christmas time. If you would like to make something unique or you don't have any decoration ideas this year, you shouldn't miss the following DIY candle holder projects! 
Nowadays candles are available in almost every shape, color, size or scent you wish for. But what about creating your own candle holders? I have good news for you: these ideas are absolutely special, need minimal effort and minimal cost. What's more, you can even use your imagination, use different colors or materials. They can be perfect gifts for family members and friends. Last but not least, most of these designs take less than an hour to make.
Let's get started! Hopefully, you will find your favorite DIY candle holder project!


source
1. DIY Water Lilies – Plastic Spoon Candle Holder
Ingredients you need: 
– Tealight Holders Glass
– plastic spoon
– hot glue gun
– Spray Paint or acryl paint
– Cutter (box cutter)
This golden water lily design can perfectly fit your winter decoration as well. You can create beautiful things from simple plastic spoons.
Just follow the steps in the pictures below and your handmade candle holder is ready. It will definitely bring some elegance to your home!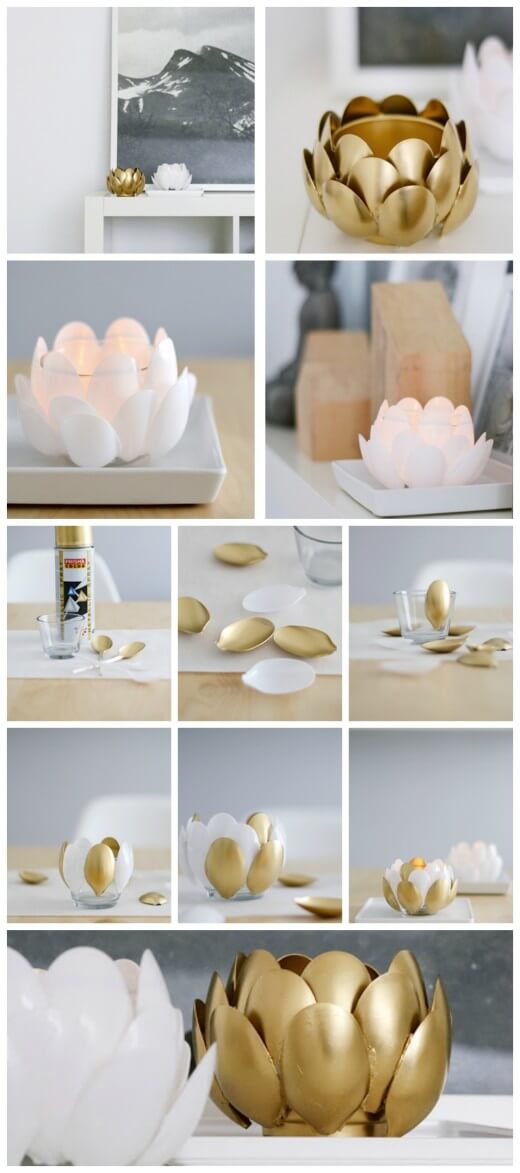 source
2. DIY Concrete Votive
Are you in love with modern designs and adore concrete crafts? Then this project is absolutely for you! It will create a 'pure' atmosphere in your home. You should know, that the procedure is simply, but you will need more time to get this beautiful result. (You should leave it to dry overnight.) Here you can find the step by step tutorial.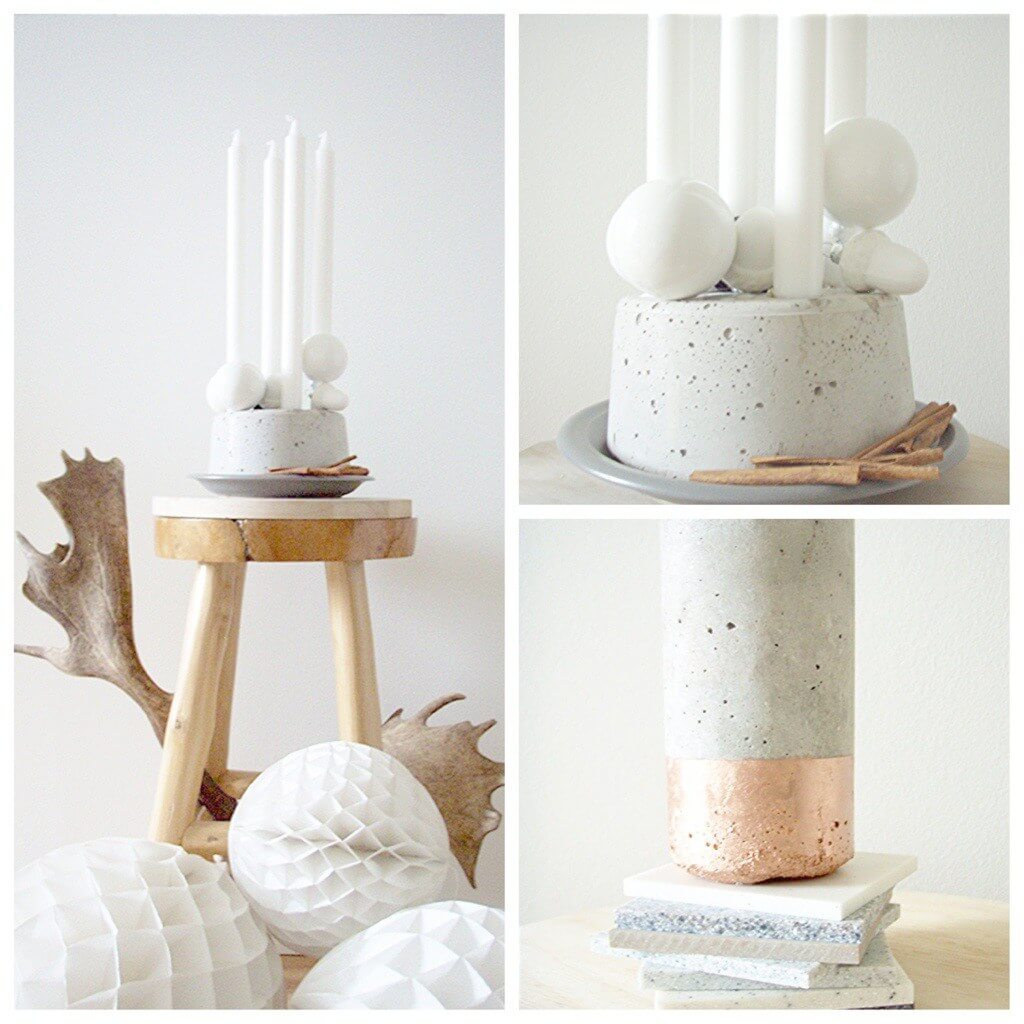 source
3. Candle Holder From Glass Jar and Doilies
To tell the truth, when I first glanced at this lovely DIY candle holder, I found it pretty difficult to do. But soon I realized that oh, there is no need to worry because actually, it's simple!
Firstly, what will you need?
-Glass Jar
– 2-3 small crochet doilies
– Ribbon, cord – anything you prefer to decorate the jar's top
– Glue in spray (you can use also not in spray, but it's more convenient and easier to use)
Steps
Firstly, lay the paper on a work surface and then place the doily, face down. After that apply the glue uniformly on the doily.
Take your doily with care and attach it to the jar.
Be creative, you can attach doilies as you like. For example, covering all jar, or just one part, it's up to you!
Finally, don't forget to decorate the top of the jar with a lovely ribbon.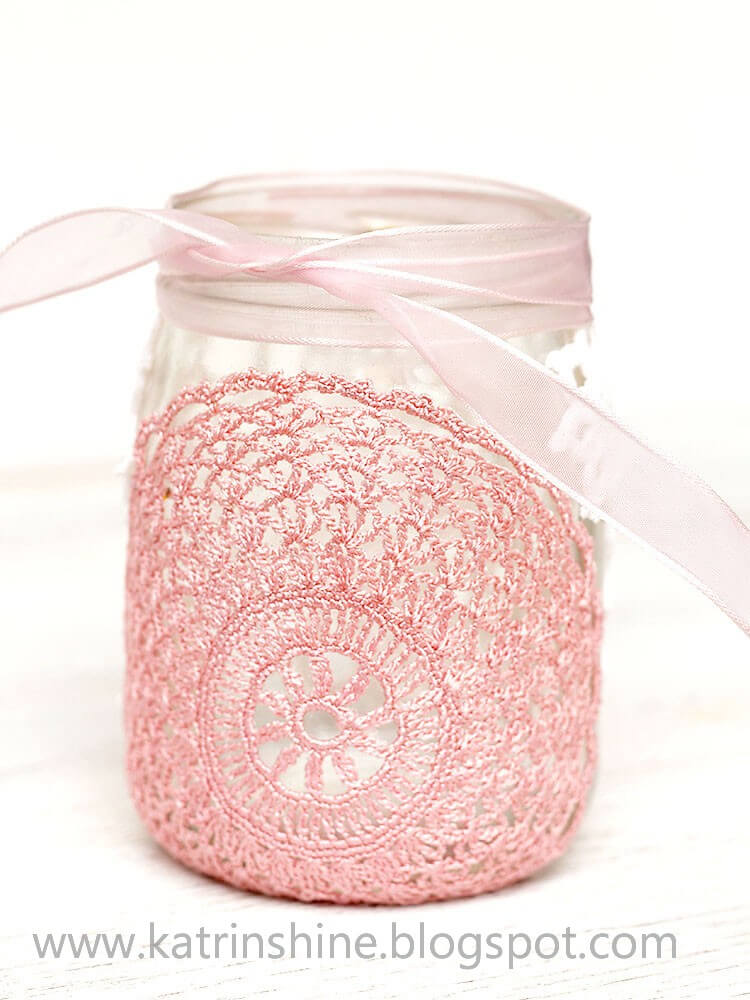 Advert
source
4. DIY Laced Cement Votive
Did you know that some gentle lace can create such intricate lines in concrete? You will need cement powder, paper cups to mix cement in, wooden sticks so you can easily stir cement mix, some coins, a disposable container, a smaller disposable container, sandpaper, and pliers. Don't hesitate, to make this DIY-laced cement votive, just click here for more information and here you can also find the steps.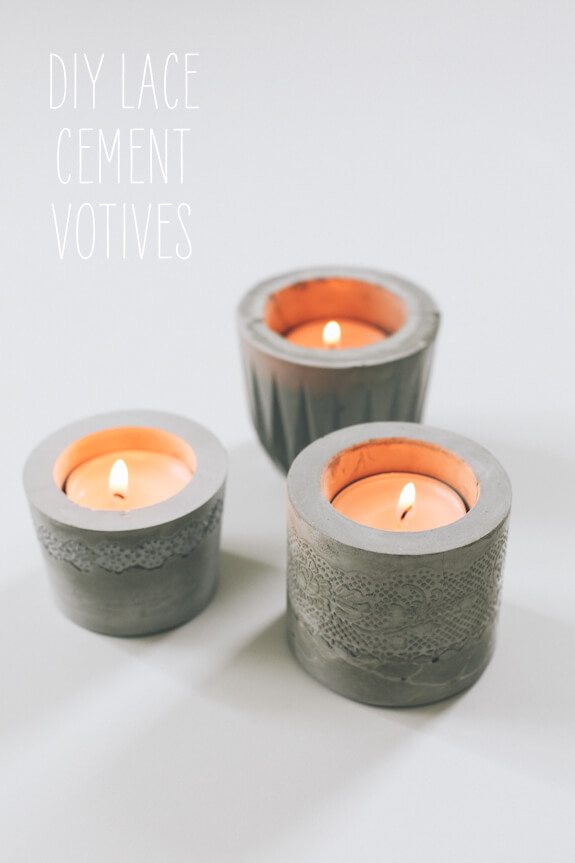 source
5. Prism Candle Light
As you can see, prisms and kaleidoscopes transform light into art. Isn't it beautiful? You can easily make your own prism candle holder. What's more, it can be a lot of fun if you do it together with your friends, or even with your little daughter! You will need a mason jar, round glass decorative elements, glue, ribbon, tea light, lighter and brushes. Let's make your own candles, you can find the tutorial here.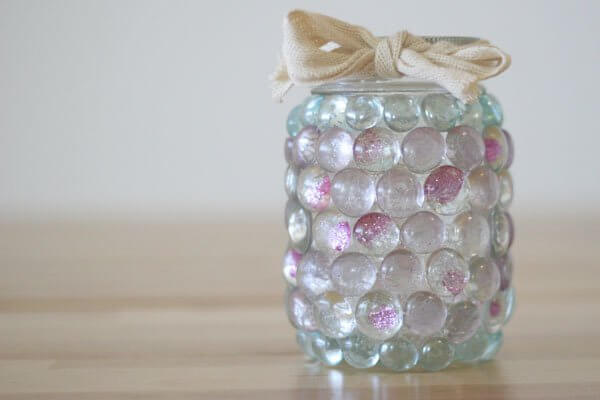 source
6. DIY Doily Candle Holder
There is no doubt that handmade lace crafts are incredibly cool and awesome nowadays. Personally, I can't get bored of them because they are so beautiful and look unique all the time. You will need old crochet doilies, a balloon, wallpaper glue, a tin candle, a nylon string and a needle. If you feel adventurous you can even use your own handmade crochet! Check out the steps now!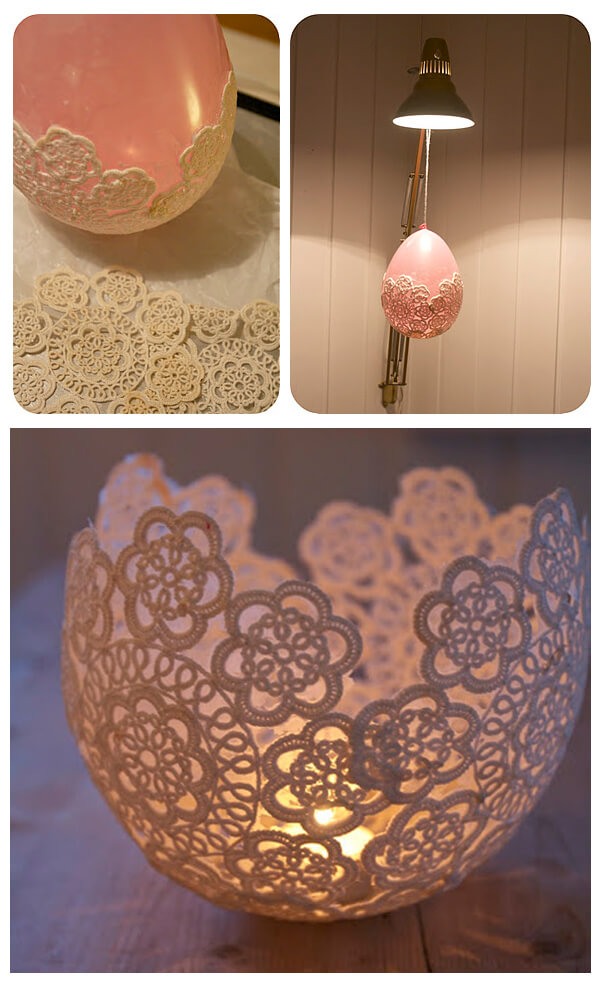 source
7. DIY Burlap and Doily Luminaries
Would you like to add the elegance of simplicity to your home? Well, then you shouldn't miss this idea! You will need a glue, some doilies and any kind of decorations you like. Use your imagination and create something amazing! It's so simple that you even don't need to find out more about the steps.


Advert
source
8. DIY Wooden Block Candle Holders
If you are fond of pure designs and simple, but unique shapes, you should try out this project! The square edges of the block contrast beautifully with the soft round lines of a candle. You will need a whittling block, white craft paint, paint brush, dot stickers and a 7/8″ drill bit (or one that matches the size of candles you will use). Explore the steps here.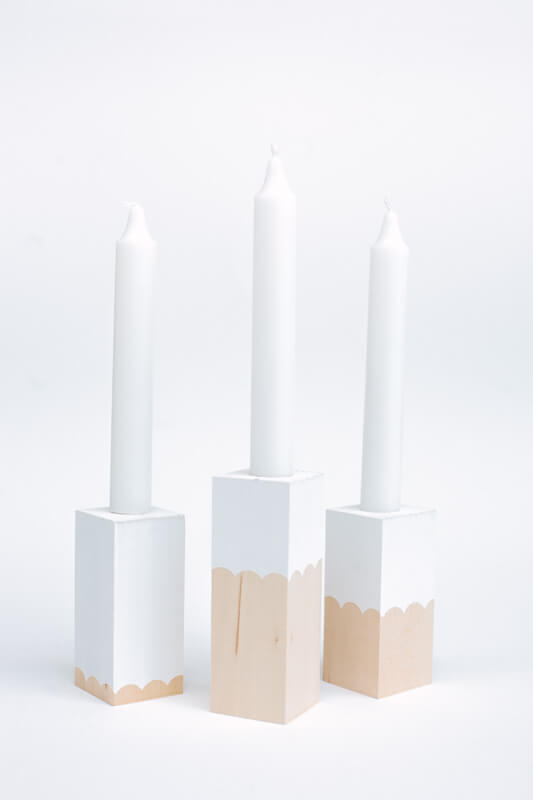 source
9. DIY Cut-paper Candle Holders
Grab some simple glass containers and turn them into something cool! If you have an X-acto knife, you can cut a billion different-sized U shapes into the paper and bent the little flaps over so they stuck out. Of course, it's not a problem if you don't have this special knife, you can use ordinary scissors as well. It's such an interesting texture when the double-stick tape secured the wraps. (If you don't want to use a glass container, then do not light ordinary candles, use electronic ones, so nothing will burn!)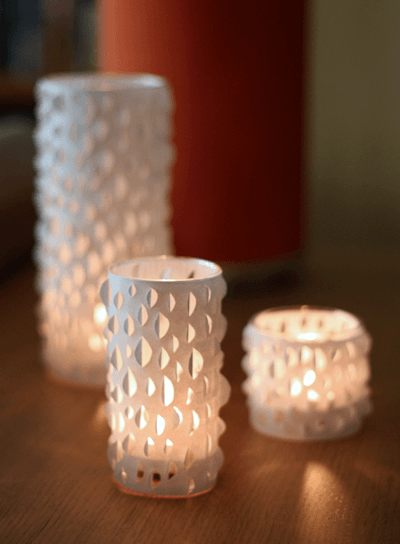 source
10. DIY Copper Candlestick Holder
If you don't have enough time to source DIY ideas or you just don't want to buy expensive materials but feel inspired to create something cool craft, the following copper candleholder is perfect for you. It will bring a modern look to your home. You will need some thin copper coil, (you can find this ingredient at a hardware store in the copper pipe section) and a candle.
First of all, bend the copper coil around something circular (you can even use a big roll of tape), keep bending until you make a little perch  on top for the candle. Pinched the pipe closed with a pair of pliers to get a sharper edge and after that, cut a matching slit at the bottom of the candle while using dull scissor tips. Finally, wedge the candle over the sharp edge and you are ready! Be creative, play with sizes and shapes! Fortunately, the copper is soft enough to create bigger shapes.


source
11. Gold Dipped Log Candle Holders
Something old and natural combined with something shiny and new. 
There is no doubt that gold is one of the colors of Christmas. It is such a warm color, isn't it? So you shouldn't miss golden crafts at Christmas time! When the weather is nice, have a walk with your friends, family, sweetheart or one you like in a forest or park and collect some thick wood pieces. Drill the middle of them carefully, create small channels. Of course, you shouldn't ignore the size of the candle as well. Your next step is to cover these little wooden candle holders with some golden paper or paint them with golden acrylic paint. It's just a simple way to have some unique DIY candle holders. What's more, you will never get bored of this rustic and modern style.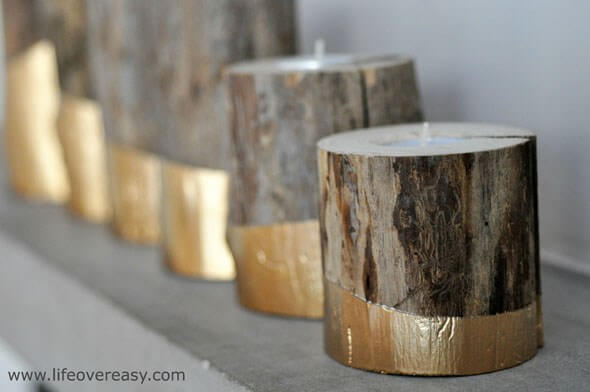 Advert
source
12. DIY Scented Candles in Vintage Tea Cups
As a vintage decor addict, I have to share this beautiful idea with you as well. Vintage tea cups are special crafts you can't buy anywhere but they are so special that you shouldn't miss them! But where can you get vintage tea cups? Well, a flea market is always a good idea if you are looking for something old-unique-vintage. In addition, it's time to discover your attic and cellar, maybe you will find treasures!
So have you fallen in love with these vintage tea cups? Click here for the instructions and let's get it started!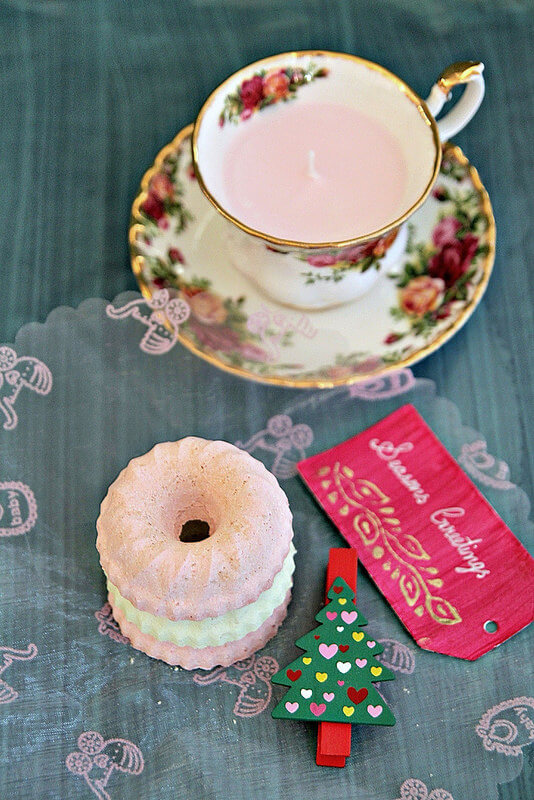 source
13. DIY Copper Striped Candle Holders
Here is another copper-based idea, and what a genius but simple idea! Grab a copper tape (thinner size allows for creating more intricate designs) and just simply wrap horizontal rings of copper tape around your glass candle holders. To tell the truth, it's not easy to  keep the tape straight and make sure the ends matched perfectly but be concentrated and you can do it! What's more, I have a useful tip for you as well. If you wear gloves, you won't make fingerprints on the tape. Your craft will look just like a brand-new IKEA product if you start the copper stripes off closer together at the base and then spread them further apart towards the top.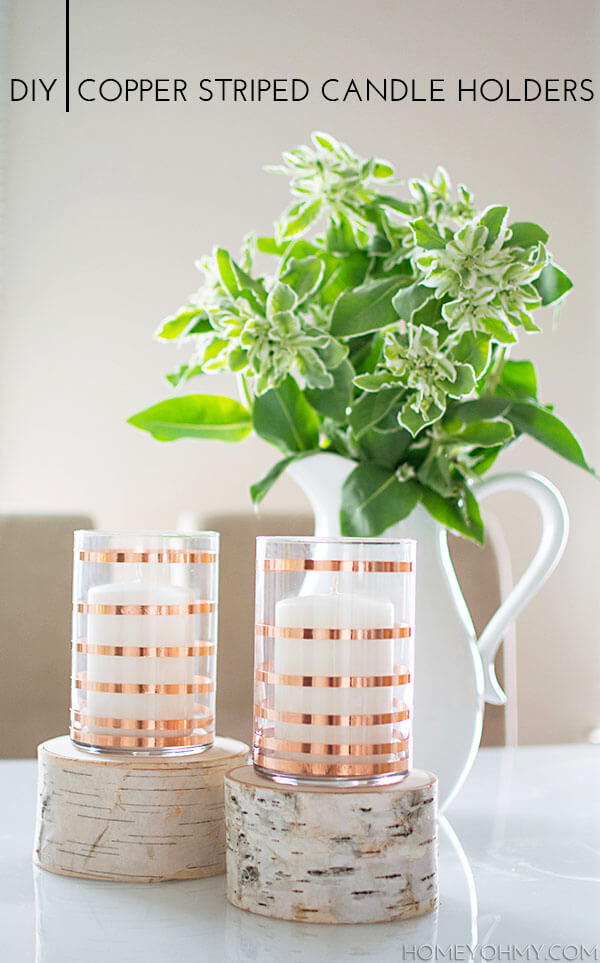 source
14. DIY Handmade Shell Candles
Sea and ocean lovers, attention, please! Here is a wonderful and easy shell candle project you should try out at home.
Firstly, collect deep shells that sit upright. It's good to know that the deeper they are the longer burning time you'll have. Then use pre-waxed wicks and glue them into the center of the shells. After that, gently melt the wax over a low heat when the wicks are secure. Don't forget to leave the wax to cool fully before you move them. Voila, your DIY handmade shell candles are ready! They are perfect for accessorizing a bathroom or dressing up a table arrangement.


source
15. DIY Tiny Concrete Candlesticks
If you are looking for a more complex and complicated craft project, this is for you! Discover a new twist on an old favorite – it's the colors and shapes that make this one so special. More information here.

Advert
source
16. DIY Rustic Tea Light Candle Holder
Do you have a block of wood lying around for which you never imagined a use? Great! Grab it and turn it into a rustic tea light candle holder! Follow the steps and enjoy your crafting time. The best thing is that you can use it all year long and it can become a perfect gift as well. If you are a member of a yoga group, you can surprise your friends with this lovely gift.

source
17. DIY: Easy Rope-Wrapped Candle Holder
'Isn't it great to find a use for something that you would otherwise have thrown out? Everything here is made up of what you would have considered 'junk'.' Sounds awesome! Let's have a closer look at it. You will need painter's tape cardboard core – or any tape core really, jute rope – or any thick rope of preference, paper tape, twine, hot glue and scissors. First of all, cover up the inside of the tube with paper tape and cut up the excess. After that, you can start wrapping around it with the rope, don't forget to hot gluing every few inches. Then just cut the rope at an angle parallel to the wrapped tube when you get to the end. Your next step is to take your twine, braid it, and hot glue it on the edges of the tube like so. Finally, place your candle in the middle and you are ready.


source
18. DIY Film Candle Holder
It's time to turn negatives to positive! Old negatives make for interesting, nostalgic additions to any project. You probably have your old baby photos in negatives, so it can be a good idea to use them in this project. What's more, Christmas is around the corner and if you would like to surprise your mom with something special, don't miss this project! You can find the details here.


source
19. Stained Glass Votive
I often use this super-quick technique when I want to surprise my friends and family. If you would like to create something beautiful within a few minutes, this idea is for you! Materials you need: tissue paper in your desired colors, glue (I use decoupage varnish & glue, but simple school glue is also good), paintbrush, scissors, glass votive holder to fit your candle and paper punches in various shapes. Check out the steps here.

Advert
source
20. DIY Mercury Glass Candle Holders
Nobody will tell the difference between a real and your DIY mercury glass. Fortunately, these candle holders are very easy to make. Click here for the details.


source
21. DIY Painted Votive
There is nothing better when you can use everyday items creatively. Discover how to use leftovers from previous creative projects for new ones. Scribble watery paint on the inside of clear glass candleholders and don't try too hard…if you mess with them too much you'll just make brown.


source
22. Feathered Votive Holders
Let's dress up your simple glass votive holders with some feathers. You will need a hot glue gun, feathers, and a ribbon. The method is simple: glue up the center of each feather, press it to the glass and hold until secure. Just continue it all the way around,put a ribbon along the bottom and your craft is ready. I have an extra tip for you: try to avoid excessive glue because it will show through when lit with a candle.


source
23. DIY Faceted Clay Tealight Holders
Do you like imperfect shapes? Then try out this project and don't get afraid of concentrating in order to make everything perfect. Crafts you do on your own are always perfect!

Advert
source
24. Heart Candle Holder
I can't get bored of heart-shaped crafts. What about you? Check out the steps here.


source
25. Lotus Candle Holders
Did you know that lotus is associated with purity and beauty in Buddhism and Hinduism? No wonder that this elegant lotus flower is a welcome addition to any decor due to its elaborate and intricate natural design. Find out more about this project.


source
Advert