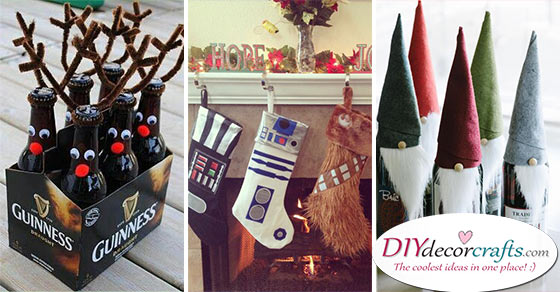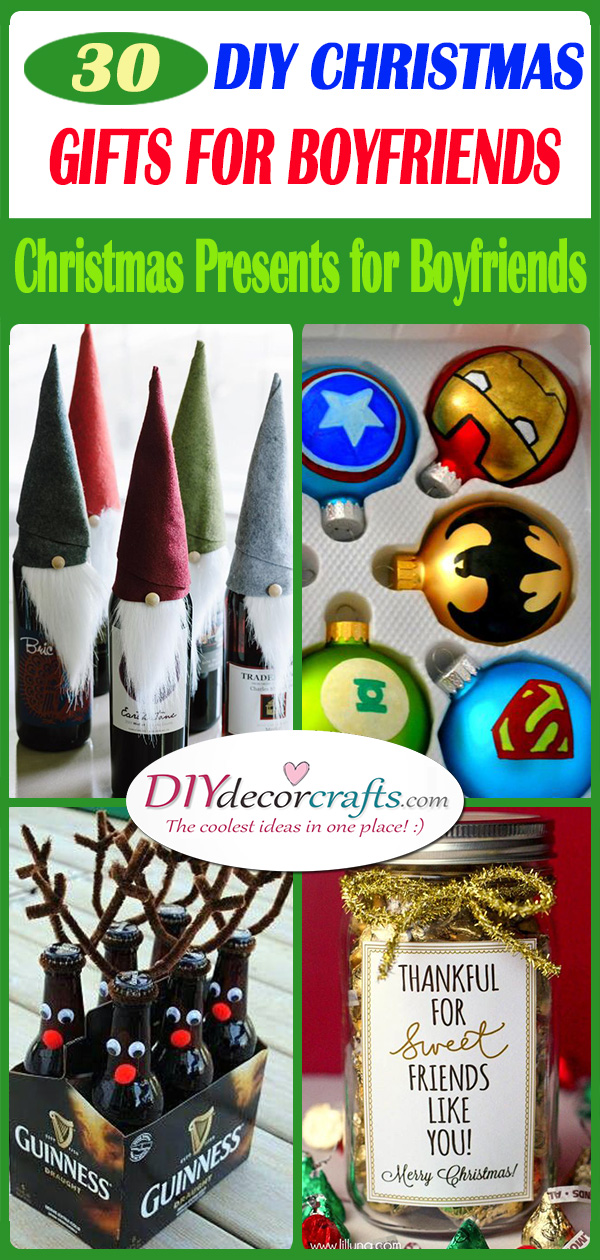 There isn't long until Christmas arrives and it's never too early to prepare for this special holiday! Christmas is the perfect time to spend time with your loved ones, with your family and friends. It's also a great time to express how much you treasure your loved ones, by making them a whole array of Christmas gifts! Do you have a boyfriend who you need to buy a present for? If you have run out of time, or have no ideas what to get for your boyfriend, take a look through our Christmas presents for boyfriends. We have collected 30 DIY Christmas gifts for boyfriends, so you will be sure to find some inspiration!
1. Dressing Up the Wine – Cute for Christmas
If you have completely run out of time and don't know what to get for your boyfriend, get him a bottle of his favourite wine! Then make sure to dress it up in a Christmasy way. Add a pointy elf hat to the bottle, which you can create out of felt. Also, add a small nose to the bottom of the hat, this can be a bead or a button! Naturally, don't forget to add a beard, which is made out of cotton wool!
2. Christmas Tree Decorations – For a Superhero
If you love arts and crafts and would like to make something for your boyfriend, check this idea out! Make Christmas tree decorations for him! Paint superhero symbols on each one, including Superman, Batman and even Spiderman! Depending on who his favourite superheroes are, make sure to recreate those on his Christmas decorations.
3. A Bucket of Fun – Christmas Presents for Boyfriends
Here is another fabulous Christmas gift idea for your boyfriend! If you can't decide on buying him one thing and end up getting him a few items, then place them all in a bucket! Decorate the bucket by yourself with some paint to give it a Christmas vibe. You can attach a small note to the bucket that reads "hope your holiday is buckets of fun!"
4. An Honest Opinion – Funny and Unique
If you and your boyfriend have a favourite movie or TV show which you love to watch together, use that as inspiration! Describe your friend using characters from that show. For example, if you love Harry Potter, you can tell your friend that he is as smart as Hermione, as courageous as Harry and as funny as Ron. Or if you watched Toy Story together, you can write that he is as clever as Woody, as loyal as rex and as brave as Buzz.
5. Add Some Antlers – DIY Christmas Gifts for Boyfriend
So you have decided on getting your boyfriend a crate of beer for Christmas. This is a great idea, but make sure to give it a Christmas vibe! Decorate the bottles of beer with antlers, googly eyes and red pompoms for their noses. In no time at all, you will have a whole herd of reindeers instead of standard beer bottles! A gift such as this would also make a great present for anyone who loves beer, for example, a Christmas gift for your dad!
6. A Multitude of Treats – Mason Jar Ideas
Here is an easy and simple Christmas gift, which anyone will be guaranteed to love! Decorate mason jars to make them look like reindeers. Add antlers to them, coat them in brown paint, paste some googly eyes on them as well as red pompoms for noses! Then fill each mason jar with a multitude of treats. This can mean chocolates as well as seasonal candy!
7. A Minty Friendship – Christmas Gift Ideas for Boyfriends
It's always fun to play around with words! So when it comes to Christmas presents, why not give them a try? For example, get your friend a bottle of liquid soap that is mint flavoured. You can attach a small note to the soap which reads "we are mint to be friends." This adorable play on words will definitely bring a smile to your friend's face!
8. An Advent Calendar – Christmas Presents for Boyfriend
Create an Advent calendar for Christmas ideas for boyfriends! Use matchboxes for this, wrapping them up in cute paper and sticking them onto cardboard. Then write a number on each matchbox and place a treat inside! Your friend will have to wait to open each matchbox.
9. Starry Friends – DIY Christmas Gifts for Boyfriend
You might have heard of the quote that says "friends are like stars, they come and they go but only the true ones glow." If your friend has always been a true friend to you, make sure he knows it as well! Write this quote on a wine bottle and place a string of fairy lights inside. When your boyfriend lights this up at night, it will look like a hundred stars glowing in the sky!
10. M&Ms in Christmas Design – Cute and Tasty
Here is another simple gift you can give to any of your friends for Christmas! Decorate M&Ms packets to make them look like reindeers! Create antlers for them out of wires, use googly eyes and a pompom for the red nose!
11. Santa's Helper Hat – DIY Christmas Gifts for Boyfriend
Do you like knitting or crocheting? If so, why not create a cute Santa's helper hat for your boyfriend? This is a great way of giving Christmas vibes with a Christmas present! It's up to you what sort of colours you decide to use. You can add some elf ears to the sides of the helper hat, as well as a pompom to the end of it!
12. A Hot Chocolate Mix – Perfect for Winter Nights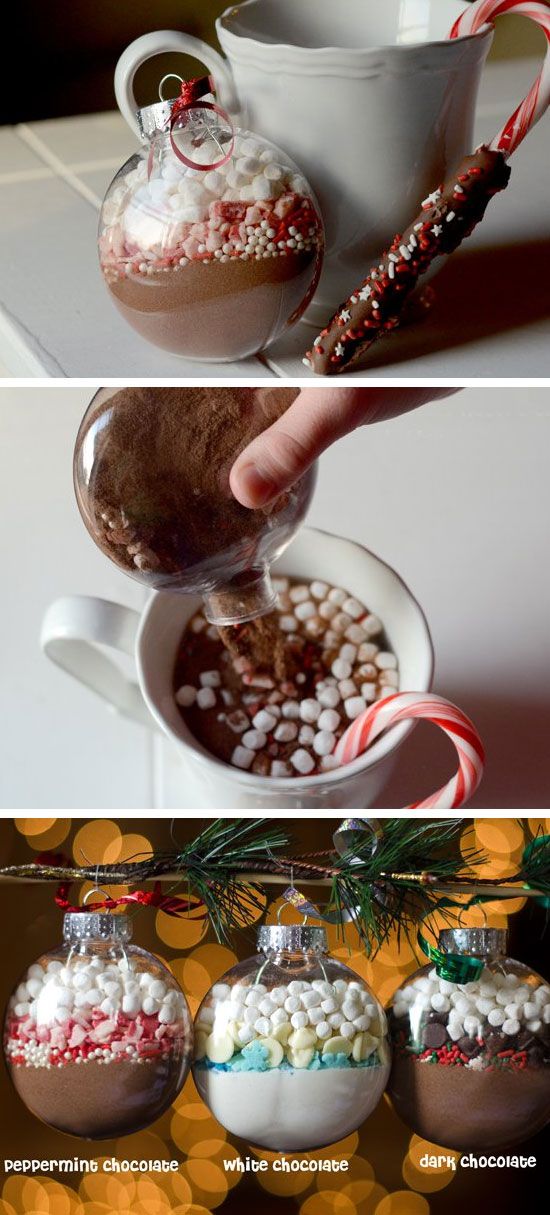 There's nothing like a mug of hot chocolate on a cold winter's day! Put together hot chocolate mixes in Christmas ornaments as Christmas presents! You can pour some cocoa powder inside, add some chocolate chips and marshmallows as well! Whoever receives this gift will just have to empty the insides of the ornaments in mugs and pour hot milk over it! Unless they'd like to keep it as a homemade Christmas tree ornament.
13. A Wine Bottle Crochet – Christmas Ideas for Boyfriend
Make sure to cover up the bottle of alcohol you give to your boyfriend during Christmas! If you love to crochet or knit, why not create the image of a snowman? Pull this crocheted wool over the bottle of wine and voila! A snowman! You can add a few buttons to it, an orange nose and a scarf!
14. A Box of Photos – Lovely Memories
If you are in search of a more simple, but heartwarming gift, then this is one of the best Christmas gifts for boyfriends you can find! In a small box place a few dozen tiny pictures of you and your boyfriend. Make sure to include happy memories, when the two of you were having a blast! This gift will be perfect for Christmas or even a birthday present for your boyfriend, as it is personal!
15. The Grinch – DIY Christmas Presents for Boyfriend
It's always fun and fantastic to give Christmas ornaments as presents to your friends for the holidays! Why not decorate them yourself this year? A great idea is to make them look like the Grinch! You can paint faces on the ornaments yourself after painting the ornaments sparkly and green!
16. A Bundle of Letters – For Each Occasion
Everyone has bad days when you feel angry, sad, bored or demotivated. Make sure your friend has a bit of emotional support when he is facing one of his worse days. Write him letters for every sort of occasion and put them into envelopes. On the envelopes write down when he should be open the letters, for example, for when he needs a laugh.
17. A Candy Sleigh – Adorable and Tasty
Here is another cute idea to create for your boyfriend this Christmas! Put together a sleigh out of candy! You can use candy canes for the runners of the sleigh and you can even place a small chocolate Santa on top of it!
18. His Favourites – DIY Christmas Gifts for Boyfriends
Find the best Christmas gifts for boyfriends! Here is a fabulous gift box for any man for Christmas! Depending on what your boyfriend likes, make sure to place his favourite items in a box. This might be his favourite whiskey and a cigar. Arrange it stylishly in a box for a special effect!
19. Star Wars Socks – Christmas Stockings
Channel the Christmas atmosphere with your present! Give your boyfriend Christmas stockings with a few gifts hidden inside! If your boyfriend loves Star Wars, make sure to get him stockings which are created in that theme. He will have to hang his stockings above the fireplace and wait for Christmas Day to check what is inside!
20. Cookies in a Cup – Christmas Presents for Boyfriend
Are you planning to bake cookies for everyone for Christmas? Then make sure to present them in a Christmasy way! Place the cookies in cups, which are wrapped around in red and white yarn, resembling Santa's clothes. You can also add a few buttons to the cups.
21. A Jar of Everything – His Favourite Things
If you are unsure about what to get for your boyfriend this Christmas, why not get him all of his favourite things? This can mean small treats, like a bottle of wine, beef jerky or some candy! Then arrange this all in a big glass jar!
22. Snowman Poop – Christmas Presents for Boyfriend
Make sure you draw a smile on everyone's face this Christmas, by gifting them snowman poop! This is no other than some mints. Attach small notes to boxes of mints which read "head you've been naughty so here's the scoop – all you get for Christmas is snowman poop!"
23. The Best Hot Chocolate – A Touch of Baileys
As we mentioned before, mugs are hot chocolate are perfect treats for winter! Put together the dry ingredients for a good hot chocolate in a mason jar. Attach a small bottle of Baileys to the jar. The Baileys will take the hot chocolate to a whole new level! All your gift recipient will have to do is pour some hot milk over the ingredients and stir it together!
24. Best Friends – A Beautiful Necklace
Make sure your boyfriend knows how much he means to you as a friend! There is no better time to do this than at Christmas with a necklace! Get necklaces for the both of you, both pendants should be shaped like puzzle pieces which can be connected to each other. Then have the words "best friends" engraved in both pendants! This will make the perfect gift for Christmas.
25. Coca Cola Reindeers – Christmas Presents for Boyfriend
If you are in search of a simple and easy gift to make for your boyfriend for Christmas, look no further! Not to mention, it will make a bit of awesome Christmas party decor as well! Grab a bottle of cola and decorate it to make it look like a reindeer! Add antlers, eyes and a red nose to it!
26. Chocolate Reindeers – Quick and Easy Gifts
Create some chocolate reindeers for all of your friends and family for Christmas! It's an easy and simple gift to make. All you need to do is cut out the heads of reindeers out of paper and add some googly eyes to them! Then stick chocolates on them, as if they were the noses of the reindeers!
27. A Bit of Decor – Cosy Owls
Make some Christmas decor for your boyfriend! Create a picturesque image on a slice of a tree stump. Paint a few wintery tree branches on it, then glue two pebbles to it. The pebbles can be painted as owls, getting cosy in winter clothes!
28. Pocket Hand Warmers – DIY Christmas Gifts for Boyfriends
Do your boyfriend's hands get cold during winter? Make some pocket hand warmers for him! These look like small pillows he can place in his pocket and hold onto when his hands get cold! It's an easy way to warm up during chilly winter days!
29. Jingle With Pringles – Unique and Creative
Everyone loves eating Pringles! They taste absolutely delicious. If your boyfriend loves them as much as we do, create a small play on words and present him with a can of them for Christmas! Attach a small card to the can of chips which reads "hope your holidays' jingle, when you eat this can of Pringles."
30. Feeling Thankful – Christmas Presents for Boyfriends
Christmas is a time to give thanks for all the good things in life! Give thanks to your friends who are in your life by finding some great Christmas gift ideas for boyfriends! Attach small notes to their presents which read "thankful for sweet friends like you!" A simple gesture such as this goes a long way!
We trust you have found some inspiration amongst these DIY Christmas gifts for boyfriends! After all, these Christmas presents for boyfriend are all great! For more Christmas ideas, such as Diy christmas ornaments or Wall christmas tree, check out our website!
Advert