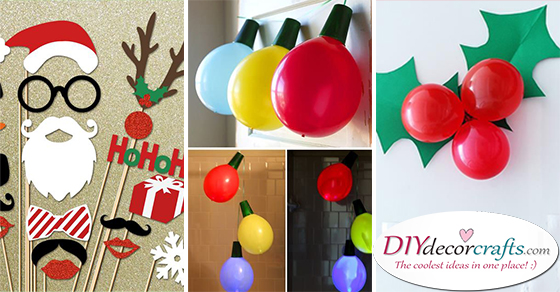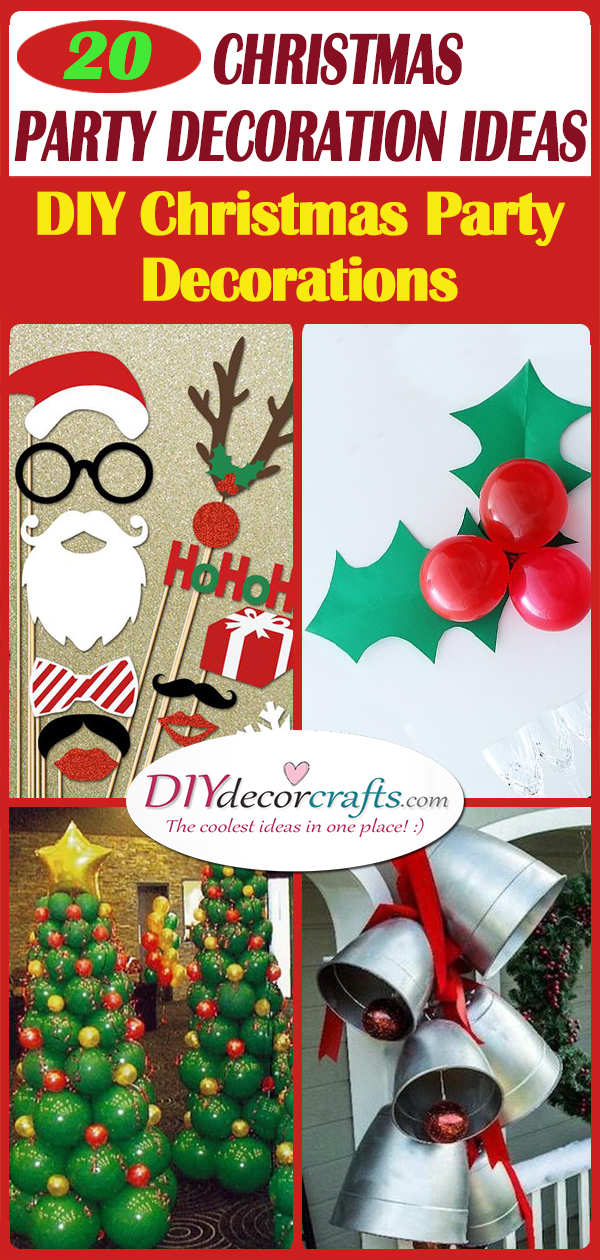 Winter has finally arrived and with it a whole lot of festivities and holidays. This means getting ready for Christmas as well! Christmas is a time of love, peace and harmony. It's a time to get together with your loved ones, friends and family, and enjoy a delicious dinner together and lament upon the past year. Perhaps you will be hosting a Christmas party this year. If so, make sure that you decorate your home or venue up in a beautiful and festive way and look through a collection of ideas for Christmas. This will give your Christmas party a lovely atmosphere, making all your guests feel welcome. That's exactly why we have gathered 20 beautiful Christmas party decoration ideas, for you to find something great. So, look through our pick of DIY Christmas party decorations ideas and hopefully, you will find some inspiration!
1. Photo Booth Props – Having a Merry Time
Christmas is all about having a joyful and merry time! You will probably be thinking about taking some fun photos with your friends and family at your party. If so, make sure to create a small photo booth at your venue, where all of you can pose for a Christmas photo. Besides making a small space for your Christmas photos, you should also make sure to include Christmas props. This means cutting out shapes from paper and glueing them onto sticks which you can hold up in the pictures. For example, create a Santa Claus hat, reindeer antlers, a moustache and a carrot for a snowman nose! Use these in your photos to create the ultimate Christmas picture!
2. A Christmas Frame – Christmas Party Decoration Ideas
As we mentioned just before, taking Christmas photos at a Christmas party is a must! This is a perfect activity in our modern times. It's also a great way of producing a memory which you will able to look back in the following years. Whenever you look back at your Christmas photos you will remember what a fun and festive night you had! To make sure that the photos look amazing, why not create a frame for them which you can pose with? Create the frame out of cardboard, coating it in Christmas wrapping paper and adding Christmas tree ornaments to it. This is guaranteed to look fabulous in your photos!
3. Giant Christmas Lights – Made Out of Balloons
Adding a few lights to your Christmas decoration will definitely give your party a merry and festive ambience. You can create the lights yourself, using a string of small lights and placing blown up coloured balloons over them. This way you will have an array of giant Christmas lights decorating your party, giving the venue a mix of soft, warm Christmas illumination.
5. Create Candleholders – Perfect for the Holidays
When you think about what sort of decorations to use at Christmas, maybe you will consider using candles. They give everything a warm glow, which is a lovely effect for a holiday such as Christmas, which is all about sharing the love. In order to create a gorgeous set of candleholders, you will need some wine glasses! Blow some spray paint over them, to create a shiny glow on them. Then decorate them with red ribbons, buttons, you might even consider placing small bells on them. Turn your wine glasses upside down and place the candles on the bases of the glasses. This is a super easy craft to do and will give your Christmas party a festive atmosphere.
5. Drying the Elf Clothes – On a Clothesline
Here is a super cute idea, which will suggest you had a few helpers around to get you set up for Christmas! Create an abundance of elf clothes out of paper or fabric. Make sure you have an elf hat, stockings, a shirt, pants and boots! Hang these all up on a simple string of yarn and place it between two walls. It will look as if Santa's little helpers' clothes are drying!
6. Throw the Dice – DIY Christmas Party Decorations
Are you considering playing a few games at your Christmas party? If you asked everyone to bring a present to the party, here's a fun game you can play with your guests! Create a board filled with instructions. You and your guests will have to roll dice to see who gets which present. Everyone should start off with one present, then depending on the number of dice you throw you can steal someone else's gift, keep your own gift or make everyone pass their gift to the left.
7. A Branch of Holly – Christmas Party Decoration Ideas
When you think of Christmas or winter, what image comes to your mind? Perhaps it is an element of nature, for example, a fir tree or mistletoe. Another typical gift of nature during the winter season is no other than the holly. If you like the look of this plant, why not use it as inspiration for your Christmas party decoration? Create the red berries out of blown-up balloons. For the leaves, you can use green cardboard or paper, which you cut out to make them resemble holly leaves. Place these branches of holly around your Christmas party venue for a truly merry look!
8. Reindeer Water Bottles – Cute and Cheerful
Another great idea on how to decorate your Christmas party and give it a real festive vibe is by decorating small objects as well. For example, if you are planning to serve bottles of water or bottles of alcohol at your party give them a cute Christmas vibe. You can achieve this in a simple manner, by attaching fuzzy wires to the caps of the bottles, acting as reindeer antlers. Attach googly eyes and red pompoms, acting as the face of the reindeers.
9. A String of Colourful Lights – DIY Christmas Party Decorations
Something you will probably spot in a lot of homes around the Christmas period are strings of coloured lights. You use these lights to decorate your Christmas tree up beautifully, but you might think about placing them in your windows. Either way, these strings of multi-coloured lights definitely bring a Christmas vibe to any house! Create your own set of lights, creating them out of paper! You can use any colours you'd like for the lights. Glue them to small grey pieces of paper, then attach them to a string of yarn and place them anywhere you'd like!
10. A Huge Wreath – Great for Photos
Something we place on our front doors during the winter season is wreaths! They look fantastic and bring a truly festive ambience to your home. Create a huge wreath for your Christmas party as well! Not only will you be able to use it as decoration but in photos as well! Get all your friends and family to gather around, popping your heads inside the wreath for a perfect Christmas photo! You will be able to put this photo in an album and remember this moment in a few years' time.
11. Decorating a Few Bottles – Christmas Party Decorations
If you are in search of an easy and cheap way of decorating your home for a Christmas party, check out this idea! You will need a few empty wine bottles or any sort of glass bottles. Wrap these around with yarn or wool, covering them completely. Depending on what sort of image you would like to create, use the sort of colours that are right for it. For example, if you want to create a decorative Christmas tree bottle, you will need green wool. You can place small ornaments and wrap tinsel around it for the full effect.
12. Brilliant Balloons – Creating Christmas Trees
An easy way of creating cool Christmas trees is by using an array of balloons! Blow up green balloons and paste them together to create the shape of a Christmas tree. Blow up other coloured balloons, but to a smaller size, and attach them to your balloon tree. You can also try finding a star-shaped balloon to attach to the top of your tree. Add some streamers and tinsel to your tree, for that true Christmas vibe.