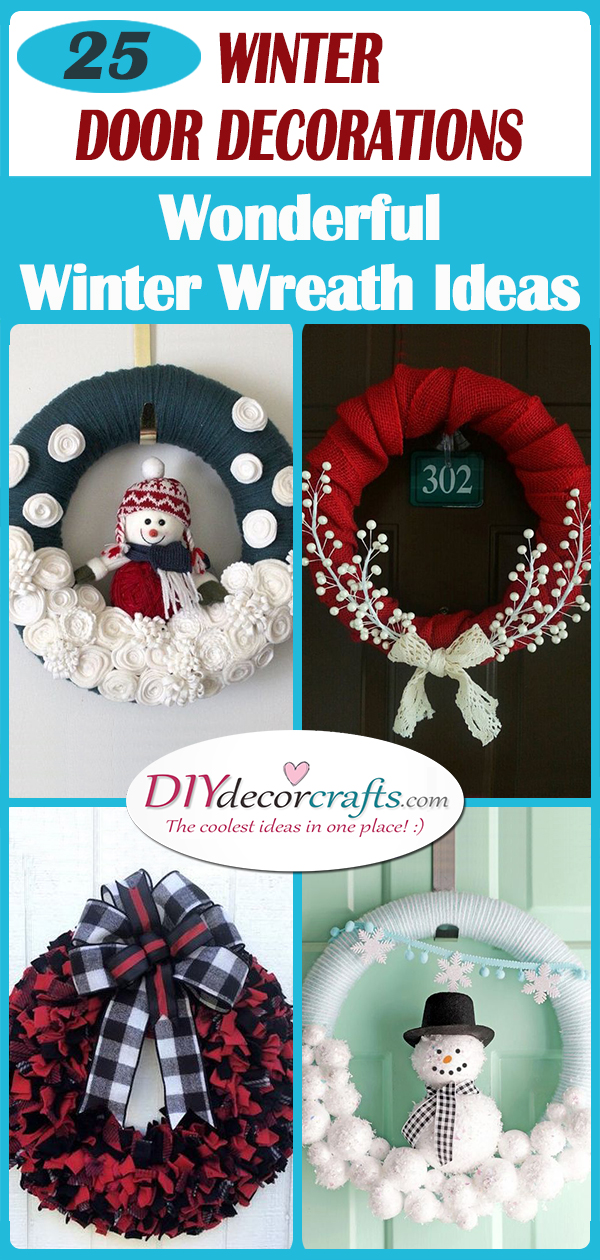 Winter has nearly arrived. A time, when the days are short and the nights are long, making it perfect to cuddle up next to the fireplace. During this snowy season, there are so many fun activities to do. Going ice-skating, skiing, having a snowball fight or getting ready for Christmas, are just a few fantastic things to do. Of course, another lovely activity to do is create some crafts or decor for your home! This might include creating some wreaths for your front door! So make sure to look through our winter ideas collection! There are numerous ways to decorate your front door for winter to give it some lovely vibes. We have gathered 25 winter wreath ideas to help you out in finding awesome winter door decorations.
1. A Winter Wonderland – Creating Fluffy Pompoms
Check out this wreath which captures the ambience of winter perfectly! Use a whole lot of white, fluffy pompoms to decorate your wreath and give it a base. You can make these pompoms yourself, they are super easy and simple to make! After creating the pompom wreath, attach a small figurine of a house to the bottom of the wreath as well as a few fir trees. This wreath will look as if it were a winter wonderland, which is perfect for Christmas! Anyone who visits you this season will admire your beautiful wreath!
2. A Mug of Hot Chocolate – Winter Wreath Ideas
What is a typical drink you will be sipping during winter months? Perhaps it will be a lovely cup of hot chocolate, which will warm you up on a chilly winter's day. Use a cup of hot chocolate as inspiration for your front door decoration! Use red ribbon to create the mug, adding a cut-out paper hand to the wreath. Then use brown ribbon to create the hot chocolate itself. Make sure add a multitude of marshmallows. To create these you will need some wine corks which you paint white. Attach these to the top of the hot chocolate. You might also consider adding a straw to your hot chocolate!
3. Snowy Forest – Fir Leaves and Pinecones
Make your front door wreath look like a snowy, winter forest! This will definitely capture the essence of the season. You will need a bunch of fir leaves and pinecones to create this! First of all, you will need to spray paint the leaves and pinecones, creating a snowy effect. Then start attaching Nature's gifts to your wreath. By the end, you should have a small snowy forest in front of you!
4. An Assortment of Pinecones – Beautiful and Natural
Use an assortment of pinecones to create a beautiful wreath that has a natural ambience to it. Use pinecones of all shapes, sizes and colours to create a gorgeous combination. Attach the pinecones to your foam ring, making a spiralling effect. This means each pinecone should be facing the same direction, creating a clockwise look. For a more wintery vibe, you might consider attaching a few holly branches to it or even a bit of mistletoe! But this wreath is guaranteed to look fabulous even with just the pinecones!
5. Pretty in Plaid – Unique Winter Door Wreath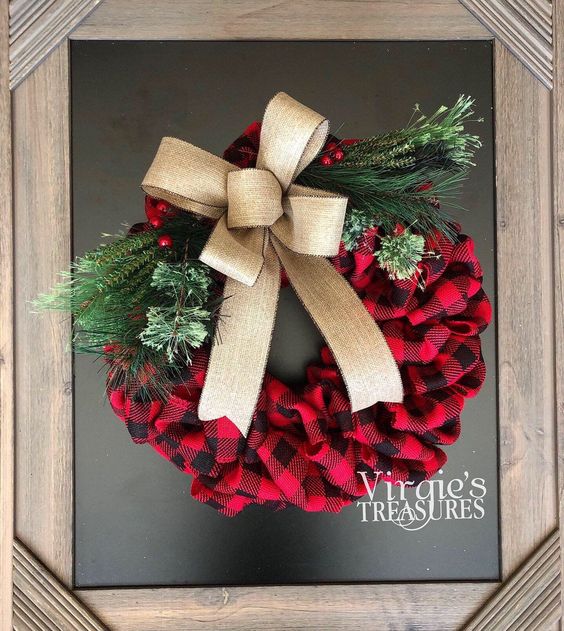 source
What sort of clothes do you wear during the winter season? Perhaps you wear a lot of plaid accessories or clothes, which somehow match the ambience of Christmas. If so, make sure to use plaid material, to create the base of your winter wreath. Attach a burlap ribbon to your wreath as well, creating a rustic ambience with this small touch. For an additional look, you might also consider adding a few fir leaf branches to the wreath. These small additions will definitely bring out the wintery vibe in your front door decoration!
6. Roses and Ferns – Simple Winter Wreath Ideas
Here is a beautiful wreath which will take anyone's breath away when they come to visit you. Create the base of the wreath out of twigs and small branches carefully placed together to form a ring shape. When you are finished with this, it's time to decorate! Use an abundance of white leaves as well as white roses to create a snowy effect on your wreath! Instead of using actual roses and leaves, try finding artificial ones. This will guarantee that your natural elements don't wilt before their time has arrived.
7. An Adorable Snowman – Happy and Cute
Make sure you give your wreath a truly wintery ambience! An easy way of achieving this is by adding an element of the season to it. For example, an adorable snowman! After wrapping the base of your wreath in white ribbon, add a few white pompoms to the bottom of it. You can create these pompoms yourself, as they are super easy and fun to make! Then it's time to create your snowman, out of two pompoms. Use black beads for the eyes and mouth and include a triangle-shaped, orange nose on your snowman! You can add a hat and a scarf to it for that extra effect.
8. Monochrome Checkered Ribbons – Winter Door Decorations
Give your front door decoration for winter a truly elegant look. After putting together the base of the wreath out of fir branches and other sorts of foliage, it's time to design and decorate your wreath! Use black and white checkered ribbons to do the trick! Wrap them around the wreath, or attach them to the fir leaves in the form of a ribbon. You might even consider adding a small note to your wreath, wishing everyone a Merry Christmas!
9. A Snowman Wreath – Festive and Fun
As we mentioned before, using a snowman as inspiration for your wreath is a lovely idea! After all. putting together snowmen is a typical winter and Christmas activity! So it will only make sense to use it as an idea for your wreath! Create your snowman wreath out of two rings, one smaller for the head and a bigger one for the body. Decorate your snowman with holly and a few pinecones here and there. Also, make sure to add a hat to your snowman and a scarf, which can consist of a few ribbons.
10. Balls of Yarn – Winter Wreath Ideas
Here is another fabulous idea on how to create a wintery effect for your front door wreath. First of all, you will need a simple foam ring, which you can attach your elements to. Try using a variety of balls of yarn for this idea. Consisting of white, grey, silver and beige colours, you will be able to create a winter atmosphere on your front door. Attach a few snowflake ornaments to this wreath as well. These will act as an additional touch to bringing winter to your door.
11. Simple and Natural – A Homely Look
You don't have to create something grand and go totally overboard for your winter front door decor! If you prefer to keep things simple, then check out this idea. Wrap a foam ring in a plaid patterned material. You can even use a simple scarf for this idea, to wrap around the ring. Attach some fir leaves to it, creating a wintery vibe. Place a few branches of mistletoe or holly in between the fir leaves. Also, attach a few pinecones to the wreath. This is not only a simple solution, but it is also inexpensive to create and not too time-consuming!
12. Recycled Scarf – Winter Door Decorations
Here is another easy solution for anyone who wouldn't like to spend much money or time on creating a wreath! If you have an old or torn scarf lying around your house somewhere, which you don't wear anymore it's time to use it for creating your wreath! Wrap it around a foam ring, making sure to fixate it, so it stays in place. A scarf will definitely bring a wintery ambience with itself, as these are typical accessories we wear to keep ourselves warm during the chilly season!