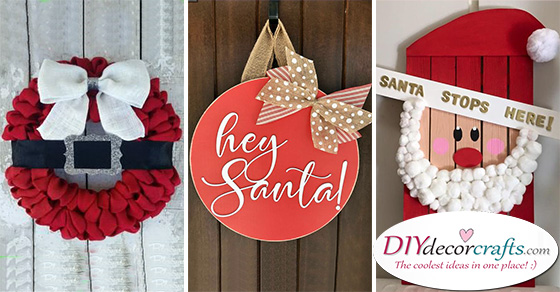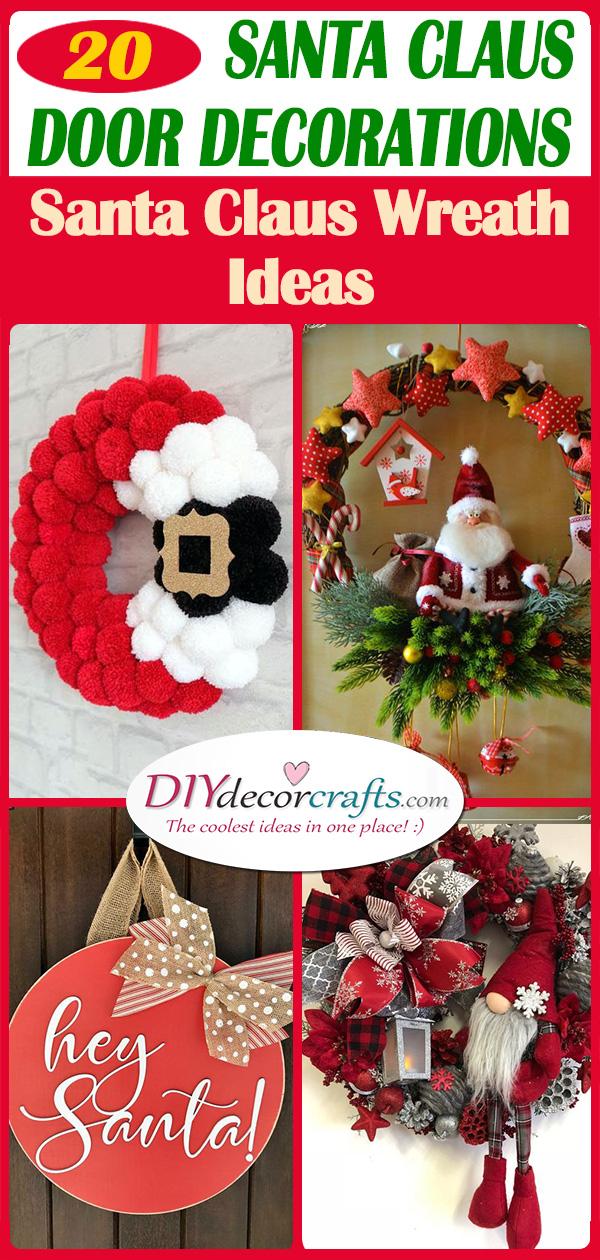 'Tis the season to be jolly! After all, Christmas will soon be here! A time to spend with your friends and family, Christmas is a holiday of joy and love! There are a lot of ways you can prepare for it. Besides baking a batch of gingerbread cookies and decorating your Christmas tree, you may be in search of other ideas! For example, how about using Santa Claus as inspiration for decorating your front door? Put together a wreath or a bit of front door decoration for your home! If you would like to find some creative options on how to do this, check out our pick of 20 Santa Claus door decorations! After looking through these Santa Claus wreath ideas, you will be guaranteed to have found that matches your taste!
1. The Classic Costume – Santa Claus Door Decorations
What do you think Santa Claus would look like if you accidentally bumped into him on the street? If he wasn't wearing his classic costume, you probably wouldn't recognise him! The red pullover and red pants tied together by a big black belt are just a few things which may pop into your mind when you think of Santa Claus! If this is the case, why not use his clothing as inspiration for your Christmas door decor? It is certain to give your door a Santa vibe, which is what you may be in search of!
2. Santa's Little Helper – Cute for Christmas
When it's Christmas, Santa needs some help to get ready for when he needs to distribute the presents around the world! Who does he get help from? Well, his little elf helpers of course! Let's not forget about them and include them in your Santa front door wreath! Add a tonne of ribbons and Christmas tree ornaments to your Santa door hanger, attaching them with the help of a glue gun! Then also attach a small toy, that is shaped to look like a gnome or elf!
3. Say Hello to Him – Santa Claus Wreath Ideas
If Santa turned up at your front door, what would be the first thing you'd say to him? You may decide to welcome Santa and the month of Christmas into your home with a "hello"! As an alternative to making a standard wreath, why not make a door decor out of a wood board? With a bit of paint and a few ribbons attached to it, you can make it look like a Christmas tree ornament. Then paint the friendly and inviting words "hello Santa!" on this wooden board.
4. A Hat and a Beard – The Full Look
Are you the sort of person who really loves getting into DIY crafts? Perhaps you have been contemplating putting together your home decor for Christmas all by yourself! Naturally, this would include your Santa wreath ideas! How about putting together a few of Santa's iconic items, such as his hat and his beard to form your wreath? Use a foam wreath as the base. Attach the Santa hat to its top half. To the bottom, attach a few layers of tulle or cotton wool, recreating his beard!
5. A Bit of Nature – Santa Claus Door Decorations
Give your front door a whimsical ambience with a super cute piece of decor! Using twigs and branches, create the base of your wreath. Wind them together and fixate them with a glue gun. Then it's time to decorate the base with a few wintery elements. You can stick to natural elements, such as fir leaf branches, sprigs of berries, a few pinecones or even mistletoe! Finish off the Santa door hanger by placing a small elf doll in the middle of it, as if he was just sitting and waiting for Christmas to arrive!
6. Adorable and Amazing – Deco Mesh Hat
Do you have any metal witches hat forms leftover from Halloween? Then it's time to put one of these to use, by turning it into a Christmas-themed door decoration! You'll have to get some deco mesh ribbons, in both red and white! Wrap the red ribbon around the shape of the hat, giving it that Santa vibe. Using the white deco mesh ribbons, you can create the fluffy bottom of his cap and a small ball, resembling a pompom, for the very tip. Simply place this Santa Claus door decoration on your front door when you're finished!
7. Homely and Handmade – A Christmas Atmosphere
Bring the atmosphere of Christmas and winter to your front door with these Santa wreath ideas! Attach fir leaves to the bottom of your wreath. You may include a few pinecones or a few sprigs of winter berries here as well. As for the top half of the wreath, fixate some star ornaments, which you can create yourself out of textile and cotton wool! Then sit a Santa doll in the middle of the fir leaf pile, as if he was sitting under the starry sky of Christmas eve!
8. Pretty with Pompoms – Santa Claus Wreath Ideas
Do you have a whole heap of wool, that you don't know what to use for? How about making some pompoms out of them? Use red, white and black wool to create dozens of them? You'll be able to use this for decorating your Santa wreath! Easily attach them to the base of your Santa Claus door decoration, which can be made from foam or wood. Create the image of Santa's well-known red clothes with the white fluffy trims and a black belt. You can attach a golden buckle to the belt part, making the wreath truly come alive!
9. Easy and Effortless – Put It Together Yourself
There are dozens of unique and creative ways in which you can put together a Santa door decoration! You don't necessarily have to go for a wreath, think out of the box! A great example is to attach some wooden boards to each other creating a rectangular shape. Then it's time to use your painting skills! Use black, red and gold paint to create Santa's costume on the wooden boards and his belt! With white paint, paint up the words "Santa stops here in … days." Depending on how many days there are left until Christmas, you can stick numbers in this space!
10. A Welcome Sign – Santa Claus Door Decorations
When you are busy creating your home decor for the winter holidays, do you sing Christmas carols or Christmas songs? If so, why not take a bit of inspiration from one of the songs? For example, the traditional Christmas song "The First Noel" would be a fantastic carol to take an idea or a word from. You can simply place the letters of "Noel" on a wooden board, using a winter wreath for the letter "o." This will look amazing and perfect for Christmas time!
11. A Santa Laugh – Cute Santa Claus Wreath Ideas
Everyone knows the laugh of Santa Claus when he is riding on his sleigh! Ho ho ho! Incorporate his joyful laughter into your Santa door decoration in an easy and simple way! All you need to do is create the shape of a Santa hat out of a thin wooden board, or even cardboard is great! Using paint, start decorating it. Red as the main part of the hat and white for the trim and the pompom on the end! In big letters paint "Ho ho ho" on the decoration, to bring a true Christmas vibe to the door! You can try making this with your children as a Christmas craft idea for kids!
12. A Large Ornament – Festive and Merry
Take inspiration from your Christmas tree ornaments and decorations for you front door decor! Attach wooden boards to each other, that form the shape of a circle. Paint each board red, besides the middle one, which you should coat in black and paint a buckle on it as well! You can paint a few buttons above the belt on the wooden boards for a cute look! By the time you are finished, your new front door decoration for winter should look like a Christmas tree ornament that embodies Santa's spirit.
13. A Crescent Moon – Santa Claus Door Decorations
Here is a super cute Santa door decoration, which may look incredible on your front door! It's a wreath that has Santa's face on one side of it, with both his hat and beard pointing in the same direction, towards a star on the other side! This will create the full circle of the wreath while giving it the sense of a crescent moon. Use any sorts of materials you'd like for this wreath, to give it a unique style and look! It will definitely give your front door a mystical ambience!
14. Cheery and Jolly – Decorating with Pompoms
Give your front door a cheery and jolly look just in time for the winter holidays! How can you achieve this? By making a Santa wreath! Firstly find yourself a wreath base, to which you will be able to attach fir leaves or other winter foliage, such as pinecones or holly! Then it's time to robe it up with an array of pompoms, fixating them with a glue gun to different parts of the winter wreath. Naturally, feel free to include ribbons and bows as decorative elements as well! As a finishing touch, place an elf, gnome or Santa doll in the very middle of it!
15. Arriving at Your Home – Not in Secret Santa Door Decor
As Christmas nears, you'll be getting your chimney ready, so Santa can pop inside and deliver the gifts! Or at least, this is what you'll tell your kids! Take inspiration from Santa trying to get into your home and use this image for your wreath. It may result in Santa diving headfirst into a wreath with his backside showing! This funny idea will give you the impression that even though Santa Claus may be trying to arrive in secret, it doesn't always work out that way!
16. A Crocheted Hat – Santa Claus Wreath Ideas
Maybe you love to knit or crochet. If this is the case, how about you crochet a Santa Claus hat for your front door wreath? You can style the wreath in any sort of way you'd like. For example, you may place a fluffy material on the base of it before fixating the hat on it! Crochet a small sprig of holly as well, to place on the hat!
17. Paint a Snowman – Let It Snow
Have you ever seen the animated movie called The Snowman? It's a cute film to add to your to-watch list for the Christmas holidays, especially if you have kids! You can also take a few ideas from this animation, using the image of the snowman as inspiration. Paint it on a wooden board, adding some other wintery details to the board. Feel free to write up a few words, such as "Merry Christmas" or "Let it snow." It's completely up to you! These will make amazing Santa Claus wreath ideas!
18. The Whole Door – Santa Claus Door Decoration
You don't have to stick to a standard Santa Claus door decoration for Christmas! Instead, decorate the whole door and give it a true Santa essence! Cover up your door in colours, creating a Santa costume. Use red paper or cardboard to cover up most of the door. Then cut out big paper buttons and a large paper belt, which you can stick on the door as well. Your whole front door will be dressed up for the winter holidays!
19. Painting Wooden Panels – In Time for Christmas
Perhaps you have some wooden pallets which you have been wanting to use for something. Create some decor out of it during the winter holidays! Nail the wooden pallets together before painting them to create your Santa Claus image. After the paint on the pallets has dried, you can attach some white pompoms to it, creating your classic Santa beard.
20. Another Crochet Idea – Santa Claus Wreath Ideas
We have already mentioned that you can use crochet or a knit to place on your Santa wreath! Create white and red crochets, one for Santa's hat and the other for his beard. Attach these to the wreath and put together a face for Santa out of buttons! This is a great idea for anyone whose hobby is crocheting! 
We hope that you feel inspired for the winter holidays with these Santa Claus wreath ideas! For other Christmas ideas, such as Christmas window decoration or Christmas table centrepieces, visit our website!
Advert