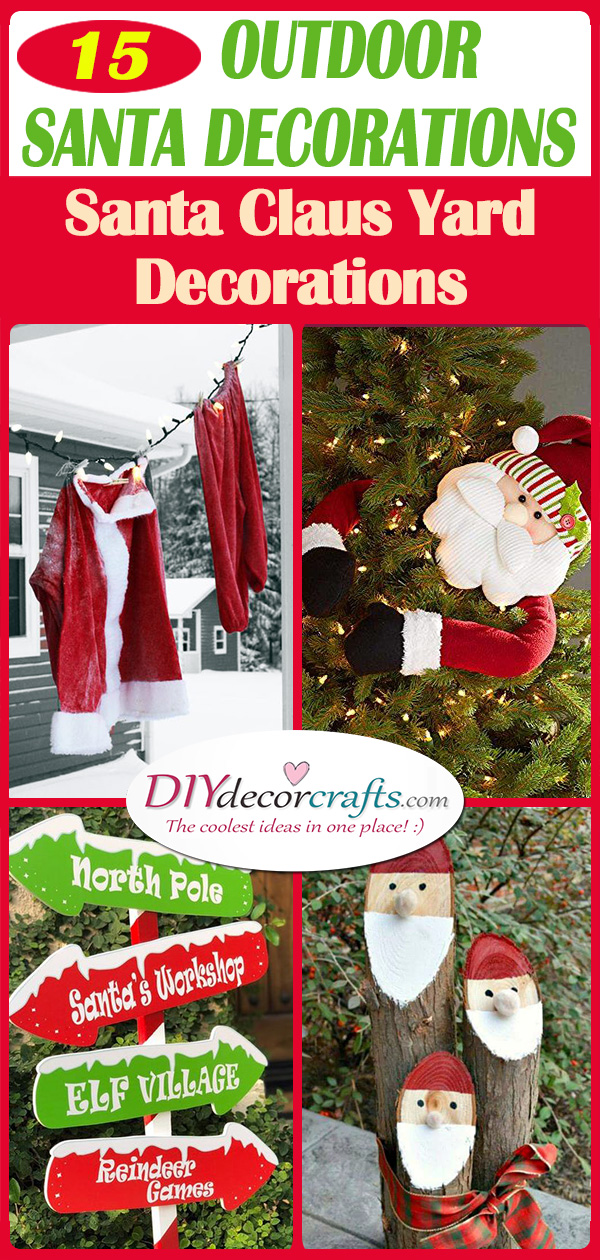 Winter has finally arrived. The days have gotten short and cold, while the nights are long and freezing! Soon enough Christmas will be here as well, which means it's time to get ready for the winter holidays! Naturally, there are a lot of ways you may be getting prepared. Whether it's baking Christmas cookies or building a snowman in your garden, there are hundreds of ways to get into a festive spirit! How about you decorate your home and garden with some fabulous decor? For example, you can add some outdoor Santa decorations to your front and backyard as well as your porch! Check out our 15 Santa sleigh and reindeer outdoor decorations for inspiration!
1. A Few Lovely Ladders – Outdoor Santa Decorations
Do you by any chance have an old and unused ladder lying around in your backyard shed? Or maybe you have some wooden pallets with which you can create a ladder! It's time to turn your old ladder into Santa Claus yard decorations for winter! Firstly, coat the ladder in wintery coloured paint, this might be white, red or green! When the paint has dried, it's time to add ornaments to the ladder, giving it that classic Christmas look. This may include a cut-out Santa or reindeer, some candy canes and even a "hohoho" sign.
2. Hanging Out the Laundry – Drying the Costume
Santa Claus is a working man, which means he probably has quite a few outfits ready for work! Use the idea of his costume as inspiration for your outdoor decoration. You'll need to buy a Santa costume, pants, jumper and the classic Santa hat. Now all you will have to do after this is hang them on a clothesline or a string of lights on your front porch. While this is fairly simple, it will make a fantastic piece of decor for your home for the winter holidays!
3. A Bright Pair of Boots – Santa Decorations for Outside
Maybe you are in search of an idea on how to light up your front porch this winter. Well, here's an amazing idea that will take anyone's breath away who arrives at your home. This is no other than a pair of boots, created out of red polyresin, that has fairy lights placed inside them. Thanks to the resin, the small lights will glow beautifully during the evenings and night, illuminating your front porch with a glorious, warm light. As a bit of extra decor, feel free to place some fir branches and large candy canes in the boots, for that true Christmas vibe.
4. A Stop Sign – Funny and Fabulous
How does Santa know at which houses he needs to stop? Perhaps the kids are afraid he'll forget to stop by your home to deliver a load of presents. Create a funny stop sign that you can place in your front yard. The sign may look like the standard traffic stop sign, but with something else written on it. Instead of just having the word "stop" placed in the middle, paint the sentence "Santa, stop here!" on your sign. Thanks to this, Santa Claus will know exactly where to stop on Christmas Eve. 
5. North Pole Post – Outdoor Santa Decorations
There are dozens of ideas on how to get your garden ready for the winter festivities. Just one of these is to install a unique and Christmas-themed postbox in your garden. Or just give your old mailbox a new look. The postbox will have to be painted red, with candy cane swirling patterns on its sides. Also, paint up the words "The North Pole, express mail" on the box itself. Feel free to get creative and design and decorate your mailbox any way you'd like, as long as you give it the essence of Christmas!
6. The First Noel – Perfect for Christmas
Here is a stunning sign to place on your front porch for the winter holidays! Do you sing Christmas carols or Christmas songs when 'tis the season? If this is the case, make sure to take a bit of inspiration from one of the carols! One example is the traditional Christmas song "The First Noel." This carol would make a good choice to take an idea or a word from. Simply place the letters of "Noel" on a wooden board, using a winter wreath for the letter "o." Then place it on your porch just in time for the holidays.
7. Wooden Santa Ornaments – Outdoor Santa Decoration
Create some Santa figurines which you can arrange on either your front porch or around your garden. You will need thinner logs which you place upright. Attach ropes to both sides of of the logs, acting as the arms of Santa. You can tie gloves on the ends of the ropes, creating the hands! Then attach a face to each one of your log Santas, including an adorable Santa hat on top of their heads! These will definitely bring a festive spirit to your garden during the season.
8. Your Own Outdoor Santa Sleigh – Filled with Gifts
When you think of Santa Claus, what image pops into your mind almost immediately? Perhaps it's Santa riding on his sleigh that is pulled by his reindeer. If so, why not put together a sleigh as a decoration for your garden or porch? You'd be able to put it together out of wooden pallets and then paint it to give it that wintery look. Fill the sleigh up with cardboard boxes that are wrapped to look like gifts. It will look as if Santa has parked his sleigh on your front porch!
9. Climbing Up a Tree – Outdoor Santa Decorations
Spruce up your garden with this simple idea! Do you have a fir tree in your front or backyard? After wrapping it in a row of fairy lights, it's time to add something Christmassy to it! This is no other than a plush Santa doll, which you attach to the fir tree as if he were trying to climb up. In order to make sure that the Santa doll doesn't fall off the tree, you may have to tie him to the tree trunk.
10. Signs Pointing Everywhere – North Pole Activities
If you'd visit Santa at the North Pole, there'd be a lot of activities you'd have to try out! Besides checking out Santa Claus' workshop and seeing how he makes toys, you'd want to see the reindeer and the elf village as well! Create Santa Claus oudoor decorations that incorporate signs pointing in different directions, all fixated on a pole that is stuck into the ground. The signs can have different North Pole locations and activities written on them, giving you a winter vibe.
11. Easy and Cute – Outdoor Santa Decorations
Are you in search of a fairly cheap Santa sleigh and reindeer outdoor decorations? Then check out this idea! All you need to do is tie up a few shorter logs together in a bundle with a Christmas-themed ribbon. But before doing that, you'll have to paint Santa faces on each logs' end. You can even glue a pompom or a button on the logs to resemble Santa's nose. This is a fun Christmas craft to make with kids and will make a super cute decoration for your garden!
12. A Garden Flag – Another Stop for Mr Claus
We have already mentioned adding a stop sign to your garden. As an alternative to making a stop sign that resembles a traffic sign, create a garden flag! Transform your garden flag to look like Santa's face. You can create this yourself, using a wooden pallet and some paint! Then as a finishing touch, paint the words "Santa stop here!" You'll be able to hang this garden flag from a metal pole you place in your garden, or even on your front porch! 
13. Festive and Fun – Santa Decorations for Outside
Besides your whole front and backyard, get your front door ready for the winter festivities as well! You can easily achieve this by putting together a winter wreath or a Christmas wreath for the holidays! Make sure to include an abundance of candy canes and ribbons in your door decoration, to truly give your front door wreath a wintery ambience. Since we are talking about Santa decorations though, why not add a Santa hat to the top of your wreath. Or a pair of Santa pants to the bottom of your wreath with some boots attached to it. Naturally, feel free to add an outdoor Santa sleigh to your garden!
14. For Your Front Porch – Keeping It Simple
Don't forget about adding some wintery decor to your front porch! Organise some pots, vases or buckets on your front porch, loading each one up with an array of the season's foliage. This will include some fir leaves, pinecones or sprigs of winter berries. Add a lantern or two to your porch arrangement, for a warm and gentle glow during the evenings and nights. If you have some sort of seating space placed on your porch, you might as well decorate it for the season as well! Add some pillows and blankets to it, that has Santa's face printed on them or Christmas patterns.
15. A Rustic Welcome Sign – Santa Claus Yard Decoration
Perhaps you prefer rustic styled home or garden decor. If so, then make sure that your Santa Claus outdoor decorations embody the same sort of ambience! A fantastic idea would be to reimagine a simple wooden board and give it a Christmas makeover! First of all, coat it in a layer of red paint. After the red paint has dried, it's time to paint on Santa's famous laugh "ho ho ho" on the board with some white paint. You can substitute the "o" -s with the shadow of Santa's head. Just take a quick glance at the example above!
We trust that this pick of outdoor Santa decorations has given you food for thought. For other winter or Christmas decors, such as Christmas party decoration ideas or outdoor Christmas decoration ideas, visit our website!
Advert