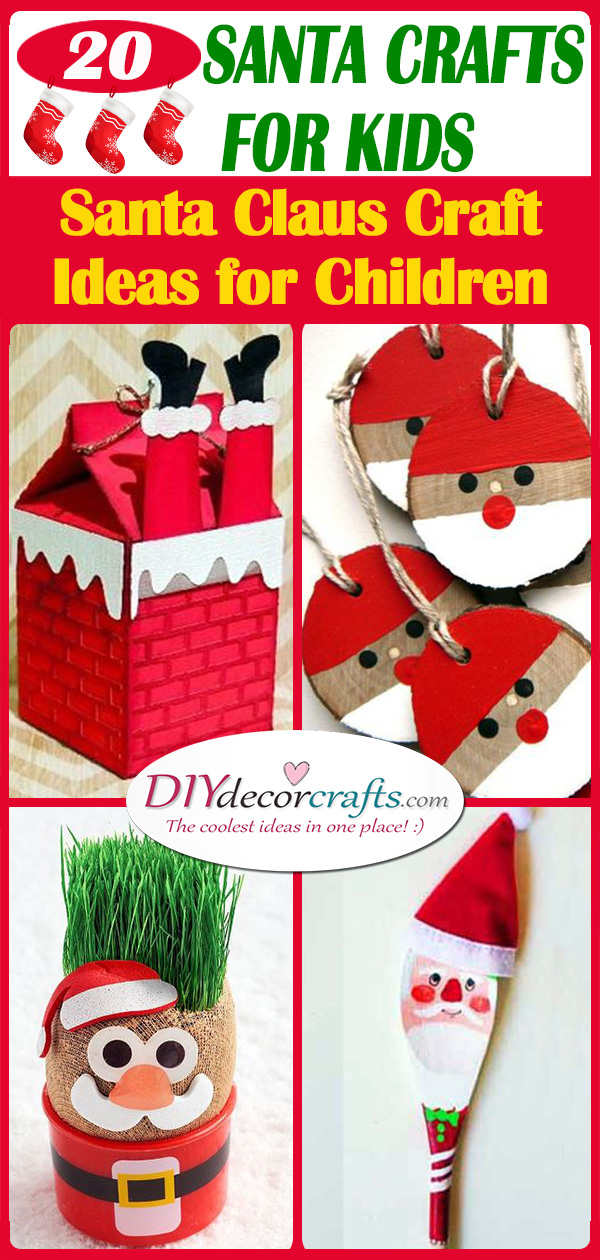 Winter has finally arrived and there are a lot of things to look forward to! If you have kids around, you may be in search of ideas on what you can do during the season with the children! Besides going ice skating, building a snowman, baking gingerbread cookies or making snow angels, there are dozens of amazing ideas to try out during winter or Christmas. Naturally, you may be searching for some wintery crafts, that your kids will be sure to adore! How about you look through our 20 Santa crafts for kids? There are a lot of Santa Claus craft ideas for children that you can make together with them, and even use them as winter decor around the home! So get ready to look through our pick and to get creative!
1. Paper Plate Masks – Santa Crafts for Kids
Make sure to take a heap of cute pictures during the winter holiday! How can you accomplish this easily? By creating some adorable props for photos! A great example would be to make some easy masks. You don't even need to buy actual masks to make these, use paper plates instead! These are a cheap option for making this winter craft! Let your kids cut out spaces for their eyes and glue on all sorts of elements on the plates, giving their mask a wintery look! They might want to make a Santa mask or even a snowman one! Glue a popsicle stick at the bottom of the masks, so they can hold it up in front of their faces.
2. Salt Dough Ornaments – Made with Their Handprints
Perhaps you are in search of a Christmas craft, that will make a fabulous ornament for the Christmas tree! Or just some simple home decor for the season. This is no other than a salt dough handprint, which your kids will be able to keep as a memento for when they grow up. All you need to do is find a simple salt dough recipe and some acrylic paint, that you can use for decorating the handprints later on! Your kids may want to create Santa-themed salt dough ornaments, it's really up to them! These would also make great Christmas gifts for grandparents.
3. A Cool Clothespin – Santa Claus Craft Ideas
Now here's a cute Christmas craft for kids that you can try out this year! It's cheap and super easy to make! The idea revolves around decorating a clothespin to transform it and make it look like Santa Claus! You can accomplish this by first painting the clothespins bottoms in red. After the paint has dried, it's time to use a glue gun and attach small details to the pegs. This can be a mini Santa hat, googly eyes or some cotton wool as a beard. Make sure you help your kids with the glue gun, as it can be dangerous to use! 
4. Perfect Tree Ornaments – Decorating Wooden Slices
Try out making a rustic ornament with your children this Christmas. These will make the cutest handmade ornaments for your Christmas tree! You will need thin slices of wood, which your kids can coat in paint, making the wooden slices resemble Santa Claus' face. After they are finished decorating the faces, you can drill a small hole through each ornament. Thread a ribbon or string through it, allowing you to hang them on your Christmas tree!
5. Paper Roll Inspiration – Cute for Christmas
Get ready for winter by making some cute Santa crafts for kids. There are so many things you can do with paper. A fantastic example would be to create some paper roll garlands! Roll pieces of paper up and attach them to each other, creating a long trail of paper rolls. You can make a long Santa paper roll and attach a cut-out image of his face to the top of it. Naturally, feel free to try out different wintery characters as well using this same technique, such as Rudolf the red-nosed reindeer or a snowman!
6. A Pair of Binoculars – Santa Crafts for Kids
Are your little ones excited to see Santa Claus arrive on his sleigh and bring a heap of presents for Christmas? If this is the case, why don't you put together a pair of binoculars for them, with which they can scan the skies in search of Santa! Use toilet paper rolls as the base of your binoculars, on which you glue red and white fabric, giving it a Santa-esque essence. You can even line the ends of the binoculars with a bit of cotton wool for the fuzzy effect!
7. Wrapping a Present – Unique and Funny
With the arrival of winter, Christmas isn't too far away either! That means you'll have to think about getting presents for family members and friends. But besides making sure that you get or make all your loved ones gifts, also try wrapping the Christmas gifts in a unique and interesting way! You can get your kids to help out. An exciting and funny idea for gift wrapping for Christmas would be to turn the gift box into a chimney, with two boots sticking out, resembling Santa climbing down!
8. Painting Paint Brushes – Santa Claus Craft Ideas for Children
As you will have noticed, there are so many crafts for kids you can choose from! Think outside the box and try out something new for the holidays. For example, create a Santa craft out of a paintbrush! Paint the handle of the brush in red and add some small white polka dots to it. Wrap cotton wool around the ferrule, creating the bottom of your "Santa cap." You can then add some googly eyes to the bristles as well as a pompom nose! This is an easy and cute Santa craft to try out with your kids!
9. Down the Chimney – Creative with Paper
There are so many crafts to make out of paper! How about you create the image of Santa climbing down a chimney? You'll need a toilet paper roll, acting as the chimney. The kids can draw or paint bricks on the roll, making it resemble an actual chimney. Then they will have to cut out legs or a Santa hat from colourful paper and stick it in their toilet paper rolls as if Santa were just heading down. What an easy and cute idea!
10. Cute Cups – Santa Crafts for Kids
Check out these Santa Claus crafts for toddlers to try out with your own children this winter! You'll need paper cups, which your kids can decorate to make them look like Santa Claus, reindeer or snowmen. After they are finished with that, string garlands through the top of the cups, allowing them to hang down from the cups. Feel free to attach pompoms, cut-out snowflakes and stars or cotton wool clouds to your strings. This is guaranteed to look super cute no matter where you hang these paper cup decorations!
11. A Bundle of Santa Logs – Lovely and Easy
Are you in search of Santa Claus crafts to make for your front porch or your garden?  If this is the case, you just might have found an idea to try out with your kids! All you need to do is tie up a few shorter logs together in a bundle with a Christmas-themed ribbon. But before doing that, you'll have to paint Santa faces on each logs' end. Your kids are bound to have a lot of fun while doing this!  You can even glue a pompom or a button on the logs to resemble Santa's nose.
12. Festive Wooden Spoons – Santa Claus Craft Ideas
Sometimes Christmas or winter crafts are made from the most unusual materials or objects! Just one of these is a wooden spoon! Use the head of the spoon as a part to recreate Santa's face. Feel free to paint a face on it and even add a mini Santa Claus cap, fixating it with a glue gun. Paint the neck of the spoon as well, in order to give your Santa spoon a wintery outfit! This is just another easy craft to put together with kids for the season!
13. An Adorable Planter – A Jolly Look
Have you been considering growing some plants this season? You may have to take your plants inside so that they don't freeze during cold winter nights. So, how about you create some cute planters that are painted to look like Santa Claus! Get your kids involved with painting your planters, this is something they will be certain to enjoy! After you planters have been decorated, you can start growing anything you'd like in them!
14. A Pompom Ornament – Merry Santa Claus Craft Ideas
If you know how to make pompoms, why not teach your kids how to make them as well? Pompoms are a fabulous item you can use for creating all sorts of decorative crafts! This would include making Santa Claus crafts for toddlers this winter! Make a few red pompoms out of wool and attach either a wooden ball or a foam ball on top. The red pompom will become Santa's suit, while the top will become his head. Draw a face on the head, attach a bit of cotton wool as a beard on it and fixate a Santa cap on his head! These Santa Claus craft ideas for preschoolers will bring a merry and joyful atmosphere with itself wherever you use it!
15. A Paper Fan – For a Beard
Here is one of many paper Santa Claus crafts for preschoolers to create this winter! While you can cut out the face, nose and hat of Santa from normal colourful paper, throw a twist into your craft! Create a fan out of white paper to use as Santa Claus' beard! After cutting everything out, use glue to stick them together! Let the kids draw eyes and eyebrows on their paper Santa faces!
16. Fantastic with Popcorn – Santa Crafts for Kids
We have mentioned using cotton wool to create Santa's beard. But you may be in search of a more unique and creative idea. How about trying popcorn? Pop your corn kernels, making a small batch of popcorn.  If your kids have already drawn or cut out the face of Santa on a sheet of paper, they can start glueing popcorn on it as well! Use popcorn to recreate Santa's beard and his hair, and even the pompom on the top of his hat!
17. A Popsicle Stick Craft – Simple and Superb
Are you trying to find cheap and effortless Santa Claus crafts for preschoolers to put together with your kids for winter? Then give these popsicle Santa crafts a go! Glue a few popsicle sticks together before coating them in paint, wool or fabric! Or a combination of all of these! Your main goal is to try styling these popsicle sticks to make them look like Santa suits! By tying a bit of string or ribbon to their tops, you'll be able to hang them from your Christmas tree!
18. Awesome Hand Print Craft – Santa Claus Craft Ideas
We have already talked about using your kids handprints in a creative way of making Santa crafts! Here is another idea involving them! Get your kids to draw their handprints on sheets of paper. Then have them cut their handprints out. Transform these handprints in Santas, by glueing cotton wool on the fingers and draw a Santa face on the palm. Also, add Santa caps to their heads as a finishing touch!
19. Fabulous Mason Jars – Festive Decorations for Winter
Have fun with these mason jar crafts! Coat them in glittery paint and create all sorts of winter or Christmas-themed characters out of them! Just a few ideas are to make a reindeer, a snowman or naturally, Santa Claus! After the paint has dried, add small buttons, googly eyes, pompoms or beads to your mason jars. These will be great Santa Claus craft ideas for preschoolers to try out!
20. A Cake Lace Beard – Santa Crafts for Preschoolers
Santa's beard is something you can get creative with! Besides using cotton wool or pompoms as a beard for your craft, let your kids use cake lace instead! It will look amazing as Santa Claus craft ideas!
We hope that you have found inspiration concerning Santa crafts for kids! For other Christmassy ideas, besides Santa crafts for preschoolers, such as winter wreaths or Christmas door wreaths.
Advert