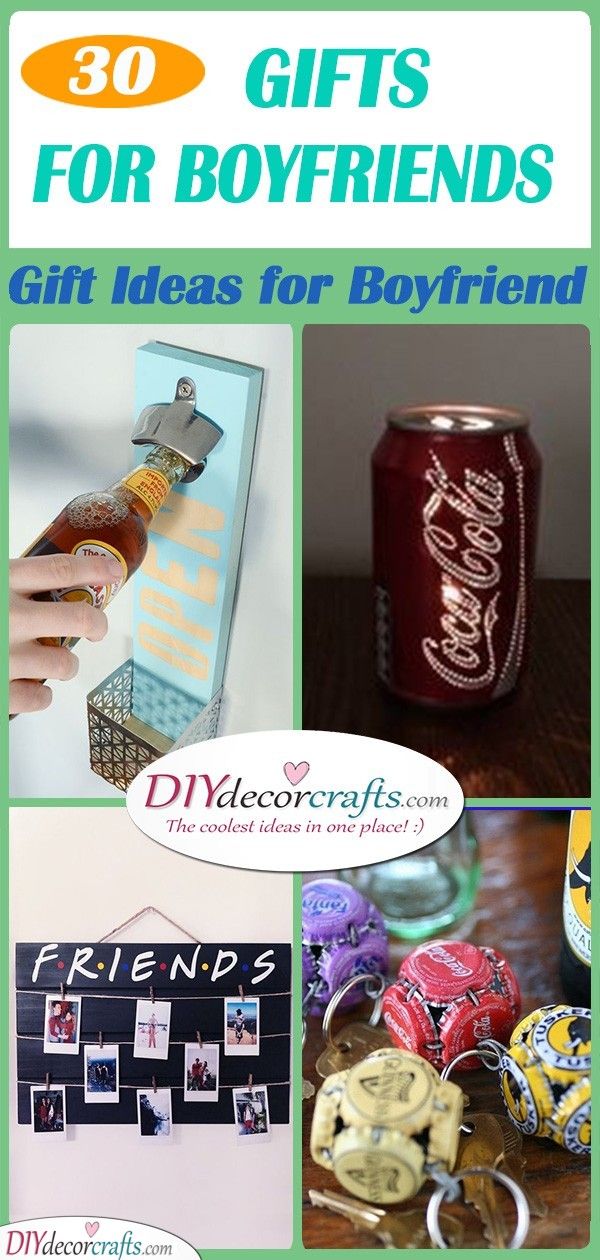 It's sometimes a bit tricky to find your best male friend a great gift, even if you know him really well. Sometimes it's just not that obvious, whether he'd be glad to receive a bottle of wine or a book about science. We have collected 30 fantastic gift ideas for boyfriends, to help you out! Whether it's for a birthday, Christmas or just a special occasion, make sure he feels you put thought and care into buying or making his gifts. So feel free to take a look in our collection of 30 unique gifts for boyfriends, so you can find a bit of inspiration!
1. A Funny Doormat – Welcoming Guests the Best Way
Make sure your friend has an awesome doormat, so he can put a smile on anyone's face who will later come to visit him! You can have some sort of funny text written on the doormat or have a picture drawn on it, there are endless possibilities! These doormats will make awesome present ideas for boyfriends, especially if he is having a housewarming party.
2. Best Friends – A Board Full of Pictures
Do you and your friend have a favourite TV show, for example, Friends? Make him a photo board, stringing polaroids of you two across it. This will make an awesome DIY wall decor idea! You can write up the Friends logo on the top of the wooden board, showing how great friends the two of you are.
3. A Box of Photos – Gifts Ideas for Boyfriends
Are you in search of what to get your boyfriend? Then this will be perfect for you! In a small box place a few dozen tiny pictures of the two of you. Make sure to include happy memories, when the two of you were having a blast! This gift will definitely brighten up your best friend's day, whatever the occasion is!
4. A Keychain – Best Friends are Superheroes
Best friends are irreplaceable, whenever you truly need them, they will be there for you! Does that remind you of something? They're kind of like the superheroes of our everyday lives, always watching out for our backs! Make sure your best friend knows how you see him by getting him a superhero-themed keychain.
5. Champagne in Disguise – The Best Gift Ideas for Boyfriends
Are you out of ideas on what to get your boyfriend? Well, you can never go wrong with a bottle of champagne. But to make it more special, disguise it to make it look like a pineapple. Cover the bottle with chocolates and attach leaves to the top! This is an awesome and fun idea!
6. Motivational Letters – For Every Event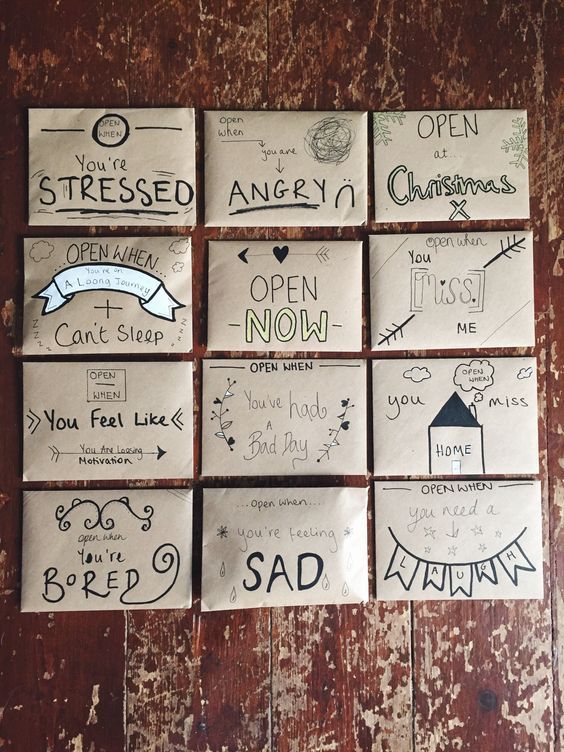 Everyone has bad days when you feel angry, sad, bored or demotivated. Make sure your friend has a bit of emotional support when he is facing one of his worse days. Write him letters for every event and put them into envelopes. On the envelopes write down on which occasion he should be opening the letters, for example, for when he needs a laugh. This is a sentimental gift for a best friend!
7. A Selection of Wines – For a Connoisseur
If your friend is a true connoisseur of wines, make sure you get him a selection of fermented grapes! Buy a white, red and dessert wine for him and place them on a blackboard, where you can write up when he should be drinking them. This is one of many fantastic present ideas for boyfriends!
8. Bottle Cap Keychains – Unique Gifts for Boyfriends
Does your friend enjoy a good bottle of beer or is he always going on about trying out unique craft beers? Make him a keychain using his favourite beer brand's bottle cap! This is a great idea if you want to give him a handmade present!
9. A Charging Station – For Mobiles and Tablets
Living in our modern age, we usually need our phone or some sort of technology to get through our days. Using our smartphones or tablets all the time means we also need to charge them daily. Make a charging station for your friend, make a slot for his phone and tablet, so he can charge them at the same time. Just take a look at the DIY tutorial above, it's quite easy to put together!
10. A Bottle of His Favourite Alcohol – Wrap it Up
If you know your mate has a favourite bottle of booze, why not buy him one? If you want a special twist on it, why not decorate the bottle with some wrapping paper? There are hundreds of creative way to wrap up a simple bottle of alcohol to make it look unique!
11. Tic Tac Toe – Hoardable Game
Is your friend a fan of all sorts of games? Then this one of many unique gifts for boyfriends will be perfect for him! Make a tic tac toe set for him. Gather pebbles and draw either crosses or circles on them, then place them in a burlap bag, that already has a tic tac toe grid drawn on it. He can take this small game with him wherever he goes!
12. Bottle Cap Crafts – Awesome Gift Ideas for Boyfriends
How about you make some cute gifts for your boyfriend? We discussed making keychains out of beer bottle caps before, and here's another great way of making something similar! This gift idea is especially great to give to men who absolutely love beer! 
13. Break the Glass – Chocolate for Emergencies
Everyone needs a bit of chocolate in their life! If you're feeling down, eating a bit of chocolate will always help you get into a better mood! If you've decided on getting yummy chocolate bites for your friend, make sure to give it to them in a funny way. For example, frame them just like in the picture above, and write a message on the glass saying: in case of emergency break glass.
14. A Fuzzy Gift Basket – Unique Gifts for Boyfriends
If you don't have much time or energy to create a handmade gift for your friend, make sure you get him an assortment of his favourite things. For example, his favourite deodorant and perfume, a bottle of his favourite alcohol, etc. Place all these cute gifts for your boyfriend in a mug or a basket before presenting him with this.
15. Sports Lovers – Sports Themed Gift Bucket
Does your friend love all kinds of sports and is he constantly going to matches? Make certain you get him something sport-themed! Then put all of the gifts into a bucket which you can decorate like a soccer, basket or cricket ball.
16. Spell Out Their Name – Unique Gifts for Boyfriend
Spell out your friend's name with this creative idea concerning homemade gifts for boyfriends! Cut out the letters of their name from pieces of cardboard, then cover them with photos of the two of you! They can put this in their room later as decoration and will always be reminded of you!
17. Piece Together the Puzzle – Matching Keychains
Do you feel like you and your best friend have been through tough times together? Or are you birds of a feather? Make sure he knows this as well, by getting him one half of this cute puzzle keychain, which matches perfectly together with yours! If you've been looking for unique gifts for boyfriends, you have definitely found one here!
18. Game of Phones – Phone Holder Gift
Game of Thrones is a huge TV show all over the world! If you and your friend love to watch this awesome series together, how about getting or making him a Thrones-themed gift?  The present above is a great idea for anyone who has a bit of time and patience! Create a phone holder which looks exactly like the iron throne out of small plastic swords and cardboard!
19. Cola Candle Holder – Homemade Gifts for Boyfriend
Is your friend's favourite soft drink Coca Cola? Does he also like ambient lighting in his room? Make him a candle holder out of a Cola can! With the pointy end of a knife or scissors, you can punch small holes through the can, which will allow the candle's light to radiate through. Then cut out the top or bottle of the can, so you can place the candle itself inside.
20. Truthful Description – Use Your Favourite Characters
If you and your friend have a favourite movie or TV show which you love to watch together, use that as inspiration! Describe your friend using characters from that show. For example, if you love Harry Potter, you can tell your friend that he is as smart as Hermione, as brave as Harry and as funny as Ron. This would also make an amazing birthday gift for a boyfriend!
21. Beer Opener – Perfect for Anyone Who Loves Beer
Does your friend manage to lose his beer bottle opener everywhere? Well, make sure he has a place in his house where he can always open his beers! Get him a beer opener which he can place on one of his walls, we suggest you put a small basket underneath it, so the caps don't fall on the floor.
22. Mix the Drinks – For a Fun Night
If you're looking for a fun and creative idea, this will be perfect for you! Place a can of soft drink in a mason jar, and tie a bottle of hard liquor on the jar. You can attach a straw to the mason jar as well. Your friend will be able to make his own drink this way in his new and groovy jar!
23. Cookie Mix – Adorable Present Ideas
Does your friend love to bake but never seems to have any of the right ingredients at home? Make sure he does this time! In a mason jar, assemble a cookie batter out of the dry ingredients. Place them in the jar in layers for a beautiful look! All they will need to add is a bit of butter and some eggs and they can start baking cookies!
24. Tiny Chocolate – Cute Gifts for Boyfriends
If you want to let your friend that you were thinking of them, why not give them chocolate placed in a small and adorable box? This is an especially great idea if your friend has a sweet tooth!
25. Popcorn in a Jar – Cute Presents for Boyfriends
If you're looking for a small and inexpensive gift, why not give your friend popcorn? This might seem a bit strange, but you can play around with the words to make this gift work! Put some popcorn in a mason jar, and design a tag covering the jar with the words "I just wanted to pop by to say…" You can thank them for being a great friend or wish them luck for an upcoming event.
26. A Tonne of Reasons – Thoughtful and Heartwarming Gifts
Have you wanted to express your gratitude and love towards your best friend? If you like personal and handmade gifts this is the one for you! On small sheets of paper, write down everything you are thankful for or what you love about your best friend. Create a small booklet out of these sheets by clipping them together.
27. For Eggcelent Friends – Quirky Present Ideas
If it's not a special occasion you might just want to brighten your friend's day with a little something! We suggest buying egg-themed chocolates and putting them all into a basket. You attach a tag to the basket, which reads "thanks for being an egg-celent friend!" Playing around with words can really draw a smile on people's faces!
28. The Perfect Pillow – For Your Best Friend
Does your friend have a favourite couch or chair? Get him a custom-made pillow like the one above! It will definitely be appreciated if people keep stealing his favourite spot. He will love this one of many great gift ideas for boyfriends.
29. An Abundance of Goods – Present Ideas for Boyfriends
If your friend loves luxurious gifts, such as cigars and expensive alcohols, why not treat him? Organise some of his favourite things in a box, for example, a whiskey flask will make any man happy. Something such as this would make a perfect Christmas gift for a boyfriend as well!
30. Superhero Bookends – Cool Gift Ideas for Boyfriends
Does your friend love to read but can't manage to keep his bookshelf tidy? Get him a bookend! Best friends are the superheroes of our everyday lives, so if you get him a superhero bookend, it will totally make sense!
We hope that this small collection of unique gifts for boyfriends has helped you in finding gift ideas for boyfriends, with which you can brighten up his day or express your gratitude towards him for always being by your side. If you are in search of more gift ideas, for example, Birthday Present Ideas for Boyfriend or gift ideas for girlfriends, visit our site!
Advert