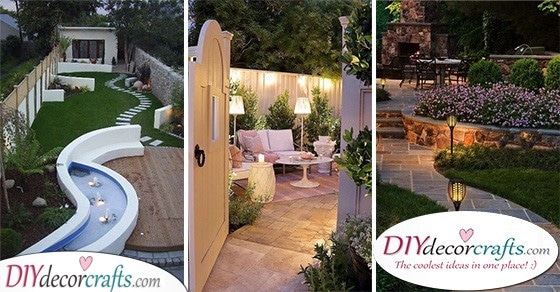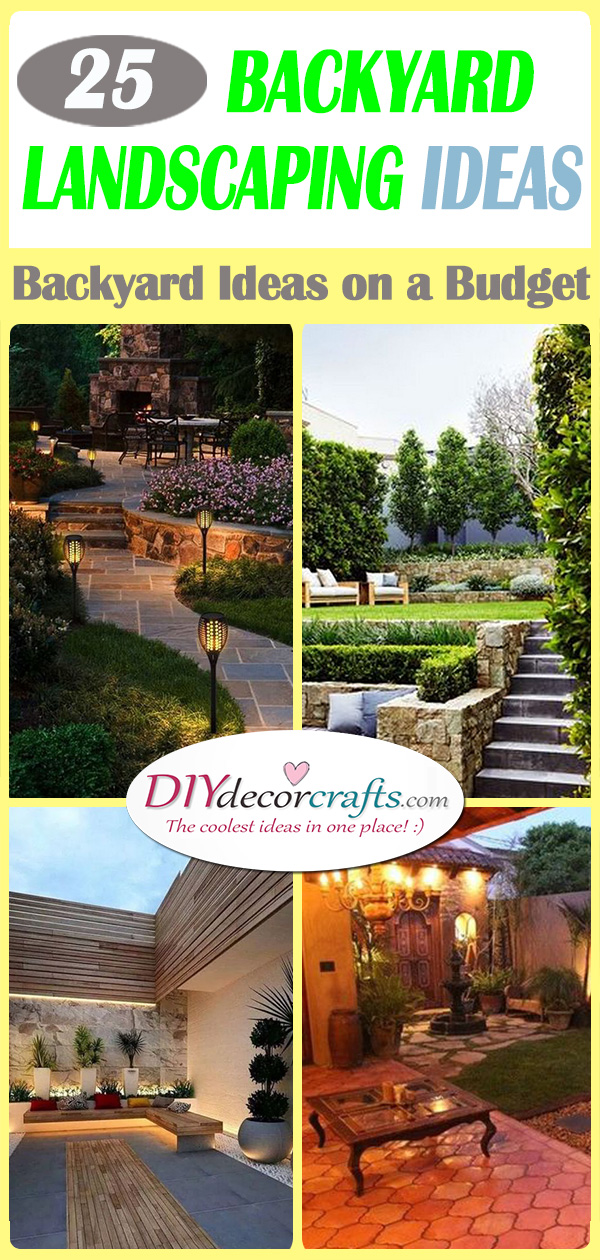 Are you feeling a bit bored with your backyard garden? Why not spruce it up and give it a new look? After all, you can use your backyard in limitless ways. For example, you can create a herb garden or a space for inviting guests over. It's really up to you on what sort of atmosphere you'd like to paint in your garden. There are a lot of great ways of redesigning and redecorating your backyard, so take a look through our collection of 25 beautiful backyard landscaping ideas. We have gathered some landscaping ideas on a budget, so these will be great if you don't want to spend too much money on your garden!
1. A Space for Relaxation – Perfect for Garden Parties
If you would like to have guests over quite often to entertain them, hosting garden parties every once in a while,  then make sure to incorporate seating spaces in your garden! You can buy comfy sofas or benches, decorating them with pillows. Place them in different corners of your backyard. If you ever need a moment of de-stress or relax time, all you will need to do is walk out into your backyard, take a seat and sink into the greenery around you!
2. Let the Lights Lead You – Amazing Backyard Landscaping Ideas
Create a unique and magical place out of your backyard! If you have a pavement leading from your house to a platform in your garden, where there are a table and some seats, make sure you give your pavement some sort of lighting. Place lights on both sides of the paving stones, as if they were leading to way form your house to your garden. This will give your garden a magical appearance at night. You might consider buying solar-powered lamps for this, as they are environmentally friendly and they won't rocket your electricity bills into the sky.
3. Great Herb Planters – Backyard Design Ideas
If you love to cook using fresh herbs why not create a herb garden in your backyard? You can create a few planters out of stone formed in circular shapes. Fill the planters up with soil, before planting your selection of herbs in them. Naturally, it's up to you, whether you'd like to plant something else amongst the herbs as well. Small juniper bushes or ferns will look great amongst your array of herbs! Having a small herb garden will ensure a fresh taste for all your food!
A simple way to uplift any back or front yard is with an island of pebbles. Dig up a part of your garden, getting rid of the grass. Then pour some gravel or pebbles over this part of it. This island of pebbles will immediately create a modern look to your backyard. You can grow plants between the pebbles and also place lanterns or statues to give it a more unique look. Naturally, don't forget to light up your backyard either with some groovy fairy lights!
5. An Abundance of Flowers – Easy and Pretty
If you are in search of an easy and cheap, not to mention pretty, solution, you have come to the right place! Give your backyard a bit of a boost, by placing an abundance of flowers everywhere! Vibrant florals will give your garden a happy and positive vibe. Grow them in planters, which run against your fence or place them in pots. You can put the flower pots anywhere you think a bit of colour would suffice! You can even hang a few pot planters from the fence just as an additional pop!
6. Adorable Swings – A Mini Playground
Do you by any chance have a pergola in your garden already? Give it a new look! Besides planting an array of flowers and herbs around it, you can also create a plaything from everyone's childhood using the pergola. Of course, if you haven't guessed yet, we are talking about swings. Swings are super easy to make even at home. All you need to do is attach ropes or chains to each corner of a wooden board. You can hang swings from the top of a pergola. This is the perfect garden idea if you have kids!
7. A Flight of Steps – Stone and Gravel
If your house was built on a slope or your backyard incorporates a small hill, you might want to create a flight of steps! Having a paved road or steps, in this case, is great. It will allow you or anyone else to get around the garden much easier. A beautiful way of designing these steps is to use stone blocks for the steps themselves, filling the spaces in between with gravel or pebbles. You can also try lining your garden staircase with bigger and spherical rocks.
8. An Inviting Fire Pit – Perfect for Cold Nights
Backyards are really the best places to relax after a hard day of work. If you love sitting in your garden and finding a bit of peace there, make sure it has an inviting atmosphere! Getting a fire pit for your backyard is a fantastic idea, it will give the environment a rustic atmosphere. A fire pit will also ensure that if you decide to go out into your garden during an autumn night for a bit of relaxation, you won't start freezing in the chilly weather.
9. Modern Wooden Fencing – Backyard Landscaping Ideas
Are you going for a more modern style for your backyard, we have the perfect option for you! Use wooden fencing for your backyard, placing lights on them. The great thing about wooden fencing is they work great for light screening. You can also use it as a wall for climbing plants. If you have a lot of climbing plants, in a few years time your wooden fences will look like an enchanted backdrop from a fairytale.
10. Make the Kids Happy – Playground Vibes
If you have kids you might want to build them a playground of their own. Whether it's a cubbyhouse with a slide leading down from one side and a climbing wall on the other, we're sure they will love the idea! You can also grow plants and flowers around the mini playground you create for the children, just to give your garden a more natural and beautiful look.
11. A Rustic Garden – Backyard Design Ideas
As you have already noticed, there are so many ways to decorate your garden. To create a rustic environment, make stone planters circling around your garden. Perhaps you love to cook or have barbeque parties at your place. If so, make sure you create an outdoor oven. These are perfect to roast or bake food in, as well as giving your garden a whole new level of rustic!
12. Minimalistic and Simplistic – Finding a Balance
Do you adore a minimalistic style when it comes to home or garden decor? If your answer is yes, then make sure to incorporate some elements from it in your backyard! For example, using a combination of wooden boards with white pebbles and a darker stone will uplift your garden in a simple but sophisticated manner. Place big white pots or vases around your garden, growing succulents or ferns in them.