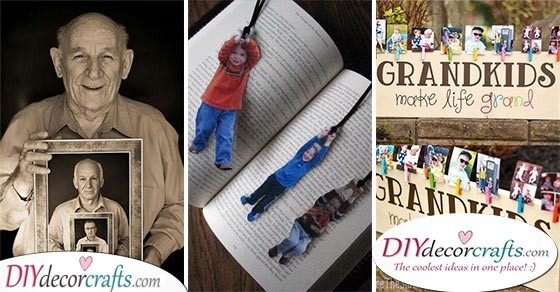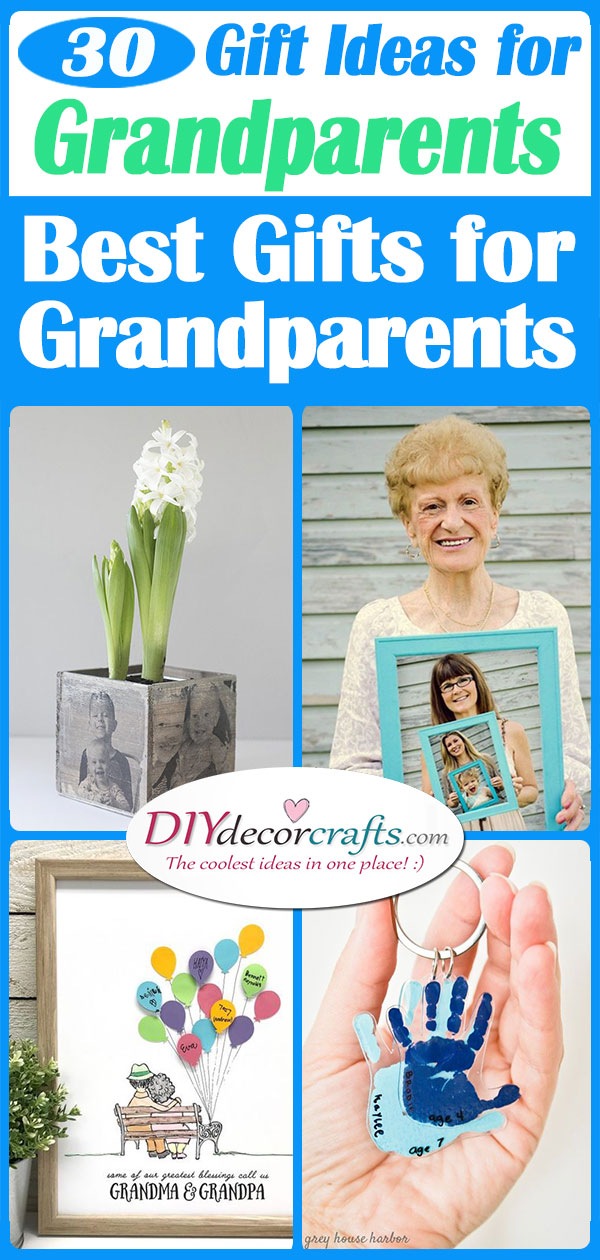 Whether it's their birthday, Christmas or another special event, don't forget about getting some awesome gifts for your grandparents. Sometimes it's a bit tricky to find the right sort of gift, after all, your grandparents have been living for decades and they usually already have everything they need! We've collected 30 great gift ideas for grandparents, to help you out in finding the perfect present for them! After all, you want to give the best gifts to grandparents!
1. A Handy Apron – Something Special from the Grandchildren
Whether it's a birthday or Christmas, this idea will surely make a perfect gift for any grandma or grandpa who loves her grandchildren to bits! Have all the grandchildren's hands dipped into fabric paint and pressed on a standard apron. You can write the names above your handprints with the remaining fabric paint. This way, whenever your grandma or grandpa is cooking, they will immediately think of you.
2. Matching Mugs – For Both Grandparents
Is there anything cuter than getting your grandparents matching mugs? This way when your grandparents drink their morning coffee or tea, they will immediately think of you lovingly.
3. A Collection of Photos – Best Gifts for Grandparents
Give your grandparents a beautiful collection of photos of all the grandchildren and the family. After all, grandchildren bring sunshine and happiness into life – in other words, they make life grand.
4. Personalised Scrabble Board – A Heartfelt Present
This beautiful idea will make a great gift for your grandparents! Using scrabble letters, put together the names of all the grandchildren. Then, you can put this in a frame, so your grandparents will be able to hang it up on one of their walls to look at.
5. Keychain with a Timeline – Great Gift Ideas for Nan or Pops
Get your grandma or grandpa a special keychain, which contains all the dates of when they became a parent, a grandparent and perhaps even a great-grandparent. This is not only a lovely and sentimental present, but it's also great for making sure they don't get her keys lost!
6. Floral Handprints – Adorable Presents for Your Grandparents
Decor plates are becoming more and more popular nowadays, so why not surprise your grandparents with a handmade one? Get your grandkids to dip their hands into paint, and press them onto a standard white plate (these will be the flowers). Then paint green stems with leaves coming down from the flowers. You can write something on the top of the plate, for example, "love grows here." This will make a perfect present for any grandparent.
7. A Pillow Full of Love – Gifts for Both the Grandparents
If you'd like your grandparents to know how much all their grandchildren love them, present them with a lovely pillow. Print small hearts on the pillow, each heart containing the name of one of their grandchildren. Then you can write "grandparents" in the middle of the pillow.
8. Beautiful Necklaces – Gifts for Grandparents
This necklace is more of a gift you would give grandma. So present her with something truly special and symbolic. We can't think of a better gift, than this one! Hearts which fit into each other, one for your grandma, a smaller one for mother and a tiny one for the grandchild.
9. Spelling Out Their Names – Creative Gift Ideas
Spell out grandma, grandpa or their names with this creative idea! Gather a bunch of words that all describe them, then arrange the words in a way that they spell out their names. Highlight the letters in bold for a better effect.
10. A Family Tree – Unique Gift Ideas
If you're thinking of designing and making some DIY decor for the grandparents, here's a great gift idea for you! Make a family tree for them, you can use photos of the family members or just simply write up their names. This will definitely make your grandparent's eyes misty when they see this family tree!
11. Grandma to Be – Necklace Ideas for Nan
Is your mum or mother-in-law going to become a grandma soon? Get her a necklace that has "grandma to be" embellished on it. You can place a blue or pink jewel on the necklace as well, symbolizing what gender the child is going to be. Naturally, you can gift the grandpa of the family the same sort of necklace as well.
12. A Family Vase – Gift Ideas for Grandparents
Do your grandparents love to garden and care for flowers? Make sure they get a present fitted to their hobbies! Get a personalized vase or pot made, have pictures of the grandchildren and family members printed or painted on every side of a wooden box. They will be able to plant and grow flowers in this cute box.