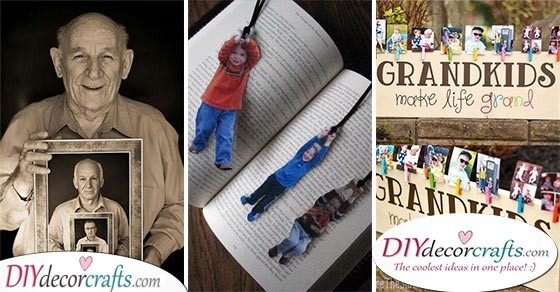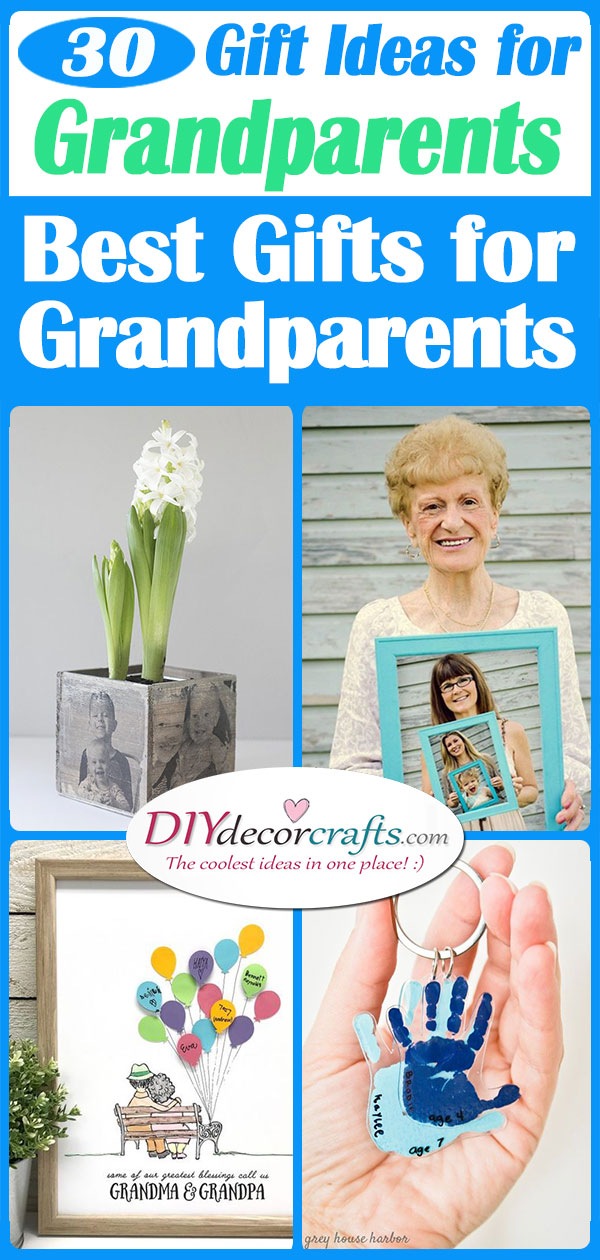 Whether it's their birthday, Christmas, grandparents day or another special event, don't forget about getting some awesome gifts for your grandparents. Sometimes it's a bit tricky to find the right sort of gift, after all, your grandparents have been living for decades and they usually already have everything they need! We've collected 30 great gift ideas for grandparents, to help you out in finding the perfect present for them! After all, you want to give the best gifts for grandparents!
1. A Handy Apron – Something Special from the Grandchildren
Whether it's a birthday, Christmas or grandparents day this idea will surely make a perfect gift for any grandma or grandpa who loves her grandchildren to bits! Have all the grandchildren's hands dipped into fabric paint and pressed on a standard apron. You can write the names above your handprints with the remaining fabric paint. This way, whenever your grandma or grandpa is cooking, they will immediately think of you.
2. Matching Mugs – For Both Grandparents
Is there anything cuter than getting your grandparents matching mugs? This way when your grandparents drink their morning coffee or tea, they will immediately think of you lovingly. This is one of many amazing present ideas for grandparents!
3. A Collection of Photos – Best Gifts for Grandparents
Give your grandparents a beautiful collection of photos of all the grandchildren and the family. After all, grandchildren bring sunshine and happiness into life – in other words, they make life grand.
4. Personalised Scrabble Board – A Heartfelt Present
This beautiful idea will serve as a great gift or gifts for grandparents! Using scrabble letters, put together the names of all the grandchildren. Then, you can put this in a frame, so your grandparents will be able to hang it up on one of their walls to look at. This will be a personal and beautiful piece of wall decor!
5. Keychain with a Timeline – Great Gift Ideas for Grandparents
Get your grandma or grandpa a special keychain, which contains all the dates of when they became a parent, a grandparent and perhaps even a great-grandparent. This is not only a lovely and sentimental present, but it's also great for making sure they don't get her keys lost!
6. Floral Handprints – Adorable Presents Ideas for Grandparents
Decor plates are becoming more and more popular nowadays, so why not surprise your grandparents with a handmade one? Get your grandkids to dip their hands into paint, and press them onto a standard white plate (these will be the flowers). Then paint green stems with leaves coming down from the flowers. You can write something on the top of the plate, for example, "love grows here." This will make a perfect present for any grandparent.
7. A Pillow Full of Love – Amazing and Heartfelt
If you'd like your grandparents to know how much all their grandchildren love them, present them with a lovely pillow. Print small hearts on the pillow, each heart containing the name of one of their grandchildren. Then you can write "grandparents" in the middle of the pillow.
8. Beautiful Necklaces – Gifts for Grandparents
This necklace is more of a gift you would give grandma. So present her with something truly special and symbolic. We can't think of a better gift, than this one! Hearts that fit into each other, one for your grandma, a smaller one for your mother and a tiny one for the grandchild.
9. Spelling Out Their Names – Creative and Personal
Spell out grandma, grandpa or their names with this one of many creative present ideas for grandparents! Gather a bunch of words that all describe them, then arrange the words in a way that they spell out their names. Highlight the letters in bold for a better effect.
10. A Family Tree – Interesting and Family-Oriented
If you're thinking of designing and making some DIY decor for the grandparents, here's a great type of presents for grandparents idea! Make a family tree for them, you can use photos of the family members or just simply write up their names. This will definitely make your grandparent's eyes misty when they see this family tree!
11. Grandma to Be – Necklace Ideas for Nan
Is your mum or mother-in-law going to become a grandma soon? Get her a necklace that has "grandma to be" embellished on it. You can place a blue or pink jewel on the necklace as well, symbolizing what gender the child is going to be. Naturally, you can gift the grandpa of the family the same sort of necklace as well.
12. A Family Vase – Gift Ideas for Grandparents
Do your grandparents love to garden and care for flowers? Make sure they get a present fitted to their hobbies! Get a personalized vase or pot made, have pictures of the grandchildren and family members printed or painted on every side of a wooden box. They will be able to plant and grow flowers in this cute box.
13. Adorable Buttons – Best Gifts for Grandparents
Put together a bit of art for either of your grandparents! Have you ever heard of the quote that states "Grandparents are like buttons, they hold everything together"? Well, we couldn't agree more with this quote. Incorporate buttons into your artwork. You can write up the quote on a piece of paper and create small button-headed grandchildren.
14. Cookie Jar – A Funny Gift Idea
Most grandmas love to bake treats for their grandchildren. If yours loves to as well, then get her a cookie jar which you can decorate at home by yourself with paint. You can write up a funny message on it to make her smile, like in the picture above: "What happens at grandmas… Stays at grandma's." Naturally, if your grandpa loves to bake, this will make a great gift for him as well!
15. A Photo of Generations – A Unique Gift for Grandma
If you'd like to present your grandma with an especially unique gift, then take a look at the one above! Give your grandma a frame of 3 generations of children after her. This can include your own mother, yourself and your own child if you have one. It's up to your creativity how you'd like to arrange these on a frame.
16. A Scented Candle with Matches – Nice and Soothing
Scented candles always make great presents for grandparents if you are on a tight budget. You can decorate the candle with a message, for example, "Grandma/Grandpa, you light up my days." You can also decorate a small matchbox which you can hand over to your grandparents along with the candles.
17. An Honest Description – Best Gifts for Grandparents
Make sure your grandpa knows how you feel about him. Gather words which describe him and arrange these words in a way so that they spell out grandpa when you look at it vertically. You can highlight the letters that spell his name.
18. A Series of Generations – A Great Concept
If you'd like to present your grandpa with a sentimental and personal gift, then this might be a great choice for you! Take portraits of each generation, holding the same frame, just like in the picture above. Then take a picture of grandpa holding the frame of generations.
19. A Gift for the Handyman – Workshop Sign
Is your grandpa a handyman who can fix anything gone wrong around the house? Then this DIY workshop sign will definitely light up his day! Making it a great gift idea for grandpa! All you need is a wooden board, on which you can write "Papa's workshop" and "toys fixed for free." This board is just a small sign of gratitude towards your grandpa because he is always around to help. Of course, if your grandmother loves to tinker things, then this might be a perfect gift idea for her as well!
20. Funny Socks – Gift Ideas for Grandparents
As we get older, sleeping and naps get more and more important! Make sure that no one disturbs grandpa or grandma while they are sleeping, by buying him these funny socks as a present! The socks should have funny messages written on their soles, like for example, "do not disturb."
21. A Keychain of Generations – Gifts for a Grandpa
Announce the big news to your dad that he is becoming a grandpa with this keychain! All you need is two small discs, both should have the years engraved in them when he became a dad and now a grandad! A keychain is also a great gift because it will always help him find his keys! This makes a great gift for grandmas as well!
22. A Unique Mug – Creative Gift Ideas
If grandad and one of the grandkids like to make things or fix things around the house together, then this personalised mug will make the best gifts for grandparents! Use a footprint of the grandkid on the mug, and draw a wooden handle attached to it. This will represent a hammer. You can also write a small message on the mug, like the one in the picture above. Naturally, this idea applies to grandmas as well if they are great at tinkering things!
23. The Cookie Monster – Adorable Present Idea
Do the grandchildren love to watch Sesame Street at the grandparent's place? If their favourite character on the show is Cookie Monster, then have them create a cookie-themed plate, so that the grandparents will be reminded of them whenever they use it. Paint small cookies on a plate, and have the grandchild dip their hand in blue paint and print it on the plate. This blue handprint will become the Cookie Monster! The grandparents will absolutely love this cute plate.
24. A Mechanic Frame – Inventive and Innovative
Is your grandpa the living definition of a handyman? If you're thinking of giving him a picture, then make sure the frame complements his style and characteristics. If he is a true handyman, make him a frame out of screwdrivers or different tools. This is sure to become his favourite decor in his home.
25. Cute Bookmarks – Inspired by Grandchildren
Is either of your grandparents a bookworm? Well, make sure to get them some bookmarks so they will know where they left off at. Print out pictures of the grandchildren hanging on a rope or tree. Cut out the figures of the grandchildren and attach a ribbon or some yarn to their hands. These cute bookmarks of their grandchildren will brighten up their day when they open the book. This would also make a perfect Christmas gift for your grandparents!
26. Hand in Hand – Unique and Creative
Are you in search of more personal and unique gift ideas for grandparents? Well, this might be it then! On colourful sheets of paper draw the shape of all the grandchildren's hands, then cut them out. Stick the cut-out hands on each other on a sheet of paper, the smallest on the very top, the largest on the bottom. You can write each grandchild's name on the fingertip of their paper hand. This way your grandparents will know who's hand is who's. Naturally, you can place this in a frame, and you can present your grandparents with it.
27. Hand Keychains – Gifts for Grandparents
Ensure that your grandparents find their keys by giving them a keychain! Get your kids to dip their hand in paint, and make them press their hands on pieces of plastic. Then cut the handprints out and attach them to a keychain. You can write up the names of the kids and their ages on the handprints.
28. A Bunch of Balloons – Beautiful Presents for Grandparents
Is there an artist in your family? Get them to draw a picture of your grandparents sitting on a bench, with a bunch of balloons tied to one end of the bench. On each balloon write up a family member's name. Then write up a quote, like for example, "some of our greatest blessings call us grandma and grandpa." This will become a great source of decor for your grandparent's house!
29. A Board of Artwork – Best Gifts for Grandparents
If the grandkids love to paint and draw at school and take a lot of their artwork home to the grandparents, make sure they have a place where they can pin them up. Make them a brag board so whoever steps into their home will see all the fantastic artwork the grandchildren create!
30. Photo Album – Gift Ideas for Grandparents
We truly hope that these 30 gift ideas for grandparents have helped you in finding some sort of inspiration! We recommend making DIY crafts for them, as you can't really go wrong with those! If you are in search of other gifts, for example, Birthday Gift Ideas for Grandma or Birthday Gift Ideas for Grandpa, just visit our website!
Advert