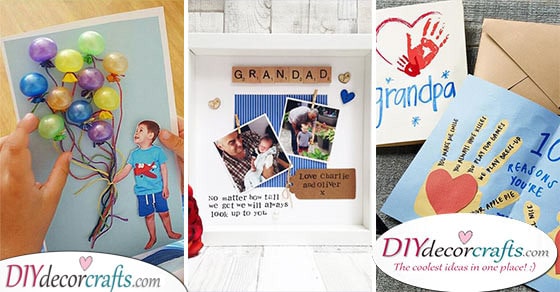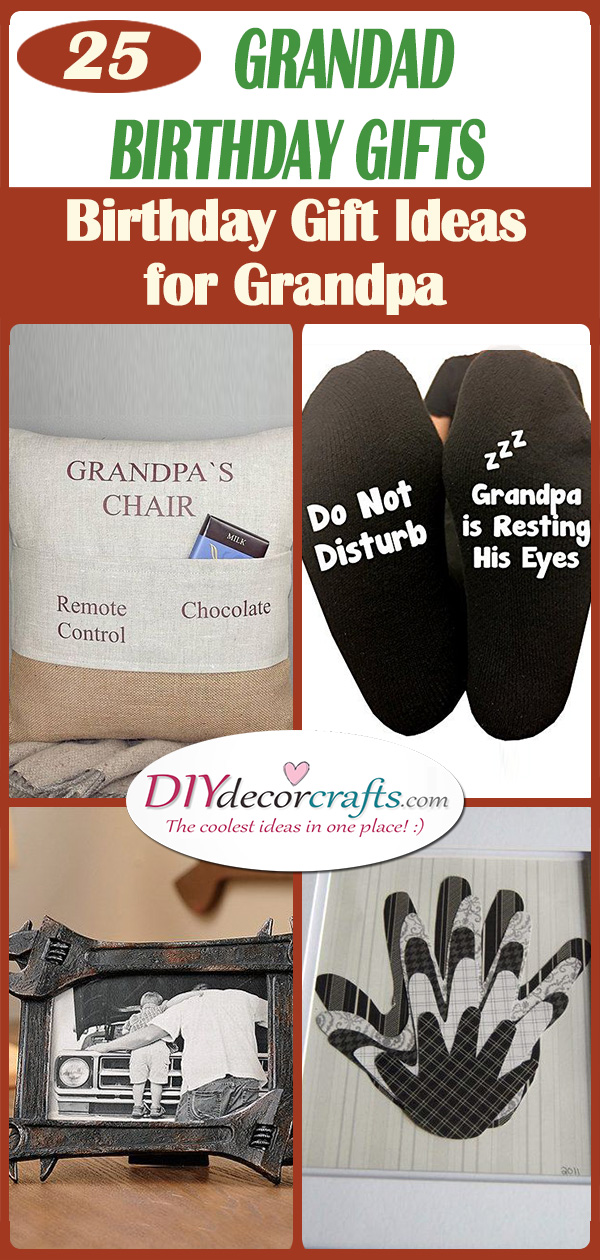 The older we get, the more important we find it to spend time with our family and to celebrate different sorts of events together! Grandpas are important figures in everyone's lives. They are the handymen of the family and are always there to lend a helping hand. If it is going to be his birthday sometime soon, make sure to celebrate it properly! Get the family together for a birthday party! Most importantly, don't forget to give him the perfect birthday present!  You can create something handmade and special for him, it's all about showing him how much he means to you! We have collected 25 awesome birthday gift ideas for grandpa, to make your job easier in finding the best grandad birthday gifts you can!
1. A Scrabble Frame – Birthday Gift Ideas for Grandpa
If you'd like to take your grandad a trip down nostalgia lane, why not include some memories in his birthday gift? Create a personalised frame for him, which you can decorate with scrabble letters, as well as a loving message. Then find a few pictures of grandad with his grandchildren, which you can place inside the frame. Grandad is guaranteed to love this gift because it comes from the heart!
2. Birthday Cake Card – Crafts for the Kids
Get the grandchildren involved in making a gift for grandpa! Here's a great idea which you can get them to make easily! Have them dip their palms in paint, then have them press it down on a piece of paper. This will be the birthday cake itself. After allowing it to dry, have them dip their fingers in different coloured paint, pressing it above the palmprint. Using yellow paint, draw small flames above each finger, representing the candles glowing on the cake. You can write a small message underneath this creative cake wishing grandad a happy birthday.
3. Grandpa's Pillow – Fantastic Grandad Birthday Gifts
Get grandad the most fantastic pillowcase for his sofa or armchair! Find a pillowcase that has pockets sewn onto it, so he can store his snacks and the remote control inside. This will guarantee that his nights in front of the TV will be not only fun but comfortable as well!
4. Grandpa's Workshop Sign – Wooden Board Ideas
Is your grandad a handyman who is able to fix anything gone wrong around the house? Then this DIY workshop wooden sign will definitely light up his birthday! All you need is a wooden board, on which you write "Grandpa's workshop" and "toys fixed for free." This board is just a small sign of thoughtfulness towards your grandpa because he is always around to help, even if it's just something trivial like fixing toys.
5. A Message from the Whole Family – Sending Grandpa Love
Sometimes the best present you can give your grandfather is a collage of love and thoughtfulness. Which means including the whole family to make something truly special for him! Have each member of the family hold up a letter of "happy birthday grandad" taking a picture of each letter separately. Then place these photos next to each other, so your grandpa will be able to read out the message. Finally, put it in a frame, so he will also be able to place it on a wall or on his bedside table.
6. Love Him This Much – Birthday Gift for Grandfather
If you're looking for a card for grandpa's birthday, make sure he knows how loved he is by everyone! It's always important to express our feelings and make others feel great about themselves, as well as know how much they mean to you. You can draw a cute picture like the one above, and write a message saying, "Grandpa I love you this much!" Your grandad will be sure to love this birthday card!
7. Funny Socks for Grandad – Unique Birthday Gift Ideas
If you are looking for a unique and humorous present for grandad, go no further! As we get older, sleeping and naps get more and more important! Make sure that no one disturbs grandpa while he is sleeping by buying him these funny socks as a present! The socks should have funny messages written on their soles, like for example, "do not disturb."
8. Ten Reasons Why Grandpa's the Best – Birthday Presents
Sometimes a great birthday present isn't about buying something grand and expensive, it's about expressing our love and gratitude towards the recipient. Dip your hands in paint, pressing them down on a piece of paper. After allowing the paint to dry, write up in the middle of the page "ten reasons why you're the best grandpa!" Then, on each fingerprint, write down a reason why you love your grandpa and why he is the best!
9. Cooler Than a Dad – A Great T-Shirt
Make your grandfather feel cool in a great t-shirt! Get a message or a quote printed on a simple black t-shirt. For example, "Grandpa. Like a dad. Only cooler." It's completely up to you of course, what sort of message you'd like to have written on the t-shirt. He will love a t-shirt as a birthday present because he will always be reminded of you when he wears it!
10. A Photo as a Present – Love From the Grandkids
Taking a picture of the grandkids is always a great idea for a birthday present for either of the grandparents! Naturally, you can take a simple photo of them, to a new and creative level! You can write a message for grandpa on the soles of their feet and take a photo of that. Just take a look at the example above for inspiration! Place this photo in a frame for grandpa!
11. An Adorable Card – Birthday Card Ideas
Are you thinking about creating a birthday card to go with the birthday present? Use buttons as inspiration! Draw the figures of grandpa holding the hands of his grandchildren. Instead of drawing or painting proper heads for them, glue buttons to the card. You can also draw one of the grandkids holding a balloon, which has the age of grandpa written on it.
12. A Tasty Birthday Wish – Creative Grandad Birthday Gifts
Find a creative way of writing grandpa a birthday message. Incorporate a variety of chocolates, snacks and sweets into your message, like in the picture above. So while writing your birthday message to grandad, leave out some words which you replace with chocolates or bars of candy. You can create this on a thicker piece of paper, a wooden board or even a whiteboard! It's completely up to you!