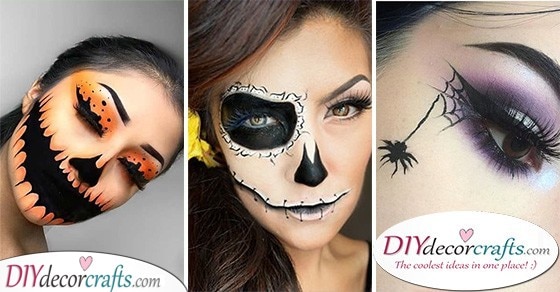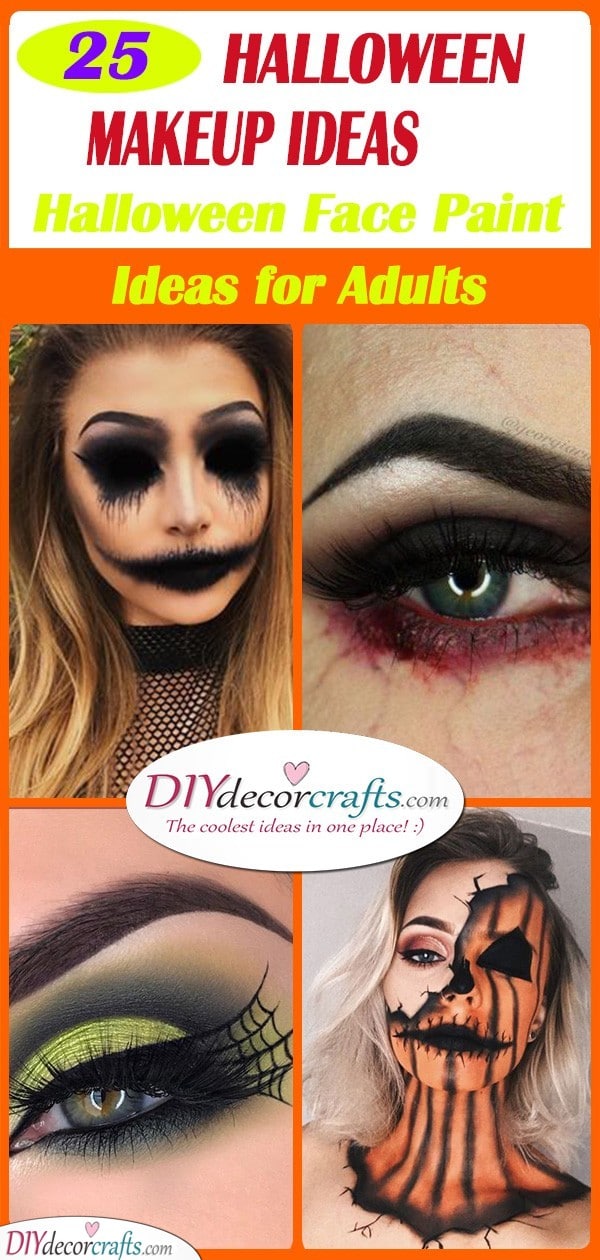 Fall has finally arrived after a long and hot summer! Along with the arrival of autumn also come the seasonal holidays, including Halloween and Thanksgiving. Halloween is such a fun event! Everyone gets to dress up as whoever or whatever they like. You can go for an outfit which is more on the spookier side or something which reflects your personality! We would urge to remind you, that to give your Halloween an even spooktacular look, make sure to use some awesome Halloween face paint ideas for adults on yourself! We have collected 25 spooky Halloween makeup ideas to help you find some Halloween inspiration! After all, you will want to look the most amazing that you possibly can!
1. A Scary Look – Halloween Makeup Ideas
Have you been considering dressing up as a pumpkin for Halloween? Well here is an awesome idea that will definitely wow everyone! Use a deeper shade of orange for your eyes, as well as a few other areas of your face. Then go over a few parts of your face with black. Paint black specks over your eyes and create a skeleton-like nose for yourself, going over it with black. The final touch is to create a huge, black mouth for yourself, which resembles that of a jack-o-lantern. The illusion will look amazing and spooky at the same time!
2. Glittery Glamour – Halloween Face Paint Ideas for Adults
If you are going to a Halloween party and don't want to look scary in the least, check out this idea! A glittery face of a rainbow skeleton. Using an array of colours for the eyes, as well as painting over your eyebrows with colour and glitter, will ensure you have the perfect look. Remember to create the skeleton look for your nose. Of course, the best part will be to create the mouth and the jaw of the skeleton. Use a rainbow of colours to do it and use glitter for the teeth!
3. Makeup for Couples – Simple and Cool
Are you in search of Halloween makeup which will be perfect for two people? If you are dressing up with your partner and going as a couple to a Halloween party, check out this awesome idea. Find simple outfits, which are mainly made up of black garments. Then create your makeup to look as if they were skulls of a skeleton. Depending on what sort of look you are going for, you can do a full-face makeup or just half of your face.
4. Broken into Bits – Halloween Face Paint Ideas for Adults
We have mentioned using a jack-o-lantern as inspiration for your Halloween makeup! Here is another idea involving it! Only create a jack-o-lantern on half or more of your face. Then as if it were broken, create small cracks in it. You will want to use black to create jack-o-lantern eyes, a nose and a mouth! To make it more realistic, make sure you shade the orange parts of the pumpkin. This makeup will look good with either a pumpkin costume or just black clothes!
5. A Monochrome Jack-O-Lantern – Spooky for Halloween
Here is yet another mind-blowing idea when it comes to Halloween pumpkin makeup! Instead of colouring your face with orange, simply create a monochrome jack-o-lantern, using black. You will want to accentuate the shape of the pumpkin's eyes, the carved out nose and the toothy grin. Even though you don't actually incorporate any pumpkiny colour, such as orange, into this makeup, it will still look brilliant! It's all about creating an illusion with your makeup for Halloween. And when the lights go off in the party, it will look like you actually don't have a nose or mouth!
6. Truly Sinister – Gauged Out Eyes
You might have seen a few Halloween movies, where characters appear without having any eyes in their eye sockets. It's definitely a scary look, but will look perfect for Halloween! You will have to colour your eyelids with the deepest shade of black you can find. Then using dark grey, you should create a runny effect underneath your eyes and also shading the part above. This will create a hole-like appearance for your eyes as if they were gauged out. As a final touch, colour your mouth black as well, creating a wider mouth than you actually have.
7. Red Eyes – Halloween Makeup Ideas
Make sure to give your eyes a creepy look for Halloween! Here is an awesome idea you might consider trying out! Create a red line underneath your eyes, as if they were bruised and bloody. You can even draw thin veins all running up to your eyes for that special and creepy effect. Try out a more glamorous look on your eyelids though! You can coat them in black eyeshadow and give your eyelashes a striking look with a lot of mascara. If you are thinking about dressing up as a ghost or vampire, this makeup will look perfect!
8. A Marionette – Halloween Face Paint Ideas for Adults
Another genuinely terrifying look for Halloween is to dress up like a marionette! A lot of people are afraid of dolls and puppets, as they definitely give off a creepy vibe, with their painted faces. You will have to make your eyes look bigger than they actually are, using some white eyeliner for this illusion. Another tip for creating the makeup look of a marionette is to make your mouth look bigger. Paint another mouth over your actual mouth, one which is smiling constantly.
9. Brilliant in Black – Creepy and Scary
Since it's Halloween, you will definitely want to go for a striking and scary makeup look! So check out this brilliant idea! Use black as the dominant colour for your makeup. Besides using black eyeshadow, big and black artificial lashes, why not coat your lips in black lipstick? It will definitely lend you a bold and badass look for Halloween, which might be exactly what you are going for. For a special and extra touch, add a few black dots to your forehead. These dots can symbolise anything you'd like!
10. The Chesire Cat – Got Lost in Wonderland
Everyone loves Alice in Wonderland, a classic book and film for kids! Use it as inspiration for your Halloween makeup! While there are a few crazy characters who appear throughout the story, one of the maddest ones is definitely the Chesire Cat. The cat who is constantly grinning and trying to help Alice looks fantastic with his purple and pink stripes. Recreate this look for Halloween, not only finding an outfit for it, but also giving your face stripes. Don't forget to add whiskers as well as the grin of the Chesire cat!
11. Sally – Halloween Face Paint Ideas for Adults
A great movie to watch during Halloween is The Nightmare Before Christmas. Besides it being a fun and exciting movie, it's also a place you can take inspiration from. There are a lot of spooky and sinister characters in Halloween Town who can serve as designs for your makeup! A favourite character is Sally. To look like her, you will have to colour your skins in a blueish-grey shade, as well as drawing several stitches on her face and neck. Enlarge her eyes, using your eyelids as the base for this illusion, painting over them in white.
12. Frightening Skeleton – Great Halloween Makeup Ideas
Recreate the image of a skull on your face, blending and shading to make it look real! Besides creating the black eye sockets and the skeleton nose, you will also want to create a whole jawline and teeth! Make sure to add another scary factor to your Halloween makeup, by using a contact lens! You can go for something white and striking or even completely black!