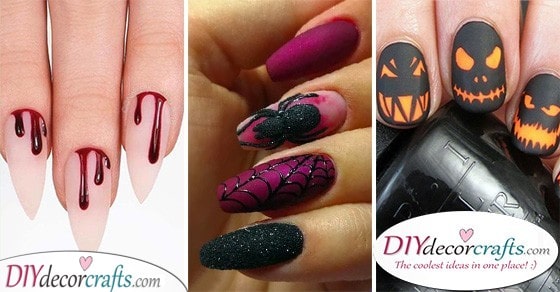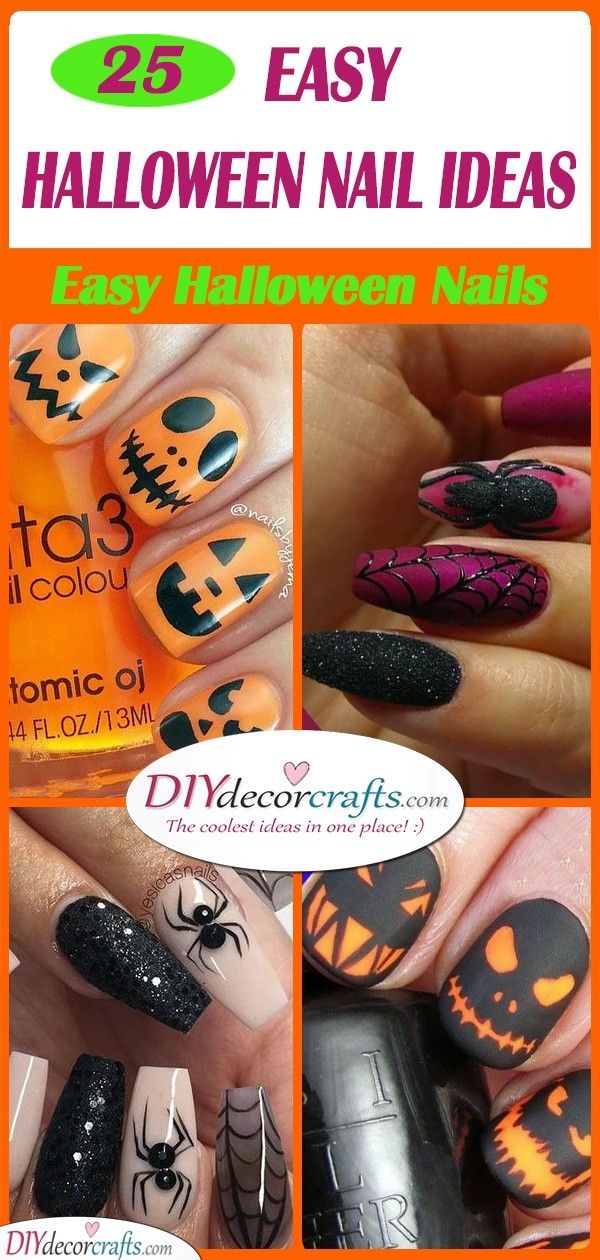 With the arrival of autumn come two important holidays. These are no other than Thanksgiving and Halloween. Halloween is all about getting dressed up in a spooky costume and having fun going trick or treating. While it is important to get an awesome costume for this occasion, you should also put some time and effort into makeup. Naturally, don't forget to try out a spooky nail art either for the holiday! There are hundreds of amazing Halloween nail designs you can choose from and we have collected 25 of these Halloween nail ideas to give you some inspiration. So take a browse through our pick of autumn ideas to find some easy Halloween nails to go with your costume!
1. Jack-O-Lanterns – Typical and Easy Halloween Nails
What image pops into your mind almost immediately when you think of Halloween? Perhaps jack-o-lanterns will come to your mind! Carving pumpkins during autumn is a typical Halloween activity. So if your Halloween costume is going to incorporate some sort of pumpkin vibe, make sure to design and decorate your pumpkin nails in a similar way. Coat your nails in a simple and bright orange, which resembles pumpkins. Make sure to include the carvings of the pumpkins, in other words, their faces. Paint these with black!
2. Spooky Pumpkin Heads – Fun Halloween Nail Ideas
Here is another jack-o-lantern idea that will look stunning on your nails. Create spooky pumpkin heads on each of your nails. Make each pumpkin head different, but each one should have a creepy ambience of its own! Instead of using orange polish for the pumpkin heads, use a matte black. Then using matte orange, paint the actual faces of the pumpkins. If this nail design doesn't give your pumpkin nails a Halloween vibe, we don't know what will. This is a perfect nail design if you are going for a look inspired by jack-o-lanterns!
3. A Spidery Web – Black and Purple
Have you always been fascinated by arachnids and their interesting skills? Or are you thinking of a Spiderman vibe to your Halloween costume? Why not incorporate a spidery feeling into your nails? Use a combination of the two colours black and purple for it. You can use matte polish for one or two nails. But also make sure to use glittery nail polish to bring a special glow to your nail art. Create a spider on one of your nails and create a spiderweb on another one of them. These will be easy Halloween nails for the spooky night!
4. Cute Little Bats – Halloween Nail Ideas
Another animal that has become a symbol of Halloween and spookiness is no other than the bat. So it would only make sense to use them in your Halloween art. Coat your nails in a layer or two of white nail polish. Then create the shapes of small black bats on each one of your nails. You will first have to create black dots, then the wings of the bats. While it may seem hard at first, it's actually quite simple to create. So take a chance on bats and give this Halloween nail design a try!
5. A Bit of Blood – Scarily Stunning Nails
Create a set of scarily stunning nails for Halloween! Are you considering dressing up as a corpse bride or a vampire? Then these nails will match your costume perfectly! If you have artificial nails this design will look beautiful on them as well! After coating your nails with a nude or seethrough polish, it's time to let some blood drip onto the tips. Use red nail lacquer. Add some polish to the cuticles, letting it flow down slowly to the tips. This will truly give it the look of dripping blood.
6. The Moon and Stars – Elegant and Refined
Have you been in search of more elegant and sophisticated Halloween nail ideas? Then check out the nail art above! Paint a few of your nails in matte black and leave a few coated in seethrough nail polish. Then add a few cosmic elements to your seethrough nails, which are also created in matte black polish. You can create a star and moon, this way making a mysterious ambience on your nails. Even though this nail design isn't exactly spooky or scary, it will still look perfect for Halloween!
7. Frankenstein's Monster – A Creepy Look
Do you ever listen to scary stories told at Halloween? One which you may have heard about is Frankstein, a doctor who creates a monster out of undead human body parts. Use a combination of white, black and neon green to create an interesting and unique combination. Create a few stitches on some nails and paint the face of the monster on another nail. You can also add some green liquid flowing down a black nail as a special effect. This is the perfect nail art if you are dressing up as Frankenstein or his monster.
8. Another Spidery Nail Design – Easy Halloween Nails
If you love the idea of spiders crawling across your nails, then make sure to incorporate an arachnid into your Halloween nail art. Paint a glittering spider on one of your nails and one or two spider webs on a few of your other nails. Use a combination of black and pink for this nail design. This will not only make it look creepy for Halloween but will also give it a fabulous glow. So if you are into spiders make sure to give this one of many great Halloween nail ideas a go!
9. Easy and Cute – Polka Dot Spiders
Here is another spidery idea, which will look great for Halloween. Paint your nails in a soft shade of orange, and add some polka dots to it. Then slowly add some legs to these dots as well as eyes. You can create one nail on each hand to only bear one polka dot spider, crawling down its web. While some people are afraid of spiders, these ones are super cute and perfect for the spooky event! So why not follow this easy tutorial and create a few of your own mini spiders!
10. Pretty in Purple – Halloween Nail Designs
As we discussed before, bats are a typically spooky element, perfect for Halloween. So it would only make sense to use them for your Halloween almond-shaped nails. Coat your nails in a layer of lilac or purple polish. Then paint small bats all over your nails, flying around. Add some eyes to their bodies as well, not only wings. You can also add stars in between the bats, floating in the night sky. This is the perfect Halloween nail art if you are going to be wearing some sort of purple.
11. White, Orange and Black – A Unique Combination
Get into the mood for Halloween by creating a unique pattern on your nails. Create a set of polka dots on your nails, consisting of orange, white and black colours. Use one of these colours as a background on each of your nails, then use the other two coloured polishes to create polka dots. The use of these colours will definitely create a Halloween ambience!
12. Dangling Spiders – Perfect and Easy Halloween Nails
Here is another fabulous spider idea for everyone out there who is searching for a spidery design for Halloween! Coat your nails in a bright orange, the sort of orange which is usually present during Halloween events. Then paint spiders on each finger dangling on a web. Make sure to paint all eight of their legs! If you want to, add webs to the nails as well as an extra design.
13. Minimalistic Spiders – Awesome Halloween Nail Ideas
There are some unique ways to decorate your nails for Halloween. Why not try out a minimalistic line art for the spooky occasion? Add webs to the cuticles of your nails, then add spiders dangling off the ends of the webs.
14. Sparkling and Spidery – Give It a Spooky Look
We have mentioned using spiders as inspiration for your nail art for Halloween! It's a perfect way of giving your nails a spooky vibe, but making them look cute at the same time! You can use shades of purple and blue to create a unique look on your nails. Also, try out using sparkly nail polish for one of your nails, to give it a special glow. This is a great idea if you are going to be wearing some sort of spidery outfit for Halloween or lots of purple.
15. A Nightmare Before Christmas – Stylish and Creative
Recreate Tim Burton's A Nightmare Before Christmas on your nails! This is a perfect look for Halloween as it's spooky and unique. Add some monochrome stripes to one finger, Oogie Boogie's stitches to another and Jack Skellington's face to another nail. Use orange, white and black as the dominant colours of this nail design.
16. Cute Pumpkins – An Autumn Vibe
A typical autumn nail design is using pumpkins as inspiration. This will look perfect for Halloween as well! Add pumpkins to one finger on each hand, coating the rest in dark green. The pumpkins will give your nails a pop of colour thanks to the bright orange. While this isn't exactly spooky, it will still bring a fall vibe with itself!
17. Crazy for Brains – A Zombie Design
If you are considering dressing up as a zombie for Halloween, you will also need to think about how to paint your nails! Here is a fantastic nail design idea, which will go perfectly with your outfit! Something zombies go crazy for is brains, which is their favourite food. So, create the wavy and spiralling pattern of brains on your nails using pink and red.
18. A Graveyard – A Menacing Landscape
Create a truly spooky atmosphere on your nails for Halloween! Why not paint a whole graveyard on your nails? This can include bare trees, gravestones standing out of the ground, bats flying around in the sky and a hand grasping out of the floor. If this doesn't bring a sense of Halloween to your nails, we don't know what will!
19. The Curse of the Mummy – Halloween Nail Ideas
An easy and cheap costume to dress up as for Halloween is a mummy! All you need to do is paint your skin in blue or green as if it were rotting. Then wrap some toilet paper around yourself resembling the bandages around a mummy. If you are going to use this costume idea for Halloween then make sure to incorporate it into your nails as well! Paint the eyes of mummies on your nails with bandages wrapped around them!
20. A Creepy Atmosphere – Easy Halloween Nails
Here is another way to give your nails a truly creepy vibe for Halloween! Paint your nails in a red and black ombre. Then add spiderwebs to different corners of them. To give your short nails an extra spooky addition add the face of Jack Skellington to one of them.
21. Glowing Eyes – For a Spider
As we have mentioned before, spiders and spiderwebs are a fabulous way of decorating your nails for Halloween. To give your Halloween nail art a special look, add glowing eyes to your spiders. Achieve this by adding small glittering stones to their heads.
22. Scary Skeletons – Easy Halloween Nails
Another fantastic way to decorate your nails for Halloween is this one! Firstly, coat your nails in matte black polish. Then paint skeletons over two of them, a boy and a girl skeleton. Skeletons are a great choice for Halloween!
23. Bursts of Colour – A Spooky Theme
Just because it's Halloween doesn't mean you can't add a bit of colour to your nails! Use purple. orange, black, yellow and green as your main shades. Create different sorts of patterns on your nails. One can be stripey, another can have a witch's hat on it and another a spider's web. It's really up to you and your creativity!
24. Scary Characters – Funny and Cute
Another great design for Halloween is to add some classic scary characters to your nails. One can be Frankenstein's monster, another a ghost, one Count Dracula and you can include a mummy as well!
25. A Pumpkin Patch – Halloween Nail Ideas
As we have discussed before, using pumpkins as inspiration for your autumn nail art is a fantastic idea for Halloween! It embodies the autumn vibe. But if you want to go for something more spooky, you can create jack-o-lanterns out of your pumpkins.
We trust that we were able to lend you some assistance in finding the perfect Halloween nail ideas for yourself. For more ideas, besides easy Halloween nails, such as Halloween Face Paint Ideas for Adults or Fall Nail ideas, check out our website!
Advert