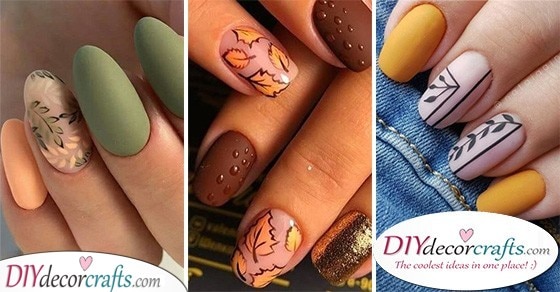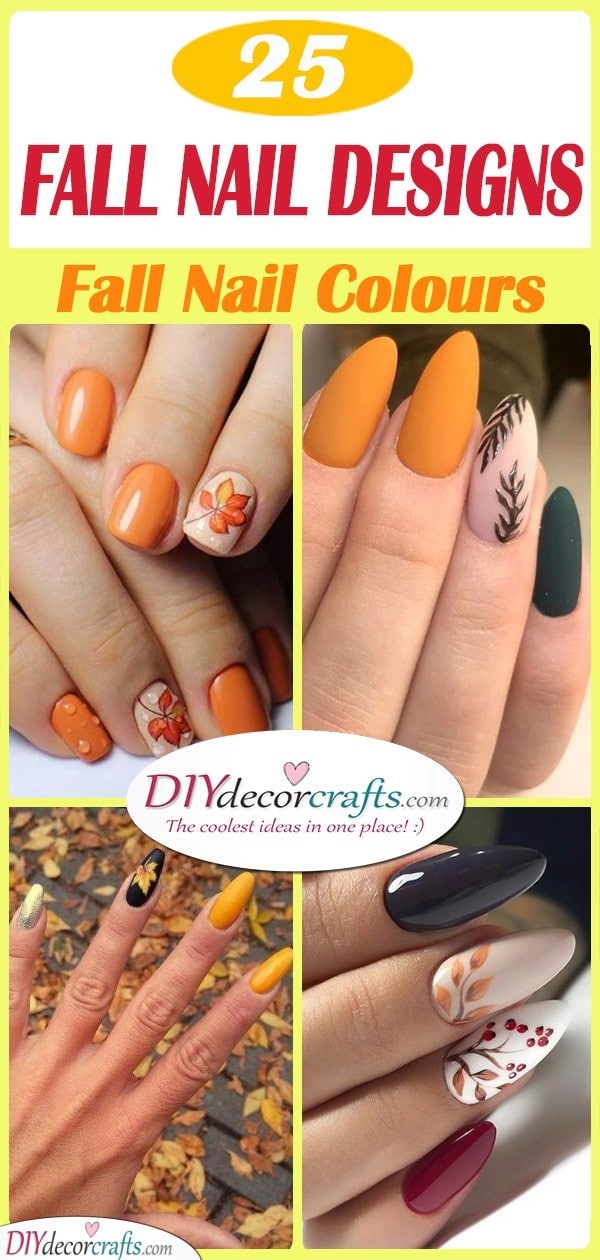 Whether you are getting ready to go out for dinner with friends or to a fancy event hosted in an elegant place, you will want to look your best! This includes wearing the perfect outfit with all the right accessories. Naturally, don't forget about your hair or your nails either! Both your hair and nails will add an extra dazzle to your whole outfit! Since the season of autumn is around the corner, you might plan on getting your nails done in an autumn look. This might include autumn shades, falling leaves or pumpkins as a design. Take a look through our collection of 25 autumn nail designs to find some inspiration! We have all the most beautiful fall nail colours and fall ideas here!
1. Shades of Green – Gorgeous Fall Nail Designs
Using different tones of olive or sap green will bring autumn vibes to your fall nail colours! Paint each one of your nails in a different tone of murky green. You might also consider using different types of nail polish for each nail. For example, use matte nail polish for one or two of them, use a glittery or sparkly lacquer for another. Then use a simple and shiny polish for the remaining nail or nails. This will make your autumn nails incredibly unique!
2. Quirky Matte Yellow – With a Touch of Nature
When you think of the season autumn, what colours do you associate with it? Yellow will be sure to be amongst them! Use a warm shade of matte yellow to coat a few of your nails in. Create an interesting print on the rest of your nails. For example, try out painting tree branches with leaves on them. Use matte nail polish for this design for a homogenous look. A simple touch of nature, combined with a matte yellow, will make your nail art glow! So make sure to try out this design at least once this autumn!
3. A September Look – Deep Green
If it's the beginning of fall, why not try out some gorgeous deep green almond-shaped nails? It will definitely fit the season perfectly. Paint four of your nails in either matte or shiny shades of deep green polish. Coat the remaining one of your nails in white nail polish. Then paint a green leaf, feather or fern on it with the same deep green you used on the rest of your fall nail designs. This will create a beautiful image on your fall nails, as well as bring the beginning of autumn vibes with itself!
4. Magnificent in Matte – The Best Fall Nail Ideas
Bring autumn vibes to your nails, by using a combination of pale matte orange and matte olive green. Paint tree of your nails in the green and one of your nails in the pale orange. Then on the remaining nail, using these two colours, paint a pattern of ferns and vines folding on top of each other. This combination of these two colours will truly create an autumn look on your nails. Nail art such as this is perfect for any sort of event, whether it's just a day around town or a fancy dinner, this nail design will shine!
5. Matte and Black – An Elegant Look
If you are mourning the fact that summer is over, then bring that attitude to your nail design as well! Coat your nails in matte black polish, all except for one of them. Cover your last nail in a simple pale pink, then draw tree branches on it with the matte black. These nails look beautiful and glamorous, not to mention, the black channels a sense of grief due to summer being over. Again, this is a perfect nail design for any sort of event or occasion you might be heading off to!
6. A Stunning Ombre – Black into Red
Autumn's arrival brings chillier days when all you want to do is curl up on your couch and watch the leaves fall outside. It's also the month when you can go and enjoy apple-picking, a typical seasonal activity which everyone loves! Add apple shades to your nail design to give your nails an autumn ambience! You can create an ombre on each of your nails, black turning into a deep red. These fall nails will look gorgeous for the autumn season!
7. Falling Autumn Leaves – Fall Nail Designs
There's nothing quite like the autumn landscape when everything turns into warm colours of yellow, orange, red and brown. Recreate the autumn landscape on your nails. Paint some of your nails in glittery gold, representing the golden rays of the autumn sun. Paint a few nails in brown, you can even use matte nail polish for this. Coat the remaining nail in a pale pink shade, then draw autumn leaves on it, as if they were falling from a tree. If this nail art doesn't give off fall vibes, we do not know what will!
8. Beautiful Autumn Atmosphere – Navy Blue and Orange
Here is yet another gorgeous example of autumn-themed short nails! First of all, coat all your nails in a matte navy blue. Then decorate them with drawings of orange leaves, falling from autumn trees. You can add a few hints of yellow or gold to the leaves, to give them a real autumn feeling! The dark blue will help elevate the leaves, making them stand out. You don't need to paint leaves on each of your nails, a select few on each hand will be enough.
9. Checkered in a Unique Way – Fall Nail Colours
Since it's autumn, make sure to use a lot of warm colours for your autumn nail designs. This includes shades of yellow, ochre, brown, orange and red! There are so many patterns you can try out on your nails, but a pattern which really brings an autumn vibe with itself is checkers. Coat each of your nails in a different warm colour, making sure they look like the colours of autumn leaves. Then all you have to do is add a checkered pattern to one of your nails. It's completely up to you which nail you would like to decorate with this simple pattern.
10. A Modern Take – Abstract Art
If you like abstract art which is mainly made up of dots and lines, why not use it as inspiration for your autumn nail art? Use autumn colours for the patterns or design you choose to paint on your nails, to give it a fall ambience. For example, you can draw big orange circles on a few of your nails and even paint a nail or two in this colour. Try using a dark brown or black for painting lines on your nails, crossing through the orange circles. Your autumn nails will look fantastic!
11. An Array of Colours – Autumn Nail Designs
Naturally, you don't need to stick to the stereotypical colours of autumn, to create a fall-inspired nail design. Use an array of colours to decorate your nails with, using a different shade for each nail. Use yellow, pale pink, black and teal for your nails. Then place a nail sticker on one nail on each hand, which represents a leaf. Of course, you don't need to use a sticker, you can paint on the small leaf yourself! This small autumn leaf will give your whole nail art an autumn feeling.
12. Add Some Glitter – Green and Gold
Adding a bit of sparkle or glitter to your nail design is a fantastic idea, no matter what the season is! It will give your nails definition and a dazzling look. Coat most of your nails in a deeper shade of green. Then paint one with a golden glitter or sparkly polish. You will be ready for autumn in no time at all!
13. The Colours of Fall – Perfect Fall Nail Designs
We have talked about using the natural colours of the season for your fall nail ideas. It will give your nails a gorgeous autumn vibe. Use any sort of warm-toned colours, ranging from yellow to brown to pink. Either use full matte polish or just simple, shiny nail polish.
14. An Adorable Design – Using a Stamp
There are numerous ways to decorate your autumn nail designs in a unique and adorable manner! Give your autumn nail design a super cute look, by decorating it with a nail stamp. This way you can be certain that the same shaped and sized pattern will coat your nails. For example, you will be able to find nail stamps which have leaf patterns on them, which is perfect for the season!
15. Yellow and Black – Modern Elegance
A combination of two colours, which will be sure to exude elegance during the autumn season, is black and yellow.  Paint one of your nails with black varnish, the rest in yellow. Then paint a crisp, yellow autumn leaf on the black nail. If you'd like a sparkling touch, consider adding a silver-coated nail to your design.
16. A Branch of Red Berries – Fall Nail Designs
When walking around in nature during autumn, you will notice all the breathtaking colours around you. For example, you might find red berries around in the forest, like rosehip. If you like the image of red berries growing in a hedge, why not use it as an idea for your nail art? Simply paint a branch of berries on one of your nails, then coat the rest in dark brown or red.
17. Woodland Environment – An Autumn Landscape
Fall is a season when you might spot a lot of woodland creatures roaming around in forests. Use foxes, bears, owls or raccoons as inspiration for your nail art! Since it's autumn don't forget to add a few piles of leaves at the tip of each nail. If this nail art doesn't scream autumn, we don't know what does!
18. Beautiful Trees – Ideas for Fall Nail Colours
When you picture the season autumn, which image comes almost immediately to your mind? Perhaps it's a bunch of trees, with leaves turning from a summer green into complex autumn shades. Recreate this beautiful image on your nails, painting one or two trees on each hand. Coat the rest of your nails in burgundy or darker brown.
19. Flowers of the Fall – Gorgeous Imagery
Here is another fabulous nail design for autumn. Images of pressed and dried flowers used as stickers on nails will give your whole look a stunning appeal. You can try finding stickers of flowers, which bloom during autumn for that extra effect! These nails would look perfect as wedding nail art for an autumn wedding!
20. Golden and Brown – Shades of the Season
We have already discussed using the shades of nature during autumn for your nail art. You can achieve a trendy and chic look using only two or three colours for your nails. Keep it simple, and use shades of brown and gold for your nail art. This will be sure to channel the fall feeling.
21. Ferns Forever – Beautiful Fall Nail Colours
Combining a simple pattern, even if it is in black and white, will look great with any sort of autumn colour! For example, paint most of your nails in matte yellow, leaving one or two coated in white. Then paint small patterns on the white nails, in the shape of ferns, with a black polish.
22. An Ombre Purple – Elegant and Sophisticated
Perhaps you are looking for a more elegant nail design for fall. Why not try out a purple ombre? Coat your nails at the cuticles in a deep purple. Your nails should get lighter as you head up to the tips.
23. Cute in Orange – Fall Nail Designs
Not sure how to decorate your nails for autumn? Stick to orange nails with a leafy design. This will create the perfect autumn ambience on your nails and get you ready for the new season. So try out these fall nails!
24. A Matte Mauve – Decorated With Rhinestones
Here is a perfect nail design which is more on the elegant side, but fits into the autumn theme! Paint your nails in matte mauve and pale pink. Add small rhinestones to decorate them for an even more stunning look! These soft shades will get you ready for any fancy fall event!
25. A Burst of Glitter – Perfect for a Party
If you are planning to go to a few parties this season, make sure your nails match the season! Coat your nails in a pale brown polish. Then add warm coloured glitter to the cuticles, to give your nails an astounding look. This autumn nail art is sure to shine at parties!
We trust that we have inspired you with a few fall nail colours and fall nail designs for the season! For more nail art designs, like summer nail designs or french manicure ideas, check out our website!
Advert