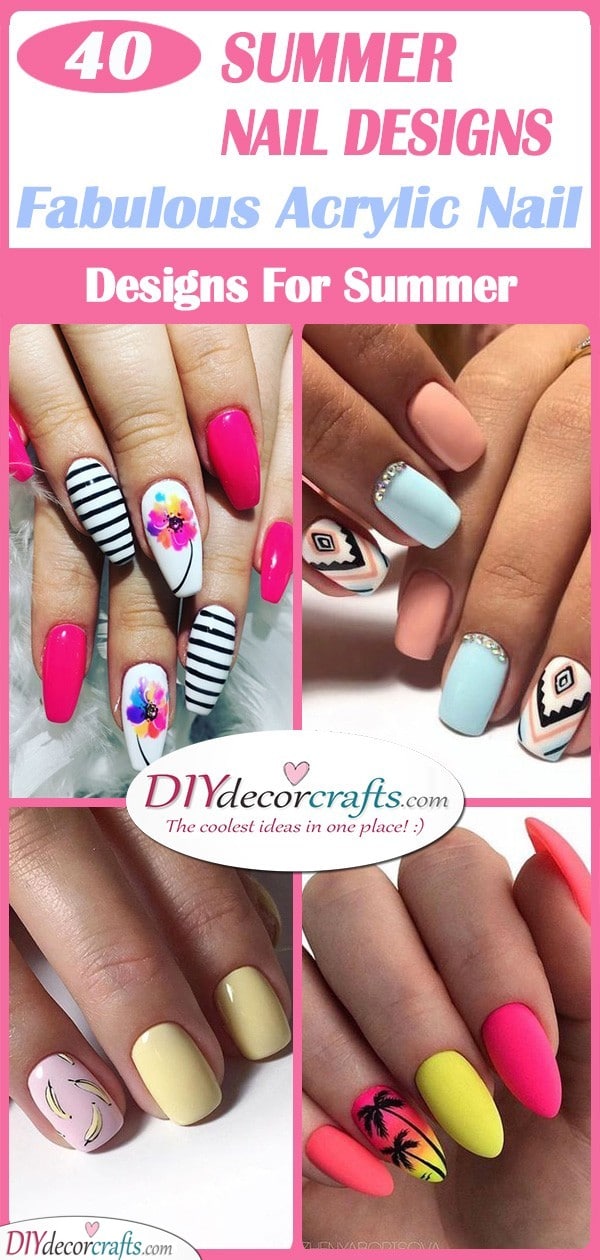 Summer is here! The season of going on holidays, spending more time outdoors in the shining sun and relaxing on the beach. Make sure your whole outfit is perfect for summertime and that you look fabulous from head to toe. This includes not only your clothes but your hairstyle and nails as well! If you're the sort of person who loves to paint their nails, take a look through our collection of 40 gorgeous summer nail designs as well as our acrylic nail designs for summer. You'll be sure to find a collection of summer ideas for the upcoming months!
1. Tribal and Pastel – Perfect for Festivals
Summer is also the time of music festivals. If you're thinking about going to one, make sure your nails are on fleek as well. Give them a tribal bohemian look, by creating interesting patterns on one or two of your nails. You don't necessarily have to use bold colours, try out some paler shades of pastel!
2. White and Gold – Pineapple Inspired
An awesome look for summer is combining a plain white nail polish with some gold accents. You can try out paint a pineapple in gold. Pineapples are a great fruit to munch on during summer, it's refreshing, making it the perfect summer treat! So it would only make sense to use pineapples as inspiration for summer.
3. Stunning Sunset – Acrylic Nail Designs for Summer
A great way to spend summer nights is by relaxing on the beach and watching the sun go down. If you always feel a sense of beauty, use the sunset as an idea for your nails. Use the colours of the sky in your nail art, yellow, pink and orange. You can paint a few palm trees in black on one of your nails, to give them a complete summer vibe.
4. Nautical Inspired – Starfish and Stripes
If something screams summer, that's definitely nautical-inspired accessories, which includes nails! Paint all but two of your nails in a deep-sea blue. Coat one with gold, sparkling polish, and stripe another with white and blue, creating a typical sailor look. You can create a starfish on one of your blue coated nails using the gold polish.
5. Flowers and Stripes – A Summer Look
If you're trying to find summer nail art which is perfect for any occasion, look no further! Cover a few of your nails in the same colour, for example, you can go for hot pink. Paint stripes on another one of your nails, and on another a flower, painted in a watercolour effect.
6. Yellow and Happy – Bubbly Bananas
A typical summer colour is a warm and happy colour yellow. Instead of coating all your nails in this vibrant shade, paint bananas on a few of them, using a grey background. These are great summer nails, especially if you love bananas!
7. Rainbow Stripes – Fantastic Summer Nail Designs
A carnival of vibrant colours is perfect for the summer season! Paint your nails in different colours, painting a rainbow of stripes on two. Wherever you're going this summer, people will be sure to notice these fantastic nails!
8. Shades of Blue – Beautiful Nail Ideas
If you simply adore the colour blue, make sure you use it for your summer nails! You can create zigzags, stripes or polka-dots, combining a baby blue with white. You can coat one of your nails in a glittery blue as well, to add that special factor to your nail art.
9. Perfect Pineapples – Summer Nail Art
Pineapples have become a popular source of inspiration, not only in home decor but in clothes and nail art! They bring a fun and youthful vibe, which is perfect for your summer nail art! You can paint your nails in a pastel blue, and paint pineapples over one or two of them.
10. Pretty in Pink –
Acrylic Nail Designs for Summer
Another trendy theme of nail art is using flamingos as inspiration! Combine monochrome with pink for a perfect look. Coat some of your nails in pale pink, you can leave one or two in white or black. Then use a darker pink to draw the flamingo on one of your nails. This nail art is great for summer!
11. Buzzing Bees – Cute Animal Inspired Nails
During summer you'll be sure to notice bees buzzing around in nature. If you love these beautiful insects, use them as inspiration for your summer nails as well! Cover your nails in yellow, painting black stripes on one or two, a bee on another nail and don't leave out the hexagons of a beehive! These nails will be perfect for the season!
12. Nautical Scape – Great Nail Art for Summer
Nautical inspired clothes and nail art are absolutely perfect for summertime! You can paint golden anchors or ship wheels over stripes of blue and white. You can also add some golden seagulls to a few of your nails as if they were flying off into the horizon.