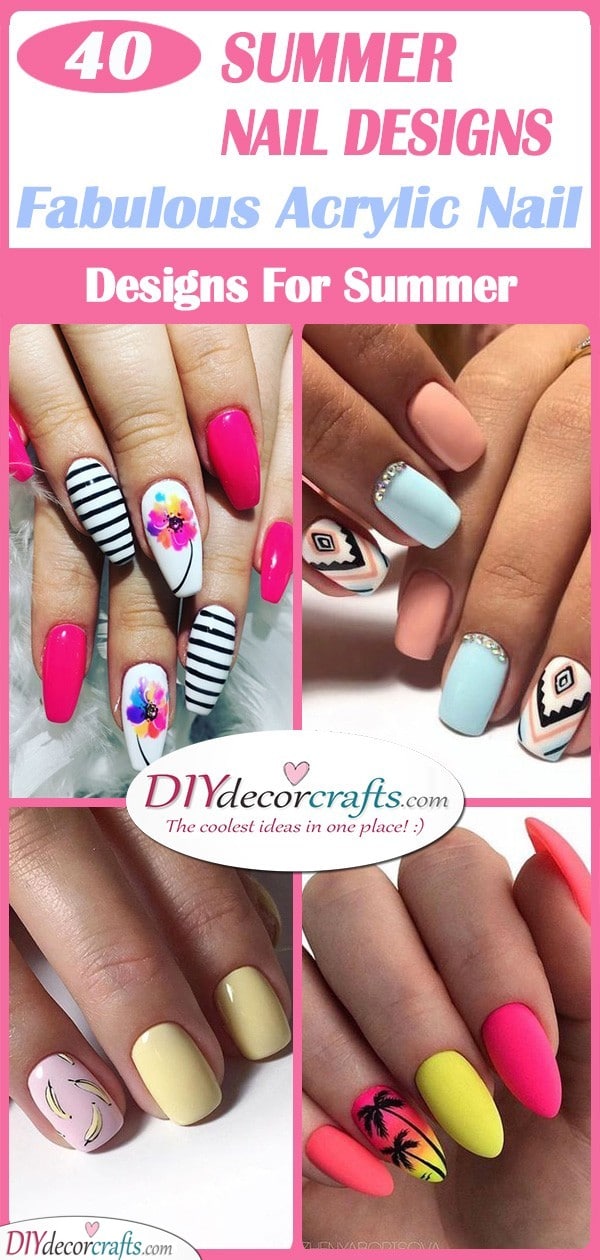 Summer is here! The season of going on holidays, spending more time outdoors in the shining sun and relaxing on the beach. Make sure your whole outfit is perfect for summertime and that you look fabulous from head to toe. This includes not only your clothes but your hairstyle and nails as well! If you're the sort of person who loves to paint their nails, take a look through our collection of 40 gorgeous summer nail designs as well as our acrylic nail designs for summer. You'll be sure to find a collection of summer ideas for the upcoming months!
1. Tribal and Pastel – Perfect for Festivals
Summer is also the time of music festivals. If you're thinking about going to one, make sure your nails are on fleek as well. Give them a tribal bohemian look, by creating interesting patterns on one or two of your nails. You don't necessarily have to use bold colours, try out some paler shades of pastel!
2. White and Gold – Pineapple Inspired
An awesome look for summer is combining a white nail art with some gold accents. You can try out paint a pineapple in gold. Pineapples are a great fruit to munch on during summer, it's refreshing, making it the perfect summer treat! So it would only make sense to use pineapples as inspiration for summer.
3. Stunning Sunset – Acrylic Nail Designs for Summer
A great way to spend summer nights is by relaxing on the beach and watching the sun go down. If you always feel a sense of beauty, use the sunset as an idea for your nails. Use the colours of the sky in your nail art, yellow, pink and orange. You can paint a few palm trees in black on one of your nails, to give them a complete summer vibe.
4. Nautical Inspired – Starfish and Stripes
If something screams summer, that's definitely nautical-inspired accessories, which includes nails! Paint all but two of your nails in a deep-sea blue. Coat one with gold, sparkling polish, and stripe another with white and blue, creating a typical sailor look. You can create a starfish on one of your blue coated nails using the gold polish.
5. Flowers and Stripes – A Summer Look
If you're trying to find summer nail art which is perfect for any occasion, look no further! Cover a few of your nails in the same colour, for example, you can go for hot pink. Paint stripes on another one of your nails, and on another a flower, painted in a watercolour effect.
6. Yellow and Happy – Bubbly Bananas
A typical summer colour is a warm and happy colour yellow. Instead of coating all your nails in this vibrant shade, paint bananas on a few of them, using a grey background. These are great summer nails, especially if you love bananas!
7. Rainbow Stripes – Fantastic Summer Nail Designs
A carnival of vibrant colours is perfect for the summer season! Paint your nails in different colours, painting a rainbow of stripes on two. Wherever you're going this summer, people will be sure to notice these fantastic short nails!
8. Shades of Blue – Beautiful Nail Ideas
If you simply adore the colour blue, make sure you use it for your summer nails! You can create zigzags, stripes or polka-dots, combining a baby blue with white. You can coat one of your nails in a glittery blue as well, to add that special factor to your nail art.
9. Perfect Pineapples – Summer Nail Art
Pineapples have become a popular source of inspiration, not only in home decor but in clothes and nail art! They bring a fun and youthful vibe, which is perfect for your summer nail art! You can paint your nails in a pastel blue, and paint pineapples over one or two of them.
10. Pretty in Pink –

Acrylic Nail Designs for Summer
Another trendy theme of nail art is using flamingos as inspiration! Combine monochrome with pink for a perfect look. Coat some of your nails in pale pink, you can leave one or two in white or black. Then use a darker pink to draw the flamingo on one of your nails. This nail art is great for summer!
11. Buzzing Bees – Cute Animal Inspired Nails
During summer you'll be sure to notice bees buzzing around in nature. If you love these beautiful insects, use them as inspiration for your summer nails as well! Cover your nails in yellow, painting black stripes on one or two, a bee on another nail and don't leave out the hexagons of a beehive! These nails will be perfect for the season!
12. Nautical Scape – Great Nail Art for Summer
Nautical inspired clothes and nail art are absolutely perfect for summertime! You can paint golden anchors or ship wheels over stripes of blue and white. You can also add some golden seagulls to a few of your nails as if they were flying off into the horizon.
13. Tribal Geometric Pattern – Great for Summer Festivals
Geometric patterns are great for nails, they will give you a modern and hip look! Use a variety of vibrant colours for your cool geometric nail art! You can leave a few of your nails coloured in a simple polish. These nails are perfect for summer festivals!
14. Cute Nail Ideas – Forest of Flamingos
If you like simplistic and adorable nail art, make sure to use it as inspiration for summer as well! If you like flamingo themed accessories or art create a whole forest of them on your nails! Firstly, coat your nails with a plain white polish. Then paint green palm leaves and ferns on some of your nails, and flamingos on other ones.
15. Tiny Watermelons – Adorable Summer Nails
Watermelon is another refreshing and healthy treat for those long summer days! Use this fruit as inspiration for your nails, it's vibrant colours are perfect for summer. Paint tiny watermelons slices on white coated nails, then paint a few of your other nails in the same coloured pink that you used for the melons.
16. Stylish Sailor –

Acrylic Nail Designs for Summer
We've mentioned using nautical-inspired ideas for your nail art, but here's another beautiful combination for your summer nail designs! Besides the blue and white stripes on a few of your nails, decorate the rest with an anchor, some rope and a ship wheel. These almond-shaped nails are absolutely perfect for summer!
17. A Bit of Lime – Citrus Nail Ideas
Everyone knows that the perfect ingredient for any summer drink is some type of citrus fruit! If you love limes, why not use them in your summer nail art? Coat all your nails in different colours of green, leave a nail on each hand coated in white, on which you can paint a lime with some leaves surrounding it.
18. A Deep Navy – Another Nautical Idea
You can't really go wrong with ship nail designs, especially if you're going to be spending most of your time next to the sea or ocean. Use a deep navy for the blue stripes and use gold nail polish for the different accents, for example, the anchor.
19. Peachy Tribal Patterns – Summer Nail Art
Tribal geometric patterns for your nail art are super trendy! So it only makes sense to use them for summertime! Try using paler shades of colours for a more elegant and feminine effect. Using peach coloured nail polish is a great idea, combine it with baby blue and a light yellow!
20. Purple and Pink – Gorgeous Nails for Summer
For a harmonic and feminine look, why not use warm shades of purple and pink as the main colour theme? You can add any sort of pattern you'd like, using different sorts of colours. For example, the geometric pattern above looks like a work of art and the colours used in it match each other perfectly!
21. Melon Seeds – Adorable Nails for Summer
If you adore watermelon, use it as inspiration for your summer nail art! After all, summer fruit for summer nail designs is a great idea! On a few nails, paint some slices of this tasty fruit. You can cover one of your nails in small black dots, representing the seeds of the watermelon.
22. Modern and Simple – Awesome Nail Ideas
Give your cute summer nails a tropical look for the season! Coat them in pale pink, then draw green ferns and palm leaves on a few of your nails. You can also add a geometric pattern to one or two of them, using a different colour, like gold for example.
23. Hot Pink –

Acrylic Nail Designs for Summer
A great and bold shade for summer is hot pink! It's perfect for those fun summer parties, which last all night, but also great for casual events. Coat your nails in hot pink, all except one! On the remaining one, paint your favourite summer flower!
24. An Ombre of Citrus – Summer Nail Art
We've mentioned using citrus fruit as inspiration for your summer nails! But here's another stunning idea! Create a blend of colours, ranging from green, turning into yellow before finally ending in orange. The colours of limes, lemons and oranges will create the perfect nails! Just look at the example above! You can draw slices of citrus fruit on your nails as well!
25. Crazy About Bananas – Funky Summer Nail Ideas
Are you crazy about bananas? Use them in your nail art! This vibrant and yellow fruit will make your nails pop with colour! Coat your nails in a pale yellow, all except one, which you can cover with a pale pink polish. Draw small bananas on the pink nail, using the same yellow, which you used on the other nails.
26. Under the Sea –

Acrylic Nail Designs for Summer
If you like to snorkel during summer and observe what life is like under the water, then these nails will be perfect for you! Paint most of them in blue, add a starfish or small jewels on your nails, representing the bubbles coming up in the water. With gel polish, you can also create a shell on one of your nails. These nails will paint a picture of the underwater world!
27. Red and Blue – Nautical and Stylish
We've talked heaps about nautical nail art! To take it up to the next level, don't only use blue and white, add some red and white stripes as well! Red, blue and white is the perfect combination for nautical nails!
28. Green Skies – Tropical Vibes
Incorporate palm trees into your nail design! You can use any sort of colour you'd like for the background, for a tropical vibe, why not consider using shades of green and yellow? Then paint black palm trees over these green skies, to give it that true summery look!
29. French Nautical Nails – Unique Summer Nail Ideas
Do you love the theme of ships and sailor stripes? Well, make sure to embody this in your nail art! If you'd like something more feminine and elegant, why not combine these stripes with a french manicure? If you are going to a fancy dinner or event, these nails will be perfect!
30. Cute and Simple – Summer Nail Designs
If you are going for a nail design that is on the more simple and cute side, this might just be perfect for you! Leave your nails coated in white nail polish, paint an array of flowers on one of your nails and stripes on another. This will give you an adorable vibe for the summer!
31. Lemons and Stripes – Yellow Happiness
Summer is the season of sunshine and hot weather, so it only makes sense to use a beautiful yellow to express this sunshine. On a few of your nails add some lemons lying in a stripy background. Sunshine and lemons are the way to go for summer!
32. Ocean Vibes – Beautiful Summer Nails
A shell design for summer will always be a fantastic idea, especially if you're planning to spend most of your time on the sandy shores of the beach. Create shells on a nail on each hand, then coat the rest of your nails in blue, representing the ocean. You can add a bubble effect to a few of your nails, giving you the feeling that the waves are constantly in motion.
33. Orange and Gold – Summer Shades
Spruce up your nautical nails with a few different colours! For example, orange, gold and white will make a perfect and harmonious combination for summer. You can still add an anchor or ship wheel as decoration on a few of your nails, just in different colours this time.
34. Gold and Tropical – Glitters and Sparkles
For a tropical and modern look, combine glittery gold, a turquoise blue and white. Coat your nails in turquoise and white stripes, besides one, which you can leave in sparkling gold. Then using the same gold polish, paint palm leaves on the stripy nails. This will give your cute summer nails a gorgeous glow!
35. Summertime Vibes – Vibrant and Bold Shades
Looking for a trendy and groovy look? Here's a great idea for you! Coat your nails in a simple white polish, then decorate two or three of your nails with vibrant and bold colours and patterns. Just take the picture above as an example, it's edgy and summery!
36. Galaxies and Fruit – Beautiful Blends of Colours
If you love the colours of galaxy-themed clothes, decor or art in general, these nails might be the perfect choice for you! Paint your nails in an ombre blend of turquoise and purple, sprinkling small dots of white all over it, symbolizing the multitude of stars in the sky. Leave a nail on each hand white and paint a pineapple on it, which incorporates the same colours you used in the galaxy.
37. Tropical and Exotic – Summer Nail Art
Tropical and exotic patterns are perfect for summer! You can paint a variety of ferns and leaves on your nails, not to mention there are a variety of tropical flowers, like frangipani and hibiscus, which fit in perfectly to the exotic arrangement.
38. Colours of the Summer –

Acrylic Nail Designs for Summer
Create V-shaped patterns on your nails, using earthy and summery colours. You can try out glittery nail polish on a few nails, to give them that extra wow factor. These are perfect for any summer occasion!
39. A Tribal Look – Summer Nail Designs
Get into a bohemian vibe for the summer with some tribal patterns! Use vibrant geometric patterns for some of your nails and you can leave a few in a simple coat of a different colour. These will look fabulous!
40. Matte and Glamorous – Sleek and Chic
Matte nail polish is a great choice if you love a sleek and glamorous look. Use shades of pink and black for a stylish design, and paint palm trees on one of your nail for that summer essence.
We hope that this pick of 40 summer nail designs has helped you in finding something for the summertime! Remember to relax and have as much fun as you can this summer! For more ideas concerning nail art, for example, spring nails or summer hairstyles make sure to visit our website!
Advert