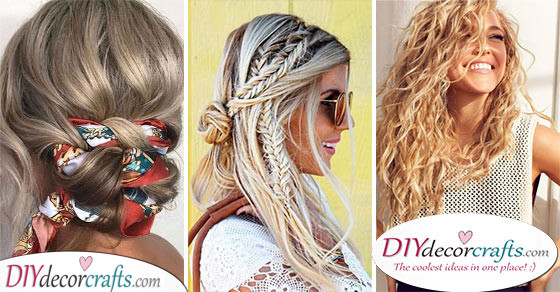 Advert
Our favourite season, summer, is finally here! Summer is all about enjoying the good weather, relaxing on the beach, sunbathing or just hanging out with friends. It's also a season of finally being able to wear breezy and thin clothes. In the same way, you change your spring clothes to summer ones, you might have been thinking about altering your hairstyle as well for the season. You might want to try out a new colour for a festival or go for a shorter cut, which is a great summer idea for those hot days. Either way, take a look through our pick of 30 cute summer hairstyles.
1. A Half Updo – Cute for the Summer
Here's a super cute way to style your hair during summer! It's easy to create and looks effortless! You don't even need a new haircut or long hair to achieve this look. This hairstyle will look great with medium length hair as well! Tie the top half of your hair in a ponytail, leaving the bottom half out and flowing. Then tie a headscarf or a ribbon around the ponytail for an adorable appearance!
2. Exquisite Braids – Awesome Hairstyles for Summer
Sometimes it gets annoying during summer leaving your hair out. In the hot sun, you start to sweat and your hair ends up sticking to various parts of your body. So why not try out a new type of braid? There are so many intricate types of braids, from French braids to dutch braids, you can try out anything you'd like!
3. A Pixie Cut – Sporty and Fun
If you're sick of having long hair during summer because it sticks everywhere, why not try out a drastic change? A pixie cut is fun and sporty, not to mention it won't be heating up your head when you are under the sun.
4. Braids into a Bun – Elegant Hairstyles for Summer
If you are going to be going to a few fancy events this summer, make sure your hair is on fleek! Here's a beautiful hairstyle, consisting of two side braids joining together to form a bun. This will give you a look of elegance and sophistication.
5. Popping Pink – Fabulous Hair Colours
Are you in search of more wild and groovy hair colour for this summer? Try out a peachy pink! It's a bold and daring colour, but perfect for summer festivals and parties. You will be sure to catch a lot of eyes with this funky colour!
6. Exquisite Braid – For Long Hair
Are you going to elegant events this summer? Make sure to create something unique and beautiful out of your hair. An intricate braid, using up only half of your hair is a great idea. You can try this out with a selection of braids, including more complicated dutch braids.
7. Windswept and Romantic – Platinum Blonde Locks
Give yourself a summer glow by bleaching your hair a platinum blonde! Platinum blonde is an extremely trendy hair colour, and it is guaranteed to look great during summer! No matter what length your hair is, you can add a few curls or waves to your hair, then blow some hairspray over it, to give you some natural-looking locks.
8. Incorporate a Headscarf – Cute Summer Hairstyles
Create a gorgeous and easy bun for summer, as well as incorporating a headscarf into your hair. You might need to braid your hair into a bun first, before entwining the headscarf into the hairstyle as well. This hairstyle will give you a great summer look!
9. Waterfall Braid – Summertime Hairstyles
Looking for a truly elegant hairstyle for summer? Try out a waterfall braid! It's a great way to add a bit of definition to your hair, leaving the locks after the braid tumbling down in waves. This is a great hairstyle to try out for any summer weddings you might be going to or fancier events.
10. A Gorgeous Ginger – Wild and Bold
If you have been looking for a new hair colour, here's a fantastic choice! Add some red tones to your hair, creating a natural-looking ginger effect. This hair colour is bold and vibrant, giving you a mysterious appeal as well as showing off that you have a fun side! The rest is up to you, to style in any way you'd like, cut it short or leave it long.
11. Bohemian Vibes – An Array of Braids
Give your hair a hippie or bohemian look, by braiding a lot of your strands. You can create a half updo, tying some of your hair along with some easy braids into a bun or a ponytail. You can also try out a new hair colour, for example, a light blonde, to give you an even stronger summer glow!
12. Lilac Purple – Cool Summer Hair Colours
Besides getting a new and daring haircut, you can also try out a unique colour! Have you ever found yourself admiring lilac or purple hair dye? This unique colour for hair is perfect for any parties or summer festivals you might be visiting this year. You will definitely stand out in the crowd with lilac hair!
13. An Inverted Braid – Beautiful Hairstyles for Summer
An inverted braid takes a bit more time to perfect, but it's totally worth it after you perfect the braiding of it. This exquisite type of braid looks great anyhow, whether you have one braid or two braids on both sides of your head. It also helps to ensure that it won't stick to your neck or head during summer, which is important!
14. Bubble Braids – Fun and Quirky
Here's an impressive hairstyle for the summertime, not to mention it's actually quick easy and simple to create! They are called bubble braids and are rapidly gaining more and more popularity around the world. This cool hairstyle is perfect for summer, as it gives off a fun, unique and quirky vibe! Bubble braids look better for longer hair though than short length hair.
15. An Outstanding Ombre – A Different Look
Get your hair dyed in a unique way for summer! Ombre is a great way for blending two or more colours and creating something new out of them! Start off with a mahogany brown, maybe a colour which has a hint of purple in it. Then the closer you come to the tips of your hair, bleach your hair lighter and brighter. The tips don't have to be a platinum blonde, you can add a shade of purple if that colour appears close to the roots as well.
16. Super Short and Pink – Short Summer Haircuts
Spruce up your short pixie cut with a few of our ideas! Dye it platinum blonde first of all, before adding tones of a light pink to it. For an even more eccentric and summery vibe, shave the sides and back of your head, but only the bottom half. Just take a look at the picture above, isn't it one of many cute summer hairstyles?
17. A Blend of Blue – Unique Hair Colours
If you've been contemplating dying your hair blue for summertime, why not take it up a notch? Create a blue ombre out of it, starting out a deep shade of ocean blue closer to the roots, ending with tones of light turquoise. Then it's up to you how you decide to style it!
18. Frizzy and Fun – Natural Waves for Summer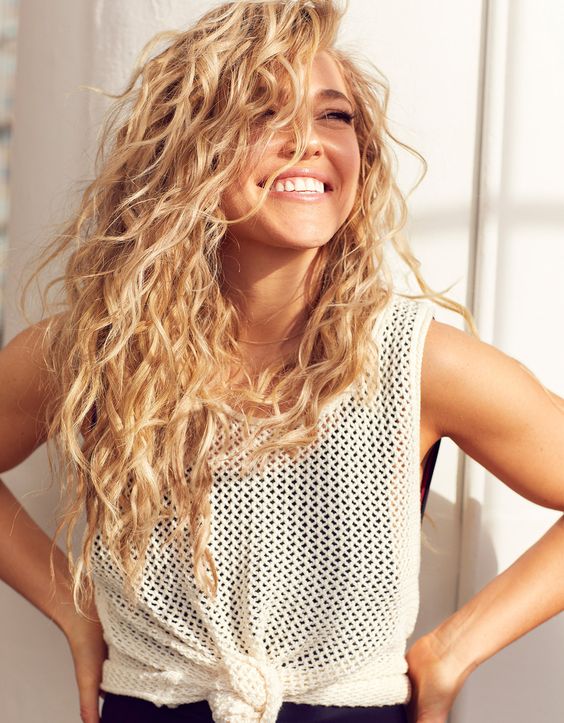 If you're going to be spending a lot of time under the summer sun and out on the beach, you might as well try out a fun and easy hairstyle to match your summer past time! Curl your hair into frizzy waves with the help of a hair curler or hair straightener, then blow hairspray over it to make sure it stays in place. Give this easy hairstyle for long hair, we guarantee it will look perfect for summer!
19. A Deep Red – Sensual Hairstyles for the Season
Based on your complexion, red might be a colour that suits your skin and eye colour! While there are a lot of shades of red, you might want to try out a deep and rich red. When it comes to hair, red is the colour of mystery and seduction. So if you'd like to add an air of sensuality to your overall look, go for this deep tone of red!
20. An Adorable Bun – Cute Summer Hairstyles
Here's a simple hairstyle for those long summer days! Create a small half updo, tying your hair in a bun. Stick a hairpin in it, just for that extra touch of an accessory. This one of many cute summer hairstyles, is great for any sort of day, whether it's going to work or spending a night out in town.
21. A Messy Bun – Perfect for Lazy Days
Are you looking for an easy hairstyle, which you can just whip your hair up in a few minutes? Here's a great example of it, creating a bun of hair with separate strands sticking out of it. It's perfect for lazy summer afternoons or casual days out in the city.
22. A Loose Braid – Elegant and Romantic Hairstyle Ideas
If you are still in search of a summer hairstyle perfect for any sort of occasion, look no further! A loose braid goes with any outfit. All you need to do is loosely braid your hair, then softly pull the strands of hair outwards.
23. Pretty in Pink – A Coloured Ombre