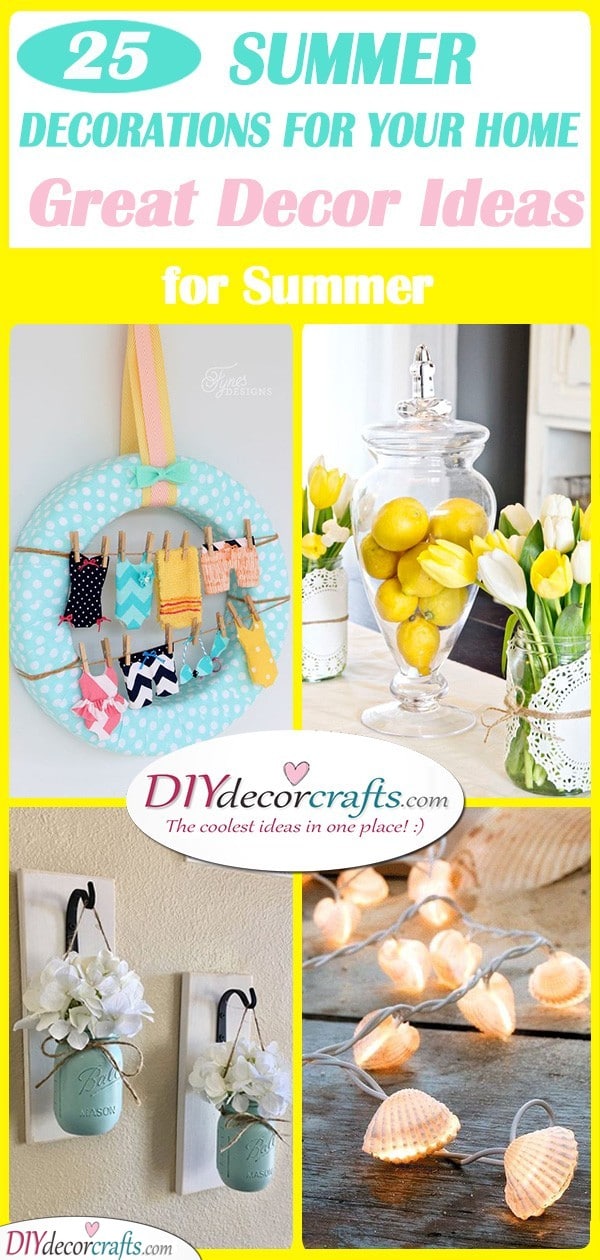 Summer is just around the corner! The hottest season of the four, summer is a time of relaxation, having fun and being with your friends and family. You are probably going to be spending most of your free time outdoors under the hot sun or in the cool shade of trees. But whenever you pop home, make sure your house is full of beautiful summer ideas as well! Make some summer decor which you can place around the house. We have gathered 25 summer decorations for your home! So browse through our short collection and find some inspiration amongst these ideas!
1. Colourful Vases – Summer Decorations
Get your house into a real summer mood, with some cute home decor! While spring is renowned for being the season of flowers, summer still brings a few florals into bloom. You might be a fan of flowers but can't find the space to store them, and let's admit, a lot of store-bought vases are over expensive. So, why not make some vases at home? Recycle glass jars, by painting vibrant stripes over them. All you will have to do is find a place for them in your home and pop some flowers in them!
2. A Welcome Sign – Say Hello to the Season
If any guests will be arriving at your house during the summer, make sure they feel welcome immediately! Make a welcome sign for your front door! All you need is a wooden board on which you can paint something summery. For example, a set of vibrant popsicles, some shells or some beach umbrellas are all great ideas! Then paint "hello summer" on the board. Attach a string to it and place it on your front door!
3. Adorable Mason Jars – Inspired by Pineapples
There are dozens of things you can use mason jars for and here's just one idea of the many! Coat your mason jars in a yellow paint or dye and cover the lid in green paint. With a Sharpie pen draw the spikes of the pineapples. Then out of felt or paper, create the upper leaves of the pineapple, then stick these on the lids of the jars. You can use these jars as simple decor around the house, but you can also place a string of fairy lights into the jars and use them as night lights!
4. DIY Pineapple Doormat – Summer Home Decor
Create your own doormat for the summer with this cool idea! All you need is a plain doormat and some fabric paint, which works great for outdoor objects as well. Cut out the shape of pineapple on paper, and put this paper over your doormat. Paint over it, making the leaves a vibrant green and the fruit a warm yellow. Anyone who steps into your house during summer is guaranteed to admire this awesome doormat!
5. Outdoor Vases – Mason Jar Ideas
Decorate your balcony or your veranda with some mason jar sconces. You can paint them in any sort of colour you'd like, we recommend a sky blue or a vibrant yellow. Place flowers in the mason jars to further boost their look. You can hang these jars from the wall, instead of leaving them around the ground. This would also look stunning as a spring floral decoration!
6. A Shell Wreath – Home Decor for Summer
Summer is the season when you can spend all your free time next to the beach, making it the perfect months for shell collecting. There are a great many things you can create out of shells, including this shell wreath. Instead of decorating your plain wreath with flowers, grab some burlap and some shells. With the help of a glue gun, you can stick everything on the wreath. Use the wreath as a front door decoration! According to Pavel Khaykin, Real Estate Consultant from Pavel Buys Houses: "A front door is the first thing most people usually notice upon entering your home. By using creative decorative accents such as shell wreaths on your front door, it will surely impress your guests and lead to complements!
7. Mason Jar Lantern – DIY Summer Decorating Ideas
Does the next picture come to your mind when you think of summer? Sandy shores of beaches illuminated by a lighthouse in the distance. If it does, why not create home decor centred around ideas such as this one? Create a mason jar lantern that looks as if it were hanging in a lighthouse! All you need is a mason jar and some thinner rope. Using tutorials, you can create a net out of the rope and place the mason jar inside. You can hang it up anywhere you like, placing a candle inside or a string of fairy lights. This jar will be a great source of light during those warm summer nights
8. Funny Wall Planters – Get Ready for Summer
Grow some plants this summer! Instead of putting them in standard pots, put them in wall planters. You can decorate the planters with different colours and funny facial expressions, just like in the example above. This is a great idea if you'd like to keep plants inside your home this summer!
9. Mini Terrariums – In Light Bulbs
Terrariums are becoming a popular source of home decor nowadays. Why not use it in your summer decor as well? All you need are a few light bulbs, some gravel, yarn and succulents. Place some gravel or soil in the bottom of the light bulbs, then plant your succulents in it. Naturally, you can use artificial plants as well, which will make your job easier, not having to water them. Tie yarn around the neck of the light bulb and hang them from the ceiling. They will look absolutely stunning!
10. Watermelon Door Design – Summer Decorating Ideas
A fruit that comes to mind when you hear the word summer is definitely watermelon! It's a refreshing fruit, perfect for hot summer days. Use it as inspiration for your home decor. You can paint a watermelon on a slip of cardboard or a wooden board and attach it as a summer front door decoration. You can also attach a few ribbons to the painted slice of melon.
11. Adorable Flamingos – Cute Summer Decorations
If you love flamingos make sure to use them for your summer home decor! Their vibrant colours will be sure to bring a sense of harmony and joy to your house! All you need is paper, yarn or wool and beads. Cut out circles from pink paper, fold them in halves and glue them together for the body. Cut out the head and neck of the flamingo yourself. Glue it to the body after drawing eyes and a beak. Then attach yarn from their torso so you can hang them up wherever you'd like. You can also use yarn for their legs, adding beads to the ends for feet.
12. Swimsuits on a Clothesline – Summer Wreath Idea
Are you still in search of a cute summer wreath for your front door? Here's a great idea! String up mini swimsuits and towels across a wreath. Shape and form the wreath itself to look like a lifebelt.
13. Summer Porch – Decorate Your House
Decorate your porch with a whole array of summer items! You can include a vintage bicycle, an abundance of flowers sprouting from pots, wooden boxes, an old stool and even a part of an old fence. Arrange this all on your porch, making it look youthful and summery!
14. A Ray of Yellow – Flowers and Lemons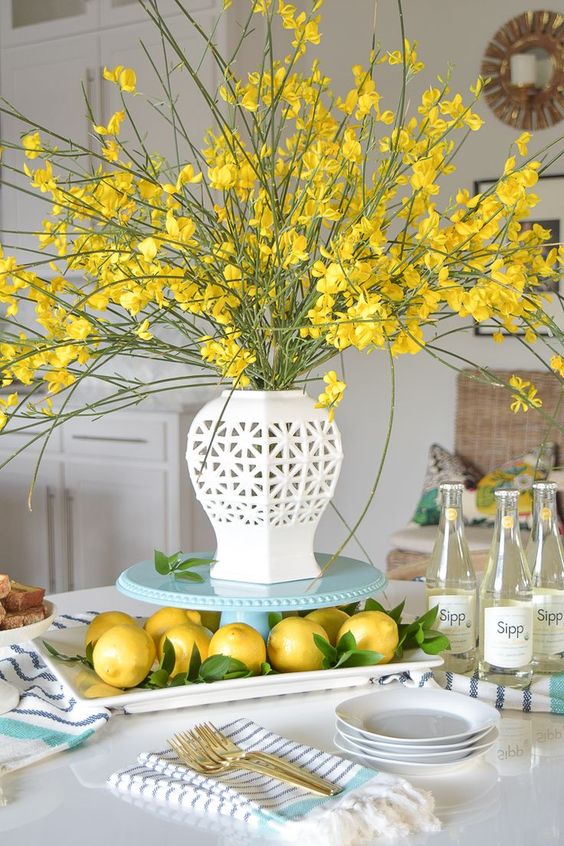 Does the colour yellow pop into your mind when you think of summer? If so, make sure to use it as a dominant colour in your home decor. A great and simple way of decorating your home is with seasonal fruit or flowers. Placing lemons on a tray or a bowl, mixed with green leaves is a beautiful image. You can place a vase next to it, filled with yellow flowers of your choice to accentuate this happy and lively colour!
15. Painting Pots – Cute Designs
Find some amazing home decor for summer! A great way to spruce up any room in your house is with a selection of uniquely painted pots! Design and decorate them yourself. If you like colourful and geometric patterns, go for that! If you prefer monochrome stripes and polka dots, then make sure to create a set of pots in that style!
16. Rope Wrapped Vase – DIY Summer Decorations
Here's another awesome vase idea! Wrap a long rope around it, use a glue gun to help it stick to the vase and stay in place. Then all you need to do is fill it up with water and place your choice of flowers inside.
17. Pineapple Door Decor – Cute Ideas for the Summer
If you love pineapples, make sure you use them as inspiration for your summer decor! Here is an easy DIY decor for your front door! All you need to do is spray yellow paint over yellow plastic spoons and stick the spoon parts onto a vase or a plastic bottle. Then plant succulents inside, these will be the leaves of the pineapple. You can also tie a ribbon of burlap around the top of the pineapple. Place this cute decor on your front door for a real summer look!
18. A String of Shell Lights – Beautiful Summer Decorations
Decorate your room with a sense of summer! If you've collected shells on the beach, why not use them for a cool lighting idea? If you have a string of plain fairy lights, attach shells to the lights. Use a glue gun to stick two shells together. You can use this string of lights anywhere you'd like, in your bedroom or outside in the garden. Wherever you end up using it, we're sure it will give off a summery glow!
19. Wine Bottle Candle Holders – Light Up the Room
Make these awesome candle holders at home by yourself! Cut off the bottom a wine bottle. Attach a hook through the top of the bottle and a twisted wire through the bottom. The twists on the wire should be wide enough to fit a candle inside the bottle itself. Before attaching the wire to the hook, light the candle. These beautiful candle holders will lend a romantic and relaxing atmosphere and would look great as dining room lighting.
20. Watermelon Planters – Adorable Planter Ideas
As we mentioned before, watermelons are a typical treat for long summer days! So it only makes sense to use them for your summer decor. If you are fond of gardening, why not paint some pots to make them look like watermelons? All you need is a planter and some green, red and black paint.
21. Sunflower Wreath – Summer Ornaments for Your Front Door
Incorporate flowers into your summer wreath! A typical summer flower is are sunflowers. So how about you using them in your wreath, decorating it further with some burlap or wildflowers. We recommend using artificial sunflowers for this, this will ensure they won't wilt after a few days.
22. Lemons in a Jar – Paired with Tulips
If you'd like to create an inexpensive and beautiful centrepiece, use Nature's gifts! You can place lemons in a jar, and vases of yellow tulips next to them. The sunny colour of yellow will bring a beautiful summer glow into whichever room you place this decor.
23. A Unique Wreath – An Array of Flip-flops
Flip-flops are a comfortable solution for a walk down to the beach. If you love wearing flip-flops, why not express this on your front door by sticking an array of them together to create a unique and interesting wreath? Naturally, you can add a few flowers, for example, gerberas to the middle of the array of flip-flops. Then all you need to do is hang it from your front door.
24. Hanging Vases – Summer Decorations for Your Home
If you're in search of delicate decorations for this year's summer, you've come to the right place! Twist yarn around the necks of vases of your choice and hang them from a wooden board. Now all you need to do is fill them up with some water and place some flowers in them!
25. Citrus Decor – Great Summer Decor Ideas
If you are a fan of citrus fruit, make sure to use them in some form as decor for this summer! You can cut them up, take the insides out and place candles in them or use them as planters. You can even plant herbs inside of them! Then arrange them on a tray of pebbles or rock, for a natural and earthy look.
We hope that these ideas have given you some inspiration for the coming season's decor! For more ideas on summer decorations, such as summer table decorations, visit our website!
Advert