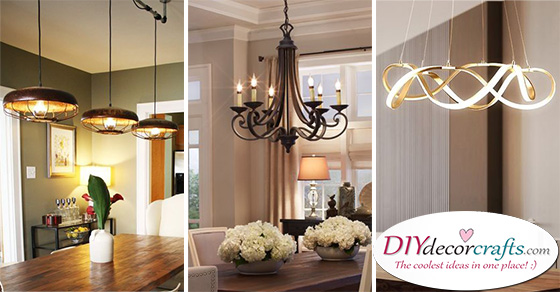 When it comes to redesigning and refurbishing your home, there are plenty of things you have to watch out for. After all, you will want your home to look the way you imagined after you put so much effort and energy into it. So what are a few things you need to make certain you have in your renovated home? One crucial element is lighting! Lighting not only allows you and people in your home to see clearly, but it can also help set an atmosphere. Keeping this in mind, you will also want to find lighting for your dining room! So check out our collection of 20 dining room lighting fixture ideas! You'll be certain to find inspiration thanks to these modern dining room lighting designs.
1. A Vintage Look – Dining Room Lighting Fixture Ideas
If you have always loved a vintage style, then make sure you design your dining room in that way! Naturally, you may opt for a modern take on vintage, which is guaranteed to look just as good! If this is the style your dining room design incorporates, you will want to make sure that the lighting matches the setting of the whole room. Hang some old-fashioned lights right above the dining table from the ceiling. How about trying out some metal lampshades for your pendant lights?
2. Cylindrical Pendant Lights – Unique and Modern
Or maybe your house or apartment has been designed to embody a modern sense. If you have incorporated this theme throughout your home, including your dining room, you may have been trying to find the perfect lighting for it. This will probably be in the shape of something modern or minimalistic, to avoid different home design styles from clashing with each other. Check out the cylindrical pendant lights above! This is a fantastic example of how you can light up the area of your dining table with style! Put together from metal and led lights, it will definitely look marvellous in your dining room!
3. An Awesome Chandelier – Modern Dining Room Chandelier
Chandeliers have been used for centuries as sources of lighting. Whether they were hung from large ballrooms or dining rooms, they all brought a feeling of elegance and refinement with themselves. So, if this is the sort of atmosphere you would like to create in your dining room, don't only choose sophisticated furniture. But also install a chandelier to hang right above your dining table. You can have flameless candles places on the arms of the chandelier as a safe option. A chandelier may not provide enough light for the whole room though, so think about adding a few lamps to different spots of it as well.
4. A Reclaimed Barn Beam – Stunning and Stylish
Perhaps you love the home design known as farmhouse style. It brings a very natural feeling with itself, sort of as if you were living in an actual farmhouse! For lighting, how about you attach a barn beam right above your dining table. To this, you can install lights, such as Edison bulbs in the form of pendant lights, hanging from the beam itself. The barn beam will certainly bring the farmhouse feel alive! So if that's what you're going for, you may as well give it a try!
5. Swirling in Different Directions – Modern Dining Room Lighting
Are you trying to find a truly modern and artistic lighting design for your dining room? Then make sure to take a quick glance at the example above! Metal curved to create swirls that have a set of led lights installed in it. A state-of-the-art invention, such as this will not only create a source of light for your room. This pendant light will become the centrepiece of the room! A light such as this is a perfect choice for a home that embodies contemporary design. This would also be an amazing bedroom lighting fixture!
6. Simplistic and Stylish – A Minimalist Look
Whether you have been wanting to add a set of minimalist lights because that's the style the room incorporates or because you want to finish it off with something more simplistic, then you don't have to look any further! An easy and minimalist solution would be to install led spotlights on a wooden panel. Then hang the wooden panel from the ceiling, placing it right above your dining table. So instead of going for a fancy design, keep things simple with this minimalist lighting!
7. A Variety of Lampshades – Dining Room Lighting Fixture Ideas
Are you certain that you would like to add pendant lighting to your dining room? If so, how about you mix it up a little? As an alternative to only using one sort of lampshade for your pendant lights, how about using a variety of them? You can use different shapes and sizes of lampshades to create a unique look in your dining room. This idea is completely up to you. So let your creativity and imagination run wild, and make this idea your own!
8. Wonderful and Wide – Brilliant Led Lights
When it comes to led lights, there are so many types of ideas you can choose from. So depending on how your home and dining room has been designed, choose dining table lighting ideas that will fit right in! While we have talked quite a bit about modern lighting installations, here is another type that incorporates a modern design! The lamp is designed in a wide, flat and circular shape. You can hang one or two of these from your dining room's ceiling for sufficient lighting! Thanks to the led lights, the lighting will be just the right amount of bright!
9. White and Fabulous – Modern Dining Room Lighting Ideas
If the time comes for you to choose the colour of your lights' lampshades, you will want to make sure that it matches the rest of the ambience of the room. For example, you may be in search of something simplistic and clean. Maybe your whole dining room uses mainly the colour white for the design. Whether this is the furniture, the colour of the walls and ceiling or decor, white will create a serene and simple ambience. So why not use a white lampshade for your pendant light as well?
10. Made of Three Tiers – A Hexagon Shape
Get ready to use something creative and different for your dining room's lighting! Instead of sticking to a simple pendant light, use something that will draw attention to itself. If you are in search of a modern design, how about using hexagons as the shapes of the lights? Have your hexagons made out of metal, with led lights attached to the sides or bottoms of them. For a truly distinctive style, you can use three hexagon lights, creating a three-tiered lighting set. Place them underneath each other according to size! This will look like a modern and new take on a chandelier!
11. A Linear Direction – Dining Room Lighting Fixture Ideas
Are you trying to find a type of lighting installation that is truly simple? If this is the case, then check out the example above for inspiration! How about trying out linear dining table lighting ideas? This will shine light in one line, downwards onto your table. You can have the linear led light wrapped in metal or concrete, before hanging it from the ceiling. If the led light is very thin, the lighting may be dim in the room. Because of this, you may need to think about adding different lights to the dining room as well.
12. Hand Blown Glass – Beautiful and Vibrant
Add some vibrant bursts of colour to your dining room with the help of your lighting! If you have always felt enchanted by bubbles being blown, how about you add a few handblown glass lampshades to your pendant lights? You don't necessarily have to use the see-through and colourless glass for your lighting, you can try out colourful glass lampshades. For example, a mixture of greens, pinks and browns will look amazing!
13. Geometric and Groovy – Modern Dining Room Lighting
There are so many directions you can go in when choosing the perfect lampshades for your pendant lighting in your home. Perhaps you are in search of something fun and groovy. Why not use lampshades that are made up of geometric patterns? These can be made from metal or plastic rods attach to each other, to form a half-dome of triangles. Thanks to some funky lampshades, you'll be able to create wholly different vibes for the dining room! Make sure that these modern and groovy lampshades fit into the design of the room.
14. Awesome Glass Spheres – Innovative and Inspirational
We have already talked about using glass lamp shades for pendant lighting. After all, glass brings a sense of elegance with itself which is unlike anything else! For a peaceful and ambient look, you can try using sphere-shaped glass lampshades. These will really help in transforming the mood of your dining room as well as channelling a modern vibe. Hang a few of these right above your dining table. If you need extra lighting installations, add some spotlights to the ceiling where they are needed.
15. Circle Pendant Rings – Avant-garde and Chic
Perhaps you still haven't found the right dining room lighting fixture ideas for your dining room. If so, then check out the one above! It will make a fantastic choice for anyone who wants something more modern! The light itself is put together of several metal rings that have led lighting attached to their bottoms. Thanks to the fact that there are quite a few rings placed next to each other, it will ensure that there is sufficient light throughout the room, especially right along the area of your dining table.
16. Bold in Black – Modern Dining Room Lighting Ideas
How about you use a bold colour, such as black for your lighting installation in your dining room? This is an especially great idea if you already have some black furniture or decor in the room. But if you don't have anything black in the room, don't worry too much about it, since black is a shade that goes well with anything! So keeping this in mind, how about using a chandelier or lampshade that is made from some sort of black material.
17. Keeping It Simple – Great for a Smaller Dining Table
Is your dining room not as big as you'd like, so you've only had space to fit in a smaller table? If this is the case, then you may also be thinking about installing a set of simple and smaller lights. The example above might be a fantastic solution for your dining room! You don't need much. Try out a three-forked rod, that has lightbulbs on each end spurting out from the ceiling right above your dining table. These modern dining room light fixtures will provide not only a beautiful glow but will create a stunning atmosphere as well. Thanks to a more intricate lighting installation, you won't necessarily need to add a dining table centrepiece as decoration!
18. Shaped Like a Frame – Dining Room Lighting Fixture Ideas
Here is another awesome idea for anyone in need of sufficient and proficient lighting! A light hanging from the ceiling shaped like a frameset right above your dining table. The frame itself will have led lights installed in it for illuminating your dining room. It's a perfect choice for anyone looking for sophisticated and modern dining room light fixtures!
19. A Lantern Chandelier – Modern Dining Room Lighting Designs
A contemporary and stylish sort of lighting that a lot of people are obsessed with is no other than a modern dining room chandelier. It resembles the structure of lighting with flameless candles installed carefully inside. While the shape of the lantern is a bit industrial, the flameless candles bring a romantic and dreamy atmosphere with themselves to the environment.
20. Use Recycled Objects – Work with Galvanized Metal
While buying a set of lights for your dining room may be the easiest option, you may decide to try out something different! Such as creating the lampshades for your lighting yourself. Try recycling objects that you don't need anymore and transform and incorporate them in your lighting! For example, galvanized metal objects, such as galvanized lanterns or tubs will make a fantastic choice for this idea!
Hopefully, you have found a pick of great dining room lighting fixture ideas! For other lighting designs, besides modern dining room lighting, such as the best lighting for bathrooms or kitchen cabinet lighting, then visit our website!
Advert