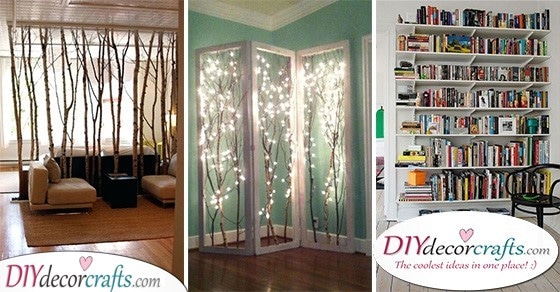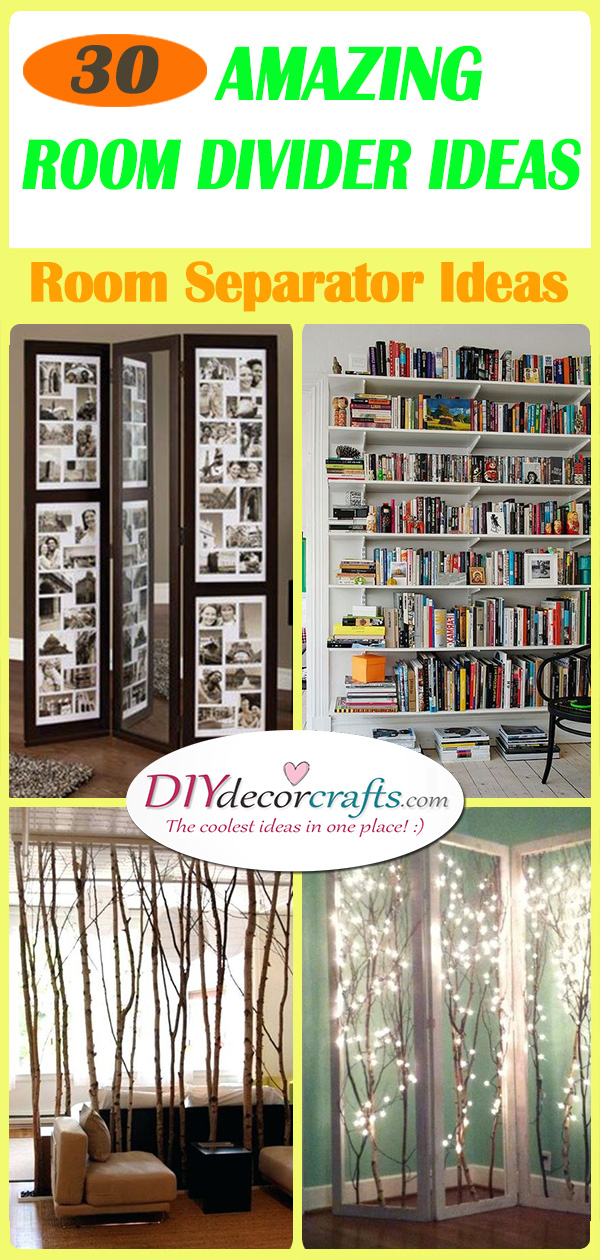 If you have been renovating or refurbishing your home recently, you might want ideas on how to create private spaces. If you have a too large room, the best way of dividing it into separate parts is with room dividers. It's a cheap and simple way of replacing a wall. Not to mention, there are so many beautiful and unique room separator ideas, that you will be able to find something unique to fit into your home! To help you out, we have collected 30 cheap room divider ideas. Perhaps you will be able to find a fantastic room divider to use in one of your rooms, so make sure to look through our collection of ideas for your home!
1. Gorgeous Vines – Add a Touch of Nature
Dividing a room into two parts is quite simple when you use a room separator. Here is an easy idea, which will not only divide your room but look fantastic as well! Run vines up onto a clothes hanger, creating a simple room divider this way. This idea will also add a touch of nature to your room!
2. Pallet Room Separator Ideas – DIY Crafts
Do you like creating home decor or furniture yourself? Here's a great idea for a DIY room divider then! Hammer wooden pallets onto longer wooden boards, to create a three-winged room divider. This is a great way of reusing old wooden pallets you don't need anymore and creating something new.
If you already have a room separator, but you aren't happy with it, why not add a bit of colour? Coating it with furniture paint will take it to a new level. You can try using a whole array of colours for this task, to add small bursts of colour to it. So if you have been thinking of adding vibrancy to your room, make sure to give your room divider some colour.
4. A Bulky Bookshelf – Filled With Books
Another great way of separating two parts of a room is by adding a bulky bookshelf to it.  Place a collection of books on the shelves, as well as flowers in vases or other small items of decor. The items on the bookshelf design will help create the feeling and vibe of an actual wall, which is exactly what you want when it comes to studio apartment dividers.
5. Tall Tree Branches – A Forest Vibe
Create a forest atmosphere in your room! Use tall tree branches as a room divider, having them span from the floor to the ceiling. Try using the same type of tree's branches for this, in order to create a homogenous view. This is a fantastic idea if you love walking around in nature and would like to bring an essence of it into your home!
6. A Rope Net – Fabulous and Creative
Here is one of many cheap room divider ideas, which you can easily put together yourself! Hammer hook nails into two wooden boards, then thread a long string of rope or yarn through them. You can create a whole net or web of rope, this way making an easy room separator. Using this in your home will definitely add a sense of creativity and uniqueness to any one of your rooms.
7. Beautiful Bamboo – An Exotic Atmosphere
If you like oriental or exotic pieces of decor, create a zen-like vibe in one of your rooms. Use poles of bamboo, stretching from the floor to the ceiling, as a room separator. While creating a stunning atmosphere, it will also add the perfect amount of privacy to your room.
8. An Alternative to an Album – A Fabulous Idea
If you love placing family portraits around the house, you will love this one of many room separator ideas! After getting a simple three panel, wooden room divider, stick pictures on the panels. The pictures can be from happy moments from your life, being surrounded by friends and family. This will look fantastic in any room you use it in!
9. A Bohemian Curtain – Cheap Room Divider Ideas
If you are in search of a cheap way to divide your room into two parts, why not use a curtain? Perhaps you have already embraced a bohemian vibe in your home if so, make sure to use a curtain which gives off the same sort of ambience. This will look amazing in a small master bedroom!
10. Strands of Fabric – Creating a Curtain
Here is another unique and fabulous room separator idea! Use strands of fabric, tied to a curtain rod or pole, to divide a room into two parts. You can use all sorts of colours of fabric, to create a colourful and vibrant curtain. This set of fabric strands will make the perfect curtain for separating a room into two parts.
11. Shelves and Drawers – Room Separator Ideas
Use a set of shelves and drawers to separate a room into two halves. This will create a neat and sophisticated look in your room, not to mention, it's super practical for storing your things inside. Place books and different sorts of decor items on the shelves, while you can place stationary inside the drawers. If you are thinking of separating your bedroom from your workspace, this is a fantastic and logical way of doing it!
12. Rethink and Reuse – Old Doors Idea
An interesting way of dividing a room into two is by using old doors or old panels as a room separator. You can attach them together to create a three or four-panelled room divider. This will give your home a rustic farmhouse appeal.
13. A Gorgeous Decoration – Wall Divider Ideas
No matter what sort of room divider you end up choosing, whether it's made out of wood or metal, you will want it to be decorated in a way that fits the rest of your home! Using furniture paint, you will be able to paint over it. For example, if you love nature then add small paintings and drawings of butterflies and flowers to your room divider!
14. An Exquisite Patchwork – DIY Room Divider
If you have always loved patchwork quilts, why not create a patchwork room separator? Using square cuts of linen, sew the pieces together and attach them to a room divider. This adorable room divider will give your home a rustic and vintage vibe, as well as adding a burst of colour to the room you decide on placing it inside.
15. Small Pockets – Cute Room Separator Ideas
Here is a cute and practical idea to use as a wall divider! Line your room divider with fabric cloth, then sew small pockets on each panel. You can sew hearts on the pockets or even stars to give it an adorable appearance! This way you will be able to store anything you'd like within these pockets.
16. Beaded Curtains – A Groovy Atmosphere
Give your home a groovy atmosphere by using beads as a room divider! Bead curtains were a huge thing twenty or thirty years ago, so if you would like to give your home a retro vibe, then why not try out this room separator idea? String beads onto long pieces of strong thread, then hang them from the ceiling. Whenever you walk through this room divider, the small beads will clink together and create a soothing sound.
17. Panels With Planters – Cheap Room Divider Ideas
Another manner of bringing a bit of nature into your home is by using pots of plants for your room divider. Attach the planters to the panels of the room separator, creating an earthy atmosphere in the room. You can plant flowers inside the pots or all sorts of ferns. Or you can try out an indoor herb planter idea as an alternative to this!
18. A Pannelled Mirror – A Practical Idea
Using a panelled mirror as a room divider is a fantastic idea. It's practical for getting ready in the mornings and mirrors also help create an illusion of larger space. So if you need to separate a part of your room from another, but also create the image of a larger space, a mirror will be the item for the task!
19. A Huge Bookshelf – Library Vibes
Give your room some serious library vibes by using a huge bookshelf to separate one half from the other. This is a great way of storing all of your books in a neat way. Of course, a huge bookshelf will divide your room in a way to give you a feeling of privacy and personal space.
20. Thin Wooden Panels – Room Separator Ideas
If you have small rooms and would like to separate your sleeping space from the rest of your bedroom, why not use thin wooden panels? This won't give your room a sense of being cluttered or cramped and it will also let in some sunlight and air to your sleeping space.
21. A Folding Screen – Simple and Easy
An easy and simple way of separating a part of a room from another is with a folding screen. Not only are these types of room dividers cheap, but they come in so many colours, shapes and sizes. You will be guaranteed to find one that is perfect for your room
22. Vertical Ropes – Cheap Room Divider Ideas
We have already discussed using ropes as a wall divider. Instead of using them in a web of tangles though, use them in verticle lines, stretching from the ceiling to the floor. This rope room divider will give your room a modern and stylish look.
23. A Macrame Project – A Bohemian Ambience
If you love arts and crafts, you might have heard of macrame. It's an interesting knotting technique with which you can create stylish patterns. So if you have a lot of time on your hands, why not try out creating a macrame curtain? It will serve as a perfect room divider!
24. Wine Corks – Awesome Room Separator Ideas
There are a great number of things you can create wall dividers out of! A fantastic example of this is using wine corks! String them up on threads, creating lines of corks! You will be able to hang these from the ceiling in a room after attaching them to a pole.
25. A Geometric Shelf – Studio Apartment Dividers
We have already discussed using shelves as a room divider. It is a stylish and neat way of separating two parts of a room from each other. If you like geometric patterns, why not try out a shelf built in a geometric way? It will definitely bring a trendy vibe to your room!
26. Portable Frame – With a Curtain
A simple way to create a room divider is by attaching a curtain to a portable frame or portable clothing rack. This will make it easy to move it wherever you like, whenever you like! It's also up to you what sort of curtain you get for it, what sort of fabric you use and what colour it is.
27. A Source of Light – A Divine Room Divider
If you have decided on getting a three or four panelled folding screen, why not brighten it up? Attach strings of fairy lights to the panels. These lights will illuminate your room beautifully at night, not to mention will serve great as an item of decor on your room separator!
28. Botanist Drawings – Natural Elements
Botanist drawings have become super trendy these days. A lot of people hang them up in their rooms as decor. What's not to love about them? Place botanist drawings on the panels of your folding screen. It will immediately give it a stunning vintage look as well as bring a bit of uniqueness to your room.
29. A Metal Grid Panel – Room Separator Ideas
Using a metal grid panel is a great way of dividing a room into two. It's extremely practical because you can attach other sorts of items to the grids themselves. For example, a mirror or planters!
30. Vivid Colours – Wall Divider Ideas
A cheap solution for dividing a room into separate parts is by using curtains! Why not use colourful and vivid curtains to achieve a bright and joyful vibe in your home? It's completely up to you what sort of patterns you'd like on your curtains and what colours you choose for them!
We hope that you have been able to find inspiration amongst this collection of 30 cheap room divider ideas. For other home decor ideas, like bedroom curtain ideas or apartment living room ideas, just visit our website.
Advert