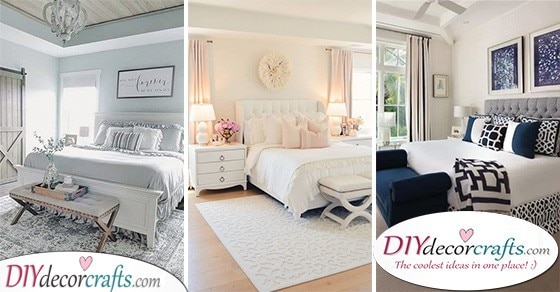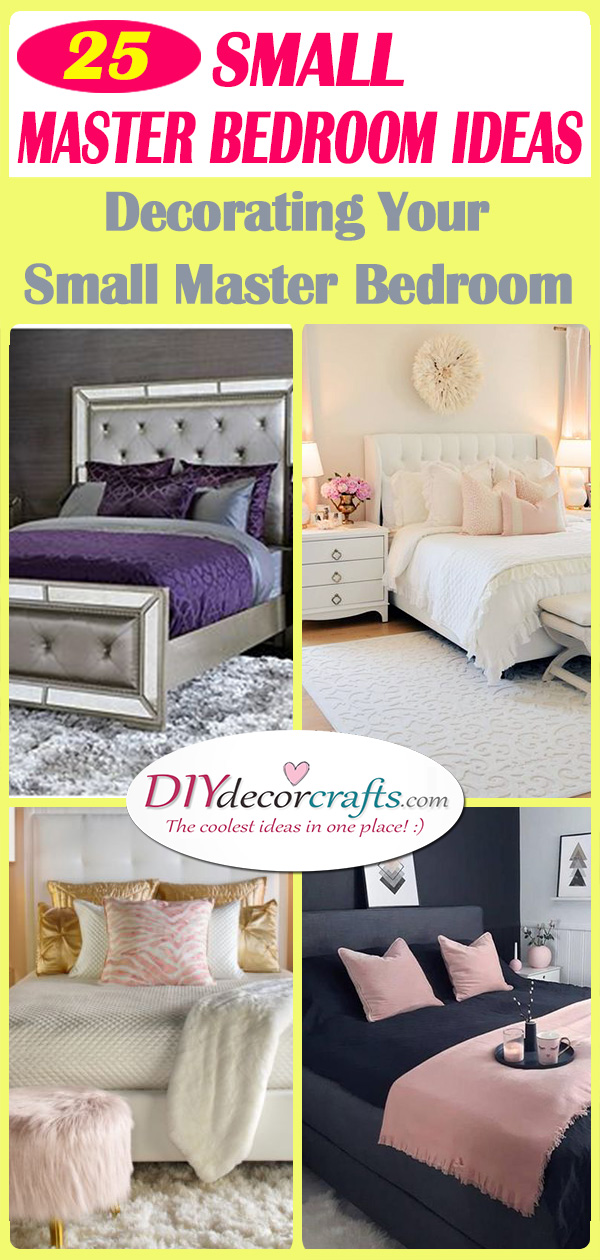 If you are renovating and refurbishing your home, make sure you create a happy space to be in. Depending on what sort of style you have or what your personality is like, you can include that in the decor. There are so many interesting ways to design and decorate your house! When it comes to your master bedroom, you will want to give it a twist of your own. If you have a smaller master bedroom, you will also want to consider where to place the furniture. Depending on where you place items, your room will either look spacier or more cluttered. So take a look through our collection of 25 small master bedroom ideas and gather some inspiration!
1. Farmhouse Vibes – Lovely and Rustic
Creating farmhouse vibes in your small master bedroom is a fabulous idea. A farmhouse design brings a lovely and sweet rustic look with itself! So if that's what you are going for, make sure to design it in this way! You can use a variation of wooden panels to decorate items with. For example, the door leading into the bedroom can be made up of wooden panels! Use rustic themed furniture and also consider placing a few vases around the room which you fill with flowers!
2. Using Pastel Shades – Small Master Bedroom Ideas
If you are going for a master bedroom which has a delicate touch to it, make sure to use pastel shades! Paint the whole room white or a pale beige. This will visually make the room look a lot bigger, which is a smart thing to do for a master bedroom! To achieve a soft and delicate ambience, use soft pastel shades for the decor. Pastel curtains, a pastel rug and pastel blankets! You can also consider using a lot of floral decorations and ornaments for this style!
3. An Eclectic Style – Silver and Blue
To make your master bedroom look absolutely fabulous, why not combine a few ideas to get something eclectic? For example, use a funky blue rug while placing a differently styled, elegant bed in the middle of the room. You can also try finding a beautifully patterned wallpaper to cover the walls in. We recommend trying out a combination of blue and silver. These two colours go perfectly together and also bring a sense of ethereal mystery along with themselves. Remember to add other pieces of decor to really bring out the eclectic feeling, mirrors, pillows and lamps are all great ideas!
4. Blue and Beautiful – A Play on Florals
Would you like to give your small master bedroom a delicate and soft look? You don't necessarily need to opt for warm colours to achieve that vibe. Why not try out a pale blue combining it with an overall white. Then incorporate a floral pattern into each piece of decor in the room. The rug should have small flowers decorating it as well as the blankets and pillows. You can place some paintings of flowers on the walls for an extra effect.
5. An Elegant Look – Small Master Bedroom Ideas
For a more natural and earthy look, which is still on the elegant side of things, combine shades of brown with white. You can paint the walls of the master bedroom with a deep beige, but remember to paint the ceiling white. Leaving the ceiling white will create an illusion of bigger space! A great source of decoration is to use empty frames and stack them on each other. You can even place a wooden head of a stag in one of the frames. This will bring a woodland forest vibe with itself but remaining sophisticated at the same time!
6. Black and Gold – A Room of Sophistication
If you have been considering trying out a luxurious atmosphere for your small master bedroom, look no further! Using a combination of these two colours will immediately create a sense of sophistication in any room. These two colours are no other than black and gold. When used together they bring an essence of true luxury! You can even try painting your walls black, but remember to leave the ceiling white! Use gold for smaller pieces of decor, or handles on shelves or the closet. We guarantee that this room will look spectacular!
7. A Homely Essence – Refined and Rustic
If you have been in search of a master bedroom which gives homely vibes, this design might be the right one for you! Use older or rustic looking furniture. It doesn't matter if the paint is coming off at a few parts of the furniture, this will only increase the rustic vibe. Place flowers all over the room for a soft touch. You can also consider getting a chandelier for the lighting. You can also add a bohemian touch to the room, adding bohemian pillows or a groovy rug!
8. Simple in Monochrome – A Modern Touch
You might be thinking of going for a simpler and more modern design for your master bedroom. Why not use a combination of white and black to achieve simplicity? Paint the walls white and use either black or white furniture. Make sure that the decor of the room is in either of these two colours or made out of wood. Wooden items will complement these two colours very well! You can naturally also throw a splash of colour into this room. Add some cool plants to brighten up the atmosphere!
9. Pink and Black – Small Master Bedroom Decorating Ideas
Do you like the colour pink? If you are thinking about including this colour in your master bedroom, but don't want it to be too much, then make sure to mix it up with another colour. A colour which goes really well with it is black. Black brings a natural sense of elegance and refinement, which pink needs. Paint the walls in a combination of black and white, making sure you leave the ceiling white. Then use black and pink decor for the room. You can include geometric patterned decor for a modern essence!
10. Luxury and Sophistication – Adding a Bit of Gold
Add some gold to your master bedroom to give it an elegant and luxurious touch. The great thing about using gold coloured decor or furniture is that it will uplift your room and truly bring additional luxury to it! Gold also looks great with any other colour, so why not try combining it with a pale pink and white? The combination of these three colours will give your master bedroom a feminine and delicate touch. Use mainly white, then add accents of light pink and gold!
11. Contemporary Farmhouse Ambience – Beautiful and Simple
If you like to atmosphere and ambience of a rustic farmhouse, but prefer a modern twist on things, then check out this idea! Combine the farmhouse vibes with a modern touch. You can still keep your furniture wooden and add wooden panels to one of the walls. But instead of using old-fashioned furniture, go for a more modern and simplistic look!
12. Here Comes the Sun – Mirror Ideas
In modern room designs and decorations, you will notice that the sun is used as a common motif. You can even get sun-shaped mirrors to perk up your master bedroom with! These sun mirrors are not only practical but add a sense of beauty to any room!