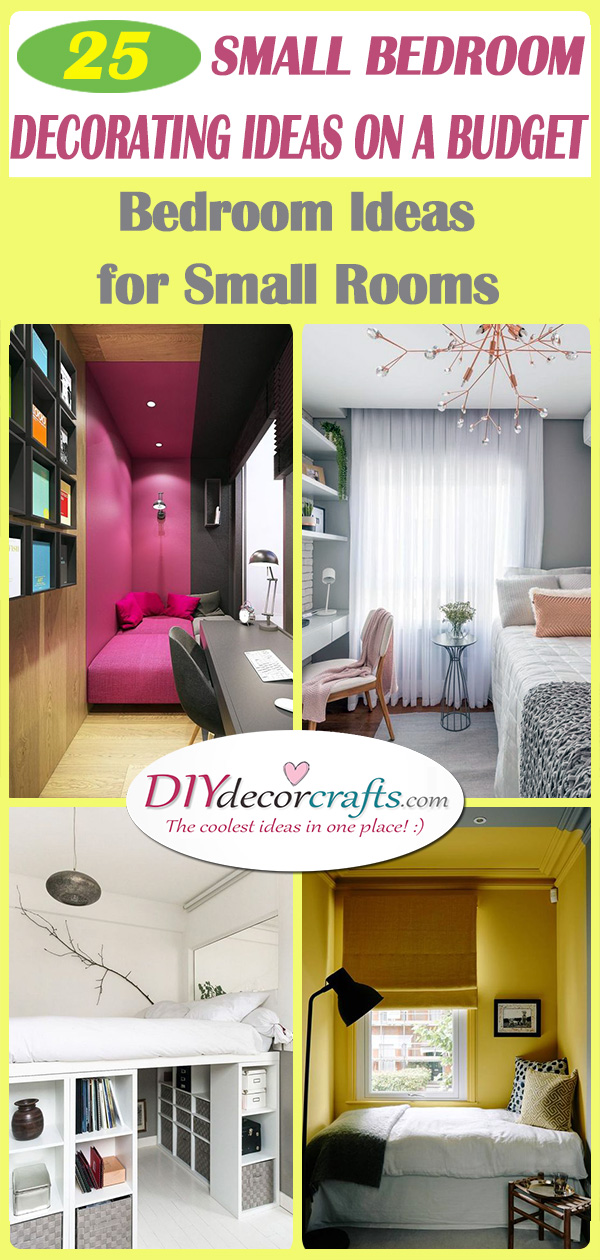 Redecorating or refurbishing your house is a lot of work, but it's totally worth it. Giving the rooms a new look, according to your style is always a great idea. If you have a small bedroom, you might be cautious about how to design and decorate it. But just because it's small, does not mean that it will be more difficult to decorate! We have collected 25 small bedroom decorating ideas on a budget, to give you better insight on how to use the space in your small bedroom wisely. Hopefully, you will be able to find some inspiration amongst the bedroom ideas for small rooms below on how to decorate your own room!
1. Geometric and Modern – Chill Bedroom Ideas for Small Rooms
Geometric patterns have become very trendy and fashionable these days. So if you like these patterns, make sure to use them in your bedroom design. Grab geometric bed sheets and blankets, a geometric rug and a geometric painting as well. If you have a small master bedroom, you will have to think about arranging all the furniture in a way which won't take up much space but will still give you homely vibes. Depending on your preference, you can try out geometric patterns in either warmer colours or cooler colours, like in the picture above.
2. Cosy and Cute – Small Bedroom Decorating Ideas on a Budget
You can easily convert your small bedroom into a cosy and cute space to rest. Place your bed directly next to the window. Try finding a bed which fits perfectly from one wall to the other. Try using shelves which you can attach to walls. You can place decorative items on these shelves or even just books, to give your room a beautiful look. Also, focus on finding some awesome lights with which you can add a special atmosphere to your room. By the end, your room will have transformed into the cosiest room ever!
3. A Divide of Colours – Interesting Colour Ideas
Another extremely important factor in redesigning your room are the colours. The colour of your furniture and the colour of the walls will immediately give your room some sort of atmosphere. Here is an interesting idea on how to utilize colours in a unique way. Paint half of the bedroom in one colour and the other half in a different colour, showing a fine and clear line of divide. If you are living with your partner this might be a funny way of separating your side of the room from theirs!
4. Stunning and Stylish – A Hint of Vintage
Having a tiny bedroom doesn't mean you can't arrange everything inside in a fabulous way! If you like a vintage theme of items, including furniture, make sure to give your room a vintage vibe. Use wooden furniture, hang up old photos and pictures and get simple blankets to complement this vibe. If the room is truly tiny, then place the bed next to the window, so it won't take up much space. Then give the room your own twist on things by grabbing an assortment of your favourite pillows for the bed!
5. Gorgeous and Simplistic – Small Bedroom Decorating Ideas
If you prefer a clean and simple style of things, then check out this bedroom idea! Using soft colours, like white, grey, pink and brown, will create a peaceful and harmonious atmosphere. If you are in need of more storage place, make sure to use shelves that you can place on your walls. This way, you won't be taking up space from your other furniture. If you have quite a bit of pink in your room, you might consider using rose gold for metal objects. For example, get a lamp which is rose gold to complement the rest of your room!
6. A Bit of Sunshine – A Sunny Yellow
If you are really into playing around with colour, then make sure to do it! Perhaps your room doesn't get much sunlight. If so, make sure to add a bit of artificial sunniness to your bedroom! You can paint the area surrounding your bed with a coating of sunny yellow paint. This will add a unique spark to your room. Leave the rest of the walls in a different colour to make the yellow brightness even more illuminating. Naturally, don't forget to install some bedroom lighting either!
7. Boxes Underneath – Small Bedroom Decorating Ideas on a Budget
Another fantastic small bedroom storage idea on how to solve space problems is this! Instead of attaching shelves to your walls, create a small storage space right underneath your bed. Place shelves together, which will enable you to store anything you like inside. You can put books on the shelves, decor items or important files, it's really up to you! Your small storage place underneath your bed will look like a cave of treasures! Make sure that the colours of the shelf match the overall look of your room!
8. An Innovative Idea – Loft With Stairs
Here is yet another fabulous way of adding space to your tiny room. Create a loft design above your bed, adding a small flight of stairs to lead you up. You can create a small area above your bed or just a chill corner, where you can work or find a bit of peace while reading a book. This is an especially great idea if you have guests over, as you will have enough space to entertain them in. You can even create a small door to your bed, to create a bit of privacy for yourself.
9. A Hanging Bed – Climbing Up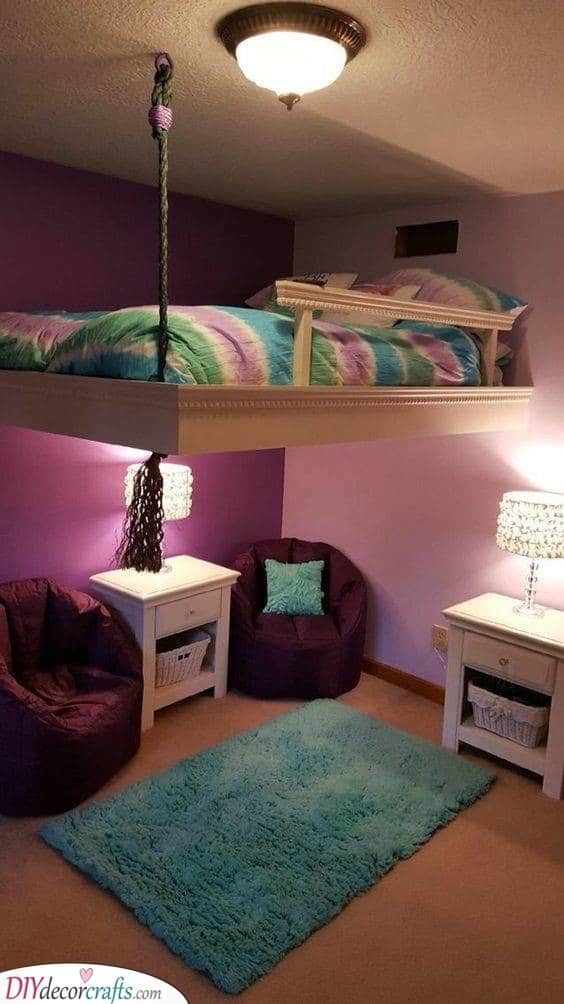 Play around with your furniture, in order to create a larger space in your small bedroom. You can try hanging the bed itself from the ceiling. This is a great idea for anyone who loves a bit of fun, having to climb up and down your bed each morning and night! It's also a fantastic idea because you will be able to create anything you like under the bed itself. Whether you need a spot for storage or just a place to hang out with your friends, you will be able to create whatever you'd like out of it!
10. A Cute Top Bunk – Bedroom Ideas for Small Rooms
Make sure that you have room in your bedroom for everything! So check out this one of many amazing small bedroom design ideas! Use a top bunk as your sleeping place, then create a small office underneath, which consists of a desk and a chair. Depending on what sort of colours you like and feel comfortable in, use them all around your room. For a magical atmosphere, try out hanging strings of fairy lights above your bed and on the walls of your room. This will illuminate your bedroom in a soft glow of lights.
11. Bed or Closet – Using Space in a Smart Way
We have talked a lot about using the space underneath or above your bed as storage space. Create a whole closet for your things underneath your bed. You can have separate drawers for each sort of item you need to store. A drawer for socks and a drawer for t-shirts. This is an awesome way to create a small bedroom storage space!
12. An Awesome Murphy Bed – Great Idea
Everyone has probably heard of a Murphy bed. It's the sort of bed, which disguises itself to look like a shelf or closet, but is actually a bed. All you need to do is pull it out every night and place it back in the morning. It's a fabulous way of saving a lot of space, which is great if you have a tiny bedroom.
13. An Array of Patterns – Bedroom Ideas for Small Rooms
A small bedroom will look super cosy if the bed is placed between two walls of the room and has a perfect fit! You can turn your bed into a shelf and a closet at the same time. Instead of having a headboard, you can have a whole shelf of book sprouting up. You can place drawers underneath your bed, to store clothes or other items inside. If you've been thinking about giving your bedroom a unique atmosphere, why not use an array of patterns as small bedroom decor? This includes using interesting and various wallpapers, a unique rug and patterned pillows!
14. Fabulous Loft – Small Bedroom Decorating Ideas on a Budget
We have already mentioned creating a loft in your bedroom, to save some space. Place your bed on the loft, and create a space for work or just for inviting friends over underneath. You can place a desk and a chair underneath, or a sofa and some pillows. To give your room a funky vibe, hang some lanterns from the ceiling as decoration!
15. Monochrome Bunk – Save Space and Look Stunning
Having a top bunk bed in your room is a great way to create more space. Instead of keeping the lower bunk in the shape of a bed, design it to become a desk with a chair and also place a small sofa inside. To make it look sleek and modern, use a set of monochrome to decorate it. White, grey and black will take it to the next level! This is one of many fantastic small bedroom decorating ideas on a budget!
16. A Lifted Bed – With Drawers Underneath
Here is a fantastic idea on how to design your bedroom! Lift your bed space by a whole level of wood, adding small drawers and shelves inside of it. This will make your room look a lot spacier because it will add depth to it.
17. Stylish and Pretty – Small Bedroom Design Ideas
To make your small bedroom look bigger than it actually is, think about adding different sort of textures to your room. Paint your walls in shades of pale grey, making sure your ceiling is white. You can add a layer of bricks to room as well, as you can easily purchase wallpaper, which is designed to look like actual bricks.
18. A Pure White – Bright Bedroom Ideas for Small Rooms
Even if your room is tiny, there are so many ways to make it look bigger and spacier than it actually is. A great example of this is by painting the walls and the ceiling white. You can also use white furniture to make it look even larger.
19. A Top Bunk – Give Yourself More Room
Here is another modern and fabulous way of fitting into a small space. Have a bed lying on top of a loft. A desk and a sofa underneath it. There are so many ways you can arrange and organise your things, so they fit in properly and create a larger space! You can also think about using different textures or types of wallpaper, one can resemble wooden panels while another one can resemble bricks. This will make gorgeous small room decor!
20. An Amazing Bed – Beautiful and Practical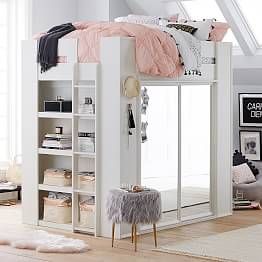 Here is a bed, which will take care of all your needs! A cleverly designed top bunk bed, with each side of it having a different function. For example, one side of your bed can function as a shelf, another as a closet and a third as a mirror. You can place a ladder on one side to make it easy to climb up onto it.
21. A Creative Closet – Small Bedroom Ideas
Naturally, when you have a small room, it's hard to fit a closet inside your bedroom for all your clothes! Attach shelves to one of your walls, which you can create into an alternative closet. You will be able to hang up all your shirts and dresses, as well as place your socks and pants on smaller shelves. Just check out the picture above for inspiration!
22. Make Your Room Larger – A Bunk Bed
We have to admit that using a bunk bed in a small room is a very practical way of making room for your other furniture. You can place a work desk underneath your bunkbed as well as a closet. You can use curtains to separate them from each other. This is one of many great small bedroom decorating ideas on a budget!
23. Create a Separate Space – Great Ideas for Small Bedrooms
If you love getting creative, you can even think above creating a small new room underneath your loft. Place the bed on the loft, and using coroplast panels you will be able to create a new separate room. Depending on your needs, it can function as a workroom or a closet.
24. A Multitude of Shelves – Storage and Decor
As we have mentioned before, using a large bookshelf design above your bed is not only a fantastic way of storing your things but will also look great! You can hang plants from it and strings of polaroids, giving it a fabulous look. After all, it's better to store things in a stylish way, than boxing it all up and leaving it in a corner.
25. A Loft and a Library – Bedrooms Ideas for Small Rooms
If you have always dreamed about having a library and a reading space, but your room is too small, create one underneath your loft! Place your bed or mattress on the top of the loft, then place shelves underneath it, filling them up with books. Place a few cushions or another mattress between the shelves, for a peaceful reading space. This is one of many fantastic bedroom ideas for small rooms.

Of course, there are many more ideas on how to design and decorate your small bedroom. We hope we have helped you with our collection of small bedroom decorating ideas on a budget! For more other home decor ideas, like children room ideas, make sure you visit our website!
Advert