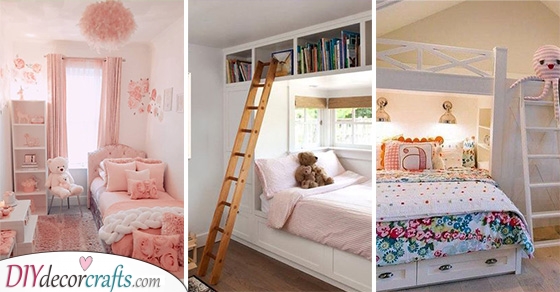 It is common knowledge that bedrooms are important elements of a home! They are rooms created for rest and relaxation and are also perfect spaces for doing any hobbies! If you have moved house or you're renovating your home, you'll have to make sure that the bedrooms are fantastic. If you have a little girl in the family, transform her bedroom into a truly special space! This way she'll love to spend time in her room! We collected 20 girls bedroom ideas for small rooms. Thanks to this pick of options, hopefully, you'll be able to find some small bedroom ideas for girls! So, get ready to renovate and redecorate!
1. Pretty in Pink – Girls Bedroom Ideas for Small Rooms
Before choosing the actual layout for her room, you may be in search of the perfect colour! Sometimes you need to choose the main colour for the room, before starting the design! A shade that a lot of people use for little girl small bedroom ideas is pink! While it may seem like a cliché choice, pink is actually the colour of harmony and love, giving the environment a peaceful and cosy vibe. You can use a light shade of pink for the walls, white furniture and pink decorative elements! This is guaranteed to make the room look pretty in pink!
2. Everything is Connected – Easy and Smart
If you have small rooms, you'll have to place the furniture in an efficient way. With the help of laying out furniture in a smart way, you'll be able to save a lot of space! So, if your little girl is inside a small room, make sure that you arrange her things in a space-saving manner. For example, you can place her bed between two shelves, connecting the furniture. Floating shelves are also a good type of furniture to use in small rooms, where you need extra space!
3. For Two Siblings – Small Bedroom Ideas for Girls
Perhaps you live in an apartment or house in which you don't have enough rooms for everyone to have their own bedroom. That's okay though because thanks to modern ideas, you can still give your kids a perfect bedroom in which they'll feel awesome! One idea would be to separate their sleeping spaces with some sort of room divider. This room divider can be a shelf, a loft with a ladder or a closet! This way both of your kids will feel like they have their own small bubble of privacy!
4. A Small Cave – Inside the Wall
Are you trying to find a clever way of creating sleeping space in your little girl's room? How about you consider creating a small cave-like bed space for her? Line her walls with shelves and pull-out drawers, but leave a large space in the middle of the wall. This is where you'll be able to place her bed! Use this idea for small rooms. Thanks to this idea, you'll be able to create shelves for storage, as well as a proper and cosy sleeping space!
5. Storage Underneath – Girls Bedroom Ideas for Small Rooms
Are you trying to discover some awesome little girl small bedroom ideas? Then here is just another option on how you will be able to save some space, while also creating storage and a place for your girl to eat! This idea revolves around installing some pull-out drawers underneath the bed. Another option would be to remove the headboard of the bed and install a shelf in its place. With the assistance of both of these storage spaces, your kid will have plenty of room to put her clothes, toys or other things inside!
6. Functional and Simple – Modern and Cute
We have already talked a bit about how to use the space in a small room in a clever way! Especially when we think about how to layout a bed. If you think about it, beds usually take up the most space in a bedroom. So it would only be a smart move to use the space underneath the bed for storage. This can consist of pull-out drawers or just simple boxes put underneath it that you can take out anytime! Either way, using a bed as storage space as well, will help in maximising the overall space in the room.
7. A Gorgeous Design – Small Bedroom Ideas for Girls
Not only will you want your little girl's room to be efficient in saving space, but it should also be aesthetically pleasing! After all, your kid will be sleeping in this room every night! You will definitely want them to feel safe and at peace in their own bedroom! This means paying attention to the details, including any artwork you place on the walls, the type of lighting used in the room, the style of furniture or the textiles used for the curtains or bedding. Make sure to create cosy and happy little girl bedroom ideas for small rooms!
8. Elegant and Refined – A Sophisticated Style
There are a lot of ways you can design and decorate a little girl's room. It really depends on what sort of vibe and atmosphere you'd like her bedroom to channel. For example, you may want to go for something elegant and refined. Use pale colours for the walls and decorations as well! Instead of going for old-fashioned pieces, try modern furniture, such as a hexagon floating shelf or a desk that is attached to the wall. As for lighting, you may decide on installing a modern type of chandelier! The combination of these will really transform the room into a sophisticated space!
9. A Larger Bed – Girls Bedroom Ideas for Small Rooms
Maybe your little girl would love a bigger bed in her room. But since her room is tiny, you aren't able to fit in the bed of her choice. Here is a solution to your problems though! Underneath her actual bed, install a pull-out bed. This way if she requires a larger sleeping space or she's having a sleepover party, there'll be plenty of room to sleep on! It's an easy and space-efficient idea!
10. A Room of Dreams – Cute and Magical
Besides making sure to save space in little girl bedroom ideas for small rooms, you'll also want to give your daughter a beautiful space to sleep, study and play in! Exactly because of this, make sure that you use creative elements and imaginative decorations. You may consider a theme for her room, or simply a combination of colours or patterns. Maybe have a talk with your little girl before deciding on anything! Check out the example above to see how beautifully you can combine blue and pink to create something truly stunning!
11. A Modern Vibe – Small Bedroom Ideas for Girls
Are you considering bringing a modern vibe to your little girl's room? Then make sure to use furniture that conveys this type of atmosphere. Also, keep the colours of the room in mind. A gorgeous and state-of-the-art colour combination consists of white, black and pink, using metal accents here and there. If you are thinking about ways to save space, a fantastic idea would be to install a bunk bed in her room. But replace the bottom bunk with a desk where your girl will be able to study!
12. An Abundance of Pink – Glamorous and Divine
We have already talked a bit about using the colour pink in small room ideas for girls. After all, both pink and purple are thought of as feminine colours that are perfect for young girls! If pink by any chance is your daughter's favourite colour, then make sure to use it in her room! You can use an abundance of pink decorative elements or pink furniture. As an alternative to using pink all over the room, make sure that the walls and flooring of the room are different colours. This will ensure that the shades of pink don't overwhelm the whole bedroom.
13. The Loft Bed –

Girls Bedroom Ideas for Small Rooms
Here is a simple and clever way of saving space in a smaller sized bedroom! You may have already heard of a loft bed before! These are bunk beds, that have the bottom bunk bed removed from them. Thanks to the fact that the bottom bed is no longer there, you can use that space for something else! Such as a desk with a chair, creating a small study space! You can even add a shelf as the legs of the bed, where your kid will be able to store their books!
14. Floating Beds – Unique and Adventurous
Maybe your little girl's room isn't too big but is actually a high ceiling bedroom. If this is the case, then you can always think about installing the furniture upwards. For example, install the bed or beds on the walls in a safe way, as if the beds were just floating next to the walls. You can install ladders or rope ladders to the beds, giving your kid an adventurous experience each time she climbs up to her bed. This is an idea we would only recommend for kids who don't turn and toss a lot at night. Make sure that any of these floating beds have a railing to keep everything safe!
15. Another Loft Bed – Small Bedroom Ideas for Girls
As you will have noticed, loft beds are actually fantastic pieces of furniture to use in small room ideas for girls. After all, they create a space for sleeping, without taking up any extra place in the bedroom. Because of this, you can even opt for a bigger loft bed, that includes a seating space on top as well and not only a bed. Organise a desk, shelves or even a closet underneath the bed!
16. A Groovy Look – Beautiful and Brilliant
Does your little girl love a trendy and fabulous twist around things? Then she is guaranteed to adore this room! Use a light coral shade for one of the walls, you can line another of the walls with wood! Get all sorts of cool decorative elements to dress up her room with, a unique lamp, creative wall decor and fun patterns. You can even place a motivational quote above her bed to give her support and positivity in her every day!
17. A Cosy Hole – Girls Bedroom Ideas for Small Rooms
A lot of kids like to have their own personal bubble! Why not create a small indoor cubbyhouse for your little girl? Then check out these girl room ideas for small rooms! It involves a loft bed with a small space underneath that you can turn into a cubby-hole for her. Add curtains in front of the hole, so your daughter will be able to pull them away if she needs some space.
18. A Cute Animal Print – An Adorable Theme
Perhaps you are looking for a cute pattern or theme that you can choose for your little girl's bedroom. If so, why not try out an animal theme? Depending on what her favourite animal is, you can choose the room's theme according to that! This may come in the form of elephants, giraffes, foxes or bluebirds. Feel free to get creative with the decorating, ranging from curtain patterns and pillows to rugs.
19. Divide the Room – Small Bedroom Ideas for Girls
If a room is small, it might be a good idea to separate it into different spaces according to functions. How can you accomplish this easily? While you may instinctively jump to the conclusion that a simple room divider would be a good choice, think about adding a function to it. For example, you can just as easily separate two halves of a room with a closet or a shelf! This is another easy way of maximising the space in a bedroom!
20. Simplistic and Stunning – Easy Storage Solutions
Finally, here is another way to add some storage to the small bedroom, without taking up any extra space. This is none other than using the space underneath the bed for storage. Pull out drawers or small shelves are both great options to build under the bed in girl room ideas for small rooms.
So, get ready to try out some of these small bedroom ideas for girls! Check out our other ideas, besides girls bedroom ideas for small rooms, such as bedroom lighting or gallery loft designs, visit our website!
Advert