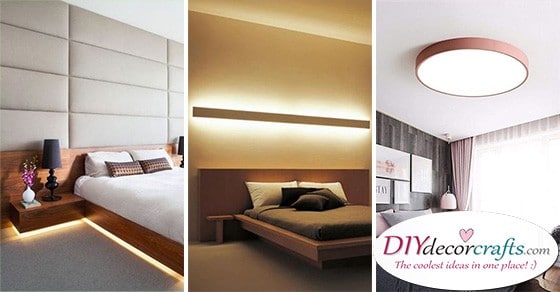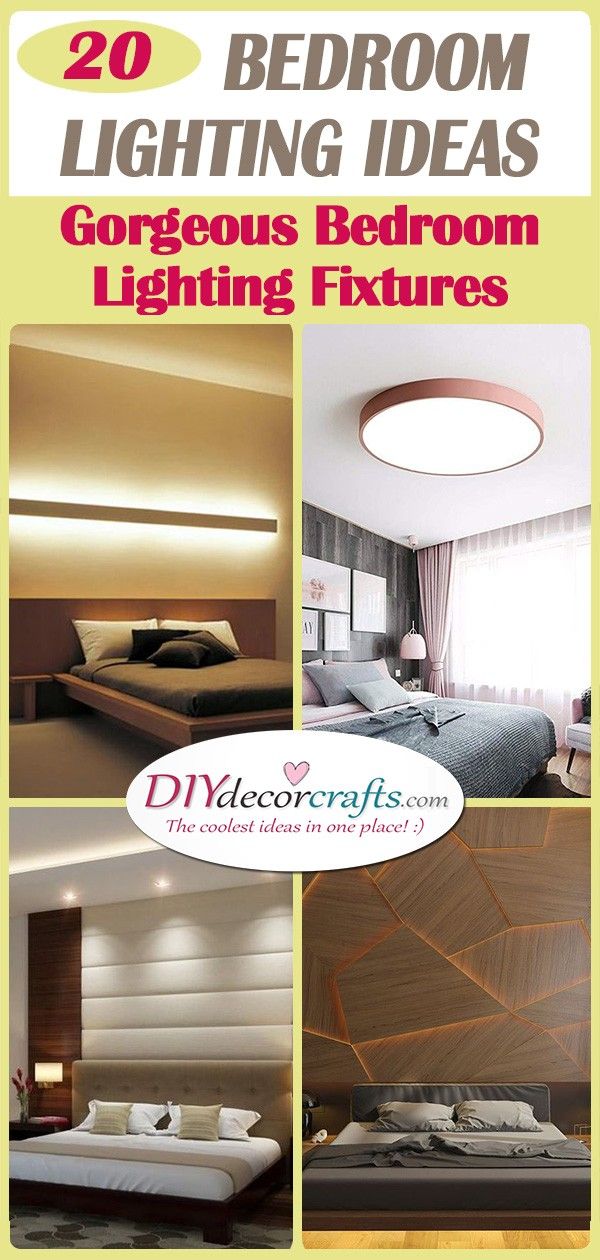 When you are designing your home or just refurbishing one of your rooms, there are so many elements you have to pay attention to. Just think about it, the colours of the room, the furniture and the additional pieces of decor make a room complete. Maybe you are remodelling your bedroom! If so, it's vital that you create a space in which you feel happy to be inside. One important factor you can't forget about is the lighting. You will want to find the best light for bedroom ideas, which will make your room shine. So, make sure to check out our pick of decorative lights for bedroom ideas in order to find a bit of inspiration!
1. Beautiful Cove Lighting – Decorative Lights for Bedroom
When it comes to adding lighting to your room, you will want to make certain that it fits the whole style and design of the room. Maybe your room has been designed in a minimalistic style, which really channels a sense of refined elegance with itself. A type of lighting you might try out in such a room is cove lighting. This means installing led lights behind a barrier, such as wood or metal. Cove lighting will really help in giving your room a softer glow, which is what you might have been searching for!
2. Led Ceiling Lights – Unique and Intense
There are tonnes of unique ways as to how you can install lighting in your bedroom. One of these is to install led lights running across your ceiling and continuing on one of the walls of the room. These streaks of led lights will definitely help in brightening up your whole room. Naturally, feel free to install other sorts of lights in your bedroom, such as a circular led light or some lamps on your bedside tables. There are a lot of options to choose from, just make sure that the vibe of the lighting fits perfectly into the room.
3. The Best Bed Headboard – Best Lighting for Bedroom
Do you ever find yourself feeling too lazy or tired to get out of bed to turn the lights off? Why not make sure to install your bedroom lights and the switch somewhere close to your bed then? A fantastic idea would be to install lights right behind the headboard of your bed. This is another take on working with cove lighting, which is a perfect option for anyone who doesn't want lights which are too bright and intense.
4. A Contemporary Chandelier – Chic and Stylish
It can be an enlightening and interesting experience to combine something old-fashioned with modern essence. Take a chandelier as an example. You can create a completely new and chic version of a chandelier. Use a metal ring for the base of it, then have small lightbulbs, which resemble candles, placed all around it. All you will have to do now is hang this from your ceiling and allow it to brighten your bedroom! Of course, if this lighting isn't enough, you can always add some lamps to your bedside tables. A modern chandelier such as this would look exceptional even in a smaller master bedroom!
5. Minimalist and Simplistic – Hanging Lights for Bedroom
Here is a simplistic and minimalist solution to lighting the space next to your bed. Hang pendant lights right above your bedside tables at a lower level, just hovering right above the tabletops. This will serve as a perfect alternative to a bedside table lamp. You can place a modern lampshade over the pendant light itself. Depending on what colours you use in your room, make sure that the lampshade fits right in. Lighting such as this will definitely channel a contemporary and stunning ambience to your room.
6. Right Under the Bed – Decorative Lights for Bedroom
Another fabulous way of lighting up your bedroom is by adding some rows of led lights underneath your bed. You can include a few underneath your bedside table as well. This is definitely a modern way of installing lighting to your room and even if you switch off your main lights, you'll still be able to find your way to your bed. A great idea concerning this lighting is to try out different coloured led lights for a truly unique vibe in your bedroom. For example, with either green, red or blue lights, you will be able to create a completely different ambience.
7. A Set of Different Lights – A Funky Fusion
Feel free to get creative with your lighting choices. You don't necessarily have to stick to only one form of lighting. Instead, how about you try out a variety of lights? This can include some small lights right above your bed on the ceiling. You can also install cove lighting to different parts of the bedroom. For example, if you have an indent on your ceiling, why not consider installing cove lighting there? A few lamps on your bedside tables will also come as a perfect addition!
8. A Simple Design – Metallic and Marvellous
A lot depends on how your room is designed and decorated! When you choose lighting instalments for your bedroom, you will want to watch out for a few things. This will include how the sources of lights match the rest of the room. For example, if you have your room modelled in a bohemian yet minimalist style and have a whole array of potplants arranged inside of it, maybe try out some metallic, such as gold or copper coloured, lampshades for your pendant lights. This is guaranteed to look amazing!
9. Awesome Glass Lampshades – Best Lighting for Bedroom
What sort of glow would you like to create inside your bedroom? If you are thinking of channelling a warm and inviting glow in your bedroom, then you will want to use lights which are tinted yellow. Thanks to the yellow colour in the lights, this will assist in truly bringing a welcoming atmosphere to the room. To further channel this feeling in your bedroom, consider placing glass lampshades on your lamps. This will reflect and carry the light beautifully!
10. A Back Lit Wall – Decorative Lights for Bedroom
We have already discussed using cove lighting in your bedroom. But instead of placing it behind the headboard of your bed or in indents of the wall create a geometric backdrop on one of the walls of your bedroom. By covering one of the walls with wooden accents, you can place led lights underneath the geometric slices of wood. This back-lit wall will definitely create a breath-taking view in your bedroom. Not to mention, this sort of lighting will illuminate the room with a soft glow. So if that's what you would like to put together, then give it a try!
11. A Cylindrical Sconce – Easy and Practical
Are you in search of a super easy and practical solution for lighting up your bedroom? Why not install some sconces on the walls of your bedroom? Sconces are a simple way of installing lighting, not to mention, they will never get in the way, as they are attached to the walls. Then it's up to you what sort of lampshades you place over the lightbulbs of the scones. Depending on what colours are used in the bedroom and patterns, you can try finding something similar to that. How about you install cylindrical sconces, which have tiny patterns on them? The light will shine through the sconce, creating small speckles on the walls.
12. Black and White – Edgy and Decorative Lights for Bedroom
When it comes to bedroom designs, there are so many directions you can go in! You might prefer a bohemian environment filled with colours and groove or maybe an elegant setting which revolves around sophistication. Another sort of style you can try out is an edgy monochrome. This means only using tones of black, grey and white to decorate the room with. If you have decided to create a monochrome bedroom for yourself, then make sure that the lighting complements the rest of the room! Choose black or white lampshades for your lights.
13. A Circular Ceiling Light – Refined and Modern
Light up your bedroom in a contemporary and modern style! Install a circular ceiling light fixture in your room. The shape of a circular ceiling light will definitely add a modern sense to the whole of your room. Remember that ceiling fixtures are usually great options for adding brightness to the whole room. Naturally, if you don't like the shape of a circle you can opt for something rectangular or even triangular.
14. Dreamy and Whimsical – Best Lighting for Bedroom
There are endless options and choices concerning your bedroom lighting. Just one of these is to create a contemporary chandelier of sorts. You can hang lightbulbs from a rod or a pole, putting together an array of pendant lights. Attach the rod to your ceiling to finish off this chandelier. The lightbulbs dangling from the ceiling, each at a different level, will look absolutely beautiful. You don't need to place lampshades over your lightbulbs, leave them in their natural form.
15. Bedroom Floor Lamps – An Interesting Design
One other way of illuminating your bedroom is with a floor lamp. Floor lamps come in all sorts of shapes and sizes, making them a versatile type of lighting. Not to mention, you can move a floor lamp anytime, since they aren't actually attached and fixated to the wall or ceiling. So if you don't like how the light bounces off the walls of your bedroom in one spot, you can feel free to move it at any time. If you would like to perk up your room a little bit, make sure that you get yourself a floor lamp that has an interesting design!
16. Perfect in Pear – Decorative Lights for Bedroom
When you are choosing lamp shades for your bedroom lighting, you will want to think about the atmosphere or vibe you'd like to channel. So if you want to spruce up your environment, you may as well choose lampshades which are bold. There are so many fantastic designs, which incorporate unique shapes and materials. For example, you can place pear-shaped lampshades over your lights, which are made out of unique material. These pear-shaped shades will definitely create a contemporary and stylish look in your bedroom.
17. Glamour and Luxury – Installing a Chandelier
Would you like to surround yourself in an environment of luxury and glamour? If so, you will probably choose furniture and decor items which are designed to bring about that sort of style and essence. This might mean placing some vintage furniture around the room. You might be pondering about what sort of lighting will fit well inside such a bedroom. Well, it probably won't come as a big surprise if we mention that a chandelier would look amazing. Not a modern sort of chandelier, we're talking about something old-fashioned which will truly take your bedroom to the next level. This will look good for a girls bedroom decor idea!
18. A Straight Line – Best Lighting for Bedroom
We have already mentioned the pros of choosing a floor lamp for your room. One of the most important factors of these lamps is that they are easily moveable. You can try finding a floor lamp, which has a row of light lights attached to only one of its sides. Thanks to the led lights, the lamp will provide you with intense light. But if you are in need of a softer glow, you will be able to turn your lamp into a different direction.
19. The Trustworthy Mason Jar – A Cheap Option
When it comes to mason jars, there are endless sorts of decor to create out of them. This includes everything from candle holders to vases for flowers. When it comes to lighting up your bedroom, you can use mason jars as sconces on the walls of your room. So instead of using lampshades for your wall lights, use mason jars! It's definitely a cheap and easy option, not to mention, maybe you'll be able to put this together by yourself!
20. Two in One – A Light and a Fan
Perhaps you live in a warmer climate where the weather is humid. How about you combine your lighting with a fan? This way, you will have something to cool you down on hot nights, as well as having a light installed on the bottom of your fan. It's a practical and logical idea to try out if you have been contemplating about installing a fan!
If you enjoyed this collection of decorative lights for bedroom ideas, then you might want to check out other home design ideas. Check out our front porch ideas or master bathroom ideas for some inspiration.
Advert