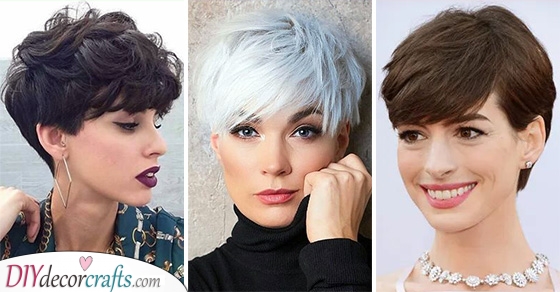 Change occurs naturally in our lives and sometimes it feels great to bring this change about in our looks too! One part of our appearance that helps define us, is none other than our hair. A lot of people get a short haircut when they need to let go of something. But even if no big event happened in your life recently and you'd just like to spruce up your look, going for a shorter cut is a fantastic idea! There are dozens and dozens of cuts to choose from. We have gathered just 20 of these short haircuts for women to help you get inspired! So, get ready to look through our short hairstyles for women and discover something that you'd love to try!
1. Shaved on the Side – Short Haircuts for Women
When it comes to the world of short haircut styles for women, there are so many to choose from! Maybe you'd love to try out something bold and edgy, a haircut that would really stand out from the crowd! We're talking about none other than a bob that is cut short. But as an alternative to getting a simple bob, have one of the sides of your head shaved, giving you that daring look you were going for! If this doesn't stand out, we don't know what will!
2. Soft Waves – Make Sure to Look Your Best
Do you by any chance have soft wavy or curly hair? Then how about you try a shorter cut that will really accentuate the texture of your hair?  We're talking about the pixie cut! Pixie cuts are all about going short and really showing off the shape of your head and face. Pixies are thought of as bold choices as well. They will definitely look amazing when paired with wavy or curly hair, as the combination of this haircut and hair texture will give you an effortlessly laidback look!
3. A Faux Hawk – Short Hairstyles for Women
Are you still in search of the perfect, edgy short haircut? Then check out this one of many short haircut styles for women that you might want to try out! A short faux hawk will definitely grant you a strong and striking appearance. The hair on the sides of your head will have to be cut or shaved shorter. Then leave the top and front of your hair somewhat longer, allowing you to create a hawk out of it. With a bit of hairspray or hair gel, you can style the longer parts of your hair with it!
4. A Unique Colour – Mix and Match
Sometimes to find the best hairstyle for yourself, you have to mix and match a few things. This includes not only the haircut but the texture and colour of your hair! Maybe you'd love to try out something unique! We would recommend going for a pixie cut combined with a fabulous hair colour. How about you try out grey, silver or platinum blonde with the pixie cut? After all, these hair colours have come into trend over the past years and they look amazing!
5. A Long Pixie – Short Haircuts for Women
We have talked about pixie cuts a bit already. After all, they are one of the main short cuts for natural hair that are in trend at the moment. But even amongst pixie cuts, there is a whole variety to choose from! You can opt for a short and spiky version or perhaps something a bit longer and elegant, just like in the example above. If you'd prefer something a bit longer, feel free to get your pixie with a longer fringe to complement it. While looking bold, the length will also help in giving you chic elegance!
6. Another Pixie Cut – With Pointy Sideburns
When it comes to the world of hair, age is a number that doesn't really matter! So, even if you are above the age of fifty or sixty, you'll still be able to rock a short hairstyle! A fantastic hairstyle to try out at an older age would be a refined pixie cut, that includes bangs or a side fringe! But another addition to try out with this haircut is pointy sideburns on both sides! These will truly elevate the whole haircut. For extra definition, think about adding highlights to your hair as well!
7. A Grey Balayage – Short Hairstyles for Women
Over the past few years, a hair shade that has become popular is grey! Give yourself ice queen vibes with the combination of a darker grey and silver. A balayage of these two colours would be the perfect way of uplifting a short haircut! Especially a pixie cut! So, if you are trying to find something truly unique and special, then a silvery balayage and pixie cut is something to take into consideration to get your hair styled as!
8. Messy and Laidback – A Cool Look
If you have never liked a fully combed, prim and proper hairstyle, then this haircut idea may just be the right one for you! While getting your hair cut short, don't have it cut too short! Also, keep a longer fringe growing out in the front. Part your hair in the middle, as well as your fringe. But instead of brushing it out, let it hang in its natural way in your face. Something a bit messy and effortless, like this simple haircut, will definitely give you that easygoing look! So, girls with short haircuts it a try if that's the vibe you are going for!
9. A Short Bob – Short Haircuts for Women
Maybe you'd like a super simple and easy haircut that is low-maintenance! If so, then how about you try out a short and layered bob? This is not only easy to take care of but is also a great idea for anyone who has thin or fine hair. Thanks to the abundance of layers, your hairstyle will be presented with a mass of volume and texture, creating the illusion that it's thicker than it actually is. Feel free to add some bangs or a side fringe to this simplistic haircut!
10. An Edgy Pixie – Daring and Glamorous
Do you have a bold and adventurous personality? Perhaps you'd like to express this side of yourself with a new haircut! If you haven't found any short haircut styles for ladies that capture this daring essence, then check out the example above! A short pixie cut, that has one side of the hair on your head shaved incredibly short. You could even try out a fade cut on this side. A fade cut would really add a unique look to this haircut! All in all, this haircut is guaranteed to channel your bold personality!
11. A Dazzling Bob – Short Hairstyles for Women
If you want to go short, but not too short (like a pixie cut), then you always have the fantastic choice of a bob! Bobs are loved for their classic and elegant look! Depending on your hair texture, you may decide on getting your bob layered. This will help in giving it more definition! It's also completely up to you on which side you part your hair or whether you add bangs or a fringe to your bob. The bob will look amazing in any way you style it!
12. Flattering and Fabulous – Keeping It Fine
Just because you decide on getting your hair cut short, does not mean it won't be flattering! A short haircut, including pixie cuts, can be just as flattering and feminine as long hair! Try out a pixie cut that is about the same length all around your head. A bit of layering will definitely help in giving your hair a boost of volume! A layered side fringe will complement the short hairstyle as well! A haircut like this is low-maintenance, meaning even if you don't have a lot of time in the mornings, this hairstyle will still look amazing each day!
13. A Short Afro – Short Haircuts for Women
If you have incredibly frizzy or curly hair, then sometimes one of the best options you can choose is a short afro! A short afro will show off the shape of your head, and really give your look some groove! If you want to take your short afro to the next level, you can always dye it! Something that would look amazing is none other than platinum blonde! This is great for anyone in search of a truly unique hairstyle!
14. Comb It Back – Gorgeous and Confident
Maybe you have already gotten your hair cut into a pixie! As an alternative to going completely short, leave the hair on the top and front of your head longer. This will leave you with some hair that you'll be able to style, giving you a variety of different ideas to play around with your hair! One option would be to just comb the longer strands of hair back, applying enough hairspray or hair gel to keep it in place. This will create a fabulous hairstyle to show off even at an elegant occasion or fancy party!
15. Wild and Red – Short Hairstyles for Women
Don't be afraid to try something new and exciting when it comes to your hair! Perhaps you have always wanted to try out red hair! It's definitely a loud and eye-catching choice! Get your hair cut into a layered pixie. The layers will assist in giving your hair a heap of volume, as well as more definition! Then it's time to get wild with the colour red and dye your hair into a shade of it!
16. The Classic Bob – Stunning and Classy
Now, here are classic short haircuts for women that will look fantastic on anyone! We're talking about the bob of course! Bobs are the perfect length of hair, giving you a stylish glow wherever you may be headed off to! Naturally, there are a few types of bobs to choose from. An elegant option would be the A-line bob, which consists of strands of hair that are longer in the front, while the hair in the back is longer. Add some layering to your bob, in order to enhance its volume and texture! What more could you ask for from a hairstyle?
17. An Afro Pixie – Short Haircuts for Women
Here is yet another of many short haircut styles for ladies who have curly or frizzy hair! If you don't want to grow it out long, how about you opt for a pixie cut? An afro pixie cut will look amazing, giving you a chic and stunning vibe. This will make your hair a lot more easy to manage and style! Of course, if you want to throw it up a notch to give it a unique look, how about you dye it into a beautiful colour?
18. Swept to the Side – Fun and Flirty
Girls with short haircuts really exude a confident and fun vibe! If you're in search of the best short haircut for yourself, here's one simple idea! All you have to do is get your hair cut short and layered except for one part. Leave the hair at the front longer, from which you'll be able to create a side fringe! Part your hair on the side and sweep your fringe in the same direction for this effortlessly stylish look!
19. Adding Loose Waves – Short Hairstyles for Women
How can you style a bob to give it a cute look? One way to style it would be to add some loose waves with the help of a curling iron! With a bit of hairspray, you'll be able to keep the curls in your short hairstyles for women!
20. Trendy and Layered – Girls with Short Haircuts
Finally here is another of many short cuts for natural hair! The bob is usually chin-length, meaning it's a great option for anyone in search of something short, but doesn't want to go too short! Bobs look awesome on a lady of any age. So whether you are twenty or sixty, a bob will make a perfect choice!
We trust, that this pick of short hairstyles for women has helped you find some great options! For other ideas, besides short haircuts for women, such as Short Natural Hairstyles for Women or Short Haircuts for Older Women, visit our website!
Advert