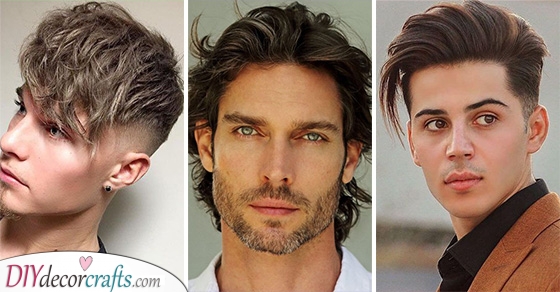 Get ready to find a hairstyle for yourself! Not only is it important for women to get their hair cut and styled in a stylish way, but it is crucial for men as well! The right haircut will really accentuate your best features! You might think about what length of hair to get. Well, how about you try out a medium-length cut? These are neither too short, nor too long. Take a look through the 20 men's medium hairstyles we collected. Thanks to these options you might be able to find at least a few medium long haircuts for men that will look awesome on you!
1. Wispy and Windswept – Men's Medium Hairstyles
Sometimes the type of hairstyle you'd like to choose depends on the vibe you want to exude. Here is a fantastic hairstyle for any guy who has naturally wavy hair! For a windswept look, how about you grow your hair mid-length. Then simply comb back the waves of your hair, but not in a neat and sleek way. Let the waves fall messily around your head presenting you with a truly windswept look. Naturally, there are a lot of other ways you'll be able to style this type of mid-length hair. But this is just one hairstyle that will look awesome whenever are wherever! 
2. A Crown of Curls – Laidback and Chill
Maybe you have gorgeous curly hair! One of the best traits of curly hair is that it looks fabulous at any length. Whether it is shaved shorter, cut to medium length or left to grow long, you'll be able to find a length that suits you the best! Instead of growing out your curls mid-length all the way, how about you only leave the hair on the top of your head to grow out longer? As for the rest of your hair, shave it off at the sides and back to a shorter length. These medium length hairstyles for men will definitely attract attention!
3. Sleek and Layered – Medium Long Haircuts for Men
There is a whole variety of mid-length hairstyles for men out there to choose from. Perhaps you have thin or fine hair and would love a haircut that enhances the overall volume of it. At times like this one of the best choices is to get a layered haircut! Thanks to the layering, your hair will really look a lot thicker than it actually is. Then it will be completely up to you on whether you'd like to add a side fringe to this look!
4. Casual and Stylish – Paired with a Beard
A lot of the time medium long haircuts for men are bound to look great with beards! If you're the sort of guy who has always wanted to grow out his beard or some stubble, then you'll want to find a haircut that matches it. We have all heard the saying that less is sometimes more! When pairing a haircut with a beard, sometimes it's better to go for something simplistic. This way your beard will be better accentuated!
5. Thick and Curly – Men's Medium Hairstyles
Now, here is a handsome hairstyle for any man out there who has curly hair! This mid-length hairstyle revolves around letting the curls or waves grow out in their natural state. Instead of going for a modern haircut, you can try out a retro look! We're talking about none other than a messy bowl cut. This is definitely a low-maintenance haircut to try out, making it perfect for a guy that doesn't spend much time getting ready for the day. Another great thing about longer curls is that you'll easily be able to tie them into a small ponytail or man bun. This will create a way to get any loose and irritating strands of hair out of your eyes.
6. Half and Half – A Fade Cut on One Side
When you hear the definition of mid-length hairstyles for men, you probably wouldn't think about getting half of your hair shaved off. But this hairstyle idea just shows that you can get creative and wild with your haircut! Get your hair parted on either side of your head, then get the hair on one of the sides shaved into a fade cut. At the same time, let the hair on the other side grow out to a medium length, that you'll be able to use for a fringe or comb it back. It's a bold and daring look that looks amazing!
7. Messy and Easygoing – Medium Long Haircuts for Men
Are you trying to find a hairstyle for yourself, that will give your hair volume and texture? Here is a fantastic idea to try out for anyone who has either thin or fine hair, as this hairstyle will definitely enhance your hair's volume! You may even think about getting a wavy perm for your hair if you have straight hair for that extra definition! It doesn't need to be super curly, just some lazy waves will do the trick as well. Thanks to the combination of mid-length hair and waves are sure to give your hair that volume and texture, you have been in search of!
8. Longer and Wavy Layers – A Retro Vibe
If you have always admired hairstyles from the sixties, seventies or eighties, then why not try one out yourself? This is just another of many medium length boy haircuts that are great for any guy who has fine or thin hair. The haircut is all about adding layers, almost as if it were waves of hair. The layers on layers will create a mid-length shag, a haircut that was popular in the seventies but has recently come back into the trend!
9. Adding Some Highlights – Men's Medium Hairstyles
Maybe you have already decided on what sort of haircut you'd like. But even if you have gotten your new haircut, you may feel like you're missing something. At instances like these, it's always a fantastic option to mix things up a bit using a different colour! One example would be adding highlights to your hair. Highlights are an easy way to perk up a boring hair shade and give it a new shine! 
10. An Edgy Chop – Full of Confidence
If you're not sure what sort of haircut to choose, think about what you'd like it to channel! If you want a haircut that exudes confidence and boldness, check out the example above! Have your hair textured with layers and cut fairly short. It's a simple and easy look, which will prove to be perfect for your everyday. You can add a fringe or some bangs to this haircut. If you're in the mood, get some hair gel or hairspray and comb back your fringe giving you a cool appearance!
11. A Pompadour – Medium Long Haircuts for Men
Maybe you would love a haircut that will give you a rockstar vibe. In this case, check out the pompadour! While most of the hair on the head is cut short, especially on the sides and back, the front and top of the hair are left to grow out mid-length! Pompadours are all about combing the longer hair backwards. You'll need quite a bit of hair gel or hairspray to keep the hair combed back and in place while adding a tonne of volume to it.
12. Combed Back Waves – Handsome and Effortless
Are you still in search of some easy and effortlessly handsome medium length boy haircuts? Then take a quick glance at the example above. Grow your hair out a bit longer than just medium-length. As an alternative to just allowing your hair to hang in messy strands in front of your eyes, how about you comb back all your hair? With the assistance of some hairspray, hair mousse or hair gel, your hair is certain to stay in place! This will grant you a sleek look, that will be perfect for a night out!
13. A Unique Haircut – Men's Medium Hairstyles
Get ready to try out a unique and different type of layering! If you want to stand out from the crowd, then try out this medium length haircut for men. While shaving the hair on the sides and back of the head, keep the hair on your crown mid-length. For an even more unique appearance, consider getting the hair shaved on the sides and back in a fade cut. This is guaranteed to create an edgy and stylish look!
14. A Simple Shag – Great for Teenagers
Here is a hairstyle that was incredibly popular with teenage guys about a decade ago! There was even a time when nearly everyone had their hair cut this way! We're talking about the long shag. Add bangs to this hairstyle for the full look. Feel free to stick to a messier version of the shag, which involves not brushing your hair each day and letting some strands of hair fall in front of your eyes! Trying a messier and more windswept version of this haircut will definitely give you a teenage and youthful vibe. If that's what you've been looking for, then consider giving it a try!
15. Keeping It Simple – Medium Long Haircuts for Men
When it comes to medium length hairstyles for men, you don't have to go for anything too extravagant or too over the top. Keeping your haircut simple can sometimes be the best way to go! Opt for mid-length hair that is on the longer side. After all, long hair has come back into the trend! It's up to you on which side you decide to part your hair on. Naturally, make sure to get your hair trimmed every now and then, to keep it looking healthy!
16. The Layered Crop – Manly and Bold
As you will have noticed by now, there is a large variety of medium haircuts for men that you can choose from. Just one of these options would be a textured and layered crop. The hair on the top of the head should be grown to mid-length and layered to create definition and volume! Shave the hair off short on both sides of the head, really bringing attention to your textured hair! This is definitely a bold haircut for men to try out!
17. A Classic Taper – Men's Medium Hairstyles
Would you like a haircut that looks elegant, stylish and handsome? How about going for a taper haircut? A taper consists of hair gradually changing from one length into another. The hair on the sides and back of your head may start off at a shorter length, growing longer as you move to the crown. This is a great combination of both short and medium hair! You'll be able to style the hair in the front and top in a few different ways, either combing it back or to the side, or just letting it hang messily in front of your eyes.
18. The Medium Shag – Fresh Medium Long Haircuts for Men
We have already mentioned getting a shag! Instead of a shag haircut on the longer side, you can go for a shorter one that still fits into the mid-length category! A shag will look fantastic on any texture of hair, no matter whether you have straight or wavy hair! Get some layered bangs added to your haircut for a very effortless and laidback appearance!
19. A Male Bob – Medium Length Haircut Men
We are all familiar with the hairstyle the bob! You will mainly see ladies of all ages sporting this haircut. But sometimes a guy will try it out as well. Bobs are usually cut to chin-length in a straight line. As a guy, you can replicate this look, especially if you want a sleek or chic haircut that has an edge to it!
20. Going Grey – Simplistic

Medium Long Haircuts for Men
Even if your hair is going grey, you can still own it! Especially with a medium length haircut for men!  Especially since grey hair is super trendy at the moment! It also adds an essence of maturity to its wearer! You can try growing your hair longer to pair it with the silver streaks!
With the help of this pick of men's medium hairstyles, we hope you found the perfect haircut! For other hair ideas, besides men's medium haircuts, such as Mens Medium Haircuts or Trendy Mens Haircuts, visit our website!
Advert