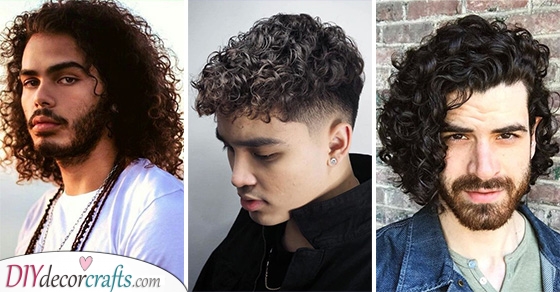 As a boy or a man, getting a haircut or hairstyle that suits you is important! After all, you will want to find a hairstyle that suits your personality. It's just because of this that you can show the world, what sort of personality and style you have with the help of your new haircut. Maybe you would want something simplistic and easygoing, or perhaps you might be looking for something edgy and bold. If you have curly or wavy hair, look through our pick of 20 curly hairstyles for boys! Hopefully, thanks to some of these hairstyles for boys with curly hair will help you in finding a new and handsome haircut!
1. Long and Natural – Curly Hairstyles for Boys
A lot of guys with curly or wavy hair actually prefer to grow their hair out long! Long curly hair will definitely give off a natural and laidback vibe! This is one of those hairstyles that doesn't require any extra energy or time to make it look wonderful! Another great trait of long and curly hair is that you'll be able to style it easily. So, if it gets in the way, as it irritates your eyes, simply tie it up in a ponytail or man bun. A short beard or stubble will go very well with this haircut.
2. Simple Wispy Waves – A Smart Look
There are a lot of hairstyles and haircuts you can choose from when it comes to curly hairstyles for guys. Maybe you'd prefer a simpler haircut, that just shows off your waves. If this is the case, an easy, layered and texture haircut would be a perfect choice! Leave your hair at a medium length, to really accentuate the waves in your hair. If you're going to an elegant event, you can style your waves, simply by combing them backwards and adding some hair gel to them. Otherwise, a messy look will look just as great in your everyday life!
3. A Fade Haircut – Hairstyles for Boys with Curly Hair
Perhaps you don't want to leave your curls to grow out long. If so, you can always opt for an edgy and cool cut! We would recommend that you try out a fade haircut. This is when your hairdresser is able to achieve a fade between your hair and your skin. The hair on the top of your head is left a bit longer, but the rest is quite short. This will create an awesome way to show off your curls while keeping your haircut very modern and edgy.
4. The Man Bun – Easy and Effortless
Most people who have long hair will know that it sometimes gets in the way! Even though long hair is gorgeous, when taken care of well, it can also be irritating to do sports with or on a windy day, when the long strands keep getting in your eyes. It's exactly due to this that you can find ways of tying up your hair! One trendy and handsome look on guys is no other than a man bun! So, if you're a guy with long hair, make sure to try out the man bun!
5. Curly and Retro – Curly Hairstyles for Boys
Are you in search of short curly haircuts for men that give off a retro vibe? This haircut revolves around letting the curls or waves grow out in their natural state. As an alternative to going for a modern haircut, you can opt for a groovy and funky haircut! We're talking about none other than a messy and curly bowl cut. This is definitely a low-maintenance haircut to try out, making it perfect for a guy that doesn't spend much time getting ready for the day.
6. Shaved Off the Sides – A Messy Man Bun
How about you trying out a truly daring and unique hairstyle for curly hair? We have already mentioned tying your hair up in a man bun or a ponytail. But instead of the classic man bun, give your version a twist! Shave off the sides and back of the hair on your head. You don't have to shave it completely off, but try going for a short length. As for the hair on the top of your crown, let it grow out long. When tying this up in a man bun, your hair will look cool!
7. Some Beach Vibes – Hairstyles for Boys with Curly Hair
There's a huge range of what sorts of vibes you can express with just your hair! If you have always wanted your hair to have beach vibes, then here is an easy option for any guy with curly or wavy hair! Get your hair cut at around shoulder-length. Instead of combing out your hair, just let it fall messily wherever it wants to! You'll look like you've spent the day at the beach, with the wind blowing through your hair! If you want to take this simple hairstyle up a notch, then consider adding a few highlights, give your hair a sun-kissed appearance.
8. Waves Combed Back – Effortless and Sauve
You don't always have to try out something super edgy or striking. For example, if you are going to a fancy dinner or a work party, maybe you just want your hair to look refined yet laidback. If so, here's an easy idea for guys who have mid-length wavy hair! All you need to do is brush the front strands of your hair backward, adding some hair gel or hairspray to it. This will help to keep your hair in place!
9. Short Sides and Long Top – Curly Hairstyles for Boys
You will have noticed by now that curly hairstyles for men don't limit themselves to only one length. You can get creative with a new haircut! One striking haircut consists of the hair being left long on top of the head. Then the hair on the sides and the back is cut short. This is an incredibly easy way to accentuate the curls that are left longer on the top. It's a great haircut for any guy who really wants to show off his curls in a striking way!
10. Keeping It Simple – Handsome and Bubbly
Just because you have curly hair does not mean you have to opt for exciting and modern hairstyles for curly hair men! After all, curly hair looks amazing in itself, meaning you'll be able to leave it as it is and still look awesome! An easy and very low-maintenance option would be to get your hair cut short. You don't have to get it shorter on the sides and longer on the top. Leave it in a natural length! The only parts of your hair to cut shorter or shave are the sideburns!
11. Parted on the Side – Hairstyles for Boys with Curly Hair
Maybe you aren't looking for a new haircut, you'd just like to find a new way to style your hair! A simple solution to such an endeavour would be to simply part your hair on one of the sides of your head, instead of in the middle. All you will need to do is sweep your waves or curls to either side according to the parting. This is a great and super simple look for casual days at work or for a night out with friends!
12. A Crown of Curls – Groovy and Cool
Now, here is a hairstyle that is modern and is guaranteed to catch attention wherever you go! These curly hairstyles for men revolve around getting the sides and back of the head shaved completely! But let the hair on the very top of your head grow out in a messy tangle of curls! It is in fact a simple haircut, but it will definitely present you with an edgy and modern appearance! This is a great hairstyle to pair with some facial hair!
13. Chin-Length Curls – Easy Curly Hairstyles for Boys
If you are going for a manly and very rugged appearance, then here is one kind of hairstyle to try out! Grow out your curls until they reach the edge of your chin. Sweep most of your hair to one side of your head, giving you a bit of a rockstar vibe! While this hairstyle barely requires any maintenance, remember to get it trimmed every now and then! After all, you will want to keep your hair looking healthy and prevent it from getting split ends. This is also the length of hair that you'll be able to tie up if it gets in the way, making it easy to style!
14. Short and Striking – Looking Your Best
Get ready to try out one of many short curly haircuts for men that will grant you a striking appearance! This short and curly haircut is all about leaving the curls on top somewhat longer than the ones on the sides and back. Because of the style, it is defined as a taper cut, but with curls! So, keep in style with this simple haircut! It will look perfect for any sort of occasion, as well as your everyday life!
15. A Daring Hawk – Hairstyles for Boys with Curly Hair
Perhaps you have always loved mohawk haircuts! They bring a punk edge with themselves, giving you a cool style! If you have been wanting to try one of these out, what's holding you back? Hawks look just as great with curly hair as well. So, if you thought that only a guy with straight hair can pull one of these off, think again! Get the hair on the sides shaved short, but let it grow out longer from the front to the back in a line. A mohawk is as simple as that!
16. An Awesome Afro – Bold and Fun
Bring some groove and fun to your hairstyle, by letting it grow out a bit! If you have an afro, you may be wondering whether to let it grow out long, get it braided into cornrows or opt for a shorter cut. Let's be honest, any of these would look amazing! If you want something on the simpler side, then go for a shorter afro. This will show off your gorgeous curls, just as well as a larger afro would!
17. Textured Waves – Curly Hairstyles for Boys
For any men out there with curly hair, here is yet another simple chin-length haircut for you! Keep your hair naturally curly, but as an alternative to getting it cut at only one length, how about layering it? With an abundance of layers, you'll be able to give your hair a boost of definition as well as volume! This is great for anyone who wants to take their hairstyles for curly hair men to the next level! Add a textured fringe or bangs to this haircut!
18. Comb it Back – Refined and Sophisticated
There are a few easy ways to transform a bundle of messy curls into a refined hairstyle! If you are planning on going to an elegant event then you'll want to dress up in a sophisticated manner. This includes a nice and proper hairstyle as well! One simple option to try out for a guy with waves or curls is to brush back your hair. Add hair gel to it, as this will help to keep it in place. And you're already done!
19. Windswept and Messy – Hairstyles for Boys with Curly Hair
At times there's nothing more attractive than a guy with messy hair! One of the great things about curly hair is that you don't have to comb it out, and it will still look amazing with messy strands all over the place!
20. Easy and Breezey – Curly Hairstyles for Guys
Finally, here is our last haircut idea for men who have wavy hair! Add some layering to it, in order to give it some extra volume! Cut the front strands of hair shorter than the ones in the back and on the sides. Just check out the example above for pointers!
We hope that you found some curly hairstyles for boys to try out! For other ideas, besides hairstyles for boys with curly hair, such as Hairstyles for Curly Hair Men or Trendy Men's Haircuts, visit our website!
Advert